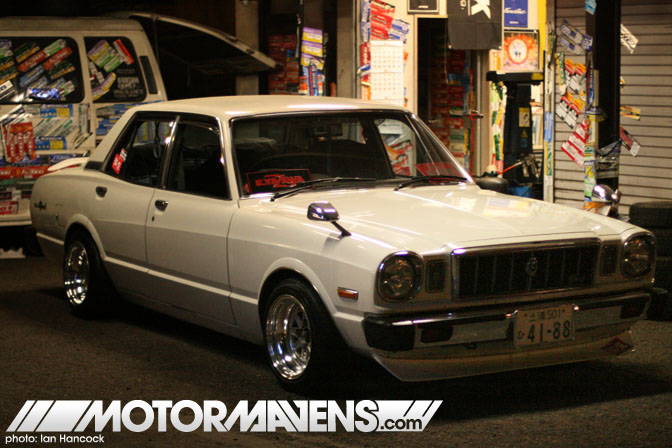 [I received an email yesterday from an Australian guy named Ian Hancock. Ian is crazy about Japanese nostalgic cars, and is currently on vacation in Japan (or as he says it, he's "on holiday") to check out a bunch of his favorite cars. He sent in a photo of this MX32 Toyota MarkII (Toyota Cressida) that he carspotted in Japan, because he knew it would be just the type of thing that Motor Mavens readers are into! Well, he was absolutely right. Here's what Ian had to say about the Mark II…]
The white Cressida belongs to Naoya Yamaguchi, who owns an old school Japanese wheel shop in Moiyra called Bellezza Auto Produce, about 15km from Tsukuba Circuit. I had been at Tsukuba for the day to watch drifting (and get taken for a ride!), and was going for a walk from my hotel to find some dinner when I came across the shop! I thought I was delirious – it was just too good to be true!
When I walked into his store, he was in the corner smoking, wheelchair bound because of a motorbike accident. Naoya "didn't want to know me" until I started saying the names of the wheels in his shop, and I showed him pictures of my KB110 Sunny from Sydney. He couldn't believe that an Aussie 20 year old would be interested in old J-tin. He couldn't speak any English, and I don't speak Japanese, so we talked for an hour and a half using a translator on the computer.
The Cressida wears huge SSR 15x9Js (-37 offset) on the back and 15x8J SSR Mark IIIs up front. From what I could gather, it is fairly stock mechanically aside from a healthy lowering, carbs and exhaust. A nice little front lip spoiler and rear spoiler finish it off, and although there are some fender gap issues, it has definately been built in the shakotan style! The body is straighter than straight, and some nice fender mirrors really set it off. I'm buying a set of 7.5J SSR Starsharks from him, and he has invited to take me out in his car next time I come over!
:: Ian Hancock
---