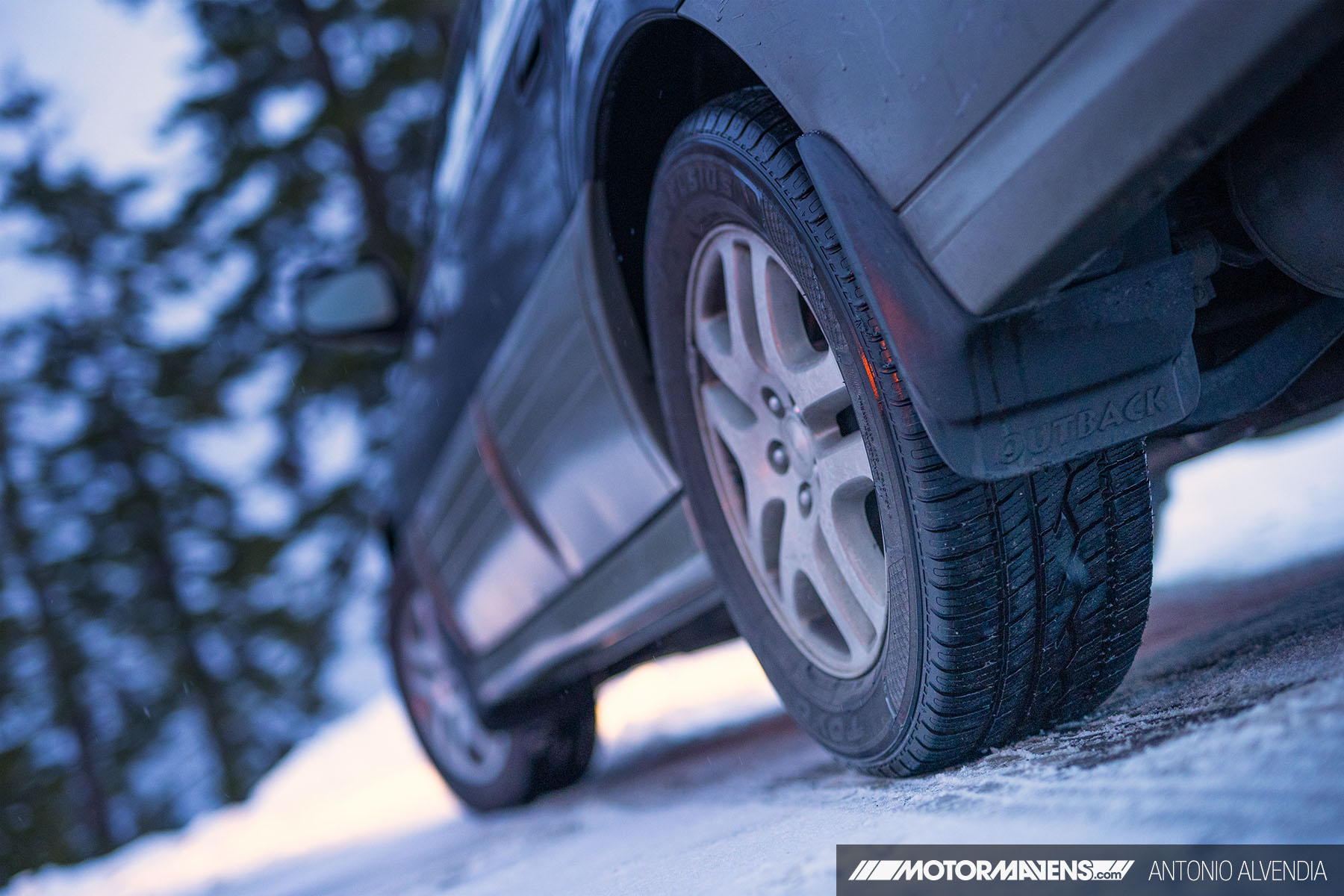 Even though snow tires provide much needed grip on icy surfaces, they are incredibly annoying when driving on dry/semi-dry pavement because the crunching sound is so loud it's almost as if someone bubble wrapped bags of kettle cooked potato chips underneath your car. Even on cars with really solid sound insulation and loud stereo systems, the crackling noise generated by winter tires is still noticeably loud.
This being said, I thought I'd write a story about the set of Toyo Celsius tires I've been using (off and on) for about a year and a half now.
Why write a story about one-year old tires, you might ask? I thought it would be extremely relevant, because unless you're a pro drifter, you want and expect your tires to last a long time.
I got to experience these tires in both summer weather and winter weather months, and I was happily surprised at the overall performance of the Celsius.
For trips up to visit my family in Lake Tahoe in the winter, I have been driving a 2004 Subaru Outback wagon, which has really great traction in the snow and ice, thanks to Subaru's AWD system. I don't drive the car frequently, because I'm always traveling and not in town too often. I just mounted up the Toyo Celsius tires to the OEM 16 inch wheels, then parked the Subaru at our family's house in Northern Nevada, so it took a while for me to put enough miles on the tires to provide my opinions for a long-term review.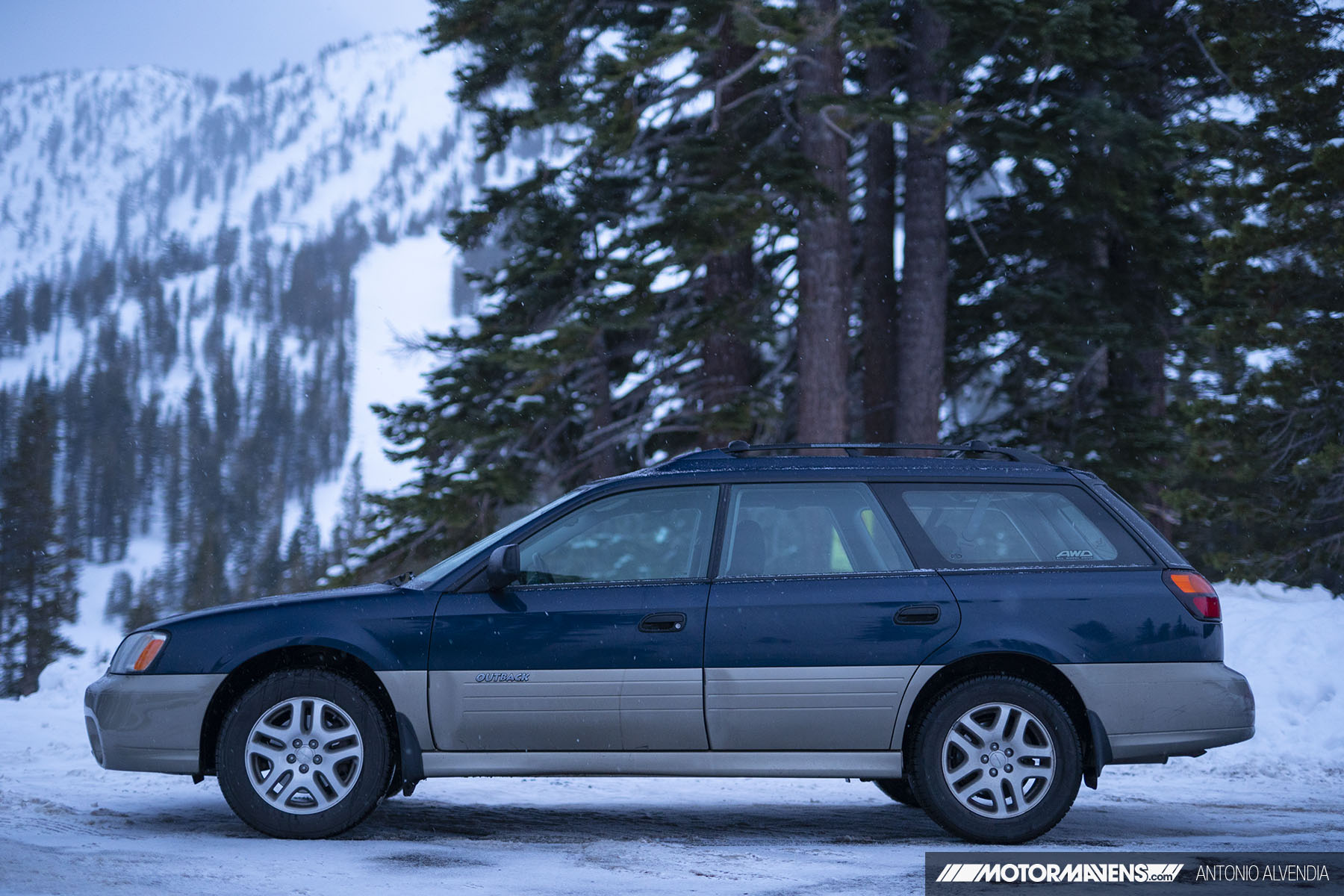 On snow and icy roads, the Celsius gives your car a sure-footed feel because it has "snow claw" siping cut into the inside portion of the tire to improve traction in deep snow. The outside tread has less sipe density to improve traction on wet and dry roads, and the tread blocks are rigid, which give the tire better traction on ice and in the rain. These tires allow you to drive wet, curvy mountain roads with confidence without fear of sliding off the road or hydroplaning into a guardrail.
I even tried driving off road in a little bit of snow. Obviously any vehicle will have its limits in heavy snow, but when I tested the Celsius out on roads with a couple days worth of snow in Lake Tahoe, the slush grooves in the Celsius helped the car grip the road very, very well – a day and night difference from the factory tires that the car came with.
The Toyo Celsius can be used as a year-round all-season tire, but it has much better winter-weather safety than most other all season tires.
Toyo promotes the fact that the Celsius is a variable-condition tire, which means it is not only good for winter weather, it's also good for those in-between days when the ice is melting, and you're waiting for another snowfall. These are perfect for those who live in higher elevations and colder climates, where the weather can change dramatically in the course of a few days – places like Northern Nevada, Washington, Oregon, New England, Upstate New York, Chicago, and any of the northern and midwestern portions of the USA and Canada.
The Celsius provides much longer overall tread life than a winter tire, and far better ice and snow traction than a typical all-season tire. The tread grooves on the Celsius even help cars achieve shorter braking distances on snow and ice than a typical all-season tire.
The Toyo Celsius has a 60,000-mile warranty, and comes with a Toyo-backed 500 mile/45 day return policy if you don't love them. That's crazy! The Filipino in me loves buying things with those types of satisfaction guarantees – trust me, we're not too shy to return things.
In warm weather, the dry performance is pretty good… something equivalent to a typical all-season tire, but nothing like the sticky Ultra High Performance tires that people might use on a sports car or something. Here's the thing though – the 2004 Subaru Outback is not a sports car. So for my purposes, which include driving around town and divebombing a few mountain roads in the summertime, and trekking through the snow on the way to meet my friends for snowboarding in the winter… well, the Celsius feel just perfect.
Don't take my word for it though. Try them out! Anyway, you can return them inside of 500 miles or 45 days if you aren't satisfied. You can't lose on that offer!
:: Antonio Alvendia
www.antoniosureshot.com
Instagram: @AntonioSureshot • @MotorMavens
---