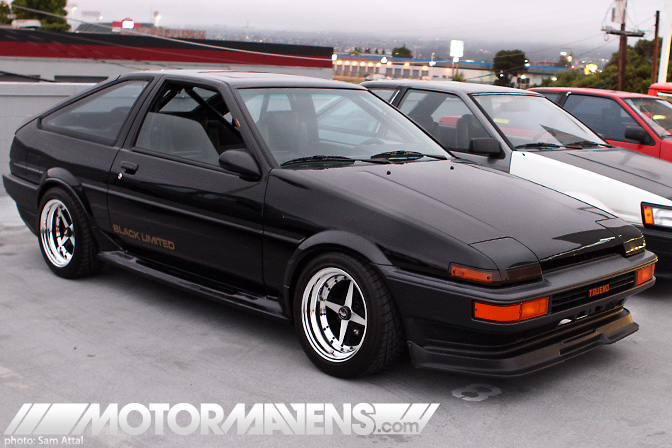 In the tuner world, the AE86 platform should be considered one of the most important and influential gems that has come from Japanese engineering and research. Even with today's sophisticated technology being used to develop high-performance machines with more than twice the power of a Hachi-Roku, it's hard to forget what this amazing little car did for the general public. Despite the fact that the machine didn't have some of the better features and strengths of some of the other cars its age and younger, it had one great sense of appeal to it: the price.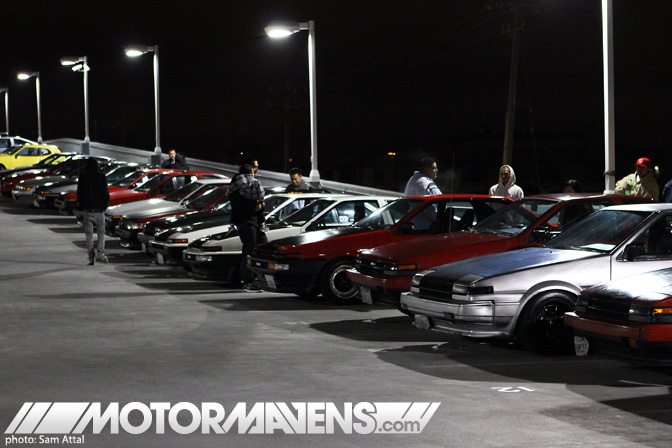 The common man didn't have to settle with just dreaming about the AE86 and gazing over pictures of its bodywork in magazines. No, instead, the common man could actually get behind the wheel of one since a new, fully-loaded Corolla GT-S would cost on average $12,000 at the time. And though AE86 became the last generation of the affordable front-engine, rear-wheel-drive compact from Toyota (until the FR-S/FT-86, we hope), it is still remembered, still used and still loved by the common man. And that love is why the Bay Area joins together each year to celebrate this iconic vehicle. I give you The Bay Area 8-6 Day meet!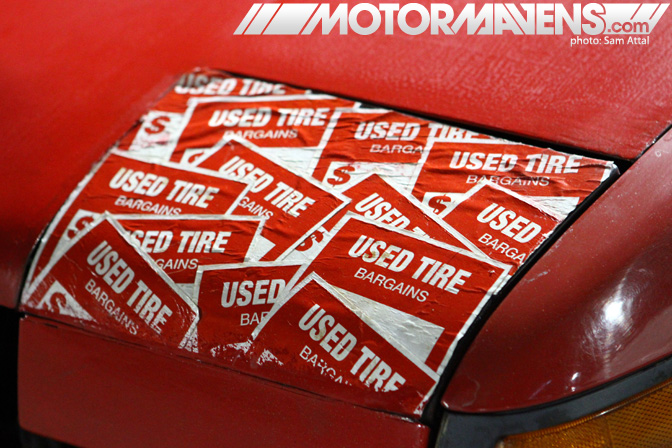 Since its introduction in the 80s, the AE86 scene has grown and gained a huge tuning fan base. In fact, over the past eight years (give or take), as drifting has been accepted as a motorsport, publications such as Option Magazine and Best Motoring and their respective video editions gained notoriety in countries other than Japan and Initial D (sorry – couldn't resist) became a hit worldwide, the Hachi has seen such a spike in interest and popularity that its prices have sky-rocketed.
High-mileage, "boro" (beat-up), rusted and sometimes broken weaker trim-model Corollas can be spotted with a price of $3,500-5,500 on Craigslist these days. Many will agree with me when I say that the cost, combined with the expenses of maintaining and modifying such an old car and the challenge of finding a body and engine in acceptable condition have all contributed to a decline in the number of well-tuned Hachis out on the road or at the track. Add to that the recent discussions between professionals in Formula D about AE86s not being able to keep up and stay competitive with six or eight-cylinder machines and one can see why many who have considered buying a Hachi have looked the other way.
As a result, platforms such as the younger, slightly more powerful and usually less expensive Nissan S13 have become the face of grassroots drifting and JDM tuning these days.
However, that's not to say that the AE86 scene is dead. Hachi owners and fans celebrated 8-6 Day with small planned meets in parking lots and car garages worldwide. My local August 6 meet in Oakland, California was a testament to how strong the Corolla community is and the many people living the 86 life. Thanks to One Toyota of Oakland, the SlideYourRide crew, local performance shops and Bay Area Corolla owners, the meet quickly became packed with cars lining the roof of what may be Northern California's coolest-looking Toyota dealership.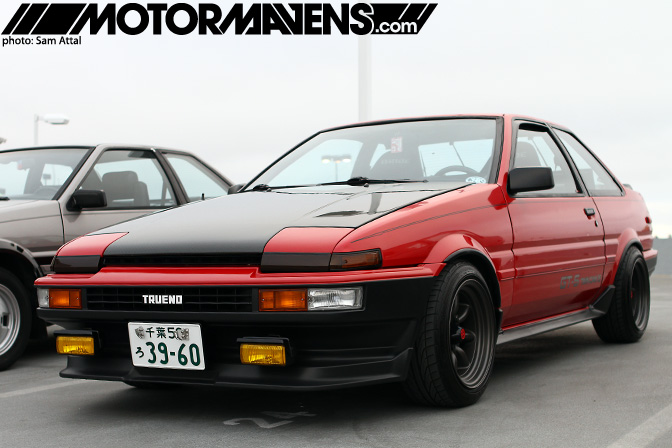 It was awesome seeing so many clean street builds show up at the regional gathering.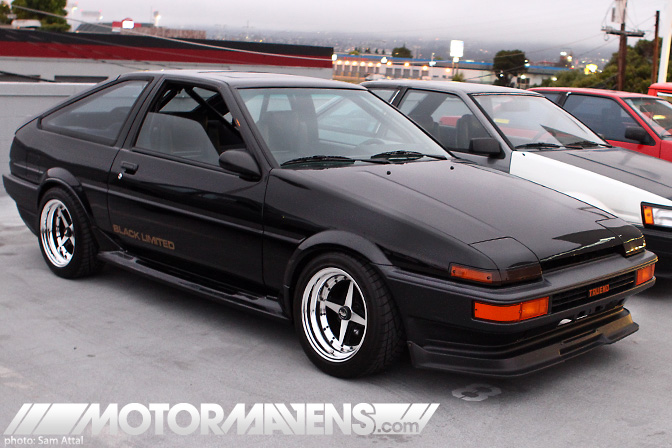 This Black Limited inspired build really caught everyone's attention. A simple setup with a set of Work Equip 01 wheels with proper offset almost always works!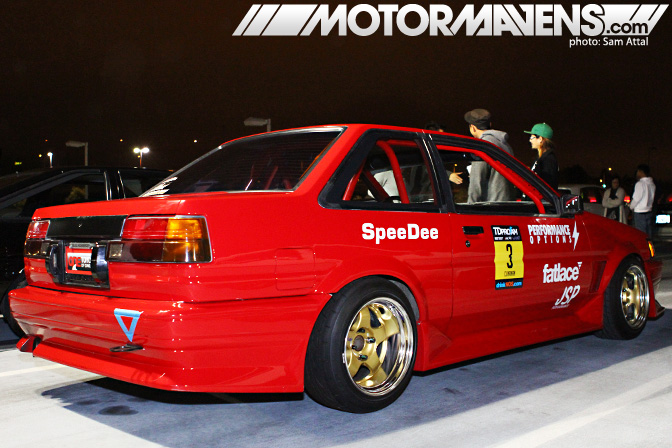 Oakland-based tuning shop Performance Options was well represented by their customers at the meet. Rick Cunanan, a rookie drifter in the Thunder Drift ProAm series brought his drift machine. Purists won't be happy with the Honda F22 motor that's under the hood. To each his own..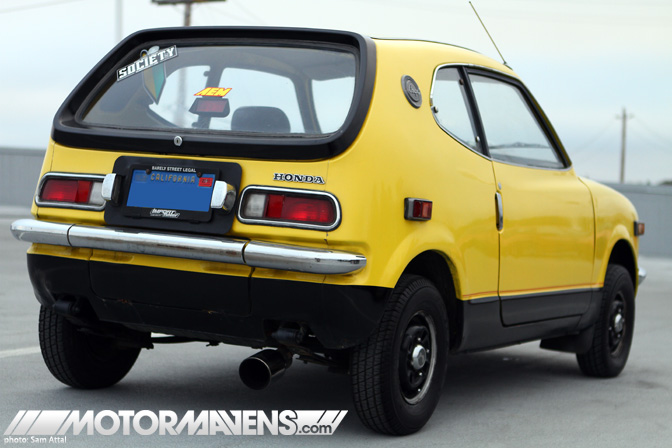 To be fair, the meet didn't actually discriminate against Hondas.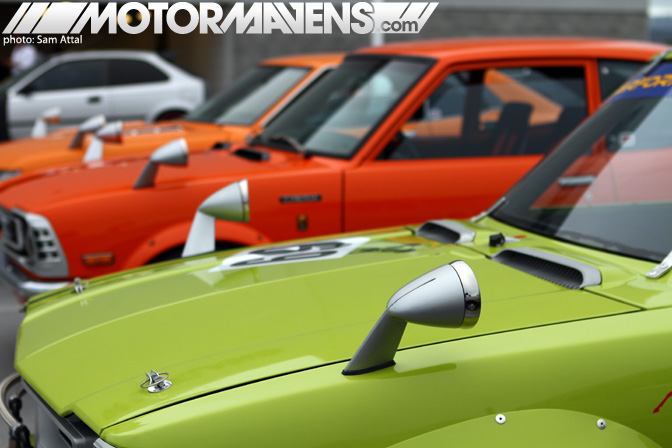 Also, Hachis weren't the only Toyotas getting love.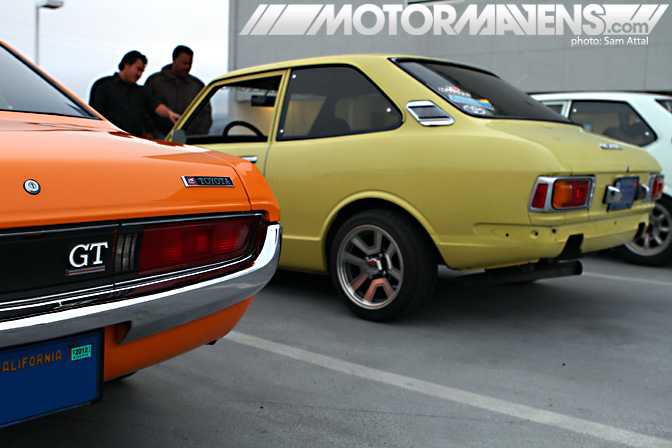 A few locals took the time to bring out some really dope classics! In all honesty, it was hard convincing myself not to linger around these cars during the whole meet. Instead, I walked around taking pictures sparingly and ended up returning to the classics to fill my memory card with stills.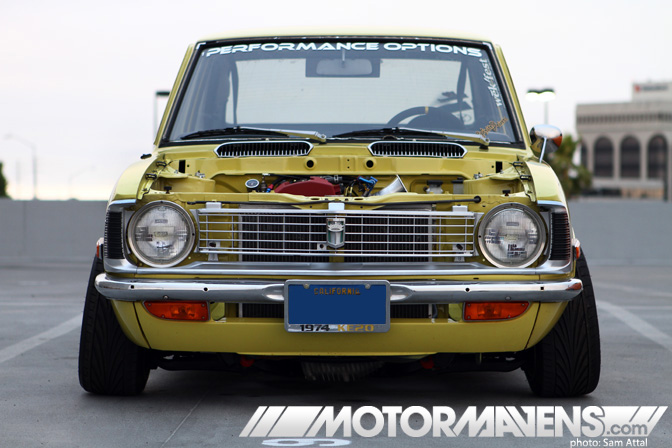 When this KE20 rolled roared in, it immediately gained everyone's attention. Check out that camber!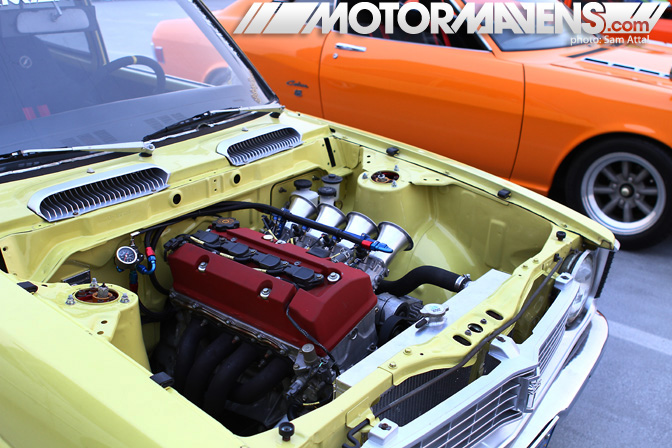 In the engine bay resides an NA F22 with a nice set of Individual Throttle Bodies. And, although I admit to usually being a purist, I was blown away by how clean this setup is.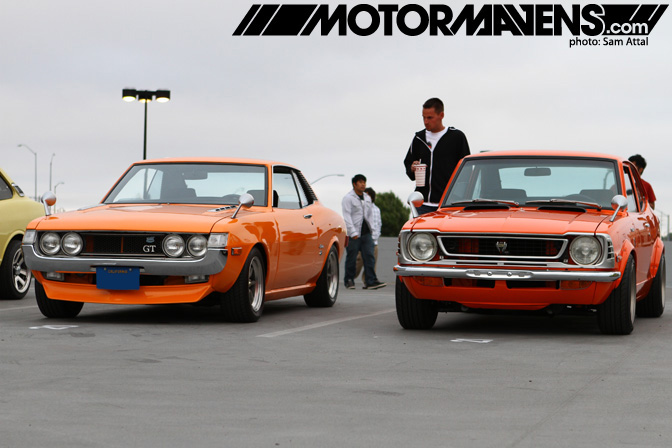 I fell in love with this first generation Celica and TE27. If you were wondering, this is what an old school Team Orange would have looked like.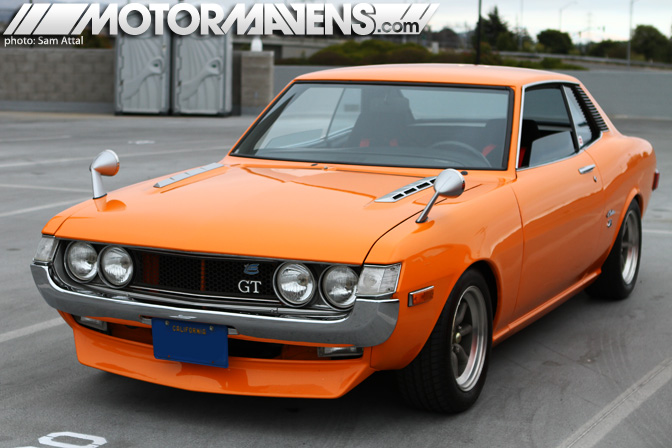 Both cars were seemingly flawless. Sometimes I wish more people appreciated the first generation Celica as much as they do American classics. Beautiful lines, a mean front end and the Toyota legacy. What's not to like?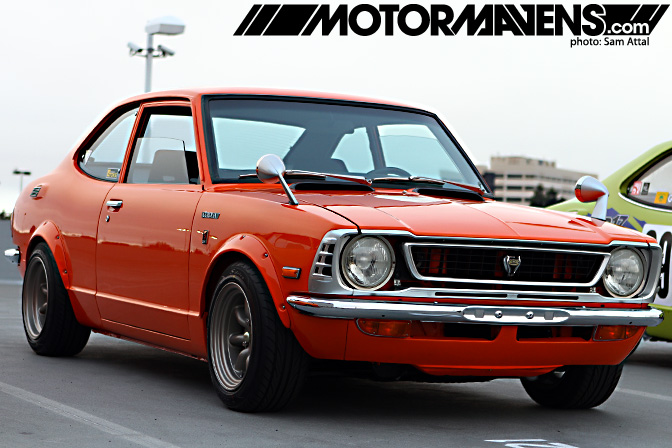 This Mango showed particular attention to detail in its restoration. Apparently our own Antonio Alvendia owned this car as a shell at one time. I love the Watanabe wheels paired with the factory steel overfenders. Simply old school and gangster.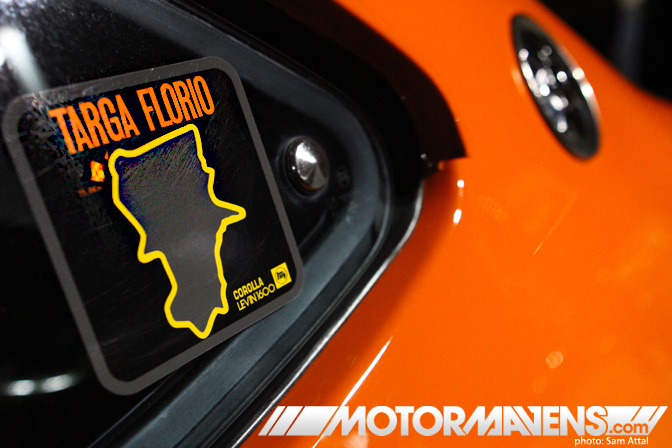 Again, it's all in the details…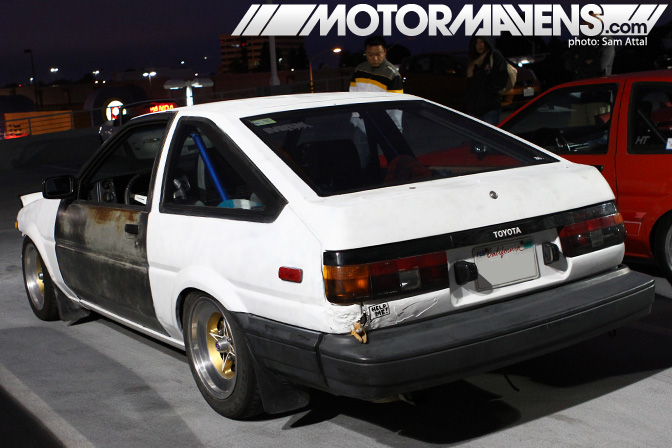 Oh man! I apologize for going super off-topic here. I forgot that this post was to commemorate an 8-6 Day meet and not the Japanese Classic Car Show — that's next month.
Moving right along – the meet was filled with whooped SR-5s and GT-Ss that most people would dread. I actually love boro set ups like this. I find the AE86 to be one of the only cars that can be messed up and still be cool in some way — I guess it's just the culture behind it that reminds me why it's so awesome seeing it in such condition.
In fact, one of my favorite Corollas to this day is Alex Pfeiffer's flat black hachi from the early days of Formula D. That thing was bandaged up all over, barely had any livery, ran a 16 valve 4AG and sported USDM bumpers, yet it still managed to look so damn cool to me! I guess I may be weird, but I think all the dirt and grime made it even more beautiful, even when it wasn't sliding.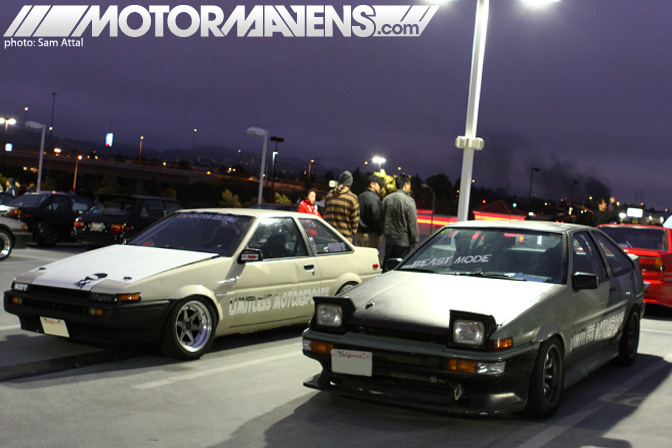 Another local crew with cool boro Corollas in attendance was Limitless Motorsports/Team Mint. I've seen them around at some local grassroots drift events tearing things up but I had never actually spoken with any of them. I spoke with the owner of Limitless, Alex Hsieh, about his daily driver on the right. He recently chose to switch from a turbocharged 4AG to a V-8 1UZ-FE from a Lexus LS400. The crew soon plans to paint all their cars the same color. I think we're all looking forward to seeing Alex and his crew killin' it at the track!
So ends part one of my coverage. Stay put for part two coming your way soon!
::Sam Attal
1UZFE
,
4AG
,
4AGE
,
8-6
,
AE86
,
alex hsieh
,
Bay Area
,
black limited
,
boro
,
camber
,
Celica
,
Celica RA28
,
Civic
,
Corolla
,
F22C
,
Formula D
,
Hachiroku
,
Honda
,
ke20
,
Kouki
,
Levin
,
lexus ls400
,
Limitless Motorsports
,
Mango
,
oakland
,
offset
,
one toyota
,
performance options
,
ProAm
,
rick cunanan
,
Sam Attal
,
San Francisco Bay Area
,
slideyourride
,
team mint
,
Team Orange
,
Thunder Drift
,
Toyota
,
Trueno
,
wes ong
,
Work Equip 01
,
Zenki
---