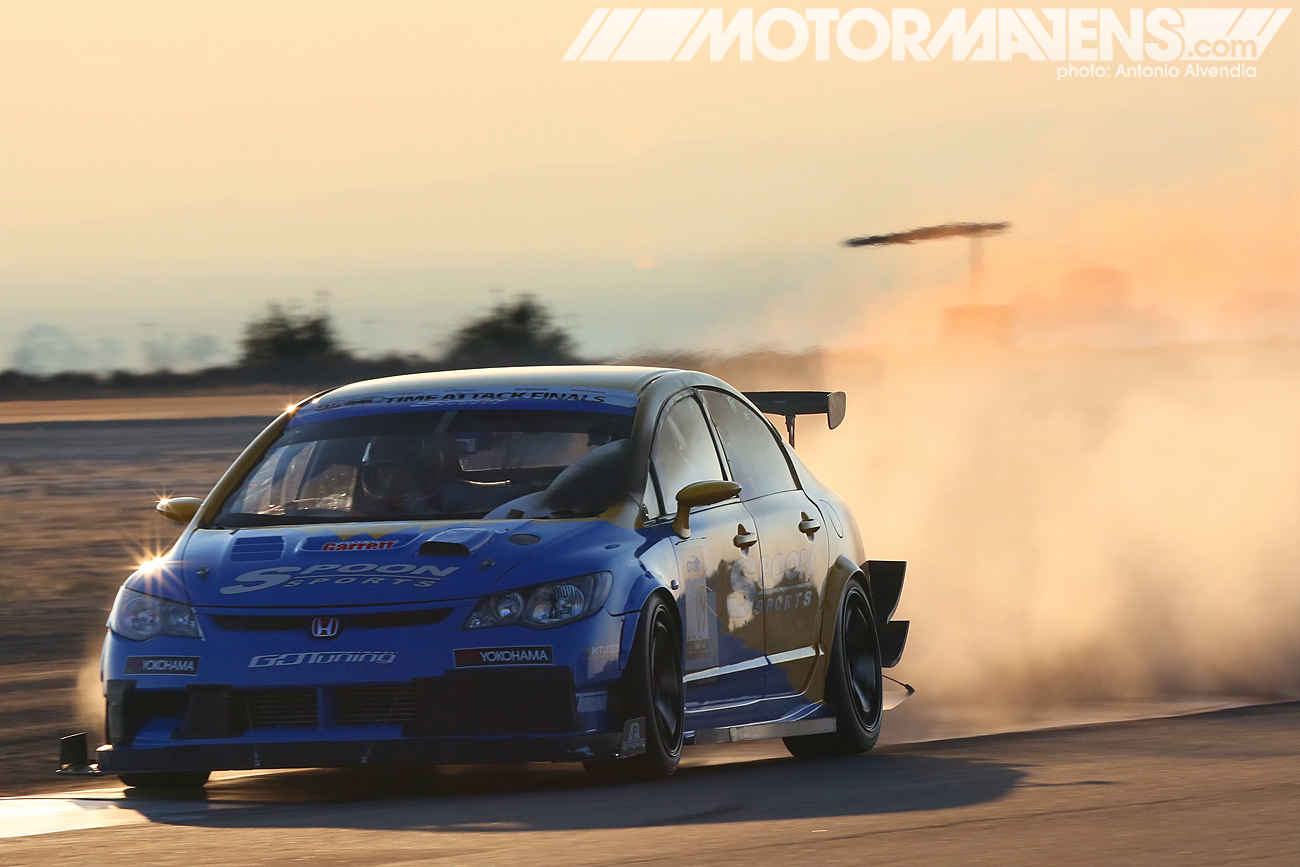 Dai Yoshihara might be best known as one of the biggest pro drifting stars in the Formula Drift series, but he is also a top notch time attack driver! At the recent Global Time Attack Super Lap Battle at Buttonwillow Raceway this past week, Dai piloted the Spoon Sports Honda Civic to upset Christian Rado's track record to set a new FWD Unlimited Class record of 1:45.585!
There's no doubt that Super Street Magazine and Honda Tuning Magazine are going to have full coverage on this record breaking feat, but here are some photos from the event while you're waiting…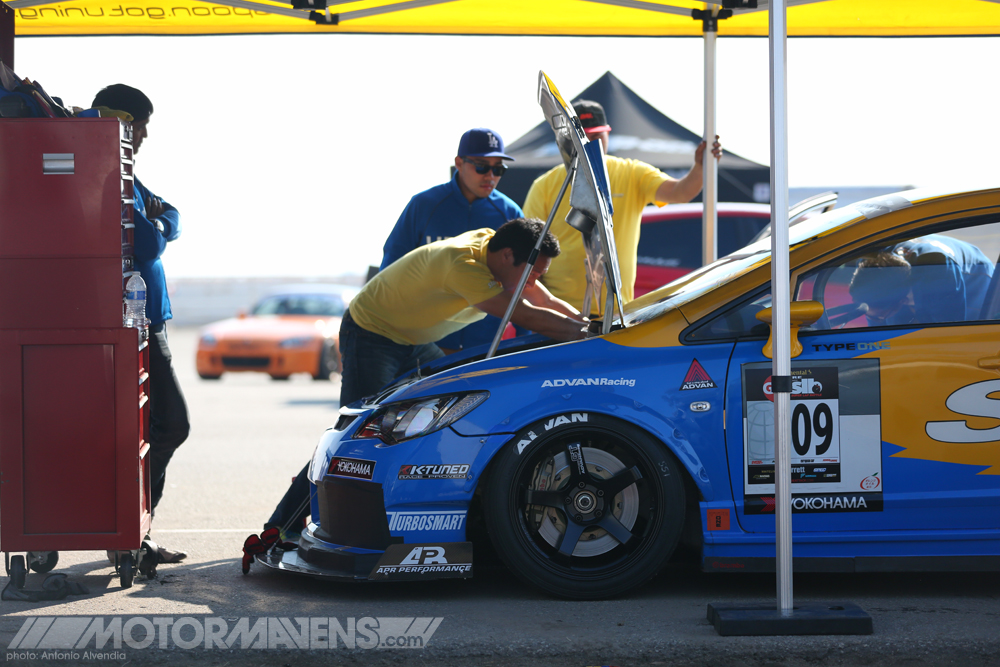 One thing about the Spoon Sports/Go Tuning team, they have incredible presence when they're out at the track. The race car, trailer with rolling tool boxes and extra tires, and entire team were decked out in the signature blue and yellow. I know I'm not the only one who thought the blue Spoon Sports jackets they were wearing looked bad ass!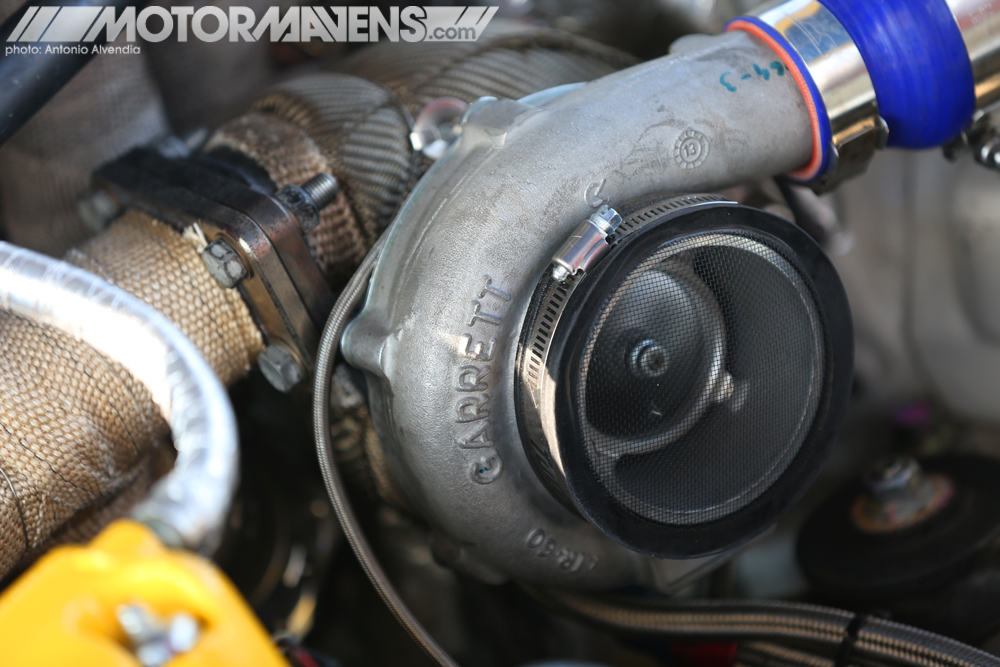 Check out the Garrett turbocharger under the hood, with a high flow mesh screen filter. The screen is big enough to allow plenty of air flow, but small enough to prevent the Civic from sucking in any small birds or big flying bugs at Buttonwillow.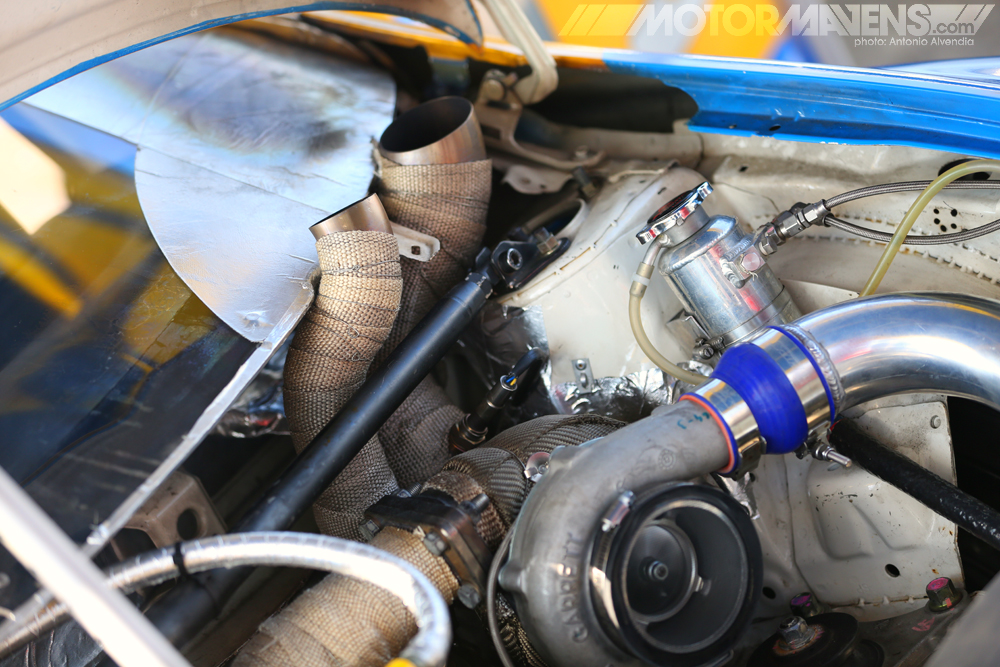 Check out the exhaust! It pops out of the back of the hood, and the Spoon team had to lay down a metallic heat shield material on the front windshield! As the day wore on, that heat shield got blacker and blacker… It would be cool to put a GoPro right there!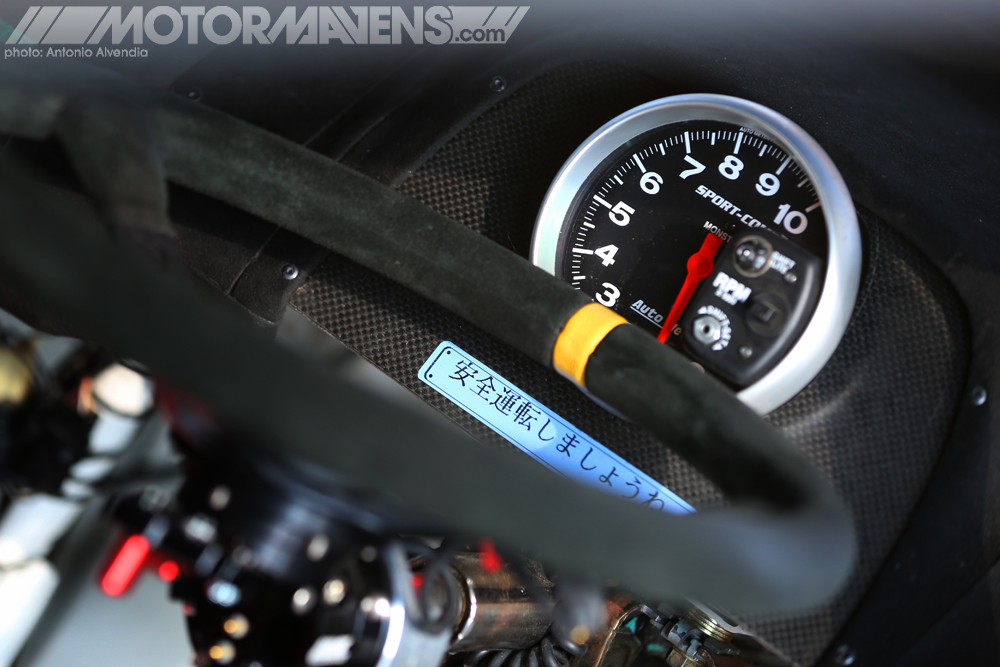 Inside the cockpit, the award winning Spoon Sports Civic runs a Works Bell flip-up steering wheel hub and an Autometer Sport Comp tachometer in a custom carbon fiber gauge bezel. Nice blend of US made parts and Japanese parts. It just goes to show that Autometer is the clear leader in instrumentation technology – pretty much all the top teams use their products!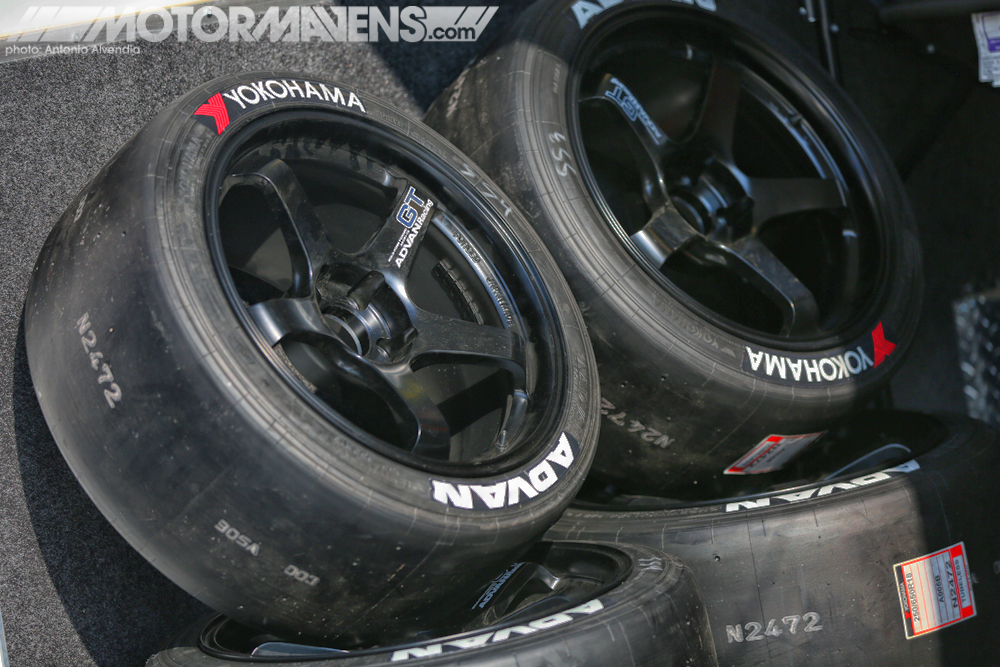 Get you a step ahead! Inside the trailer, I spied a set of Advan GT wheels wrapped in Yokohama Advan slicks… nice!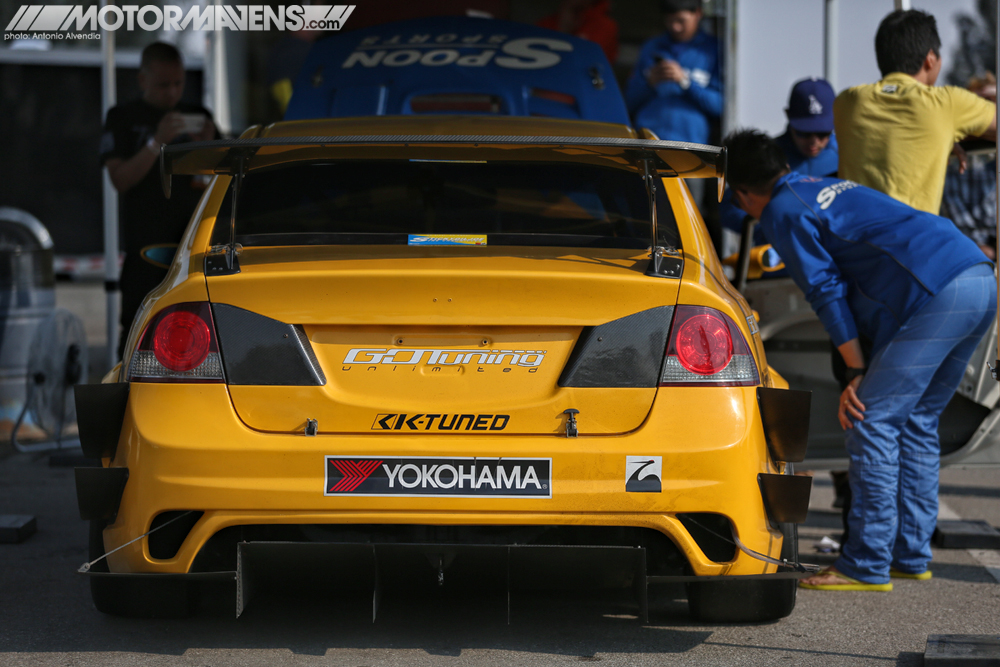 It was interesting to look at all the functional aero enhancements on the car – the big wing, canards, and rear aero splitter under the bumper. It was also interesting to note that Dai was rocking matching yellow slippers with his blue Spoon race suit. Matchy matchy, I tell you!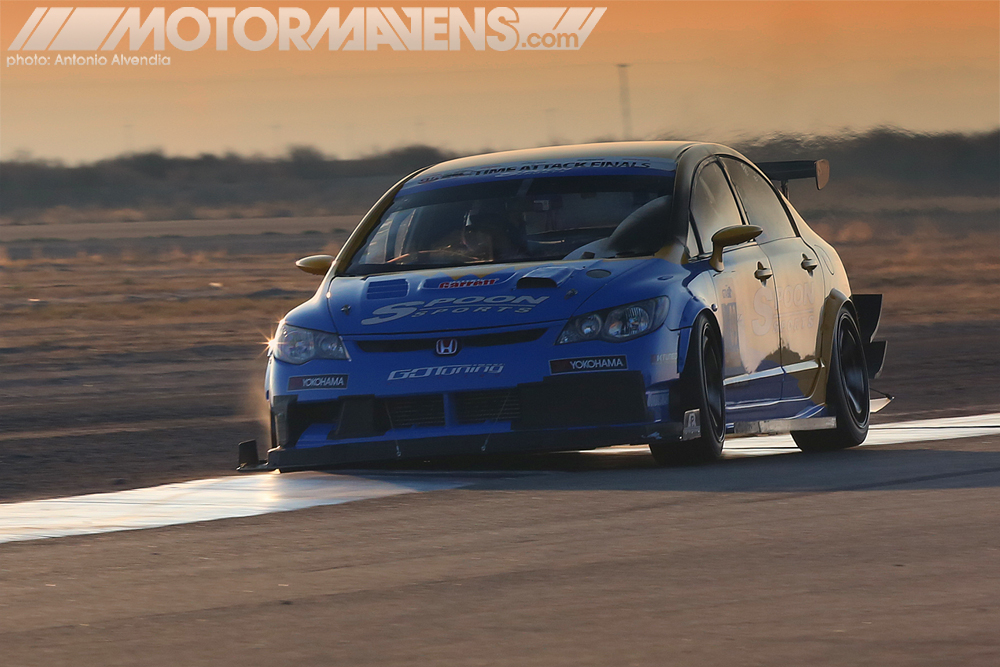 As he turned left onto Buttonwillow's front straight, I noticed that Dai's front right tire dipped into the dirt… this dude was using every square inch of the racetrack!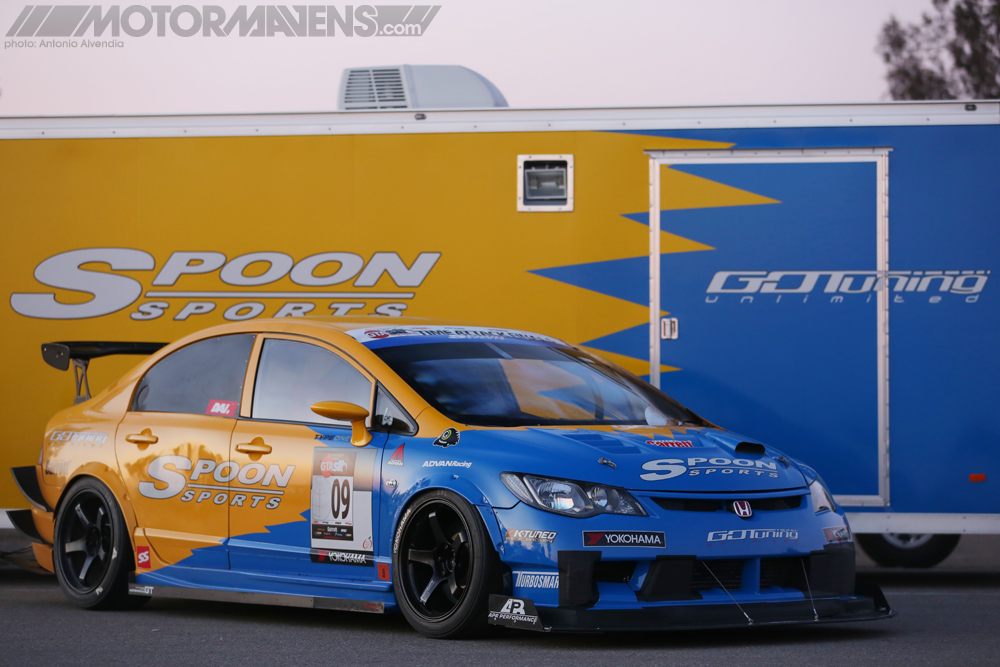 Spoon Sports. These guys look so professional at the track – other teams can learn a lot from Spoon when it comes to the way they present their sponsors, cars and trailers. So legit!
I'll have more photos from Global Time Attack Super Lap Battle up on our website and social media channels very soon… stay tuned!
:: Antonio Alvendia
---