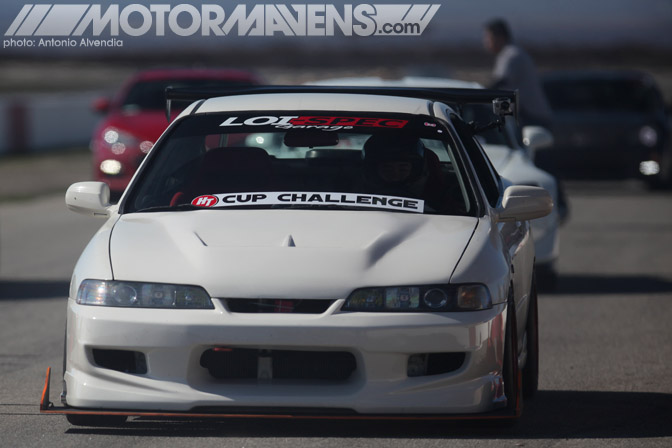 This past weekend, I was given the opportunity to join my friends from Raceline USA and JDM Zipties at the series opener of the Honda Tuning Cup Challenge at Buttonwillow Raceway. There are three announced HT Cup Challenge events for the 2013 calendar so far – Buttonwillow, Chuckwalla Raceway, and Streets of Willow.
Raceline also added a new component to the trackdays they organize – a challenge series for the new 86 Platform,"Scion FR-S and Subaru BRZ. Even though it is called the 86 Challenge (coincidentally the same name as the previously announced 86 Challenge from Speedventures), the series is tailored towards Scion FR-S and Subaru BRZ drivers, not AE86 owners.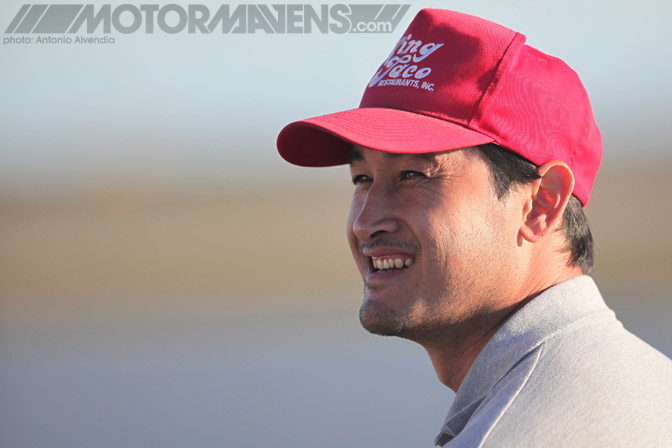 This is Elton Lo. He's the head honcho at Raceline, even though he came to the track disguised as a King Taco employee.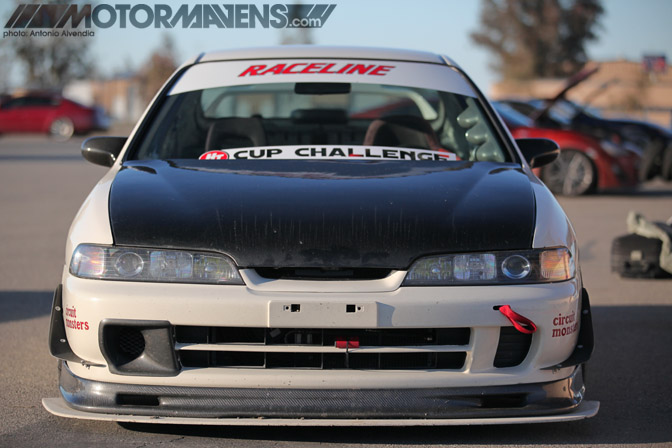 Raceline USA is a race shop in Temple City, CA, specializing in race car builds and maintenance. Although they're capable of working on any type of car, most of their popularity stems from the modified Honda scene. This being said, it came as no surprise that there were some pretty good looking Hondas and Acuras trackside running the Raceline banner, like this Integra Type R. It's awesome seeing well cared for cars built with top notch parts attacking the race track! This is what Raceline is all about!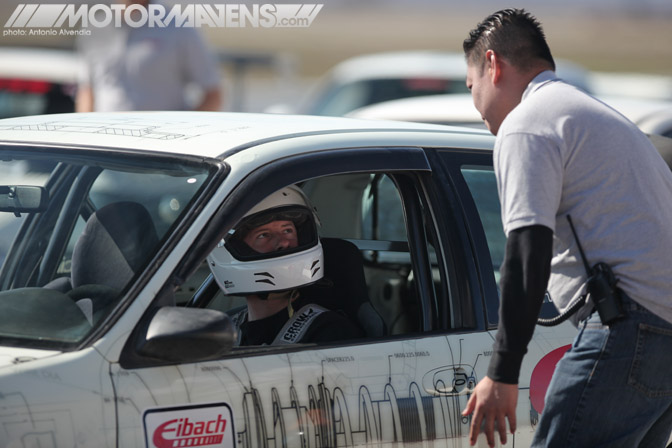 At the start line, one of the Raceline staffers, Jay Meot Gerolaga, was organizing the run groups and helping people on their way out to the track. Here he is giving some direction to Tony Jackson of Eibach Springs. Or maybe he was hitting up Tony for sponsorship? Haha!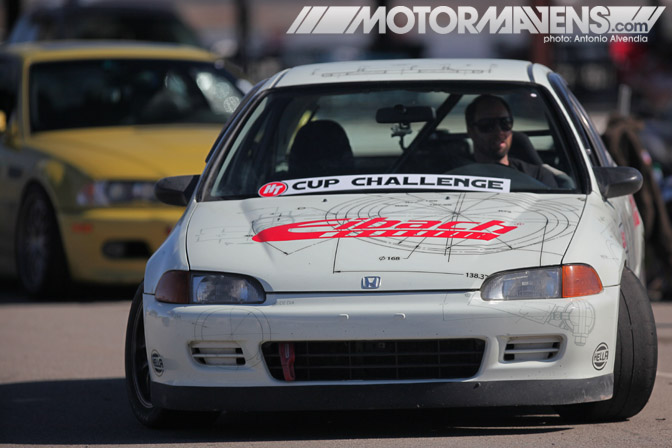 I wonder if I'm the only one who thinks Eibach's Marketing Manager Tony Jackson looks sort of like Tony Hawk? He was even cruising the Buttonwillow paddock on a skateboard! Ollies and 360s aside, Tony was tearing it up at Buttonwillow in his EG Civic. He actually fought his way to the top of the podium, winning First Place in the HT Cup Challenge, and that was no easy feat!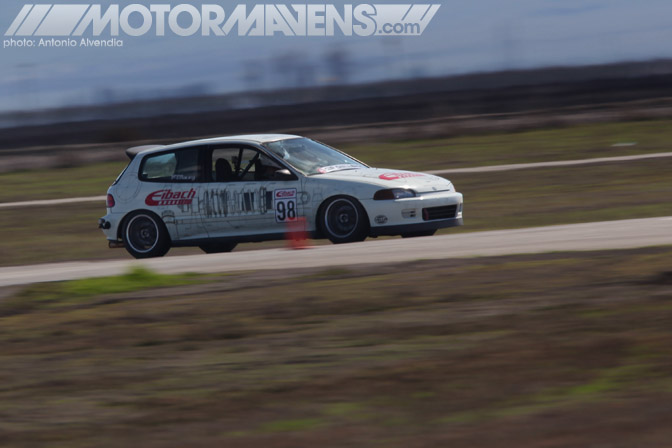 Here's Tony in his EG Civic hatchback negotiating the Bus Stop section at Buttonwillow.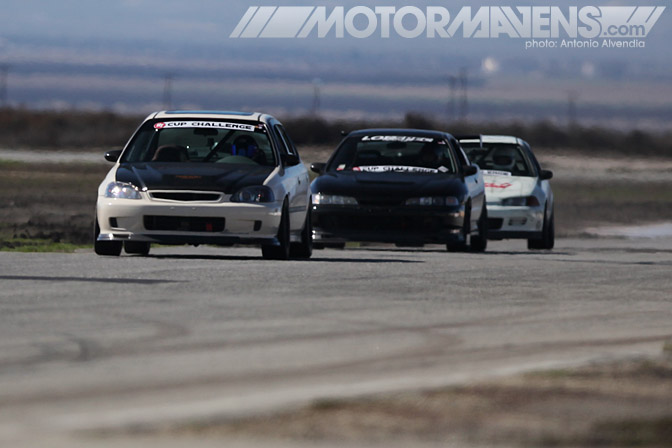 Follow the leader. It was pretty awesome seeing these three drivers run full throttle down the main straight! They were battling each other the entire time they were on the track, and there were lots of people gathered near pit road, trying to watch the action as they charged through the entire course! So awesome.
In fact, Eibach Springs posted this POV video of Tony Jackson's EG hatchback at Buttonwillow. I know a few people that will most likely chuckle when they read the term POV video…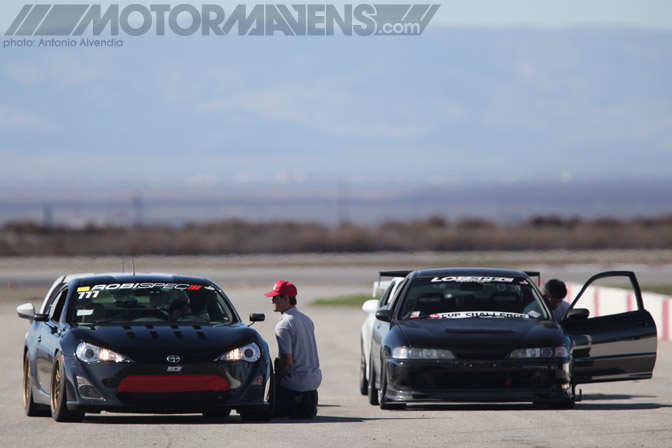 On pit road, Elton took the time to speak with some of the drivers as they exited the course, or stopped in at the Yokohama Tire booth for tire advice or assistance with their air pressure. I was so surprised to see Matt from Yokohama out there at the track. Most tire companies don't care enough about small grassroots track events to do this type of stuff!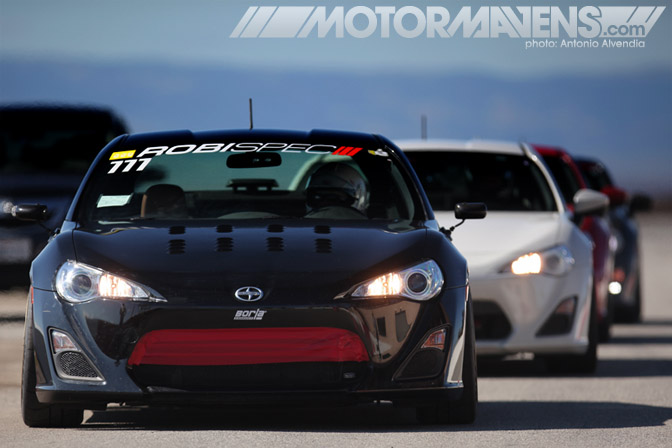 Even though Raceline's trackdays are primarily attended by fast Hondas, there were a few Scion FR-S and Subaru BRZ owners in attendance as well. It looked as if only a few competed in Raceline's actual 86 Challenge, but there were several FR-S and BRZ drivers scattered throughout different run groups.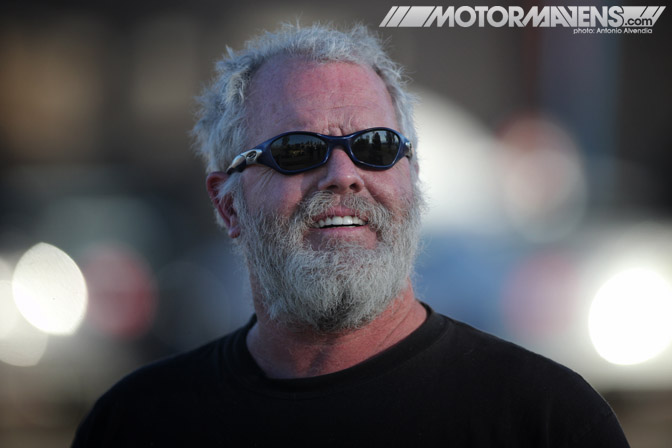 It came as no surprise to many that the fastest FR-S in attendance was owned by this man – Robert Fuller of Robispec.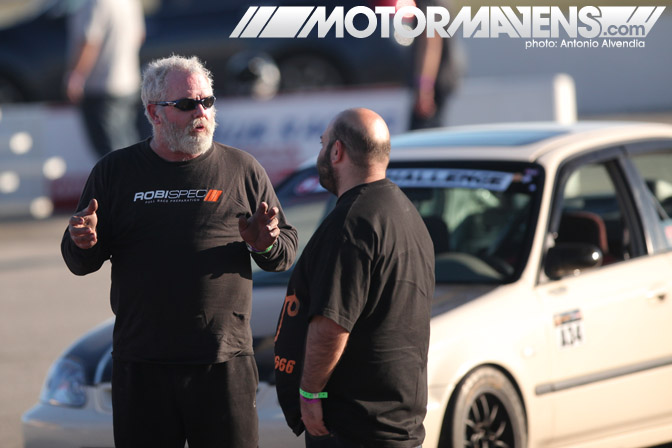 When Robert wasn't out on the track, he was cruising around the pits, talking to other FR-S and BRZ owners, like Jeff Lushe here. It looks as if Robispec is yelling at Jeff Lushe in this photo! If that were true, it wouldn't be the only time Jeff got yelled at during the track day… hahaha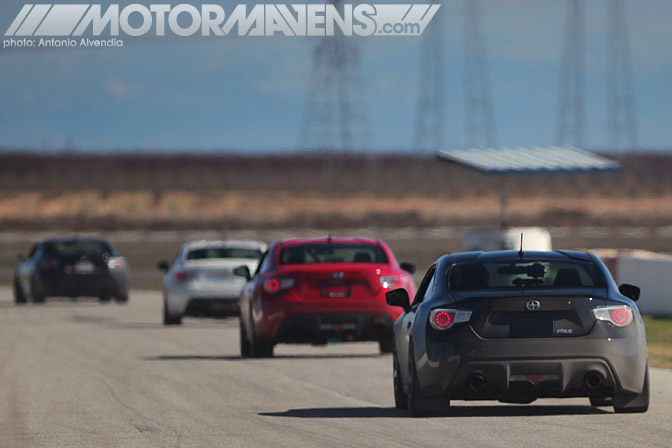 Here's the FR-S/BRZ lineup charging down the front straight and into Sunrise corner! All the cars were pretty dusty and dirty, looking as if they all went off course at the racetrack! However, this wasn't the case. (Well, I saw a couple cars go off course! Hehe) Most of the cars were dirty, however, because we all had to pass through the snow covered roads of The Grapevine on the drive up to Buttonwillow early in the morning. The Nissan 370Z I drove at the track that day looked filthy from driving through snow/dirt covered roads!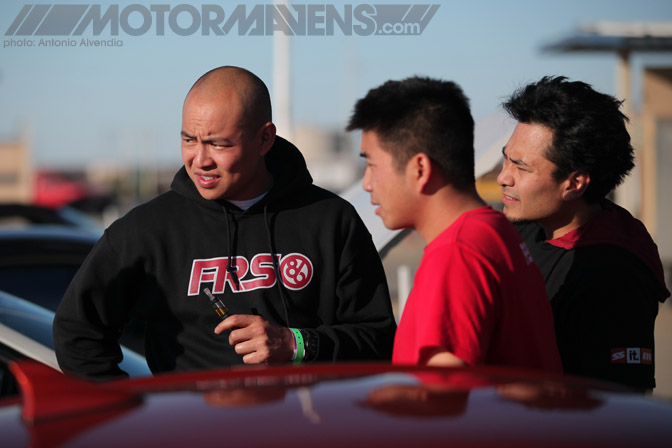 Here are some of the Scion FR-S drivers from the FRS/86 group! But I'm sure these guys need no introduction…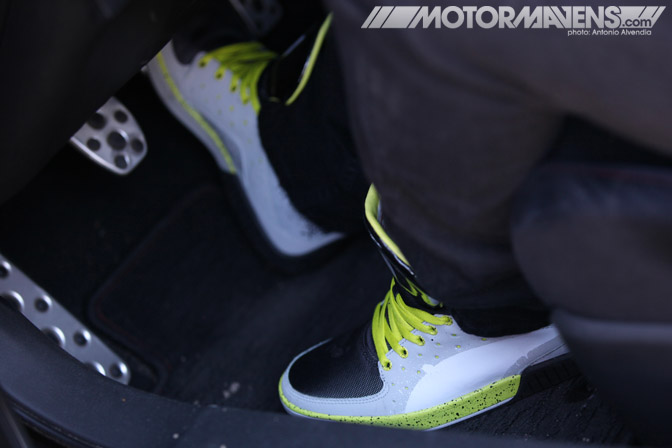 It was super cool seeing one of the guys in the FRS/86 camp rocking these brand new Subaru Motorsports Puma driving shoes that we raffled off at our 86FEST event back in October! This guy was a lucky winner!!! Man, I didn't even save a pair for myself…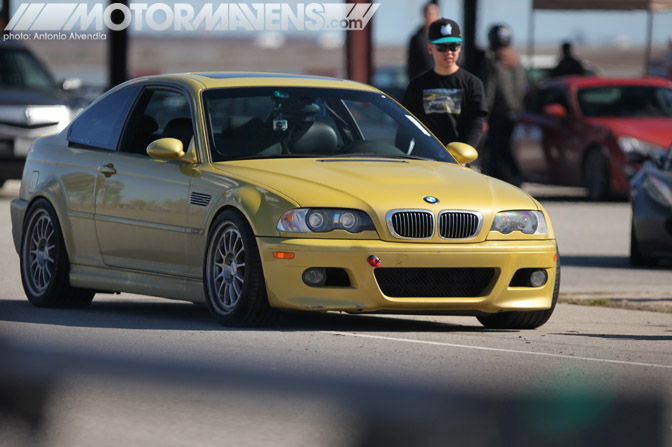 This E46 M3 from Platte Forme AG was sitting pretty in the pit area. This female driven E46 turned a 2:14.8, a new personal best for the driver, Renée Lee. Car is 100% stock other than Suspension Techniques Coilovers & spring conversion and Fikse Wheels wrapped in Continental Tire Extreme DW (340TW) tires.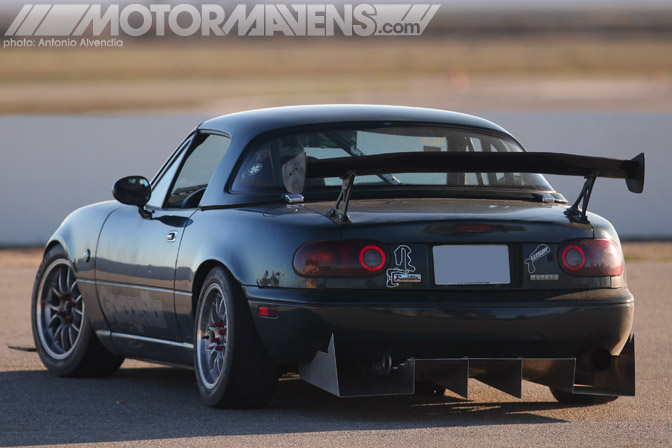 This Mazda Miata looked pretty awesome with its crazy aggressive rear under-bumper diffuser and GT wing. By looking at the track stickers on the rear panel, it's apparent that this driver is no stranger to the racetrack. Do YOU recognize all the tracks on the rear end of this Roadster?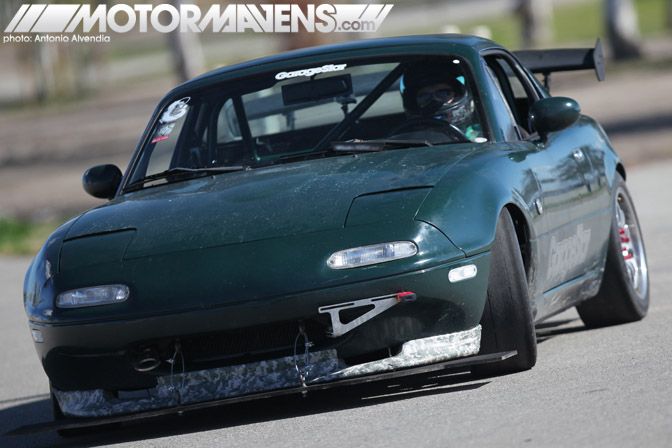 Check out the mounting brackets for the under-chin spoiler/front splitter on this Miata, and the license plate mounting bracket. This car was repping our friends from GarageStar in Sacramento.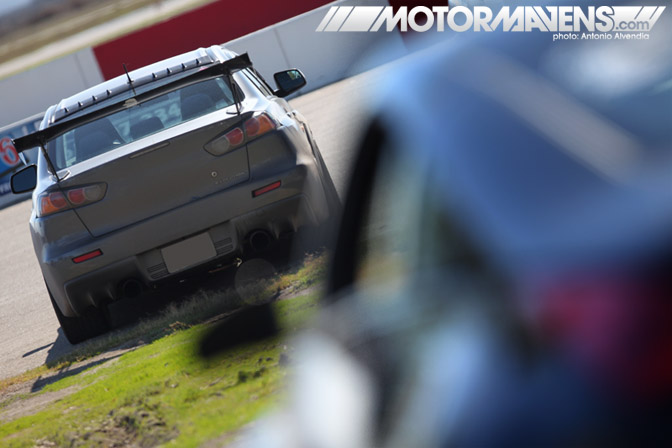 This Evo X MR looked like it was covered in dirt from the drive up to Buttonwillow as well… but it still looked awesome covered in dirt!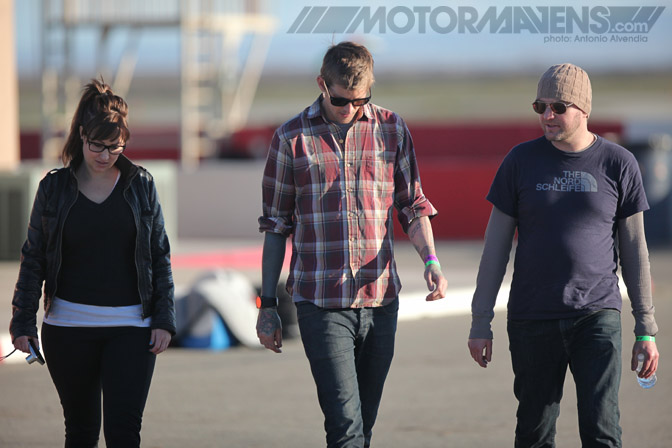 Even though I didn't know many people at the Raceline event, other than Elton, Danny from JDMZipties, and the FRS/86 guys… I spotted some familiar faces walking through the paddock. This is Mark SlideSquad on the right in the North Face/Nord Schleife parody shirt. Mark recently bought an FR-S, and didn't waste much time getting it onto the racetrack. I just realized I never really met his friends, but I think the guy in the middle was driving the track too.
Mark used to be very active in the Southern California drifting scene with his S13 Silvias. He's done many different S chassis buildups, but my favorite is possibly his red S13 Silvia with the RB engine swap and Regamaster Evo wheels. I remember that thing ripping through California Speedway in Fontana back in 2004, pushing out big smoke from its fenderwells. In fact, I have a few photos of it in the hardcover book I published on Drifting back in 2006.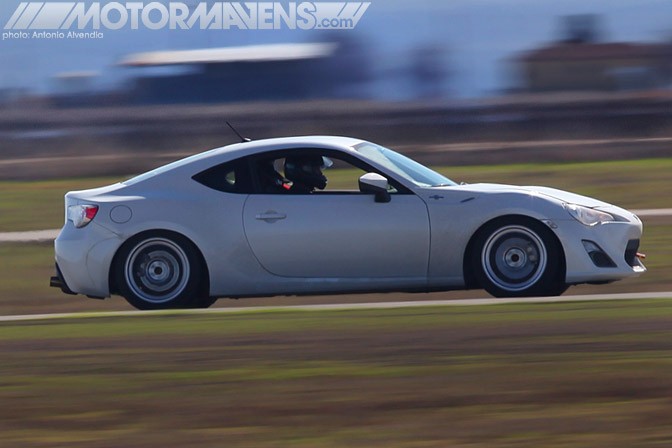 Here's Mark driving his FR-S out on the track. Not sure how he placed in the 86 Challenge, but he looked as if he was pretty fast.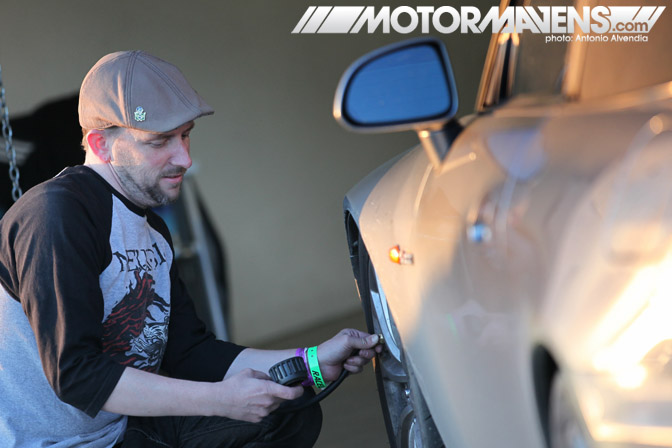 This is Dave SlideSquad. Before you make any assumptions about these guys being brothers or being in a domestic partnership or something, let me clarify. Slide Squad is the name of their old drift team from Thousand Oaks California.
I met these guys a long, long time ago at a race track far far away. Dave had an incredibly slow, incredibly low EF Civic hatchback that had camouflage spraypaint and Riken mesh wheels if I remember correctly? Dave's car was always super cool looking, because it was styled to look like a Japanese drift car.
Back in the late 1990s, most of the Civics in Southern California looked horrible. They almost all had Altezza taillights, Saleen Mustang wings, Integra headlights, colored vinyl interiors, Ground Designs 2000 body kits, and 17 or 18-inch garbage wheels.
Dave's EF was the antithesis of all that crap. It was low, yet purposeful most of the time. (At one point, Dave built an army green graveyard in the spare tire well of his Civic. I'm not sure how functional that was, but it was definitely representative of his quirky personality.) In fact, Dave's Civic (and Mark's S13 Silvia) were featured in the now defunct Japanese car magazine Young Version, where they showed off their American interpretations of early 2000s Japanese drift style, complete with stickers from drift teams that Dave met on his trips to Japan to watch drifting.
Yup, these guys were into drifting culture and canyon running "before it was cool." Japanese car culture hipsters, if you will. Back in those days, Dave and Mark were among the only non-Asian guys I knew in Southern California who were into the car culture of Japan. I can't believe I've known these two guys for over ten years. Damn, we're getting old.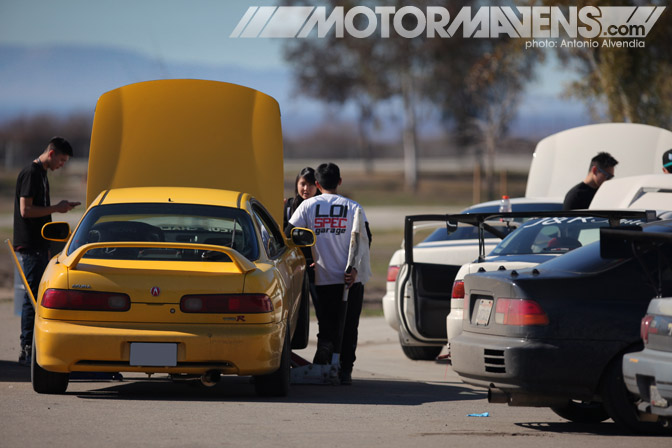 The Loi Spec Garage guys rolled deep to the track! They looked as if they had a pretty big crew gathered around their pit area, and they looked pretty damn fast out on the track, too.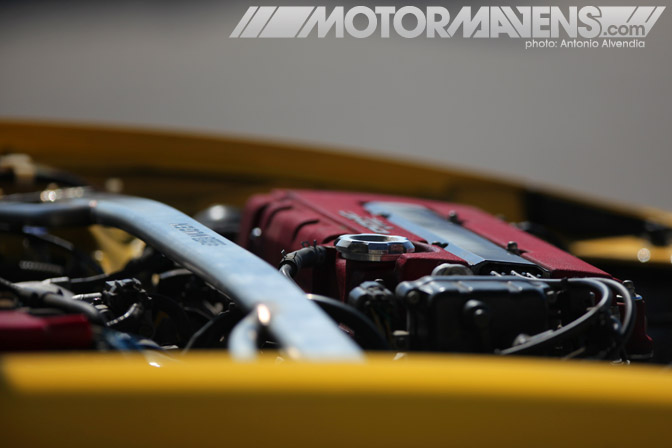 If the Loi Spec cars were as fast as they looked, then maybe this might have something to do with it. Meticulously built engines that run well.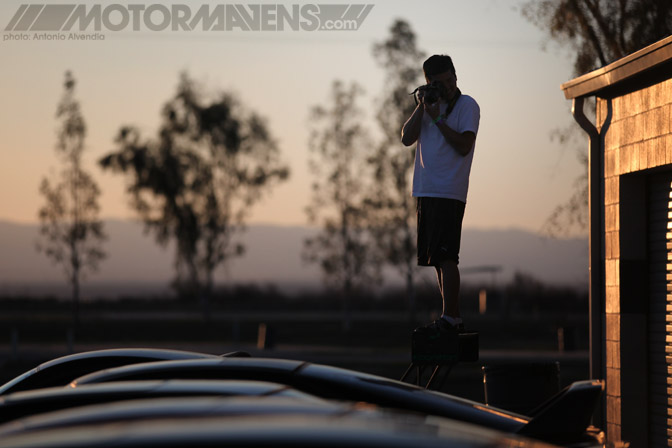 After packing up at the end of the day, many people took time out to take some cool sunset photos of their cars at Buttonwillow.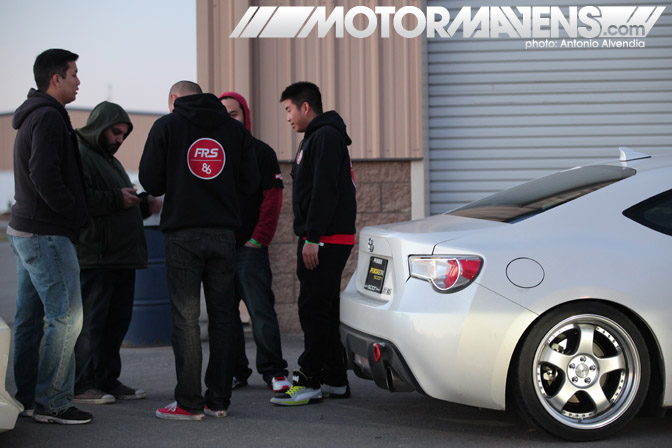 After I finished shooting my own sunset photos with the Z, I rolled up to the FRS/86 guys and told them to hurry up! We were all supposed to have dinner together at Willow Ranch BBQ at the Buttonwillow McKittrick Exit!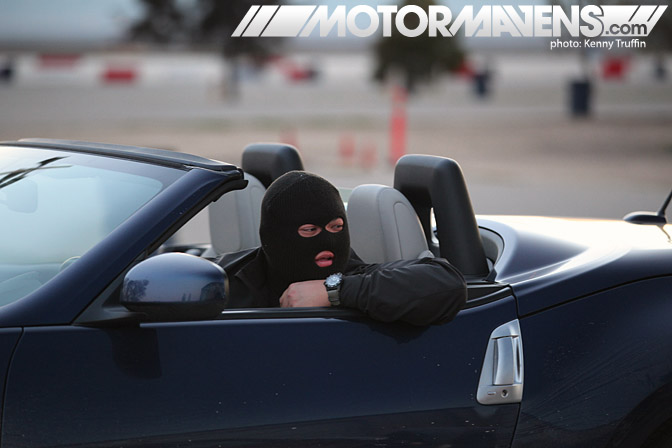 It started getting pretty cold and the Z Roadster had the top down, so I pulled my beanie down pretty low. I don't know why everyone was trippin out when they saw me drive up… HAHA Kenny Truffin captured this pic of me telling the FRS/86 guys to hurry up so we could eat! LOL
All in all, the Raceline open trackday was so much fun! The atmosphere of the entire day was super chill, and everyone I met there was super cool. THANK YOU so much for inviting me to the event, Elton and Danny! Driving Raceline USA trackdays is a blast! I can't wait for the next event at Chuckwalla!
We all left the track together, but our adventures didn't stop there…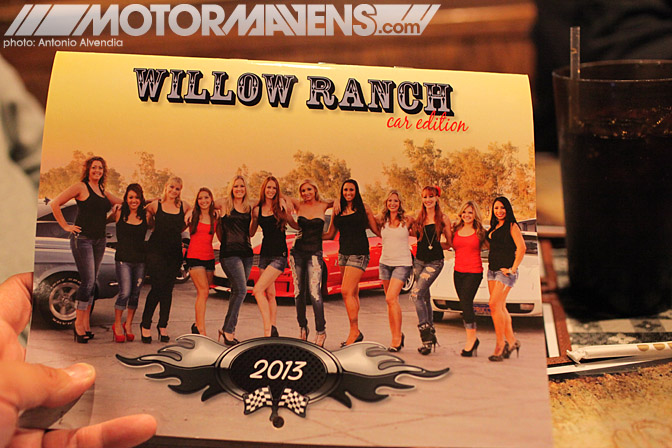 When we finally arrived at Willow Ranch BBQ, I noticed this Girls of Willow Ranch Calendar sitting in their display case. I started cracking up because Jason Dienhart from Global Time Attack sent me a Twitter message, telling me to pick up one of the Willow Ranch Calendars. I had no idea what he was talking about at first..? I assumed he was joking! But he wasn't. They really do have a Willow Ranch Calendar! LOL.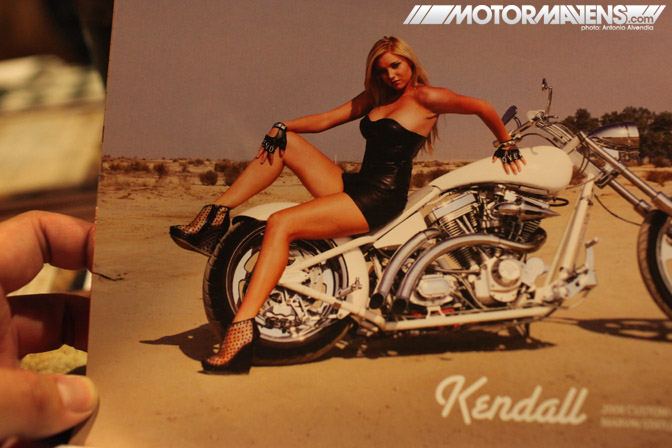 This was our waitress, Kendall. Nice! She should have (I hate when people write SHOULD OF) worn that outfit to work that day! But she didn't. We were so disappointed.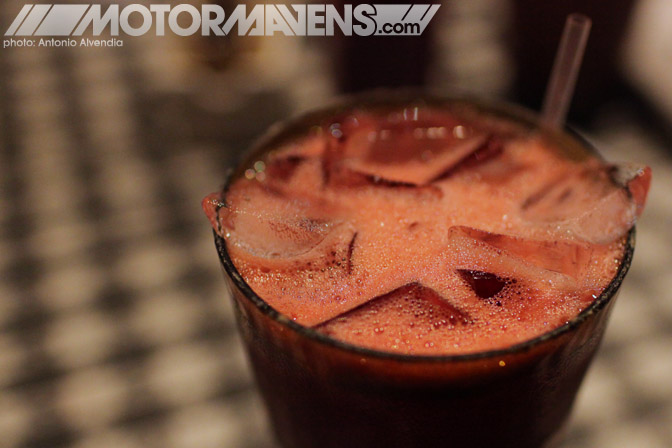 If you ever visit Willow Ranch BBQ, make sure you order the FRUIT PUNCH. It is sooooo damn good. After killing one of these glasses of delicious fruit punch, it's almost like your can feel the diabetes developing inside your body. But it's so worth it. Mmmmmmmmmm!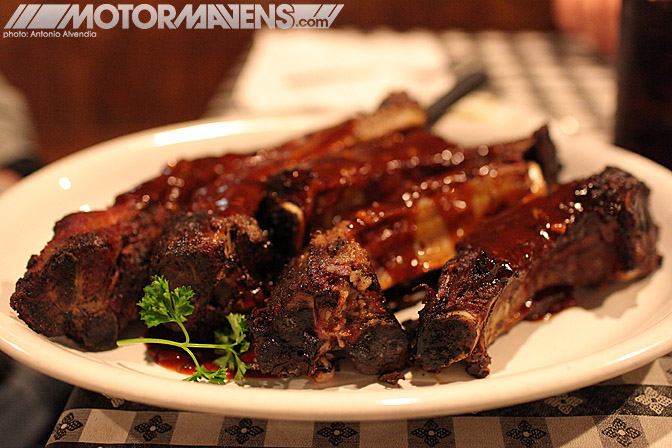 One of the new additions to our crew, Kenny Truffin, was sitting next to me at the table. He ordered the beef ribs. Damn son. They look good!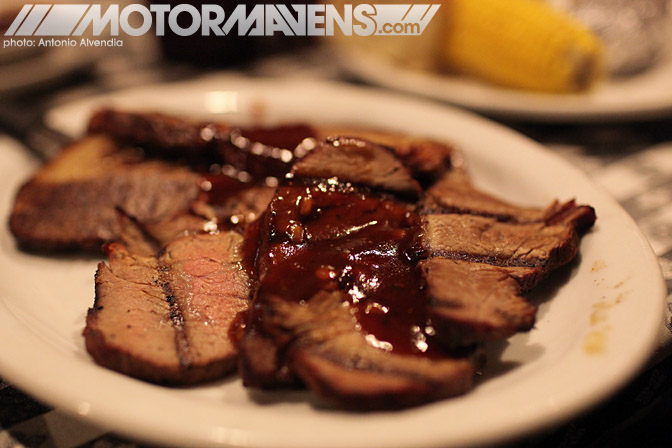 Over the past few months, I cut 90% of the red meat from my diet… but I had to make an exception for this trip to Willow Ranch. I ordered the Tri Tip & Pit Beef combo. Pretty damn awesome. So worth it!
:: Antonio Alvendia
86 Challenge
,
BMW
,
BRZ
,
Buttonwillow
,
Buttonwillow Raceway
,
Civic
,
driving shoes
,
E46
,
EG6
,
Eibach
,
EK9
,
Elton Lo
,
Fikse
,
FRS
,
Honda
,
Honda Tuning
,
HT Challenge
,
Integra
,
Jay Meot Gerolaga
,
Loi Spec Garage
,
M3
,
Mark Hutchinson
,
Mark SlideSquad
,
Miata
,
mx5
,
NA6
,
POV Videos
,
Puma
,
Raceline
,
roadster
,
Robert Fuller
,
Robispec
,
Scion
,
Scion FRS
,
Slide Squad
,
Subaru Motorsports
,
Tony Jackson
,
Type R
---