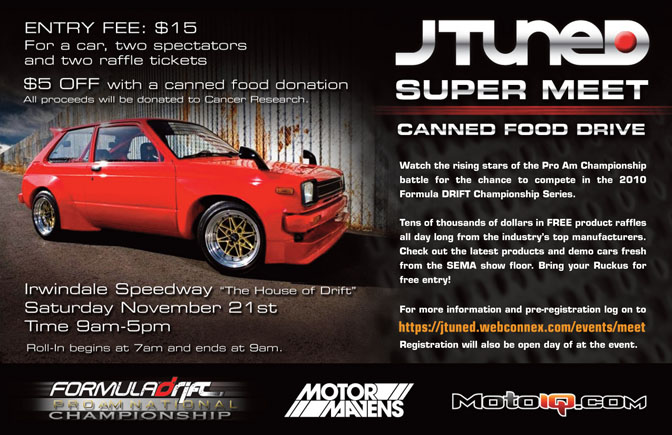 SABADO SABADO SABADO!!! Sabado Gigante! Super Meet de Jtuned! By now, I'm sure almost everyone knows that the Formula D PRO AM event is happening TOMORROW at Irwindale Speedway. The best grassroots drifters from all over the nation have made their way to Southern Cali's 626 area for tomorrow's big event. Come to Irwindale on Saturday and show your support the grassroots drifters – these guys will become the Formula D stars of tomorrow. Sponsors, this is a good opportunity to scout potential new members for your team! And hey ladies, this is a good opportunity to hook up before these drivers get too famous to acknowledge you! JK.
If you don't drift, you should still come out to the event. On Saturday, the Irwindale Pro Am will be the location of another Jtuned Super Meet, so make sure to sign up right away! Spots are still available, and you can sign up right here.
The West Coast arm of the Motor Mavens Family will be in attendance also, so you should definitely check the site after the event for our photos and insight into what went on at Pro Am. Our good friends from MotoIQ will also be in attendance shooting photos, so make sure to check their site after the meet too!
:: Motor Mavens
MotoIQ (The best site with technical info about cars that we've ever seen)
ADD US! Motor Mavens Crew on Facebook!
---