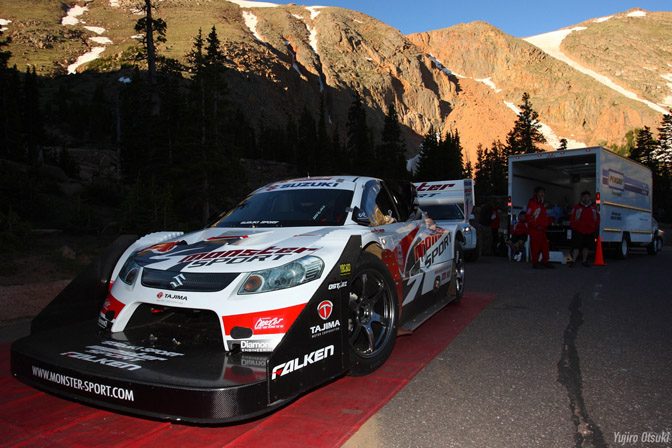 The Monster of the Mountain has done it again. This year's Pike's Peak "Race to the Clouds" is now over, and even though most people think of the name Millen when they think of Pike's Peak… it might just be fitting that the Rocky Mountain behemoth (that peaks at 14,400 feet above sea level) be nicknamed Monster's Mountain.
Nobuhiro "Monster" Tajima hails from Shizuoka, Japan (not too far from Fuji Speedway), and has been doing Suzuki owners proud by holding (and defending) the world record time at the legendary Pike's Peak Hillclimb in Colorado – previously in a turbocharged Suzuki Escudo, and now in a monstrous Suzuki SX4. (I know that Suz and Tajima have had their relationship going for a while, but for some reason, Suzuki SX4 still sounds odd to me when prefaced with the word monstrous.) Enough of my rambling though… let's cut to the official press release:
COLORADO SPRINGS, Colo. (June 27, 2010) – It is Monster's day, and it is definitely his mountain. Driving his modified 2010 Monster Sport (Suzuki) SX4 Hill Climb Special, Nobuhiro "Monster" Tajima fully solidified his race to the clouds reputation with a finish time of 10:11.490 and his fifth consecutive overall win at the 88th edition of the Pikes Peak International Hill Climb.

On a day that was hotly competitive and punctuated by any number of near misses on the Peak's winding, tortuous route, Monster Tajima was at one with his 2010 Monster Sport SX4 Hill Climb Special. A derivative of Monster's racer from 2009, the aerodynamic tweaks and additional 25 horsepower served the Monster Sport driver well in his ascent to the Peak's finish line.

Monster Tajima first challenged Pikes Peak, North America's second oldest motorsports event, in 1988. His first win in the Unlimited division took place in 1993, followed by his second overall title in 1995. Fast (make that 'very fast') forward to 2006, where his overall win primed the pump for a record-breaking run of 10:1.408 in 2007.

Monster Tajima successfully defended his king of the mountain title against several worthy competitors, including Paul Dallenbach who finished second with a time of 10:39.534 and Rhys "We Fear No Monster" Millen who finished third at 11.06.208.

2010 Monster Sport SX4 Hill Climb Special

Based on a Low drag and High down force concept developed for the 2009 Pikes Peak race and following exhaustive tests in the Monster Sport wind tunnel facility, the 2010 Monster Sport SX4 Hill Climb Special has undergone extensive aerodynamic changes to adapt better to the modified road surface, which now consists of more smooth tarmac and less gravel than was present during last year's race. Monster Sport has also further developed the 3100cc Twin Turbo Monster Special V6 powerplant, now boasting an impressive 910 horsepower and 90.5 kg-m of torque.

For more information on the 2010 Monster Sport SX4 Hill Climb Special and Team Monster Sport, please visit www.monster-sport.com/ppihc/.
Even though Monster was planning on doing it this year, no driver in the history of the Pike's Peak Hillclimb has ever run a sub-10 minute race. Not yet, at least.
:: Antonio Alvendia
Photo by Yujiro Otsuki
::
---