"Honda is really all about the engine." Any real racing enthusiast will be aroused by the sound of a real race car. Listen to the awesome sound of this vintage Honda RA272 Grand Prix car as Dario Franchitti takes the famous – and immaculately kept – Mexico Grand Prix winning car out for a spin. This 1.5-liter V12, 230 horsepower vintage GP racer is the very same car that scored Honda its very first Grand Prix win at the 1965 Mexico Grand Prix, a race won by Richie Ginther.
When Franchitti described his experience with the car, he said the sound of the engine, its precise gearbox, and its unique handling made him think the car was very similar to a motorcycle! (more…)
---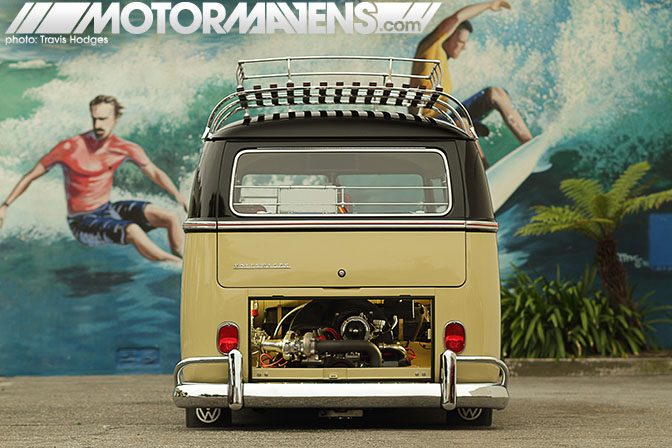 Many of us are dreamers, striving toward our dreams and goals, stopping at nothing to reach that finish line.
Rolando Alvarado's 1965 Type II Volkswagen Bus
took 30+ years to cross the metaphorical finish line - but what a great finish line to cross!
Growing up, Rolando was always a fan of the air-cooled Volkswagen scene and it quickly became a personal goal of his to acquire one. It was his father's 1954 European oval window VW Bug that got his heart pumping and started his love for the air-cooled engines. Despite that, it took a while for Rolando to realize his dream. It wasn't until 1980 that he finally got his very first VW. Of course, being the die-hard VW head that he is, it ended up being a 69' VW Bug.
The first time I laid eyes on this Bus, I just knew that there had to be a story behind it. To many, a Bus may just be another form of transportation, but to me this iconic Bus was a moment in a time when life was a lot simpler - the time of Wood Stock, hippies running through Haight and Ashbury in San Francisco, Jefferson Airplane...good times. During the photo shoot, this Bus almost became a time capsule to channel what life was like back then - an icon to remind us how things used to be.
Read more...
---