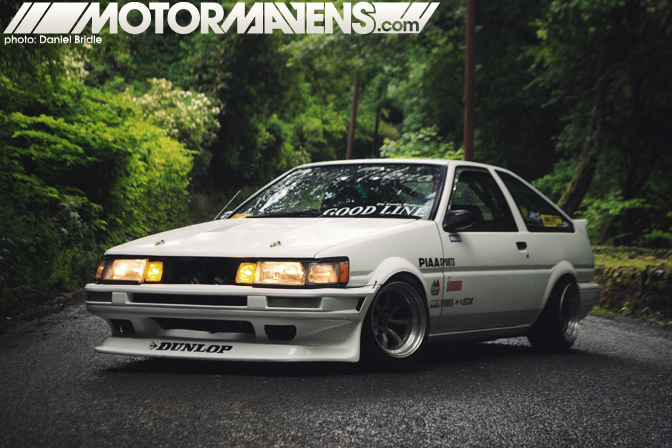 Late last month my girlfriend and I hopped on a plane and flew to
Dublin
, in
Southern Ireland
. However this wasn't your typical romantic getaway, instead, one of the main reasons for the trip was for another kind of love - of the Corolla kind.
When it comes to Japanese cars from the 1980s, I've never quite seen one that evokes as much love, nor as enthusiastic a following, as the
AE86 Toyota Corolla
. To some people they're just weird old hatchbacks that look more suited to being driven by elderly ladies to the supermarket and back; but to others they are lightweight, rear-wheel drive cars with fun engines that beg you to drive them hard - not to mention a certain character and style that you only get from 1980s Japanese design. It's just crazy to think that, when I was much younger, these cars could be picked up for a few hundred pounds. Nowadays, you can see some examples going for over £10,000!
On that note, if there's one country (excluding Japan) that has the biggest love for the AE86 as far as I've seen, it's got to be Ireland. I'm not sure what it is, but people the Irish are nuts for them and it always impresses me how such a small country can contain so many. There are more in Ireland than in most of the UK combined.
My personal love for the AE86 came about, like many others, through drifting. There's just something so right about seeing an AE86 being thrown sideways, foot to the floor, with the driver giving it everything he has. It's just
RAW
, and it's always been my dream, since I started shooting cars, to shoot an AE86. Not just any old 86 - it had to be the right one. So, when I came across some new photos of
Killian O'Brien
and
Kevin Reilly
's
Levin
and
Trueno
, I knew they were the ones I had to shoot. So, after organising things with Killian and Kevin, I and my girl (who happens to be a big fan of Corollas, too - luckily for me!) headed over for a taste of
Team Tekno
style!
Read more...
---
The very first time I ever posted a video by Joshua Herron on the internet, I was still writing for Speedhunters, he had just finished editing his 2009 Tokyo Auto Salon video (he didn't even have an HD camera yet), and Josh's name was pretty much unknown in the automotive scene. Man, have things changed – and in such a short amount of time!
Our own design guru Andy Sapp just sent me a link to Josh's latest video, which showcases his coverage of the Ken Block Gymkhana Grid Invitational at Irwindale Speedway on December 4th. I'm pretty sure that pretty much everyone will agree with me when I say that this is the_best_video I've ever seen from the 'Hobo' from Las Vegas! Check the footage of Ken Block's Ford Fiesta, Toshiki Yoshioka rocking the Driftspeed S15 Silvia, Alex Pfeiffer and the Battle Version SC300, Mike Essa in his M5-powered E92 BMW, and Tanner Foust getting sprayed at the podium once again! (more…)
---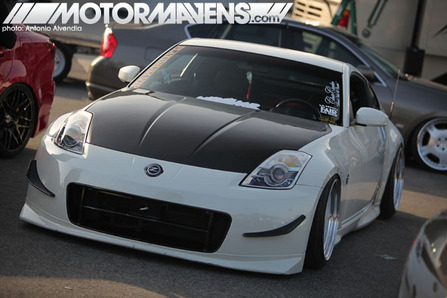 It has been about a week since the newly formed
Remix Events
series debuted at
Irwindale Speedway
alongside the
Xtreme Drift Circuit
's first event. I'm pretty sure that after seeing the results and
the feeling
coming out of the first event, people in the drifting community seem to be pretty excited about the XDC Series, and I'm happy about that. It looks as if XDC is going to provide a good arena for amateur drifters to battle their way into the professional Formula D series.
Meanwhile, I'm also looking forward to seeing more from Remix. I'll be pretty honest - I didn't spend as much time as I would have liked to in the car show area looking at cars, because I was busy in the Irwindale grid area talking to and hanging out with all the grassroots drifters from miscellaneous regions of the United States while they were visiting Southern Cali. However, from what I've seen thus far at the Remix Show, I like it! The entire event had an intriguing vibe to it... for those of us "experiencing" the show for the first time, it was definitely different and fun. The first thing we noticed is that there were a hell of a lot of girls at this event - everything from high end "name brand" models to no-name "new talent." As I mentioned previously, I decidedly focused most of my attention on the drifters on the track and on the grid, but in all honesty, there were quite a few times I had to double take and say "damnnnnn" when I saw certain pieces of eye candy sweetening up the show. (This was definitely the type of show that our boy Yoshi Shindo would go bananas at, I'm not gonna lie.)
Back to the cars, I have to say that there were a lot of really impressive looking cars at the show. Everyone is stepping up their wheel game, and it's awesome!
Read more...
---