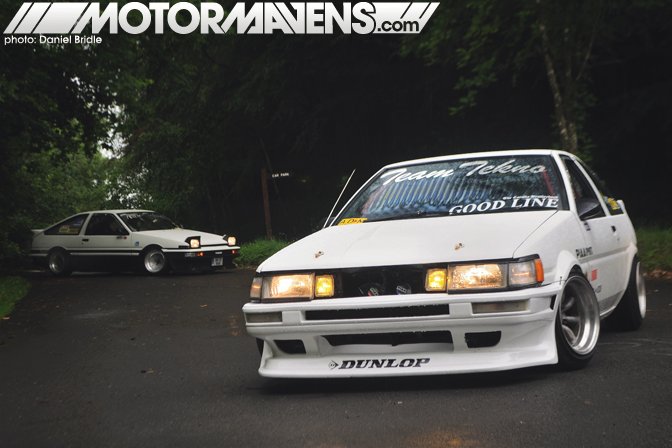 Late last month my girlfriend and I hopped on a plane and flew to Dublin, in Southern Ireland. However this wasn't your typical romantic getaway, instead, one of the main reasons for the trip was for another kind of love – of the Corolla kind.
When it comes to Japanese cars from the 1980s, I've never quite seen one that evokes as much love, nor as enthusiastic a following, as the AE86 Toyota Corolla. To some people they're just weird old hatchbacks that look more suited to being driven by elderly ladies to the supermarket and back; but to others they are lightweight, rear-wheel drive cars with fun engines that beg you to drive them hard – not to mention a certain character and style that you only get from 1980s Japanese design. It's just crazy to think that, when I was much younger, these cars could be picked up for a few hundred pounds. Nowadays, you can see some examples going for over £10,000!
On that note, if there's one country (excluding Japan) that has the biggest love for the AE86 as far as I've seen, it's got to be Ireland. I'm not sure what it is, but people the Irish are nuts for them and it always impresses me how such a small country can contain so many. There are more in Ireland than in most of the UK combined.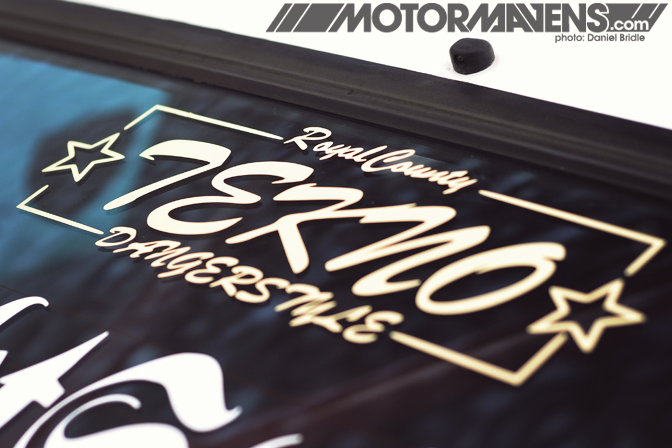 My personal love for the AE86 came about, like many others, through drifting. There's just something so right about seeing an AE86 being thrown sideways, foot to the floor, with the driver giving it everything he has. It's just RAW, and it's always been my dream, since I started shooting cars, to shoot an AE86. Not just any old 86 – it had to be the right one. So, when I came across some new photos of Killian O'Brien and Kevin Reilly's Levin and Trueno, I knew they were the ones I had to shoot. So, after organising things with Killian and Kevin, I and my girl (who happens to be a big fan of Corollas, too – luckily for me!) headed over for a taste of Team Tekno style!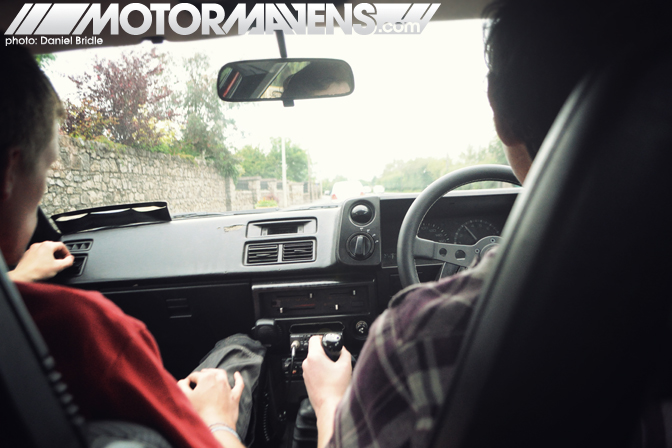 Our brief journey across the sea began with a somewhat agonizing 3AM start, but the thought of spending the day with some amazing Corollas made it a bit less painful. I've wanted to go to Ireland for a long time now as I've always been impressed by the drift scene and the driving styles of the guys over there.
We touched down at the huge Dublin airport at around 8AM and, after catching a little breakfast and attempting to organise plans with my phone that didn't care much for the telecom systems in Ireland, we were eventually greeted outside the airport by a lovely red Levin, along with Killian and his friend John Elliot who owned the car.
After piling ourselves into the back of the 86 we set off on the road to where Killian and Kevin's cars were waiting. Bombing along the beautiful Irish roads in a sweet 86, along with some interesting conversation about the differences between our countries was a great start to the day – and it was only going to get better!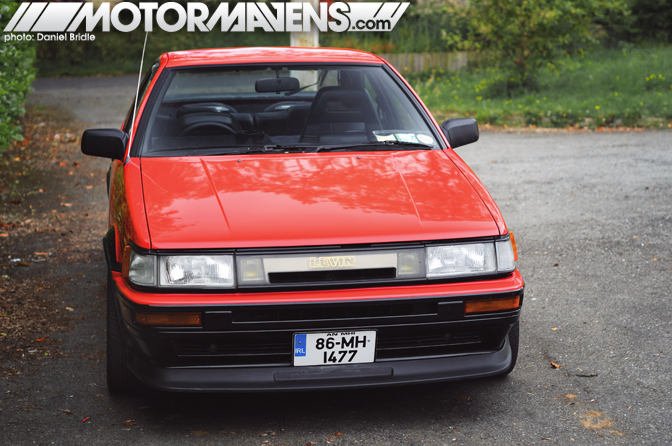 When we arrived at Team Tekno HQ, I just had to grab a couple of photos of John's Levin – it's just gorgeous!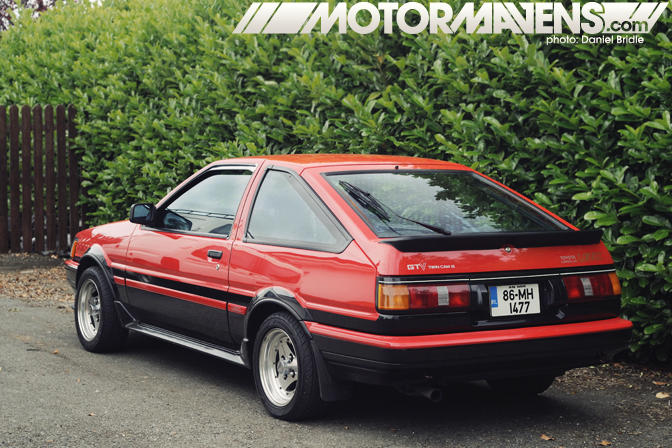 It's a lightly modified example since it's his daily but it's very suited to the roads around Ireland and, to facilitate John's aggressive driving style, it shifts pretty quick, too.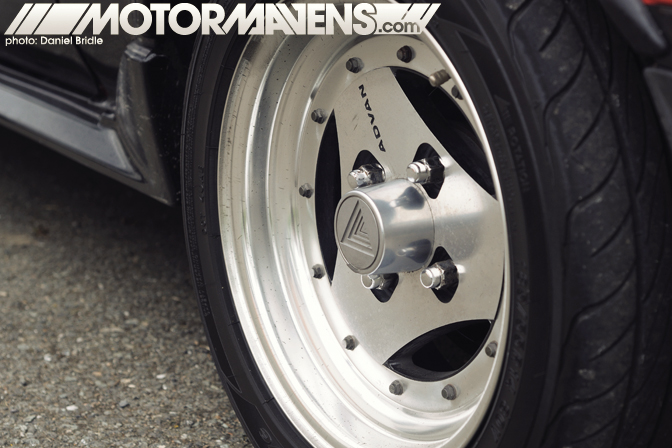 One of my favourite things about the car is the rare Yokohama Advan A3A wheels it sits on. They even have the original centre caps which I've never seen before!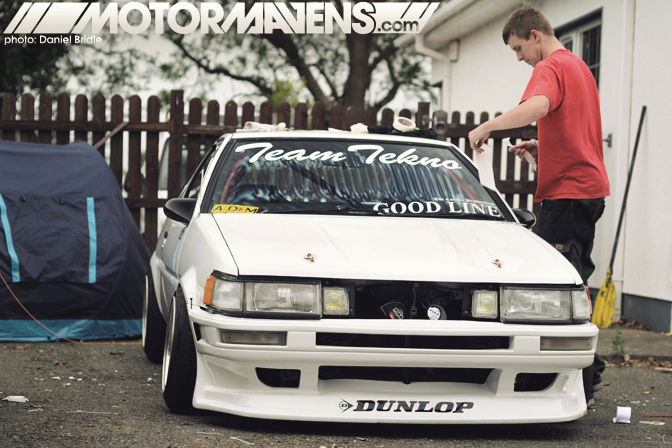 Soon enough I laid eyes on the reasons why I came over to Ireland – Killian's Levin. Sitting proudly with it's pumped up physique and aggressive wheel offsets, it was just amazing to see in person at last!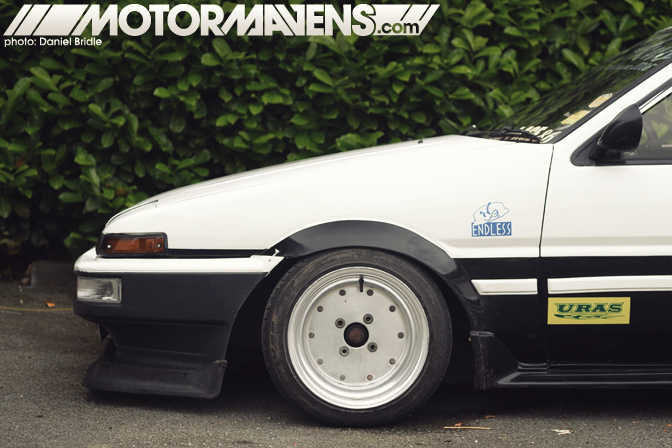 Sitting even lower (and looking quite angry opposite the Levin) was Kevin's Trueno. The fanboy in me was out in full effect by this point – and the fanboy in me was very pleased!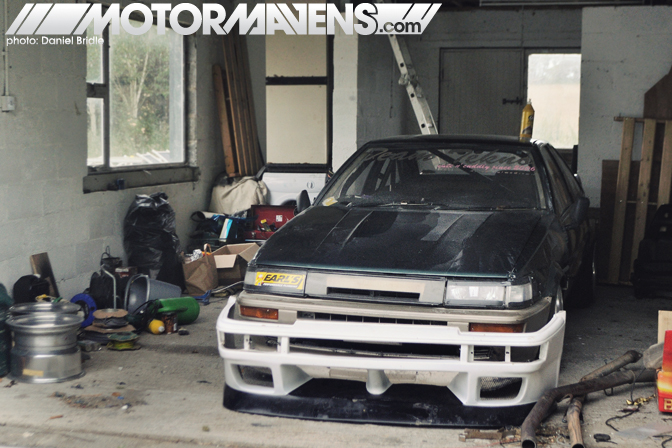 Parked in the garage was the Team Tekno track car which Killian and Kevin often share at drift days. Sadly, the Levin wasn't in much of a state to shoot photos of, but I love this car and it's 90s style two-tone paint job! The sharp-eyed 86 geeks out there may have noticed the rather rare Winds Auto bumper sitting on the garage floor – the guys seem to have a habit of finding amazing JDM parts.
After spending a good while gawking at the cars, we packed up our gear, got the Corollas warmed up, and headed off into the town of Navan to grab some lunch. However, grabbing lunch soon turned into about 6 or 8 hours worth of driving around Southern Ireland! I'm not sure if that's an accurate figure but, frankly I'd lost track of all time – I was in AE86 heaven!
Anyway, I'll try and keep the fanboy at bay for a few moments to give you guys a serious look at the Team Tekno Corollas…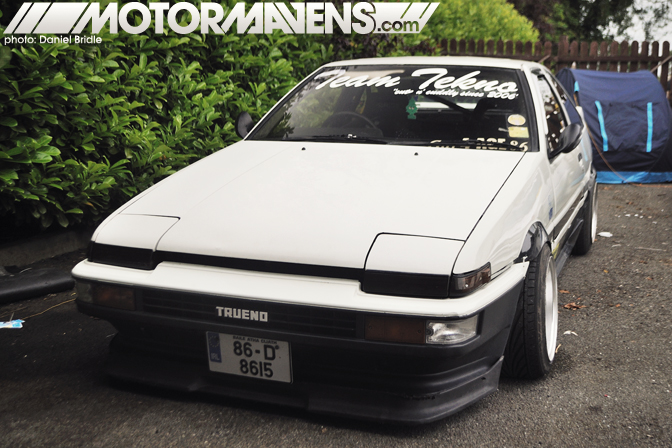 Kevin picked up his Trueno in September last year. Prior to that, he didn't have a road car and mostly used the track car at drift days. It worked out nicely for him though because, when Kevin decided to buy this Trueno for road use, he already had good experience driving AE86s. It's taken him from September last year to May this year to get the car where it is now – but in Kevin's mind it's far from finished.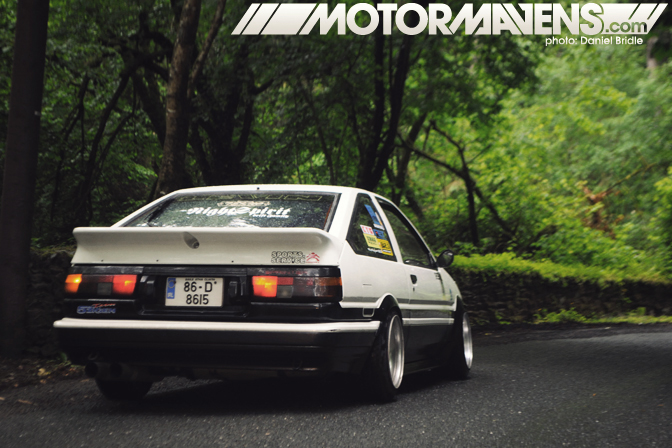 As it sits, the car has a simple spec 16v 4A-GE engine under the hood. Modified with an RS-R exhaust manifold, twin 5Zigen Rocket 2000 exhaust, TRD ignition leads and a K&N induction kit. The suspension has been taken care of with a set of TRD short stroke front and rear dampers with 8kg springs up front and 6kg at the rear, a rose jointed adjustable pan hard rod with a chassis brace, and a FET Sports front brace.
In the drivetrain department a Cusco two-way L.S.D has been fitted to keep both rear wheels spinning when Kevin wants to have some sideways fun – with a TRD clutch to cope with the heavy amounts of clutch kicking that occurs during said fun!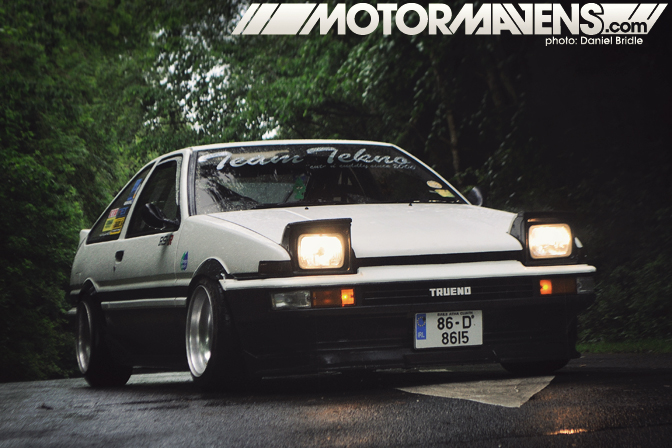 The car's style has been kept "classic" for the time being, with an OEM Kouki front bumper and Zenki lower lip fitted with OEM sideskirts, Kevin's a big fan of Bosozoku style as well and, because a lot of Bosozoku cars in Japan run Vitaloni California mirrors, he wanted a pair for his 86!
The thing that makes or breaks most cars is the ride height and wheel fitment and this Trueno has got it pretty well nailed. The whole car sits super low on a set of 15×9.5J SSR Mk1s up front and a set of 15x9J SSR Mk2s in the rear. I love the amount of camber there is at the front too – it reminds me of the demon camber style pioneered on Corollas in the 90s by the infamous Rough World drift team!
Although Kevin's car isn't finished it still looks fantastic and I'm really looking forward to how it'll change as Kevin puts more of his personality and style into it.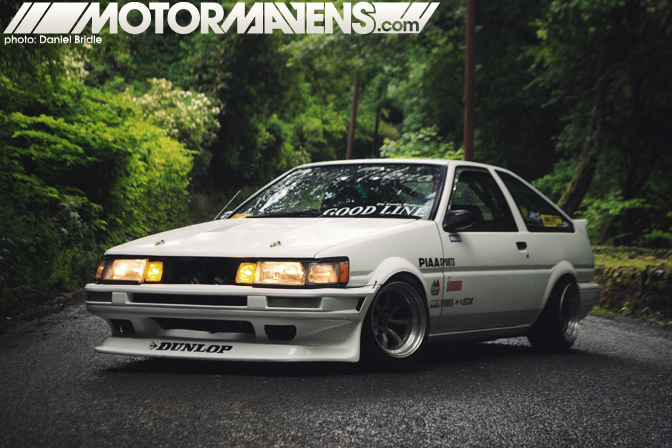 I don't really know where to begin with Killian's AE86 Levin because, to be blunt, it's almost the perfect Corolla in my eyes. The car was imported from Japan about five years ago by Killian when he was just 15 years old! He'd been a big fan of the AE86 even when he was a young kid and he saved his money hard to get one. The car was originally built in Japan as a grip racer by a tuning shop called Projector M, and when it came over to Ireland it was in fairly poor condition.
However, over the years Killian has honed and developed it into something quite special. It's gone through many phases and changes as he's modified it but this current phase has to be its best yet – visually and mechanically!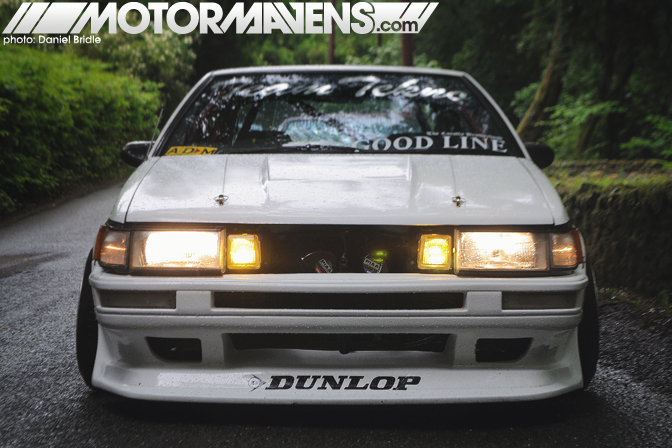 I'll present the rather wonderful spec list in a little while, because, well just look at it! I realise this is quite a statement and I'm sure others will disagree but I can't think of another Levin that looks this good outside of Japan. Killian really has got the style of this car on point! It's almost as if someone went to Nikko Circuit in Japan in 2001, picked it up and just dropped it in Ireland.
I'm a huge fan of drift car styling from the late 90s and early 2000s because it's a time when style and function seemed to be in perfect harmony – it was simple and sexy. Those early days in drifting history are where Killian gets a lot of his inspiration from as well and I feel he's managed to perfectly capture that inspiration in his Levin.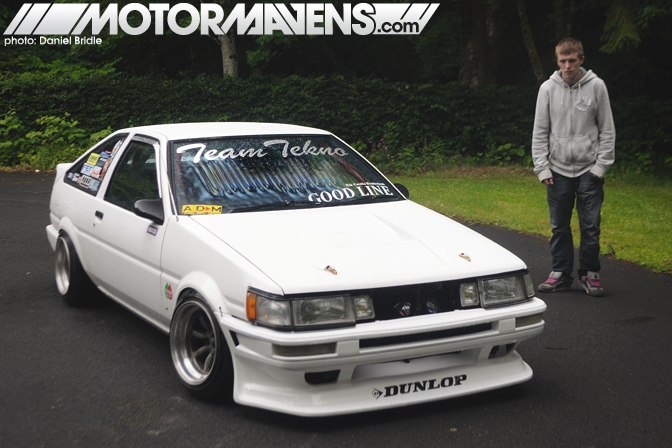 Killian has managed to achieve the perfectly period correct look of his 86 with a rare, genuine Goodline front bumper, a set of FRP Goodline front wings and a Goodline hood. There's a whole lot of Goodline going on! Other touches include a set of awesome East Bear wing mirrors, custom rear arches and Kouki Trueno rear lights.
The car also has an FRP rear hatch with a lightweight polycarbonate window. A lot of the car's bodywork consists of FRP now so, not only does it look great, it weighs a lot less too!
However, one of my favourite style features on this car has to be the wheels. After going through many sets of SSRs and the like, Killian managed to get his hands on a pair of amazing RS Watanabe R-TYPEs. These are a timeless choice for an AE86 and Killian has got his set in the perfect sizes – they're 14x9J with an aggressive offset of -19.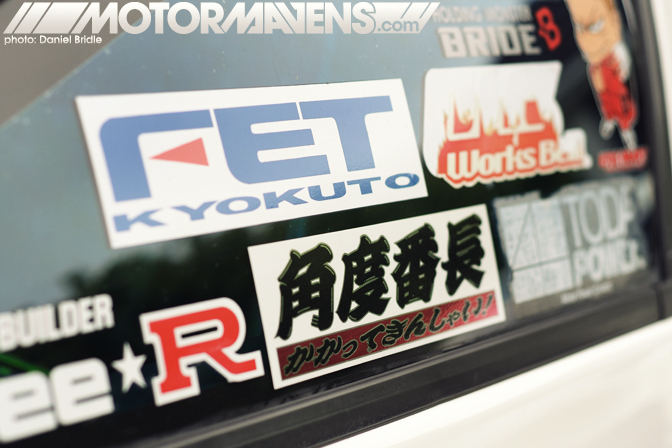 I won't lie, I'm a bit of a sticker fiend and I've slowly collected a fair few of them myself over the years. But, I was seriously impressed by the collection of cool and classic stickers that are on this car. Often stickers can detract from a car's style but, because of the type of stickers and the styling era, they just seem to work!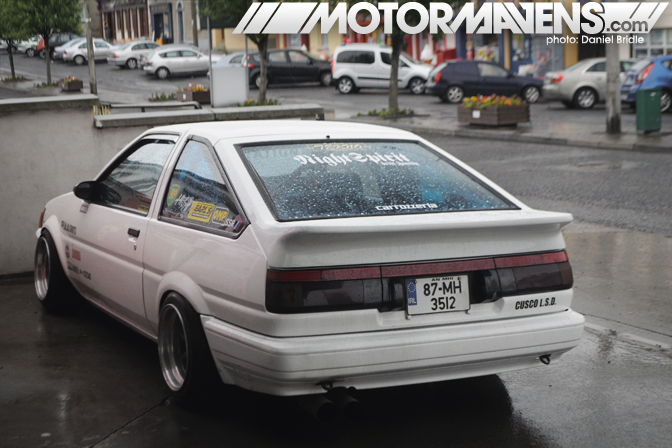 You can bet that this car isn't just a pretty face – Killian has tuned its setup for a long time now and it easily has the function to match the form – the list of parts on it is nothing less than drool worthy.
Under the bonnet sits a 5v 4A-GE from a later generation AE111 Corolla. Power doesn't play a huge part when it comes to Corollas and most drivers enjoy the fact that you have to push them hard to go faster – so, like Kevin's Trueno, the engine modifications are fairly light. Killian has fitted a set of TRD HT leads, an HKS thermostatic oil filter relocation kit and an EARL's oil cooler, a TRUST 4-1 manifold, and a rather ear pleasingly loud TRUST DD shotgun muffler.
The main focus has been on the footwork of the car. Up front sits a Projector M brace, Cusco cylinder brace, Cusco adjustable top mounts, custom coilovers with Tokico HTS shock inserts, AJPS outer tie-rods, Jubride 40mm roll center adjusters, TRD anti-roll bar, and a Battle Version TYPE II extra lock kit. At the back is a Cusco brace, blue TRD short stroke  8-way adjustable shocks with TRD hard rate springs, and Techno Toy Tuning traction brackets. A Cusco 2-way L.S.D has been fitted and Killian's also upgraded the brake pads all round with a set of Endless CC-X pads.
All of this work really pays off and even as a passenger you can feel how tight and well sorted the car is as you ride along. It seems to have the kind of balance that would make it just as good for something like time attack or circuit racing as it is for drifting.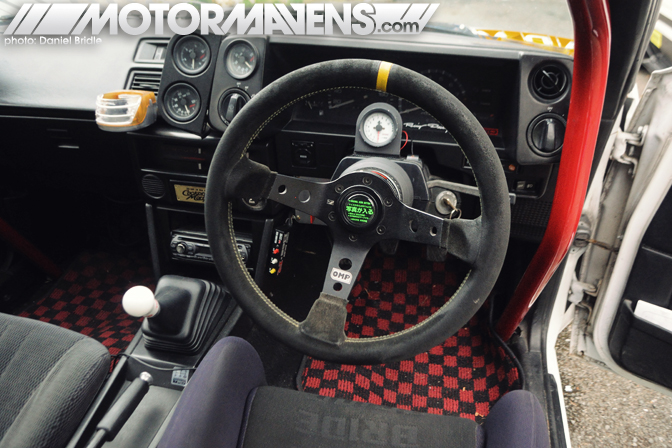 Inside the 86 is very drift-style! There's a suede OMP Corsica wheel mounted to a HKB boss and Works Bell Rapfix quick release, and a TRD shift knob. An ever timeless Bride Brix recliner seat has been fitted and, on the floor, is a set of dope chequered floor mats that you'd usually find in Nissan Silvias or 180s! Killian can keep an eye on things with a full set of OMORI gauges that cover oil pressure and both oil and water temperatures, as well as a tach gauge. There's also a BEE-R adjustable rev limiter too. Nice!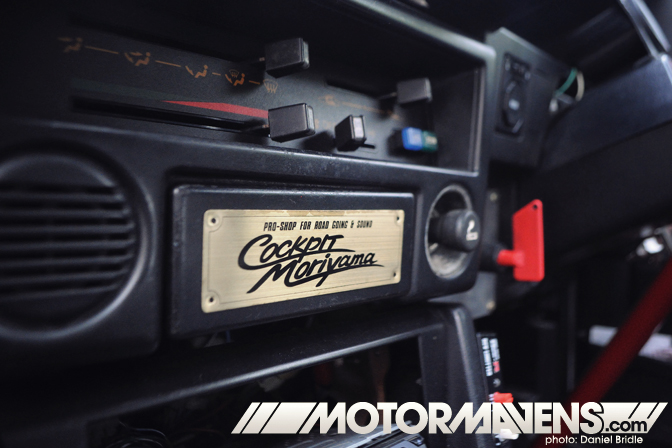 Often people in Ireland break Corollas down for parts and, with a lot of them being Japanese imports, sometimes there're cool bits fitted to them that some people may not pay much attention to and sell for cheap. Thanks to this, Killian, with his hawk-eyed spotting skills, has managed to find himself some pretty rare parts over the years, allowing his car to be steeped in I'd guess you could say "JDM goodness".
The little details are what makes this car for me and I love that Killian has really focused on them. This is, without a doubt, one of the best AE86s I've ever seen.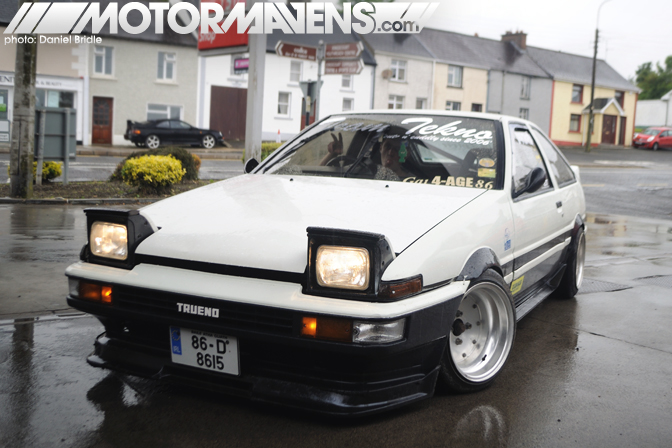 The most important aspect of car culture for me and what grabs my interest is the people behind it. They're the ones who put their time, money, blood, sweat and tears into their creations and I love to discover the reasons why they do that and how they ended up involved with it all. So, eager to find out more about how Killian and Kevin got into the crazy world of the AE86 and their passion for it, I sat down and asked them a few simple questions…
DB: What is Team Tekno exactly, and how did it start?
Killian: Team Tekno is the solution to a sickness I share with a good friend (Kevin). I call it a sickness because it's an unhealthy addiction to something and everything to do with that something, AE86, and beyond.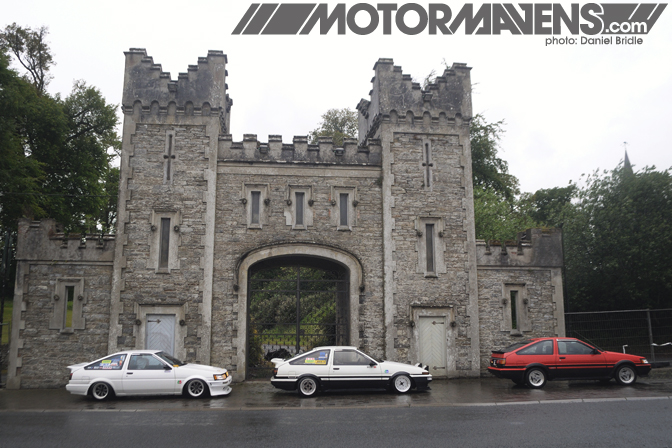 DB: How did you guys get into drifting and AE86s?
Killian: "Tough question, because its hard to recall. They both go hand-in-hand for me! For drifting, there was an option of physics in Gran Turismo 1 for the Playstation that offered you a choice of Grip or Drift once you chose your car. I recall choosing Drift time and time again with my red Mazda FD3S. I must have been 7 or 8? It's my earliest recollection of drifting! After that it was videos, before more games, before the Internet and it just snowballed on! I must say though I find it difficult to enjoy drifting on large scale mass-concrete circuits compared to the grass-root circuits I became familiar with when I first began to take notice of drifting. Nothing does it for me like the original Japanese tracks as featured in the early years of drifting competitions recorded on video in Japan such as DEC Sekia, Bihoku, Nikko, Mobility Omuta, etc…
As for the AE86, it was a long time before I had even heard of drifting when I fell in love with the old RWD Corollas! The first one I had ever seen was a gold UK spec Corolla that belonged to a guy in my hometown. I loved the shape of it! After that I saw them at car shows performing "diffing" (donuts) in enclosed areas – I loved the sound! Magazines played the first roll in bringing me to Japan's take on the AE86 – J-Tuner and Banzai magazine featured some wild AE86 imports in England!
I bought my first one that's in this feature back in 2005 off a Japanese auction website. I had saved all my money for a long time! It was my first car. I was 16 when it landed, I had no license and it's been a learning curve for me ever since!"
Kevin: "I was always into cars in general for as long as I can remember. My uncle used to bring me to a lot of rallies and that's where my love of 86s and drifting really started, as there was lots of 86s and Ford Escorts competing and they used to be the best to watch as they were sideways most of the time. The Gran Turismo game series was a huge influence too cause it was the only place I could play with these cars, it kept my interest when I couldn't go see the real thing. I mean pretty much everyone bought an 86 as their first car in GT!?
It wasn't until maybe 2000/2001 that I discovered drifting on the internet and D1GP driver Ueo Katsuhiro's AE86. That was it from there – his aggression in driving the car, the noise, taking out cars with twice the power got me hooked. There was also a video that Killian showed me of one of the Run Free 86s practicing on the Minami Ebisu course, and once again nothing seemed as cool. That's not to say I don't love Silvias and such, but I guess it's the balls out driving style of an 86 that I love the most.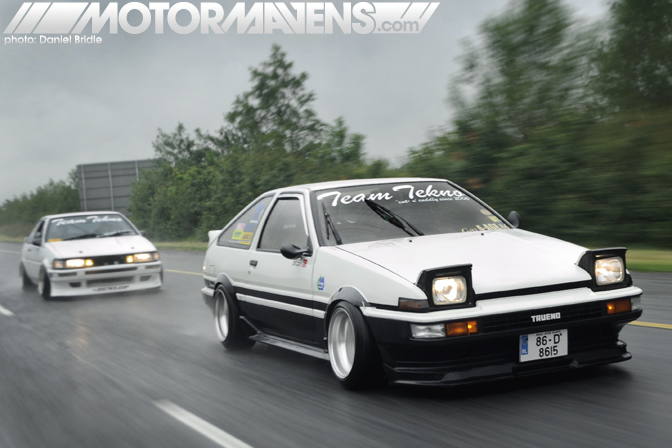 DB: Where do you get your inspiration from when it comes to building your cars?
Killian: "My inspiration comes from all over I guess, but almost entirely, it's based on the Japanese take. I spend countless hours searching for new media every week (day), and more importantly new old media! There is nothing to me like the original individual style from past and present Japanese AE86 owners! Style aside, another part of their culture I adore is the driving style! Old corollas and Sprinters thrashed around a circuit, entering corners flat out, shaving off speed only with angle produced by momentum initiations. The style is un-matched but it was never going to be any other way given their resources and general car culture. That's not to say I'm single-minded, though – I have a lot of love for the Italians!"
Kevin: "I take inspiration from everywhere really, obviously most of my inspiration comes from the 90s to early 2000s Japanese style of cars, not just 86s, but pro cars and Bosozoku, etc. Videos of Ueo, Imamura and the Rough World cars are my main inspiration; to me they are proper drift cars where function is met with style too. They are looked after but driven to their limits – that's what drifting is to me and it has to be a 4A-GE! Anything else sucks – people should just go buy a turbo car if they want more power.
Rather than just try and get all the classic Japanese bits I try to build my car from say someone in Japan's view. In other words, a Recaro seat over here may be common, but over there it would be something special. I've also got a love for Italian stuff so I try to get that in there as well to make the car my own. I don't want to stand out, I'd rather just be one of the bunch, but to just have my own take on that 90s style."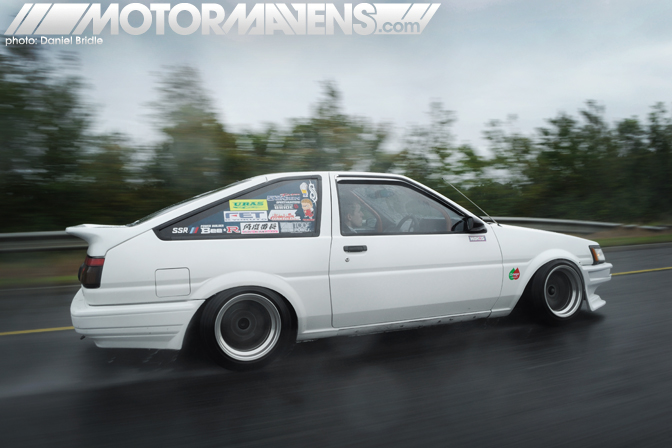 DB: What are your future plans for the cars, and do you ever think you might move on to something other than an 86?
Killian: "I have no plans for the car other than to keep improving it and drive it harder and harder until at some point it meets its destiny. Until then I have it and my KE70 project to keep me at bay. I can't see myself ever getting around to going down a different road but, money no object, I'd be listing out cars and car types until the end of my days because life isn't long enough."
Kevin: "I have big plans for the car, I'll need to get it mechanically perfect first, as it has a lot of niggly problems still – like the shocks. Then I'm gonna try and get my geometry right with traction brackets, adjustable l.c.a, etc. I'll be needing a lot more lock now, too. I'll also be hoping to build a mildly tuned 16v 4A-GE with maybe around 160hp so Killian can stop bullying me with his 5v!
Style wise the car will be going (to) a full colour because I feel the panda colours are hard to pull off on a drift car. I wanna go for lots of decals with the new paint. I'll replace as much stuff with fiberglass as possible, particularly the boot lid and glass as they weigh loads. I've a selection of bumpers now so they'll all be different colours to change the look of the car when I feel the need. Unfortunately, all this stuff costs money so it will be a while before I start thinking what's after that!
I don't think I'll ever stray from an 86. If I did, maybe to a KE70 or a KP Starlet. Either way it will always be small, Japanese and underpowered! I have far too many ideas and plans in my head for 86s and the like to take on with anything else. I'd love to build a grip one and do hillclimbs and stuff (I'm not one of those people who loves drifting and looks down on everything else) so I have a lot to do before any other car tempts me. Maybe when I'm old and not able to keep up with no power steering I'll buy a Toyota JZX81 or something. Haha!"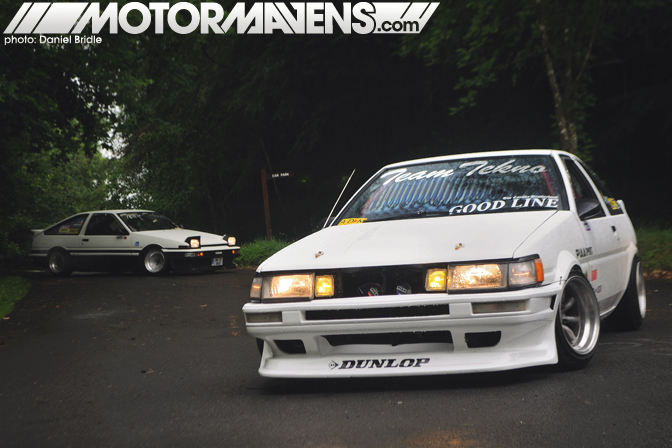 My trip to Ireland was easily one of the best automotive experiences I've had to date. Meeting Killian, Kevin and John and seeing their love for these classic Toyotas has re-ignited my enthusiasm for cars and drifting again – and I'm very thankful for that. I hope I can go back again soon to see how they're getting on and to bring you more photos!
:: Daniel Bridle
16v
,
20v
,
4AGE
,
5Zigen
,
AE86
,
Battle Version
,
Bee-R
,
Bride
,
Bride Brix
,
Corolla
,
Cusco
,
Daniel Bridle
,
drift
,
drifting
,
Dublin
,
Earls
,
East Bear
,
Endless
,
FET
,
Goodline
,
homepage
,
ireland
,
John Elliot
,
Jubride
,
K&N
,
Kevin Reilly
,
Killian O'Brien
,
Kouki
,
Levin
,
Nikko Circuit
,
offset
,
OMORI
,
OMP
,
Projector M
,
Rough World
,
RS Watanabe
,
RS-R
,
Run Free
,
SSR
,
SSR MK1
,
SSR MK2
,
Team Tekno
,
Techno Toy Tuning
,
Toyota
,
TRD
,
Trueno
,
Trust
,
Ueo Katsuhiro
,
Vitaloni California
,
Winds Auto
,
Works Bell
,
Youichi Imamura
,
Zenki
---