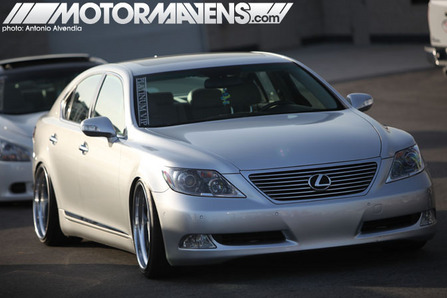 It has been about a week since the newly formed Remix Events series debuted at Irwindale Speedway alongside the Xtreme Drift Circuit's first event. I'm pretty sure that after seeing the results and the feeling coming out of the first event, people in the drifting community seem to be pretty excited about the XDC Series, and I'm happy about that. It looks as if XDC is going to provide a good arena for amateur drifters to battle their way into the professional Formula D series.
Meanwhile, I'm also looking forward to seeing more from Remix. I'll be pretty honest – I didn't spend as much time as I would have liked to in the car show area looking at cars, because I was busy in the Irwindale grid area talking to and hanging out with all the grassroots drifters from miscellaneous regions of the United States while they were visiting Southern Cali. However, from what I've seen thus far at the Remix Show, I like it! The entire event had an intriguing vibe to it… for those of us "experiencing" the show for the first time, it was definitely different and fun. The first thing we noticed is that there were a hell of a lot of girls at this event – everything from high end "name brand" models to no-name "new talent." As I mentioned previously, I decidedly focused most of my attention on the drifters on the track and on the grid, but in all honesty, there were quite a few times I had to double take and say "damnnnnn" when I saw certain pieces of eye candy sweetening up the show. (This was definitely the type of show that our boy Yoshi Shindo would go bananas at, I'm not gonna lie.)
Back to the cars, I have to say that there were a lot of really impressive looking cars at the show. Everyone is stepping up their wheel game, and it's awesome! There were just too many cars for me to look at, but I'm sure that many of you have already Googled the show and looked through Flickr albums that have pics of every single car. Instead of trying to take snapshots of EVERY single car there, I just decided to keep an eye out for cars that caught my eye and trade contact info with their owners. In the Platinum VIP section, I noticed this brand new Lexus slammed with wide wheels and tire stretch already. Dang, baller! Must be nice.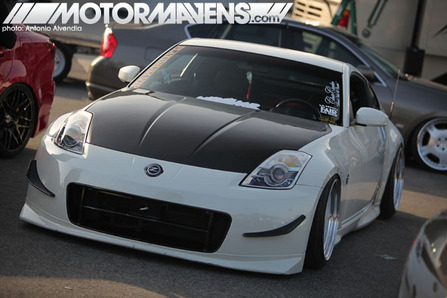 Probably the car that caught my eye the most quickly and had me open was this Z33 350Z. As we walked around the show, it was the hawk-like vision of Edward Uche that first spotted the car (maybe it's because he was looking through his fresh MotorMavens spectacles), and as we got closer, the car kept looking better and better. He didn't know it at the time, but as he asked around to find the owner of this Z33, he found out that it belonged to a guy who used to be his neighbor several years back! Small world. I also have a story similar to this – I'll tell you some other time though.
Keep on the lookout for a MotorMavens feature on this fresh 350Z!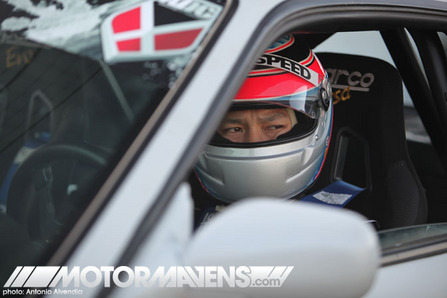 Back to the XDC side of the event though, I really gotta give props to Quoc Ly (for those unsure how to pronounce his name, it rhymes with broccoli) for doing so well at the event, placing second on the podium. Quoc was driving strong ALL DAY LONG; it was really cool to see a guy who's been drifting at Southern Cali grassroots events for so long come up the ranks!
It just goes to show – JustDrift has been building some pretty outstanding drivers! Should I name names? Ever heard of guys like Justin Pawlak, Mike Essa, Jeff Jones, Matt Powers…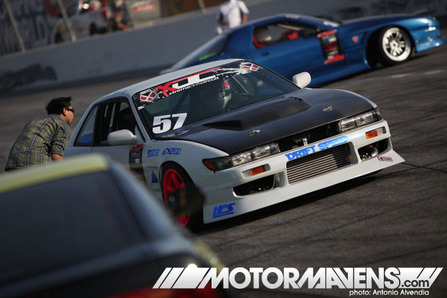 This is Quoc returning to the pit area in his Drift Speed S13. I think Quoc really deserved his podium finish not only because he drove well at the event… but he also spent several weeks before the event constantly wrenching on his car, building it and fine tuning it to make it better and better. It's kind of one of those things; sometimes people win races or competitions because for them, "the competition" started long before the actual date of the event.
If you fail to plan, you plan to fail. Good thing Quoc planned out as much as he could beforehand and worked hard at getting the car competition worthy before the event! Nice decal placement too; now all it's missing is some nicely placed red squares with a white M running through it. Super fresh.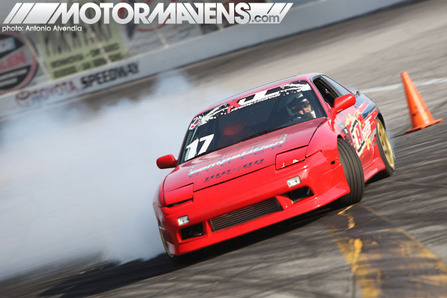 This here is Sammy "Tiger" from Atlanta GA. Sammy is super nice, and he frequently drives at Southeast Drift events in Georgia, but I first met him at Road Atlanta way back in 2004 for the first Formula D ever. I can't believe it has been so long. It was certainly nice seeing him rock Irwindale Speedway.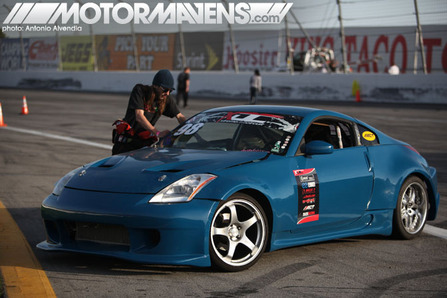 Another guy I've known for a pretty long time is Andy Hateley. Man, I remember when this 350Z was still new and it was sitting at Monstor Fabrication waiting for Pat Ardon (who now has a shop called Foothill Automotive) to do some work on it. I don't remember if Pat was doing a cage in the car or some other maintenance… but now that I think of it, Ross Petty used to live right behind Casper's shop too… it seems like so long ago. Andy is pretty crazy with his Z, which looks like it was newly repainted. I was going to ask Andy about it when I saw him on the track earlier, but he looked pretty busy with his girl in the back of his truck, haha.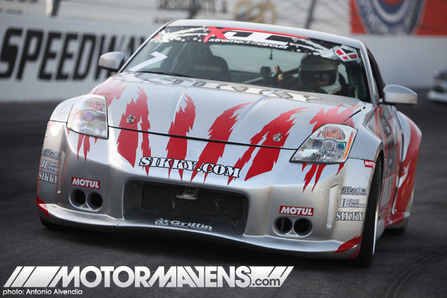 Here's another crazy looking 350Z. This one is apparently sponsored by a company named Sikky, who I first heard about sometime last year from Tobin Honda of DSPORT Magazine. Apparently, Sikky makes engine mounts for putting GM LS engines in 350Zs.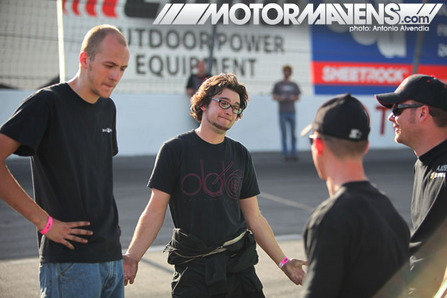 Shrugging his shoulders (he was talking about judging, but I couldn't hear what he was saying) is Chelsea Denofa, the driver of the green E36 BMW M3 that we saw in our last post about XDC. He was talking to his friends about how he didn't understand one of the judgment calls or something. The guy on the right side is Aaron Losey. Aaron drives a green RPS13 in XDC, but more importantly, he organizes a lot of grassroots drifting events in Texas. The Texas drifters all seem to respect Aaron because of what he's done for their local scene, and with good reason… however, I still can't get over the fact that he doesn't care about throwing away perfectly good S13 interior parts and axles and stuff, and just laughs it off!
I wish I was that carefree about my car parts sometimes, because I'm the absolute opposite. I think that body panels can be fixed and repainted, but it's the cars with super clean, complete interiors that are worth the most as time goes by. However, Aaron just laughs it off, poking fun at my obsession for collecting rare Corolla parts… he says "S13 parts aren't rare at all in Texas. There's a million super clean S13s that are still being driven by old ladies in Texas, and they're super cheap." I guess now you S13 lovers know where to go for super clean S13 bodies!
Aaron is right though… I was definitely out of control when I was collecting all those AE86 parts. What in the hell was I thinking? Oh well, I'm still happy about it. haha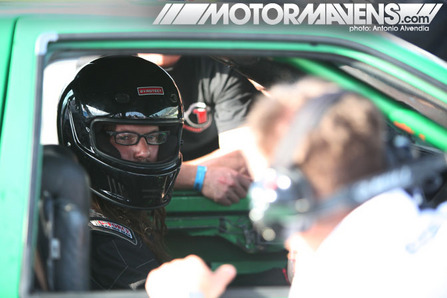 Another Texas driver with a green car is Will Parsons. In fact, Will's car is painted the exact same shade of green as Chelsea and Aaron's cars, and they were transported to Cali on the same trailer, which was being pulled by a truck that was (you guessed it!) also green.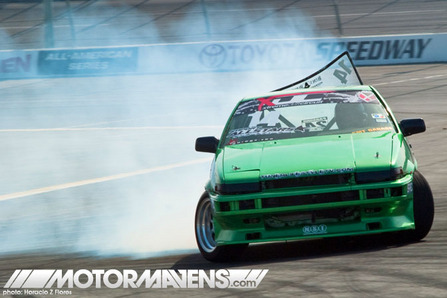 Here's Will and his AE86, apparently drifting til the windows fall off! Awesome.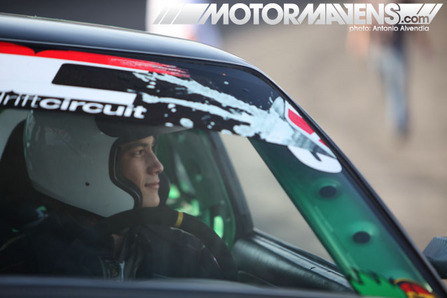 Continuing with the green theme is Forrest Wang, but he is not part of the NST drift team at all. Everyone knows that Forrest's S13 is painted green on the inside – it seems to be his trademark color, because the very first time I met Forrest was either at the Drift Showoff or at a Drift Session event in Hawaii (in 2005???), and his S13 Silvia was painted the very same color. In fact, there's a photo of his car in my hardcover book… if you have the book, you probably know exactly what I'm talking about.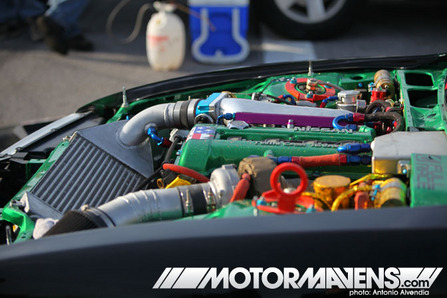 Here's Forrest's super clean engine bay, featuring a high power producing SR20DET and a v-mount intercooler setup.
Speaking of Hawaii local boys, this is Alex Pfeiffer's new Battle Version JZZ30 Lexus SC300. It looks pretty good – Alex sure has come a long way from the black primered turbo Corolla we know him for. Alex is pretty crazy, because he actually powdercoated this car's chassis instead of painting it! Yes, that's right… he took the whole damn thing apart and had it dipped! Crazy.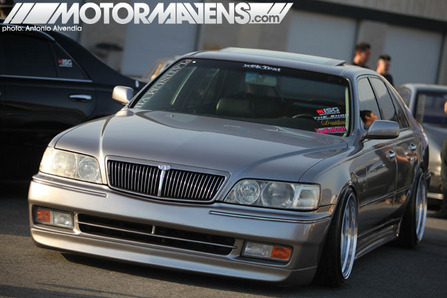 Back to the Remix Events portion of the weekend, I liked this super clean Infiniti Q45 sitting in the carshow area. Perfect stance and very clean body. I think I might have seen this car up in San Francisco when I was up there a few weeks back.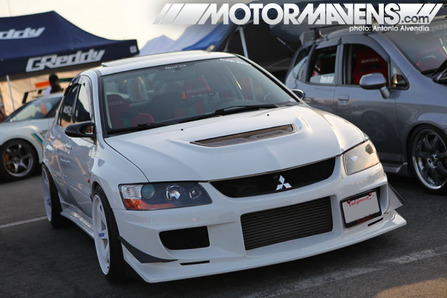 Here's another car that I first spotted in San Francisco. This is Jeffrey Cheung's car, and it's one of the best looking Mitsubishi Lancer Evos I've seen in a while. More on this car later!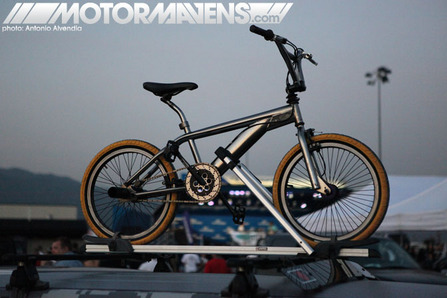 Checking out the details on the cars further, I noticed this BMX bike, which I thought looked pretty damn cool. I liked the center crank (is that what you call that?) because it kinda looks like a cross between a six-shot revolver and a cross drilled rotor. The frame itself looked pretty dope too in my opinion, as did the custom laced spokes on the wheels. That's super fresh right there.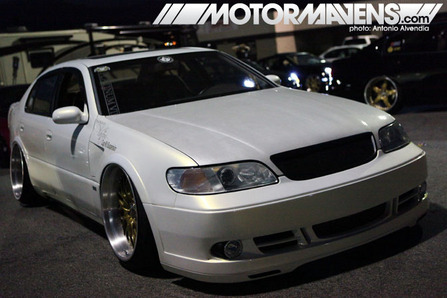 Right before we headed out for the night, I noticed this JZS147 GS300/Aristo, which had some crazy fat lip wheels and an aero kit. This is one extreme looking GS with humongous lips!
Okay, that's it for now… more photos next time!
:: Antonio Alvendia
350Z
,
8
,
9
,
Aaron Losey
,
AE86
,
Alex Pfeiffer
,
Andy Hateley
,
Battle Version
,
Chelsea Denofa
,
Driftspeed
,
DSPORT
,
Evo
,
Forrest Wang
,
GS300
,
Infiniti
,
Irwindale
,
James Evans
,
JZS147
,
Lancer
,
LS460
,
Mitsubishi
,
NST
,
Q45
,
Quoc Ly
,
Remix Events
,
S13
,
Sammy Tiger
,
Sikky
,
Southeast Drift
,
SR20DET
,
Tobin Honda
,
Will Parsons
,
XDC
,
Xtreme Drift Circuit
,
Y33
,
Z33
---