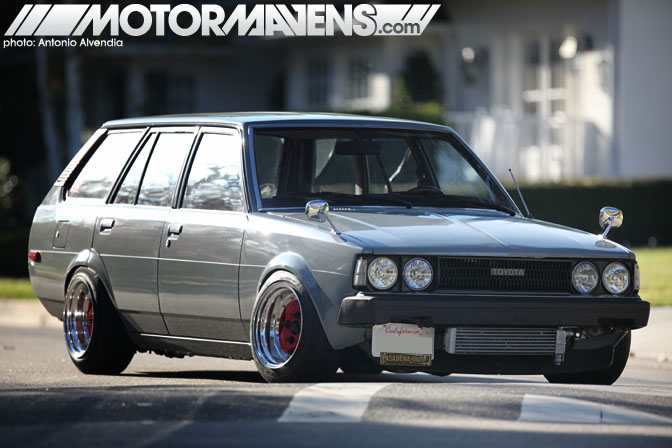 Anyone who knows me personally can tell you that I have a soft spot in my heart for rear wheel drive Toyota Corollas. I've even made it a point to seek out and photograph modified RWD Corollas when visiting other states and/or countries. Hell, anyone who has read anything I've written online or in magazines or books can tell you that. This being said, it comes as no surprise that I was more than a little excited when I first laid eyes on this battleship gray
TE72 Toyota Corolla
wagon.
Read more...
---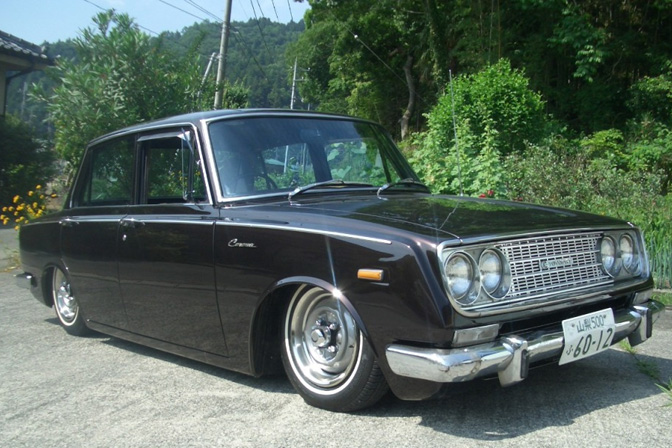 In case you guys haven't noticed the new navigation tab at the top of our website, MotorMavens now has a forum! We know it's been long overdue, and we've been wanting to create a section on our website where we could exchange photos, comments, personal stories and random funny stuff with our readers.
After all, we truly believe that it's our awesome readers and the linking of all the different automotive communities that makes the Motor Mavens Movement so powerful.
Anyway, one of our readers/friends from Honolulu Hawaii, Kyusha Kai, just posted up some detailed photos of this AWESOME shakotan RT52 Toyota Corona on our forum! For those who might not know, shakotan is a Japanese term that refers to super low cars. (You can bet your bottom dollar that this is gonna be the next car industry "keyword" that people will start marketing and promoting with. Hmm…  if I had a dollar for everytime someone… ah, forget it.)
This four door Corona looks pretty awesome slammed. I see RT52s all the time at Toyotafest and events like that, but usually, they're driven and owned by older people that are more interested in preserving the car's originality. Don't get me wrong – I'm all for original vintage Toyotas! However, seeing a super clean, custom colored (dark brown metallic) Corona like this is like a breath of fresh air. (more…)
---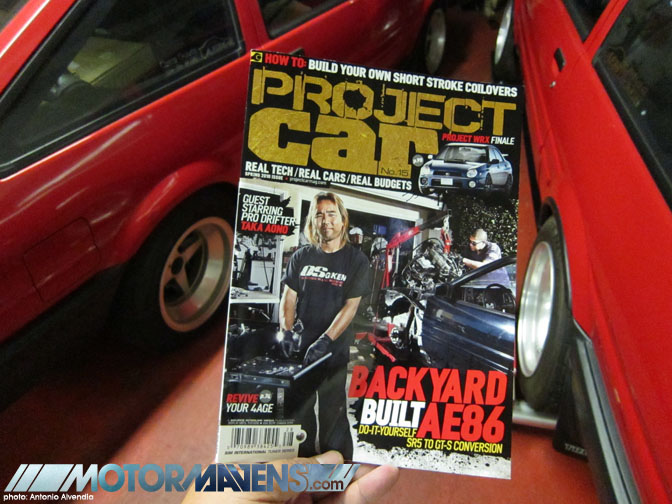 I just realized that I haven't posted up a "Papercuts" story in quite some time. To tell you the truth, it's because I haven't even bought any car magazines in quite some time. There was a time in my life when I would go to bookstores and hang out, just to check out all the car magazines that were out. My friend Kenta and I would meet up at Barnes & Noble or Borders (or better yet, the Kinokuniya Bookstore in Little Tokyo or Torrance) to check out the latest car magazines every single month. I miss going to bookstores just to chill and check out magazines… I'm not sure if I haven't been going because I've just been busy, or if the magazines these days don't intrigue me…
Whatever the case may be, I stumbled upon this copy of Project Car Magazine at the CVS Drugstore in Studio City. This issue caught my eye because I saw my friend Taka Aono on the cover; after all, he is the USA's undisputed top AE86 driver. I thumbed through it really quickly, and decided within 20 seconds, "that's it. I'm actually gonna buy this issue." While my 10+ years of Living the 86 Life have led me to own just about every AE86 book or manual that has ever been produced in Japan, it's honestly pretty rare to see magazines that actually produce good stories about AE86s stateside. I definitely think this magazine was worth the $6 or 7 (ouch!) that I paid at the cash register.
Even though he's probably the one Source Interlink magazine editor I don't really know, I really gotta give props to Project Car editor Gary Narusawa and his crew over there. (more…)
---