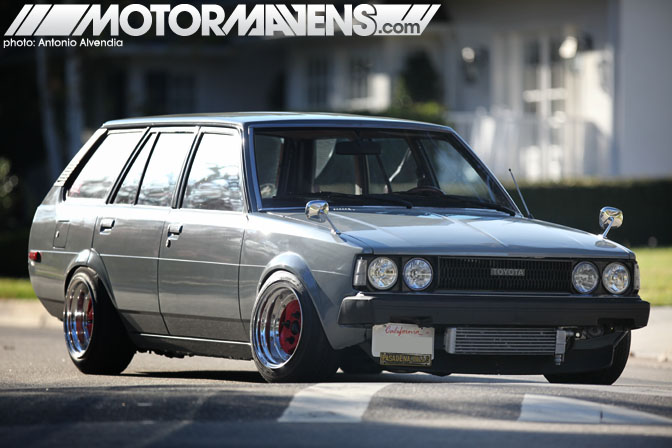 Anyone who knows me personally can tell you that I have a soft spot in my heart for rear wheel drive Toyota Corollas. I've even made it a point to seek out and photograph modified RWD Corollas when visiting other states and/or countries. Hell, anyone who has read anything I've written online or in magazines or books can tell you that. This being said, it comes as no surprise that I was more than a little excited when I first laid eyes on this battleship gray TE72 Toyota Corolla wagon.
I first saw the car at the So You Think You Can Stance event just a few weeks ago, parked way back in an alley… but the wheels and the car's overall color just captured my attention!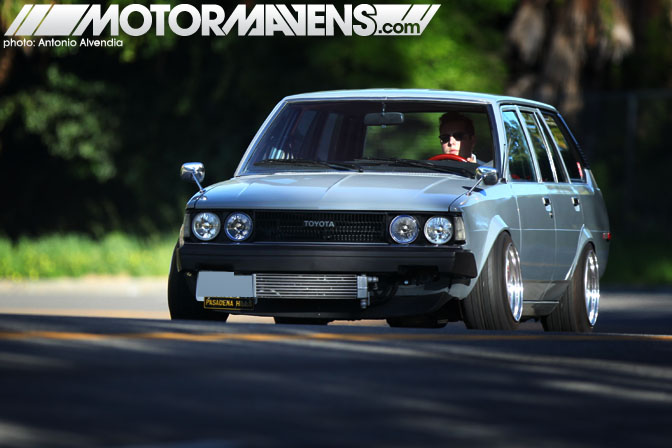 Brian Sloma is the current owner of this 1980 Corolla wagon, but according to Brian, this car has made its rounds and has been passed around within the Southern California car scene, with several of the previous owners working for aftermarket parts shops or tire companies.
Even though I've seen this car in different iterations throughout the years, I think the current state is definitely the best. It's all in the details!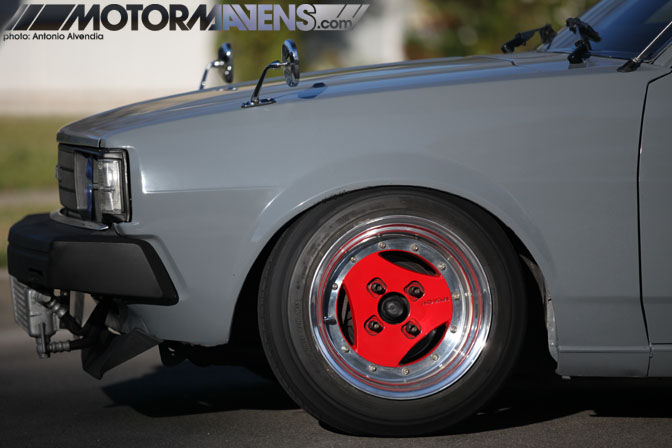 Perhaps the most obvious eye-attracting feature of the car is the super ridiculously deep, 14×9 (+0) Advan A3A wheels with a bright red triangle face. These wheels started life as a set of puny 14×6 Advans, but were redone with fatter lips than Kim Kardashian with 20 botox injections. Fatlip like that kid from the Pharcyde!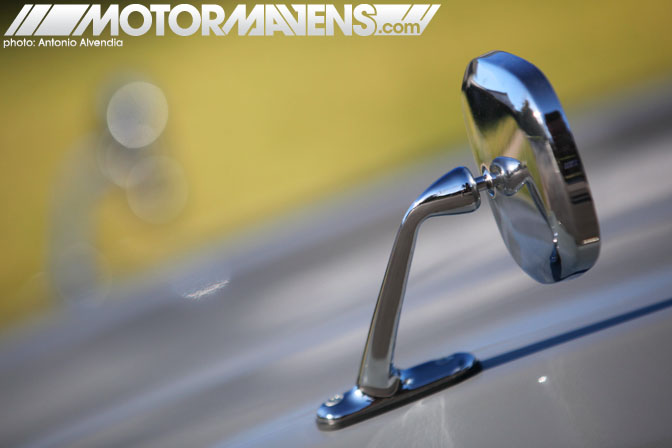 Another obvious exterior modification was the addition of these Mooneyes chrome fender mirrors. Brian admits that sometimes his passenger side mirror gets loose, but the good folks at Mooneyes are usually pretty good about letting him swap it out. Another option would be to use springloaded OEM Toyota mirrors, as available from Herb at Cabe Toyota, but these Mooneyes mirrors give the car an older, more aftermarket look – it all depends on what you prefer.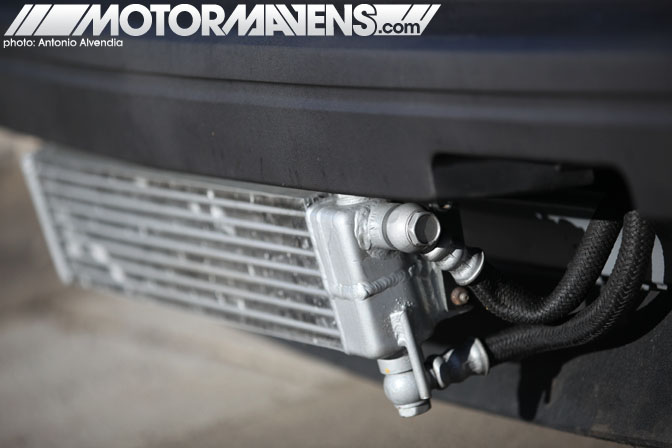 Sitting up front underneath the bumper is an oil cooler, mounted outside of the engine bay, underneath the bumper for that bosozoku look that has gotten so popular these days. Any seasoned junkyard hound will be able to tell you at first glance what kind of oil cooler that is too… it's an OEM FC3S RX7 oil cooler! Good for saving pennies, and perfectly sized for this car.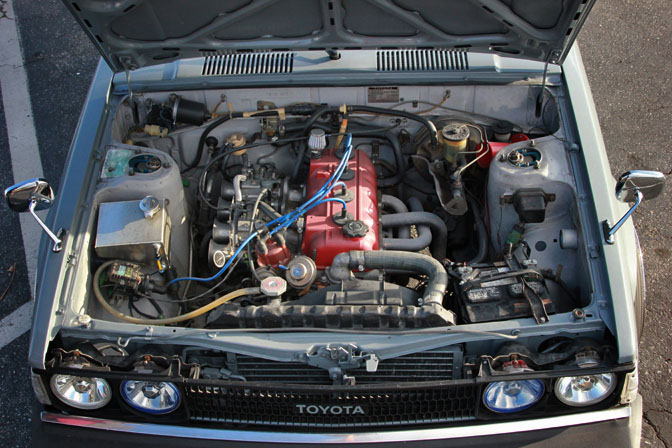 Underneath the hood, the Corolla is powered by Toyota's mighty workhorse, the 1800cc 3TC engine. This particular engine is pretty mild and streetable, but anyone on the East Coast will tell you that the Puerto Rican Toyota guys are capable of  turbocharging these 3TC engines and making them run 8 SECOND quarter miles. With air conditioning on… AND they drove the car to the track. Just crazy!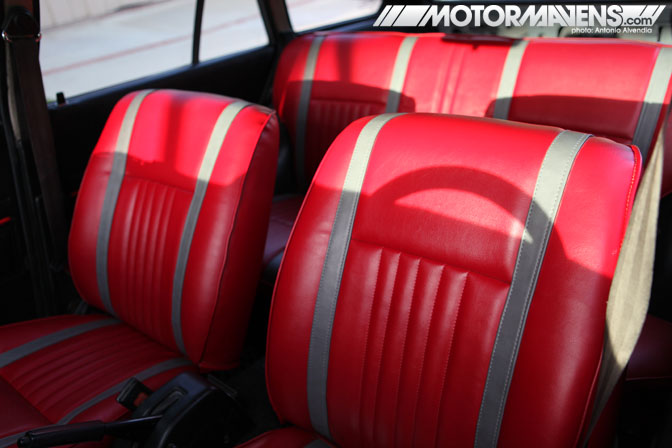 This doesn't look like your ordinary 1980 Toyota Corolla interior. Brian had a friend of his reupholster the factory seats in red, with thin gray borders that perfectly coordinate with the car's exterior paint color. It looks as if the headrests have been deleted too, giving the car an even older school look.
Let's just hope the car doesn't get rear-ended, because all the car's occupants will have a bad case of whiplash for sure! Modern cars have headrests for a reason! The headrest deletion does make the interior look pretty old school and clean though.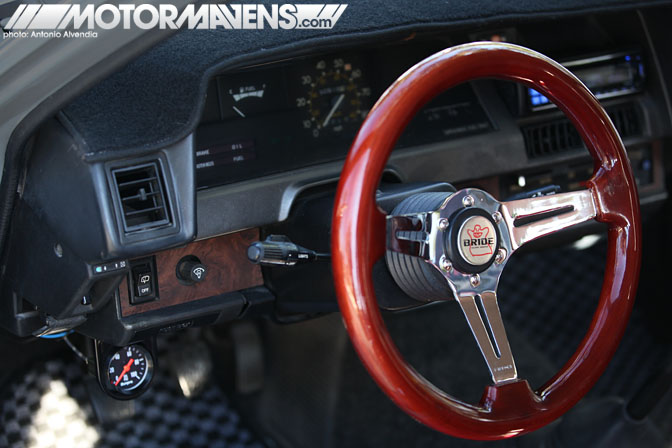 I'll be really honest here – so I don't mean any personal offense to Brian or the brands involved. One of the great things about owning an older car is the fact that you can easily change out the steering wheel. There are sooooo many awesome choices when it comes to vintage steering wheels, from old Momos to old Nardis, and even off-name brand wheels.
This being said, I was left scratching my head when I saw the generic looking (I won't mention the brand, even though you can kinda see it) eBay wood-style steering wheel and eBay horn button on the car. In Brian's defense, he said he was hooked up with it as a gift, so he's rocking it for now, but is looking into other options for the future.
Underneath the dash, you can see a Sun Pro oil pressure gauge and gray checkered floor mats that remind me of the high end Karo sisal floormats that were popular in Japan in the 1990s.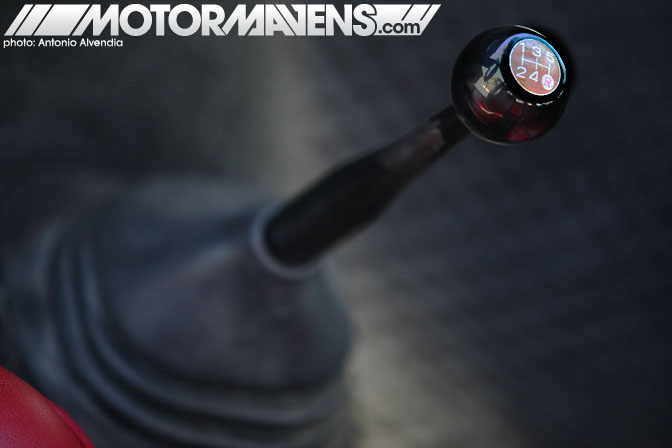 Sticking out through the floor, uncovered by any sort of center console or garnish is the shifter, which is mated to a factory Toyota T50 transmission. While we were talking, Brian mentioned to me that he bought the car from a guy named Eddie (Duffman), and I just started laughing. This car does have history! Eddie actually bought that T50 transmission from me when the car was still brown! That transmission came from my old TE72 coupe that I got from my friend Jammin Jesse in Culver City, which ended up becoming a rally car after I gave it to my friend Ricky Delacuesta in the Valley. Crazy how parts get passed around…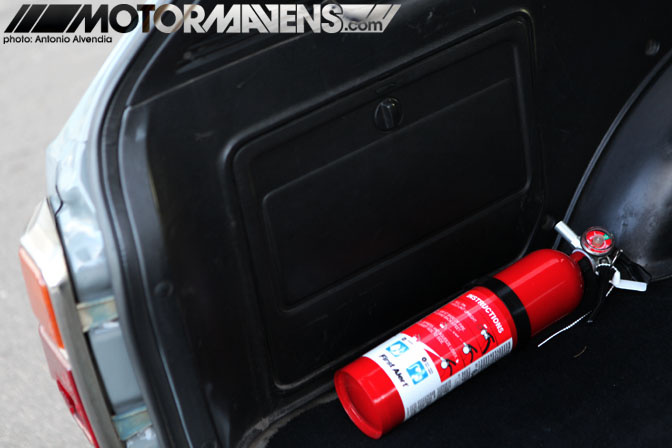 If you use the Solex key to open the rear hatch's lock, you can pull up the hatch door to access the cargo area of the car. The rear carpet (actually, the entire interior of the car) is extremely clean, because Brian had it replaced.
Mounted onto the floor of the trunk area is a small fire extinguisher. I do think it's a great idea to have a fire extinguisher in the car –  in fact, I kept wanting to use his fire extinguisher cause Brian was smoking nonstop during our photoshoot! This guy was KILLING ME! (Literally. LOL) Every time I asked this guy a question, all this smoke would waft out of his mouth and head towards my face… Brian is a super nice guy, but I swear, I wanted to pull the pin out of his fire extinguisher and spray that stuff all over him! Calm down with the smoking, bro! (I'm not that much of a jerk, so I wouldn't actually do that in real life. At least I don't think I would.)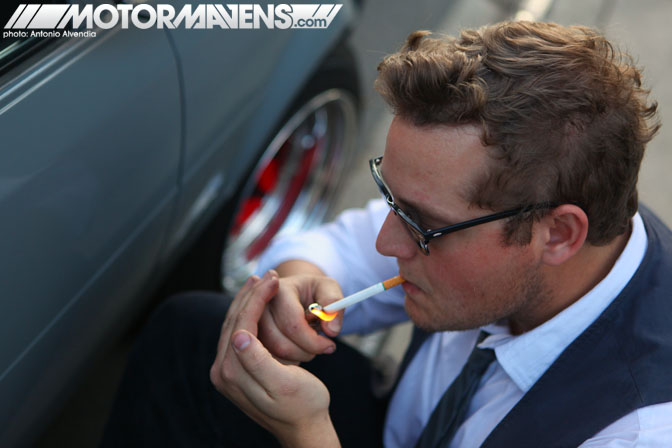 Here's Mr. Cool Guy himself, lighting up another smoke. SMOKING KILLS, kids! DON'T DO IT! Hahahhaha. Okay, I admit it. He does look kinda cool lighting up.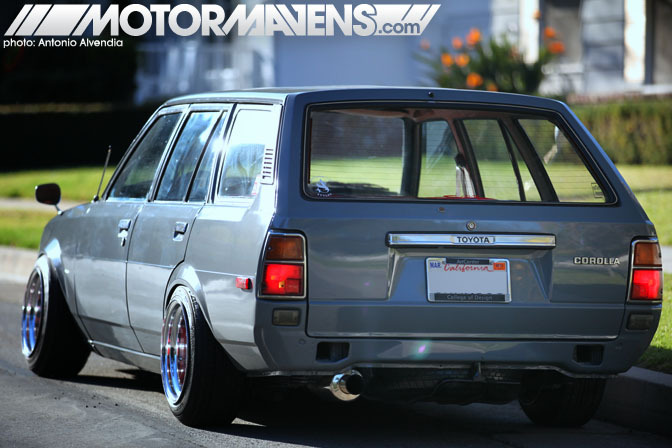 A glance at the rear of the car will reveal that Brian removed the car's rear bumper. It also reveals a damn shiny muffler and a straight pipe exhaust. Forget that for a minute, because what I like looking at in this photo is the way the front wheels sit! Dig that camber! Nice!
The car sits low, thanks to lowering blocks in the rear and KYB AGX shocks. Up front, the car sits on Cusco camber plates and coilovers (fitted from an AE86), and negative roll center adjusters up front give the car the extra wide front track, making the wheels stick out for that aggressive look. It also has AE86 GT-S brakes and an OEM AE86 sway bar installed, which provide subtle bolt-on improvements to the TE72's stock equipment.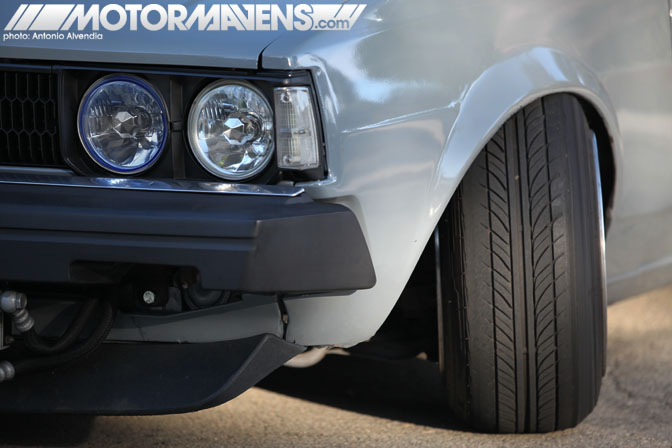 Speaking of the front wheels, let's check out some of the camber wear on the tires. Looking cool has its price! Oh well, at least these tires are cheap. They're old Falken Ziex ZE512s, and they look as if they've been flipped over from left to right at least once already too!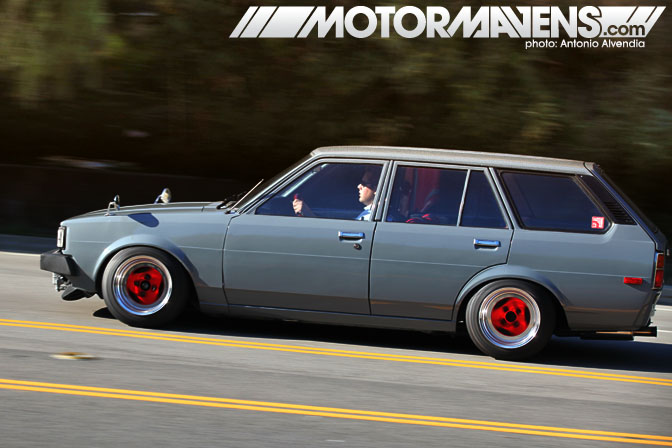 Here's a side shot of the car at speed. While we were doing the photo shoot, I actually asked Brian if I could test drive his car. I've owned a 1983 TE72 Corolla wagon as a past daily driver, and wanted to remember what it was like to drive one again. Being the nice guy that he is, Brian exhaled and said, "Yeah, sure, no problem…" as more smoke floated towards my face.
The inside of Brian's wagon felt much more renovated than the bone stock interior of my TE72 wagon. Obviously, the reupholstered seats played a big part in that. Once I began driving it up the hill, I remembered that one of the things that annoyed me about my TE72 wagon was the fact that it didn't have a tachometer. I mean, you don't completely need one if you just listen to the sound of the engine… but it's just one of those things that's nice to have. I mean, all modern cars have them. I have factory tachs on all my other cars; even the old ones, so I just noticed its absence. Other than that, the engine felt pretty strong and lively, and my old transmission still shifted well. The transmission would feel even better if it had a short shifter from TRD or even a smaller company like T3, but even the stock shifter felt fine.
The Corolla's suspension felt soft and comfortable. It was set up as a street driver, so I think it suits the car perfectly. Since this Corolla wagon had several suspension components from an AE86, the car handled slightly better than a normal TE72. The suspension wasn't anywhere near as stiff as the suspension in my Corollas, but it was actually a kind of welcome change. I've never driven a low Corolla with soft, comfortable suspension before – I kinda liked it!
Undoubtedly, the best thing about driving Brian's Corolla wagon was the sound of the engine. Damn, I love the way twin side draft carbs sound. Even at low rpm, they sound awesome. At high rpm, they sound even better – louder, throatier, and more aggressive, warning other cars to get the hell out of the way. Just how I like it.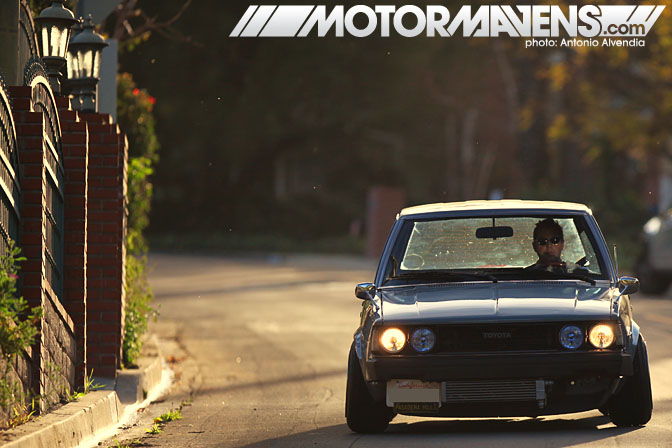 As the sun started going down, it cast a really nice light on Brian's TE72 wagon. Those wheels and the overall stance of the car make it look mean, like a bulldog with buffed front legs! It may not handle like a race car, but driving it around on city streets is definitely fun; the low stance, aggressive camber, super fat lip wheels, and the growl of the twin carburetors definitely make the car stand apart from the other cars you see on the road on an everyday basis.
I'd love to have a car like this for cruising around town! (Oh wait, I already do have one… err… five.) Can you imagine driving a car that looked as awesome as Brian's wagon… but with a 3TC turbo engine?! I can. It would be incredibly off the chain! Time to search Craigslist for one of these cars…
Thanks to Brian for taking time out to shoot with us, and for letting me test drive his car!
:: Antonio Alvendia
3tc
,
Advan
,
AGX
,
Brian Sloma
,
Cabe Toyota
,
Corolla
,
Cusco
,
Duffman
,
fender mirrors
,
KYB
,
Mooneyes
,
Ricky DelaCuesta
,
TE71
,
TE72
,
wagon
---