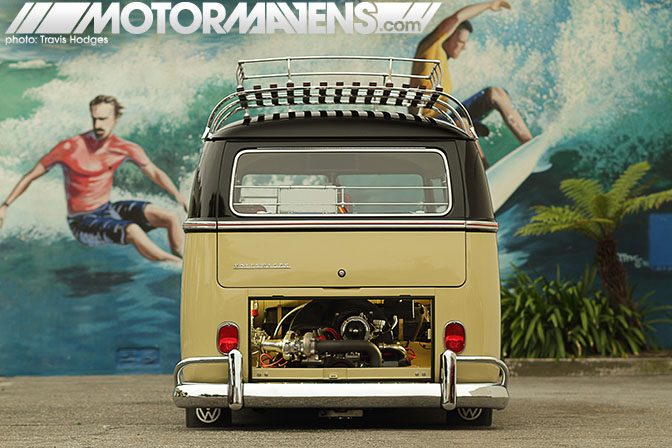 Many of us are dreamers, striving toward our dreams and goals, stopping at nothing to reach that finish line.
Rolando Alvarado's 1965 Type II Volkswagen Bus
took 30+ years to cross the metaphorical finish line - but what a great finish line to cross!
Growing up, Rolando was always a fan of the air-cooled Volkswagen scene and it quickly became a personal goal of his to acquire one. It was his father's 1954 European oval window VW Bug that got his heart pumping and started his love for the air-cooled engines. Despite that, it took a while for Rolando to realize his dream. It wasn't until 1980 that he finally got his very first VW. Of course, being the die-hard VW head that he is, it ended up being a 69' VW Bug.
The first time I laid eyes on this Bus, I just knew that there had to be a story behind it. To many, a Bus may just be another form of transportation, but to me this iconic Bus was a moment in a time when life was a lot simpler - the time of Wood Stock, hippies running through Haight and Ashbury in San Francisco, Jefferson Airplane...good times. During the photo shoot, this Bus almost became a time capsule to channel what life was like back then - an icon to remind us how things used to be.
Read more...
---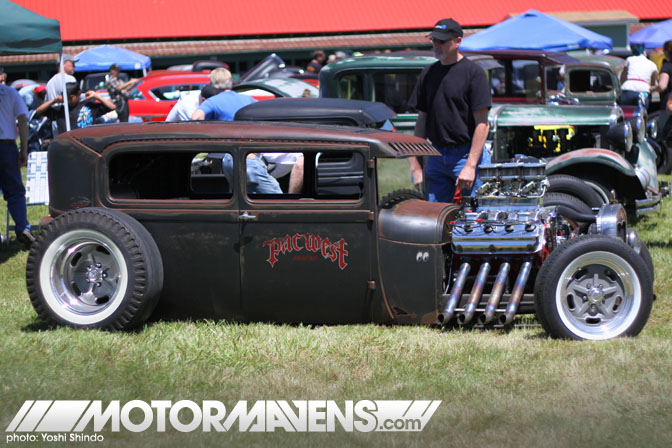 I always feel a strong sense of pride when I go to a hot rod show. Hot rodding is
as American as you can get
- home grown and originating fully here in the States. Starting with young servicemen after World War II, restless and full of
testosterone
, the whole sub-culture that has emerged from it has even influenced styles for clothing, current cars, and music. So, I'm pretty sure you would be hard pressed to find a car enthusiast who didn't like old American rods - there is just an appreciation for the whole lifestyle.
Yoshi Shindo
and I were able to make the trek down to Chehalis, WA on June 26th to attend the third annual
Billetproof Hotrod and Custom Car Show
, which bills itself as the
"World's Least Important Car Show!"
. Sounds a bit self-deprecating to me as it is one of my favorite hot rod shows and, since this marks the second year I have attended, it's clearly important to me.
The show is a bit different from most current hotrod shows, as you can guess by its name, because no cars with billet are allowed to participate. You might ask why, since so many parts are now being produced with this technology specifically for the custom car industry, but it's because the technology didn't exist back in the classic days of hotrodding. Only cars that are traditionally modified and those that precede 1964 are allowed to attend.
Read more...
---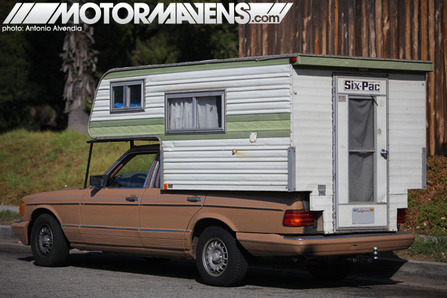 I was rolling through the San Fernando Valley today with the newest member of the Motor Mavens Crew, Edward Uche, when I spotted this parked on the street. WTF?!
Do you think this car might have been a reject from a lost episode of Pimp my Ride? Because like… remember when they were asked to restore an FJ40 Toyota Land Cruiser, and then the brilliant "car customizers" on the show decided to put wood flooring and a FISH TANK in it?
Well I think the owner of this old school Mercedes Benz must have told the people pimping his ride something like, "I'm not quite sure what type of mods I'd like done to my Benz. I do like sleepers though." Well apparently, the ride pimpers must not have exactly understood the meaning of SLEEPER. Lol.
FAIL.
:: Antonio Alvendia
---