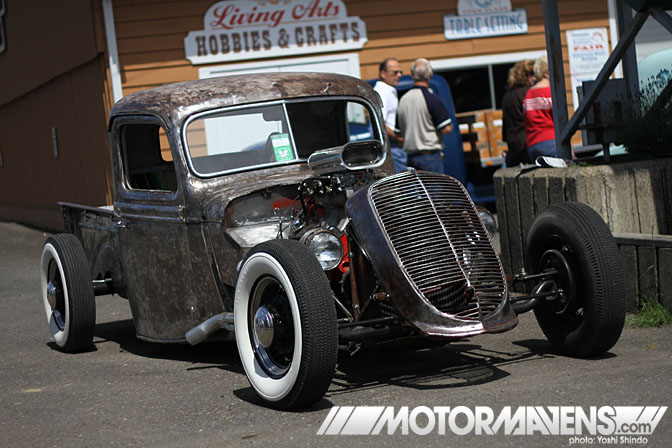 I always feel a strong sense of pride when I go to a hot rod show. Hot rodding is as American as you can get – home grown and originating fully here in the States. Starting with young servicemen after World War II, restless and full of testosterone, the whole sub-culture that has emerged from it has even influenced styles for clothing, current cars, and music. So, I'm pretty sure you would be hard pressed to find a car enthusiast who didn't like old American rods – there is just an appreciation for the whole lifestyle.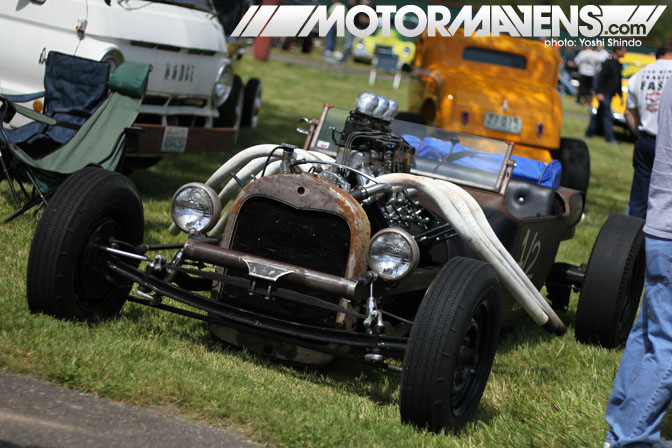 Yoshi Shindo and I were able to make the trek down to Chehalis, WA on June 26th to attend the third annual Billetproof Hotrod and Custom Car Show, which bills itself as the "World's Least Important Car Show!". Sounds a bit self-deprecating to me as it is one of my favorite hot rod shows and, since this marks the second year I have attended, it's clearly important to me.
The show is a bit different from most current hotrod shows, as you can guess by its name, because no cars with billet are allowed to participate. You might ask why, since so many parts are now being produced with this technology specifically for the custom car industry, but it's because the technology didn't exist back in the classic days of hotrodding. Only cars that are traditionally modified and those that precede 1964 are allowed to attend.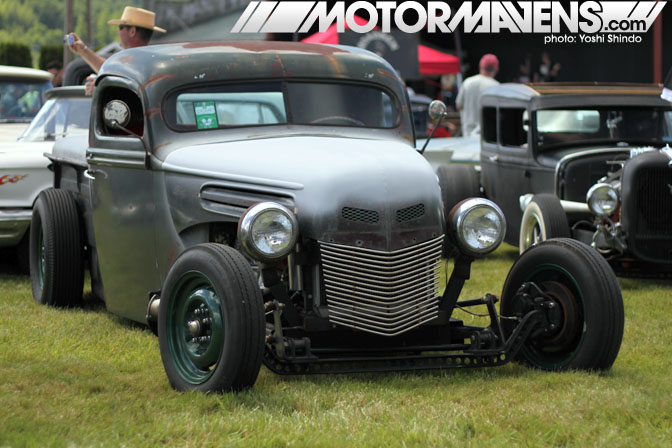 In fact, there is a selection process, and a set of guidelines you must pass to be able to show your car. Two of them I mentioned earlier (older than 1964 and no billet) – but also there are: no digital gauges (of course), no independent front suspension on fender-less cars, no wheels newer than the 1960s, and (my personal favorite), you are not allowed to trailer your car to the show. No trailer queens here!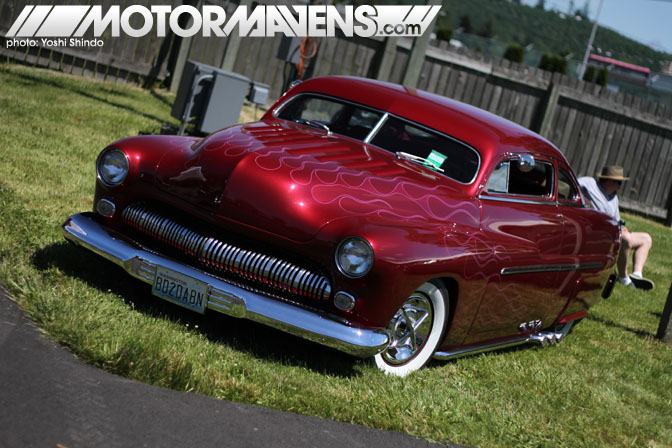 These old Mercury Eights are very popular – some refer to them as Lead Sleds. They are called that because, back before the days of Bondo, lead was used for cosmetic repairs. So, after lots of modification, you can imagine how much was used. I can't imagine that it was safe to use and, of course, it's no longer used for health and safety reasons.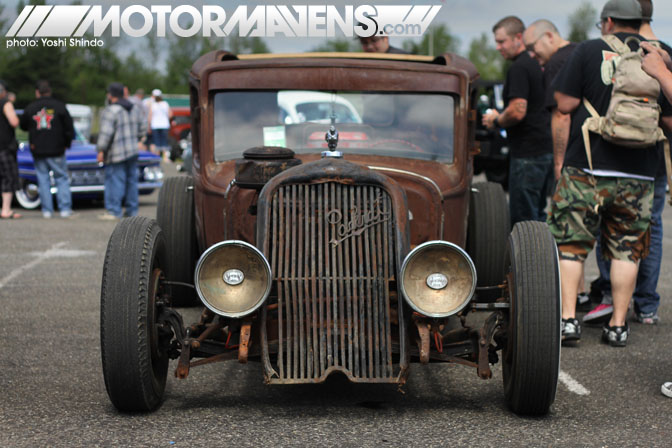 There are four shows all over the country hosted in Michigan, Texas, Washington, and California – the California show marks the end of the summer. The show in Washington has turned into a three day event complete with bands, vendors and concessions. After the show on Saturday, the city even allows a cruise through downtown! Nobody, other than hotrods, would be allowed to do that!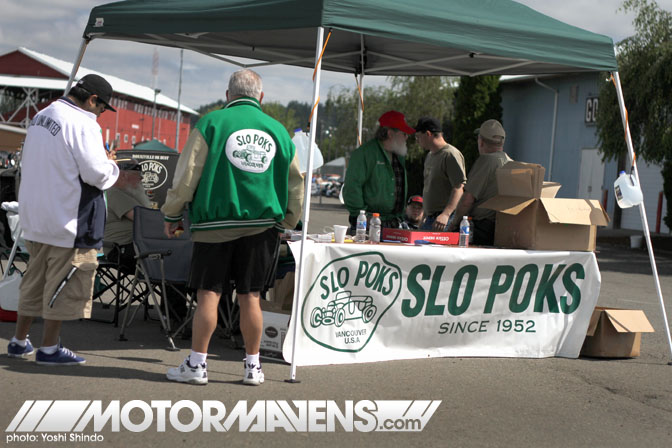 The Slo Poks have hosted Billetproof here in Washington each year it has been held – and they are no slouches in that role. They are the longest active car club in America having been founded in 1952 by servicemen who wanted to get together and share a hobby. I chatted with a gentleman who introduced himself as "Jack Shit, have a handful", as he shook my hand! LOL! He mentioned that he was a newbie having only been a member since the 80s – almost as long as I've been alive!
I was very surprised to hear that a club as active in the community as they are has lasted for so long. I only hope, when I get up there in age, that I am still as passionate about my car hobby as these guys are. Jack gave me some background on the club saying that at first you had to be a drag racer to even be a part of the club.  These days you don't have to be a drag racer; although some still race. There are currently 120 members in the group and, of those, 50 to 60 participate and gather on a regular basis.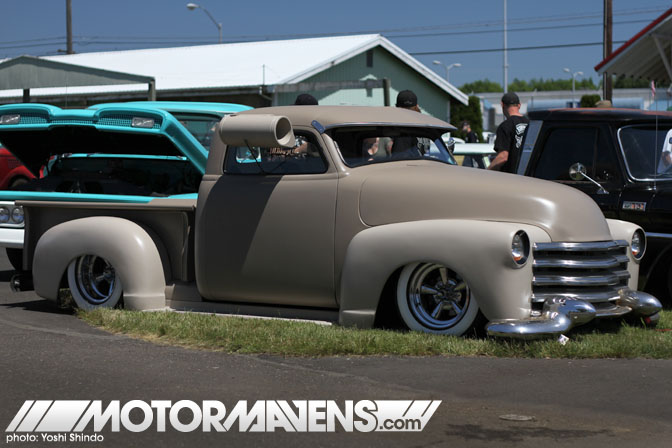 There were other car clubs in attendance as well – all with appropriate names. The local northwest clubs were Dead Driven, Deviants, Roadmen, Lifters, Roadmasters and Misfits. I'm sure there were others in attendance as well as there were a lot of custom cars with lawn chairs and coolers of beer where people seemed to be hanging out.The above truck was part of the Deviants car club from Vancouver, WA.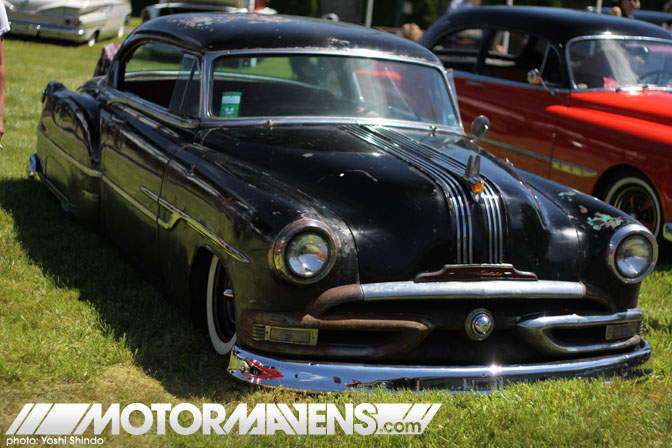 It's virtually guaranteed that there are no airbags on this car since this is a traditional show – you can also bet it was driven to the show this way because of the no trailer rule. You might say that this car is purpose-built to be bad ass! Airbags are for cheaters; these hotrods are committed – no button pressing to go over a speed bump!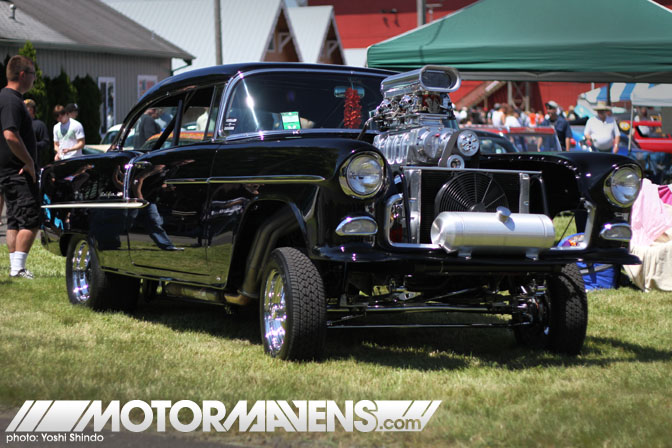 This 55 Chevy Bel-Air Gasser looked tough! As a total opposite to the" slow and low" style, this car is obviously high and fast. Gassers are purpose-built drag cars and are traditionally raised for better weight distribution while having the stock IFS replaced by a straight axle that is lighter in most cases. It must be a chore to drive this on the street while trying to see past that blower.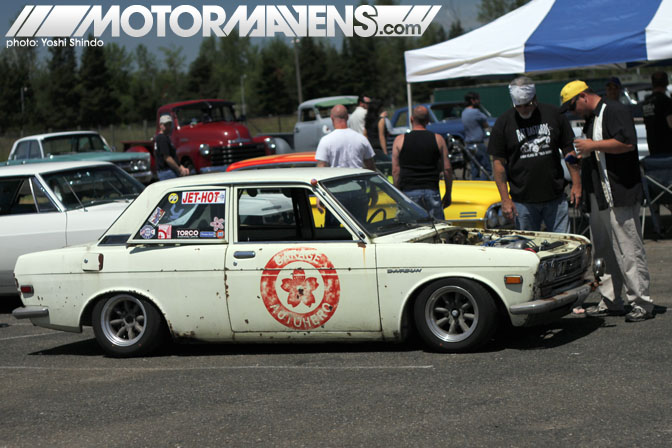 OK. So…I know this isn't a hotrod by definition but Ray Stonehocker and Yoshi traveled together to the show. They let Ray park near the show so Yoshi wouldn't have to lug all his camera equipment around the whole day. Although, by the time the show got into full swing, Ray's car had become part of the festivities! Some people had some interesting comments and questions. The most memorable was a gentleman who said, "perfect candidate for a rollover contest." I guess he had no appreciation for other types of cars, but it was funny anyway.
If you like the sakura (cherry blossom) logo that's stenciled onto the side of Ray's 510, then make sure to visit the MotorMavens booth at Formula D Seattle this weekend, as we'll be releasing our new MotorMavens Northwest X Garage Autohero collab shirt there! Come by the booth, say hello, and support the site by purchasing a shirt!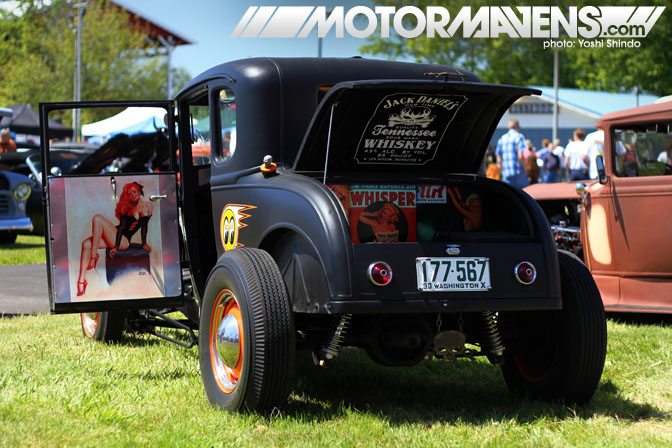 There were lots of pinup girls at the show, some real and some posted up just like in this 1930 Model A Coupe owned by Scott Gendron. The pinup style is still going strong these days, as well as the trend of putting pictures of women on cars – or anything really! Good ideas never die, I guess.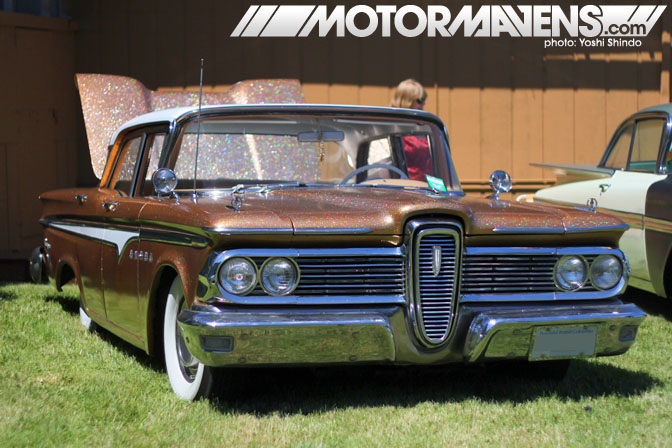 The Edsel Rangers were made in the late 60s and were a division of Ford. Although only made for three years, they still pop up at shows. This Ranger was so bright in person, due to the immense amount of flake in the paint, you almost couldn't look at it directly.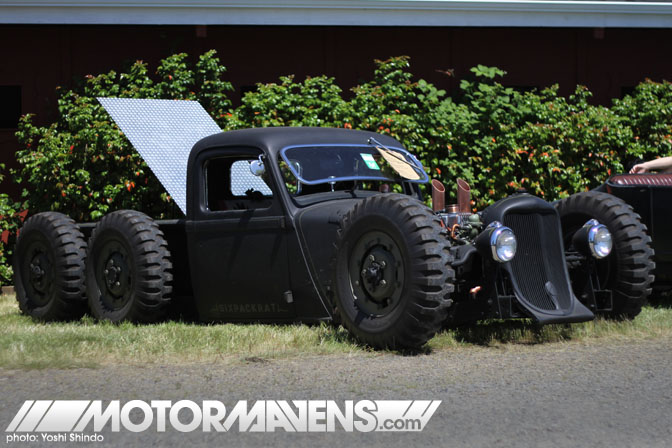 This six wheeled custom attracted a lot of people. So much so that when Yoshi tried to take photos of it the first time, he couldn't. We had to wait until later in the day to come back when most people had had their fill. It's common to see swaps and a mishmash of makes in one vehicle but this was a serious amalgam. The chassis was from a 44 Dodge WC 62 that started its life as a WWII 11/2 ton troop carrier. The cab and bed are from a 35 Dodge Pickup and the running gear is a 250 straight six from a 66 Chevelle. Anybody else dizzy?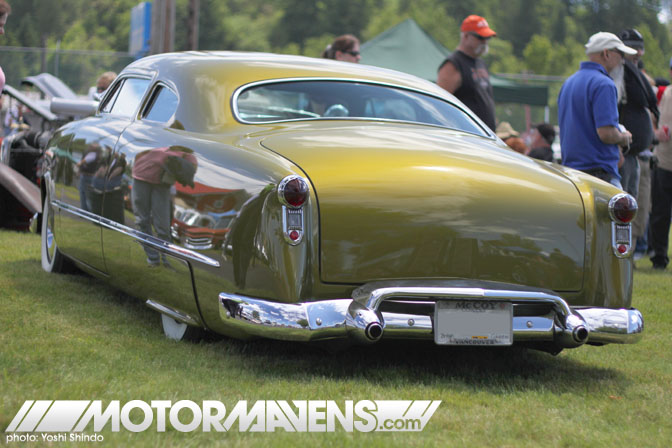 Here is the back side of a Lead Sled. More often than not, they are hammered to the ground sporting a chopped top. These are definitely made to be slow and low.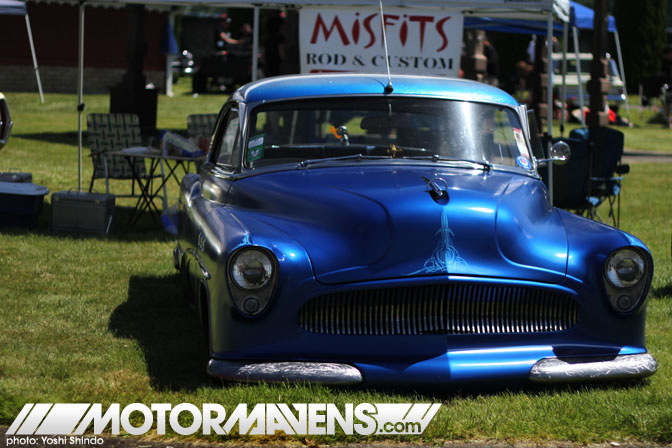 You can't have a traditional hotrod show without pinstriping. This car, like lots of others, had pin-striping all over it. There was even a booth where pinstripers were busy working on pieces that people brought to them to get one-off designs. Even most of the trophies that were given out were covered with pinstriping.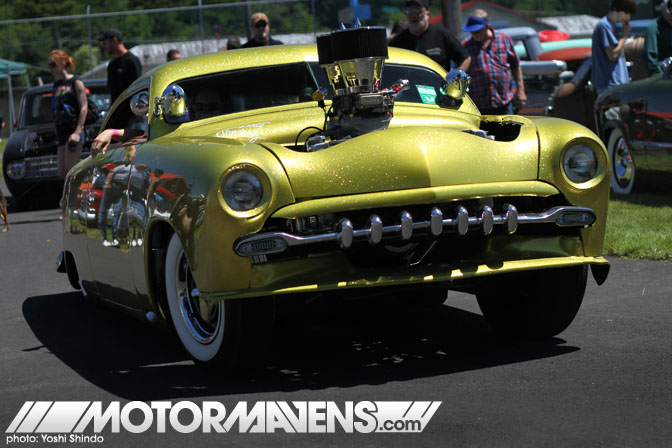 Every so often, a car would start up and leave its parking spot to cruise the show. This 51 Ford Custom was out on its stroll and you can see how hard it must have been for the driver to look out at the road with the huge intake and filers blocking the view – not to mention the chopped top.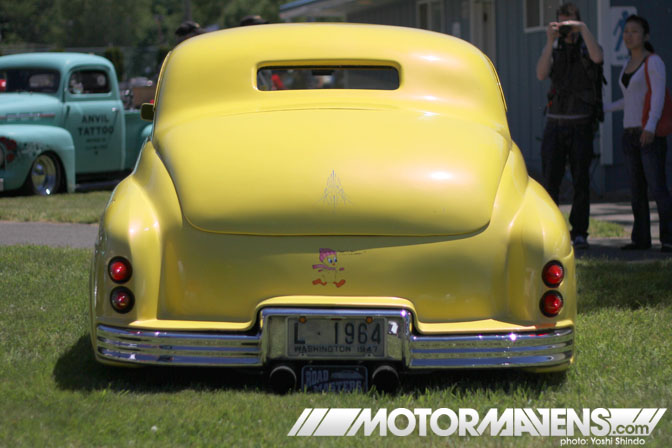 From bright colors to rust – all are out there to shine. This Tweety Bird themed car was just lounging in the grass. It was with a group of Lead Sleds and I'm almost sure that they must have been a club but, unfortunately, I didn't catch the name.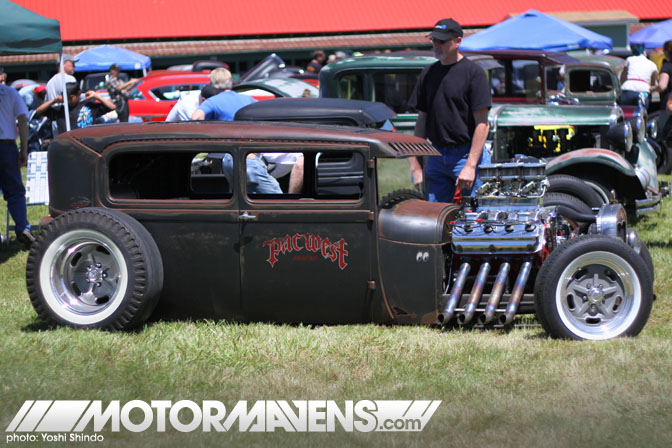 Surprisingly enough, most cars at the show weren't as loud as I would have expected. I'm told that some had mufflers build into the straight pipes, but even so it was lower than my imagination. That's not to say they were all quiet. This coupe is obviously customized to be very low – having the axle raised and going through the cabin was a common practice.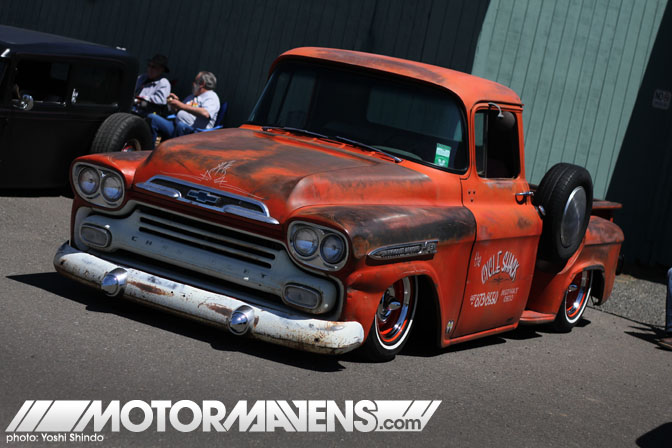 If I had to have a daily work truck it would have to be one of these Chevrolet Task Force trucks that were only made from 55-59. There is so much going on in the design features of these trucks – and so much metal!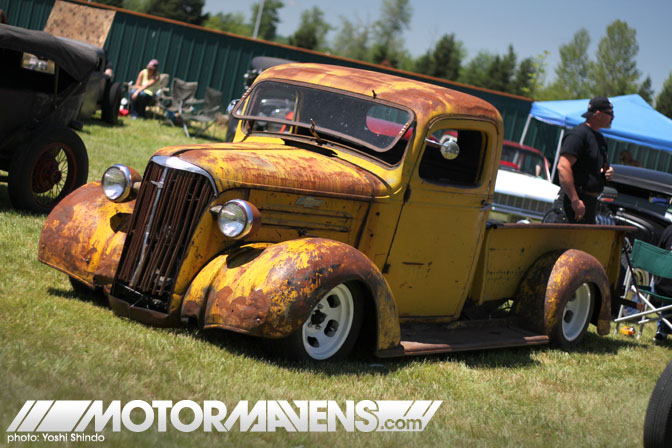 This truck, however, happens to be my personal favorite. I liked it so much, I asked Yoshi to take a picture of it for me. You may not think it from the appearance, but it actually runs. I love this style of car -It's deceptive. It looks so simple and dated yet, upon closer inspection, there is a lot going on with it. You could mistake if for a rotting truck left out in a field, but it is indeed a running car that has been modified. In fact, right behind the cab, the radiator was relocated under the bed. The cool thing is you couldn't even tell. The only thing that was out of place were the large coolant lines running along the running boards – but even they blended in like nothing strange was going on.
After a day of walking around and enjoying some food and looking at some amazing cars, we headed out thinking of next year when we return. There were also a few old motorcycles there that got me inspired to work on my own 1965 BSA Lightning, but I still have car projects to waste time and money on. Until next year, thanks Billetproof for bringing out some awesome American cars. If you are in the Antioch, CA area around the 18th and 19th of September check out the next and last show of the year.
::Lucas Perez
Photos by:
Yoshi Shindo
---