---
---
---
---
---
---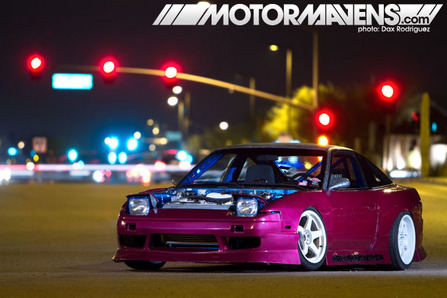 I can hear the theme song to
Welcome Back, Kotter
playing in the background as I type this. I'd like to apologize for my absence to all the people that actually like my work... Mom and Dad, I'm looking at you. To everyone that only comes to
Motor Mavens
for the photos,
this one is for you guys
from someone you don't know, never met and probably won't ever meet. Thank God it's Friday!
Don't be confused, this just isn't a "welcome back to the site" for me. Oh no, this is a huge welcome back to
fresh cars built by cool people on real world budgets
. Welcome back to grassroots drifting and sick street cars, which is what this site was built upon and the whole reason why we keep pushing forward. Like a skilled surgeon,
Mike Burns
and company have suited up in their drifting scrubs to save the all important life of grassroots drifting; but instead a sharpened scalpel, his finely tuned instrument is this super rad
RPS13 Nissan 240SX
.
Read more...
---
---
---
---
---
---
---
---
---
---
---
---
---