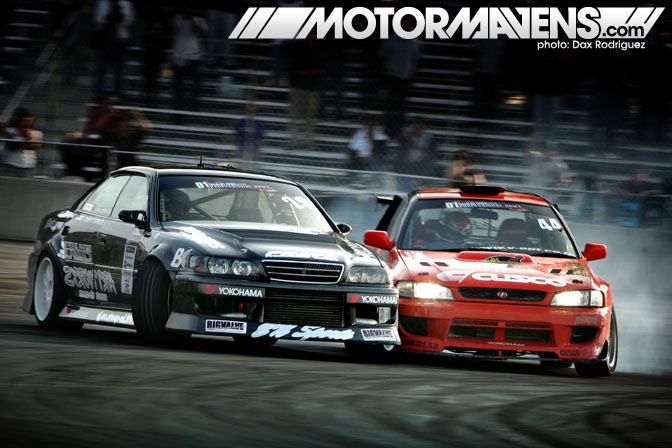 Oh whaaaaat!!! The rumors are true! Just released today – it seems that D1 Grand Prix Champion driver Daigo Saito will be joining good friend Robbie Nishida at Bridges Racing to campaign a two-car team in the Formula Drift Championship. I suppose the question everyone has on their minds NOW is which car will Daigo be driving?
Can you just imagine the ridiculous impact Daigo would have on the Formula D field if team owner Bryan Bridges was able to bring out Daigo's tested and true D1-Championship-winning FNATZ/BN Sports JZX100 Toyota Chaser out to the USA for a year of Formula Drift competion?! I'm pretty damn sure it would give all the V8 guys a run for their money and show the Formula Drift audience how the OG Japanese D1 drivers get down!
(I think the KEY here is bringing over the cars that these legendary Japanese drivers are accustomed to – just remember how Toshiki Yoshioka made waves in Formula D when he first came out with his "underpowered" nitrous-assisted 4AGE 20v powered AE86? He ended up winning First Place at Formula D Las Vegas, and even made a professional, consistent driver like Rhys Millen hit the wall during their tandem battle!)
It all makes sense now… Daigo and Robbie are close friends, and live in the same general area of Tokyo. They hang out together all the time in Japan, and when Daigo's visiting the United States, he's always hanging out with Robbie and Ken Gushi.
Man oh man… I'd be so excited if Bridges Racing could actually bring the JZX100 out – in my opinion, that's the way Daigo could REALLY make his presence felt. The key here isn't just signing the best drivers, but it's also all about providing those top level drivers with competition-worthy vehicles.
Everyone saw Bridges Racing driver Robbie Nishida kicking ass when he was driving the Dynamic Autosports Z33 350Z, but unfortunately he's been plagued with technical difficulties in his competition cars ever since then (Dynamic R35 GTR and Bridges S13). Best of luck to Daigo, Robbie, and everyone at Bridges Racing. I can't wait to see these guys attack Long Beach in April!
:: Antonio Alvendia
---