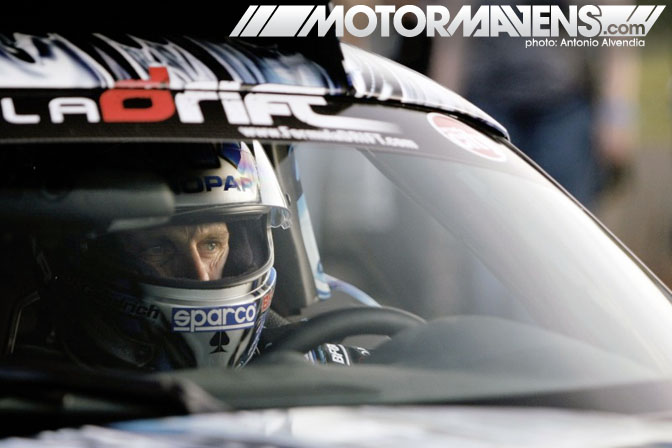 I've been holding this info back for a couple days, and trust me – it's pretty hard not to say anything when you have news like this! This is a pretty interesting piece of news here – Samuel Hubinette is currently in Japan, and plans to drive at the D1 Grand Prix event at Odaiba this coming weekend!
I received an email from Samuel, asking my opinion on which car I thought he should borrow for this weekend's D1GP event – Daigo Saito's D1 Championship car, the FNATZ JZX100 Chaser, Takahiro Ueno's widebody JZZ30 Vertex Soarer, or Takahiro Ueno's normal fendered JZZZ30 Vertex Soarer.
My vote was for Daigo's super sick Chaser – first of all, it's a D1GP Championship winning car for crying out loud; second of all, I thought the long wheel base and the big pendulum swinging characteristics of such a long drift car would be perfect for Samuel's driving style. However, since I heard reports that Samuel was currently in Yokohama at Ueno-san's car shop, Sui Vax, I'm guessing he opted for one of the Soarers. Either way, S.Hubinette is one hell of a driver, and I'm confident that he can drive anything with four wheels – probably even an Ikea Expedit bookcase or a Malm dresser. LOL
Speaking of Ikea, I can't believe that Samuel has been drifting professionally this long, and Ikea still hasn't sponsored him. They're both Swedish after all; now that Mopar is no longer his title sponsor, I think Ikea needs to step up and sponsor the crazy Swede. Samuel has told me before that he loves going to Ikea in Irvine, because it reminds him of Sweden. He can chill out there and drink all the lingonberry juice he wants!
Could you just imagine Samuel's pit area if Ikea were to sponsor him? Instead of an EZ-up with folding chairs, he'll be rocking a bright red Ikea couch that folds into a bed; a furry white carpet on the ground; a difficult to assemble cabinet, and a million cheap tealight candles scattered all over the place.
Oh, umm… but back to the topic at hand, I'm sure Samuel will be putting on quite a show for the Japanese D1 audience. I just hope we don't see Option Videos of Keiichi Tsuchiya and Manabu Suzuki saying "DRIFT YA RATER!!!"
:: Antonio Alvendia
---