It's 2:00pm on Sunday, the day after our very first (should we say inaugural?) MotorMavens Mass Appeal car show, which took place inside the Ken Block Gymkhana Grid Invitational at Irwindale Speedway. This entire event was such a blur to me! I didn't even get a chance to have one wink of sleep on the night before the show! The out-of-state members of the Motor Mavens Crew just went to the airport, and I'm about to get busy crunching my photos for my version of the show coverage!
However, before I work on presenting our show coverage… I want to show some support to another event that's happening today, so I'll be driving out to Fontucky, CA for the Battle of the Imports at California Speedway. I have to give big respect to Frank Choi, the pioneer who basically started import drag racing – so attending his event is a must!
I'll be driving over an hour to get there, so please be patient! We'll post up some Mass Appeal/Gymkhana coverage tonight!
Before I leave though, I just want to give a sincere and heartfelt THANK YOU to everyone who brought their amazing cars out to Mass Appeal! You know who you are… we gave out some awards at the end, but I don't even feel as if we had enough awards for all the cars (and people) we wanted to give awards to!
On behalf of the entire Motor Mavens Crew, THANK YOU ALL! We love you!!!
:: Antonio Alvendia
---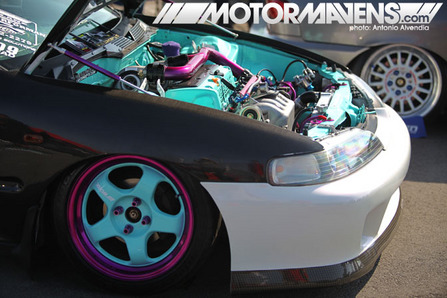 It has been a very long and busy week for those of us working on the Motor Mavens project! We're an extremely small staff, but we've been keeping ourselves real busy with back to back meetings and photo shoots! We have also spent quite a bit of time this week on planning out the next stages of development for the website. We have a few new contributors coming on board, so the next few months will be very exciting!
So let's get back to our Showoff photos. Although
Import Showoff
was founded way back in 1994, with the first event held in March of 1995, the first actual
Nisei Showoff
didn't take place until 2000. As Showoff founder Ken Miyoshi explains it, "the people that organized the Nisei Week festivities in Downtown LA's Little Tokyo wanted to bring enthusiasm from younger people back into the Nisei Week Festival, so I decided to work with them by throwing the first Nisei Showoff."
"Back then, all the JA (Japanese-American) guys with dope cars used to go to
OCBC
(Orange County Buddhist Church) during their Hanamatsuri (Flower Festival) and cruise with their friends," Ken continues, "This was also happening in Little Tokyo; there always used to be a carnival in the original Nisei Showoff parking lot location (2nd Street and San Pedro) and a parade as well. People from the carnival used to chill out on the curb, and wait for all the fixed up cars to cruise through Little Tokyo. Back in the day, we used to see crews like
Black Magic
from SGV (all black cars with different types of SSRs; SSR Superfins, Supermesh, Neos, Work Emotion, Gale Racing, Bang Vecs),
Shoreline Racing
(old school Toyota guys from Gardena/Torrance area),
NRG
from Cerritos,
Split Second
from Carson area,
Redline Racing
from the San Fernando Valley, and a whole lot of others."
Read more...
---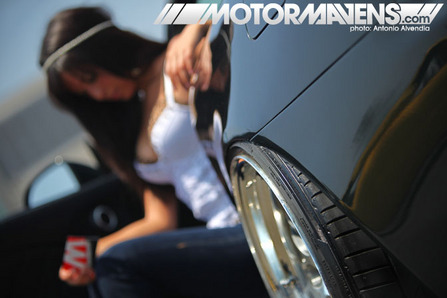 I know, I know. Some of you have been dying to see our next installment of Nisei Week coverage, but it's been hard to sit down and organize my photos because I've been so slammed with meetings over the past few days. It's true, Motor Mavens was a grassroots effort that was started by a few close friends, but we are working night and day to bring you new content, broaden our reach and let everyone know about the site. We need help! We're growing at such an alarming rate, it's honestly quite overwhelming... if anyone is down to help the cause, please hit us up at
motormavens(at)gmail.com
!
But back to our unfinished story about Nisei Showoff, perhaps the thing that most impressed and surprised me was the sheer number of good offset Hondas that made their way to Little Tokyo to represent. These aggressive offset, slammed Hondas are dope as hell. In my opinion, these cars inject new enthusiasm and excitement to the Honda scene, and the Japanese car scene in Southern California overall. Hopefully the days of FR guys hating on Hondas and FF drivers are gone... I personally have nothing but respect for these guys. Their style is fresh and innovative, and all I can say is... it's about freakin time! The Southern Cali Honda guys have now joined the aggressive offset movement, and hopefully the path has now been paved for the rest of the country... please take notes, kids!
Regarding the above photo, make a decision. The stance or the girl, which one would you choose?
Read more...
---