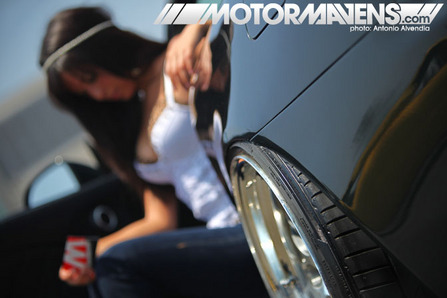 I know, I know. Some of you have been dying to see our next installment of Nisei Week coverage, but it's been hard to sit down and organize my photos because I've been so slammed with meetings over the past few days. It's true, Motor Mavens was a grassroots effort that was started by a few close friends, but we are working night and day to bring you new content, broaden our reach and let everyone know about the site. We need help! We're growing at such an alarming rate, it's honestly quite overwhelming… if anyone is down to help the cause, please hit us up at motormavens(at)gmail.com!
But back to our unfinished story about Nisei Showoff, perhaps the thing that most impressed and surprised me was the sheer number of good offset Hondas that made their way to Little Tokyo to represent. These aggressive offset, slammed Hondas are dope as hell. In my opinion, these cars inject new enthusiasm and excitement to the Honda scene, and the Japanese car scene in Southern California overall. Hopefully the days of FR guys hating on Hondas and FF drivers are gone… I personally have nothing but respect for these guys. Their style is fresh and innovative, and all I can say is… it's about freakin time! The Southern Cali Honda guys have now joined the aggressive offset movement, and hopefully the path has now been paved for the rest of the country… please take notes, kids!
Regarding the above photo, make a decision. The stance or the girl, which one would you choose?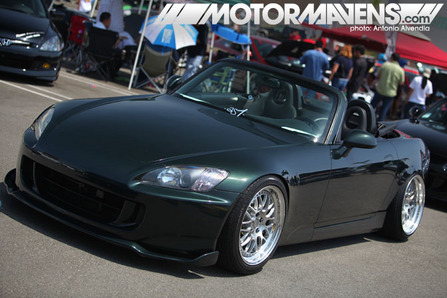 This S2000 belongs to Alex Zhao from AS1 (Doesn't AS1 sound like an R&B group? I wonder if they sing? lol). According to Alex, it has been painted with Verde Good Wood Metallizzato paint, which is Maserati's fancy way of saying metallic green. The Mugen front chin spoiler adds a bit more personality to the normally smily demeanor of a stock S2K, and the wheels? Well, I bet you're all interested in the sizes of Alex's HRE 540Rs, so here they are. 18×8.5 (+15 offset) front and 18×10 (+6 offset) rear. S2000 owners, you better write down that rear math immediately! You heard it first on MotorMavens!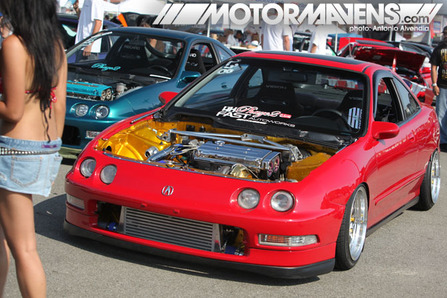 When scantily clad honeys like this one pass by this red DC2 Integra with its heart of gold, they say "Hey Mikeyyyyyyyy!"
I love the mirrors, the visors, the strut bar, the MotorMavens sticker on the window, and my favorite… the way it sits!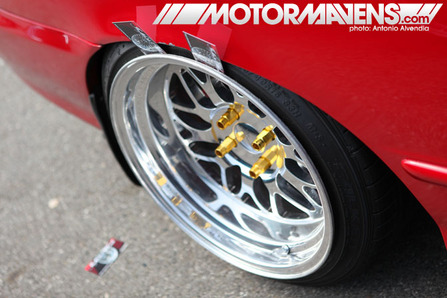 Here's a photo of Mikey's Jline SDMSL2 wheels in the rear, which is a 16×9.5 (+0 offset)!!!!!!!!!!!!!!!! In order to pull cards and look legit like this, you need to rock a 205/40/R16 tire. (Integra owners, WRITE THIS DOWN!)
Damn, I think Mikey needs to win a trophy for his rear fitment. But sadly, I didn't get to award anything to this guy except for some daps and a few MotorMavens stickers, which he proudly rocked on the car and passed along to the crew so they would rock them too. Thanks for the support Mikey! And PROPS kid! I'm excited because THIS is what's up. I hope I never see another Integra rocking some lame off-the-shelf 18×7 and 8 stagger and +44 offset. That garbage is weak. Don't listen to the guys at America's Tire that are trying to sell you "custom mag wheels" – they don't know sh!t!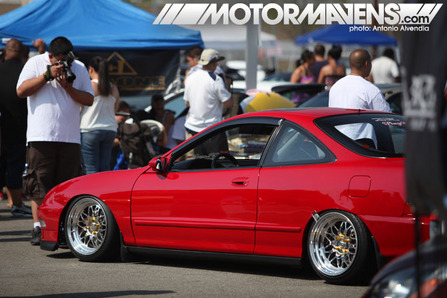 If you had an engine bay as blingy as Mikey's, you would have scores of people flocking around your car to take photos of it too. But look at how the car sits, thanks to the Zeal Function B6 coilovers! With the mudflaps too, Mikey's car won't be clearing speedbumps anytime soon. He probably has to plan a route when he's driving his car… must be a pain in the @ss, but just take a look at the car. It's definitely worth it! Sick.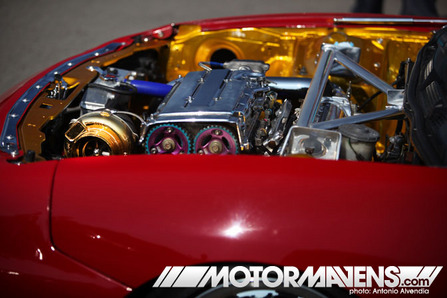 Speaking of the blinged out engine bay, let's take a look real quick. We're looking at a JDM GSR engine, with a top mount turbo kit, which uses a GOLD Garrett GT30 ball bearing turbo. Damn!!! With all that gold, Mikey better put his hood back on before that joint gets jacked by someone who wants to turn in his parts to that Cash4Gold commercial you always see on TV!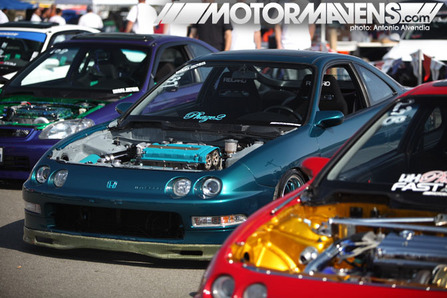 This teal green Integra DC2 with the carbon kevlar front lip belongs to a girl in the Bay Area who's down with Phaze2… she brought her car all the way down to Little Tokyo LA to chill with the homies at Nisei!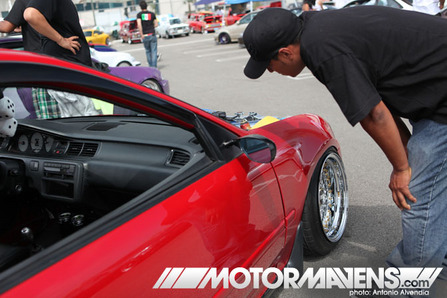 Perhaps the Civic that was snapping necks the hardest was Arnel's EG Civic hatchback. Everyone… and I mean EVERYONE was stopping by Arnel's car, taking pictures, lustfully peering into his engine bay and drooling over his wheel fitment. And why wouldn't you?! Just look at the way those wheels fit! It looks like they would belong on a 1980s FR car, like an AE86! So fresh.
Got your pens and pads ready? Jot down this math… 15×9-0. Wait a minute. The wheels on the front of this FF Civic are wider than the wheels on the front of my FR AE86.    …        Sonovabiiiii…TCH.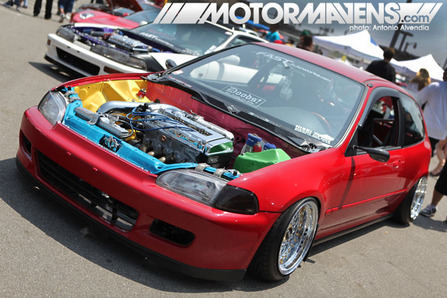 If you can get yourself to stop looking at the chrome valve covered JDM B16 engine (for more specs, buy the new issue of Honda Tuning – Arnel's EG is on the cover) in Arnel's multicolored engine bay, you'll notice his BBS RS mesh wheels. However, let's just take a closer look at how dumped this car is. This thing is dumped to the ground. Low as HELL. Scroll down.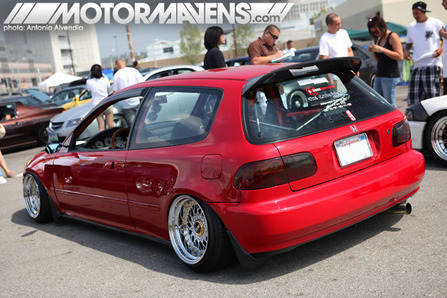 Now that's what I'm talking about. In Japan, they have a term for this type of stance – TSURAICHI. You pronounce it like "tsooRYE'-chee" but when you break the words apart, it is "tsura" and "ichi." Basically, it means "to become one" and it is used in cases like this, because the fender 'becomes one' with the lip of the wheel.
I've been explaining this for years, but people still don't get it. Just watch – in a few years, this will be the new overused JDM term, like touge. (I hate it when people say "tow-gay" cause that's not how you pronounce it.)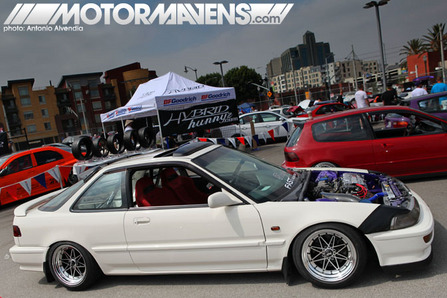 Here's Phaze2 Sid's DA6 Integra, rocking 15×8 Work Equip 03 wheels, (+7 offset) up front and (+10 offset) in the rear. I'm saying! You Integra guys better bite his style and upgrade your wheels cause that +38 and +44 stuff ain't cuttin it. Nice and low, with wide wheels yet again. Phaze 2 is bringin it!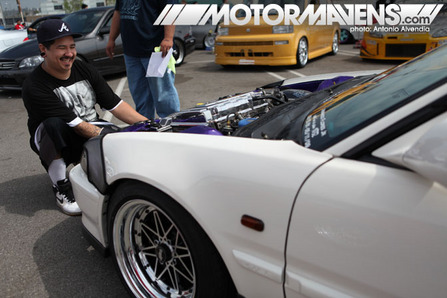 Here's Sid taking off his license plate and checking his reflection in his ITR engine's valve cover to make sure there isn't something in his teeth. Looking at his Work wheels, normally you see fat lips like that on the front of AE86 Corollas, not DA Integras. Props Sid! Personally though, I like the front of a car exactly like how I like girls… no bra. It's not like there's a hood there anyway, so take that leather off!
Don't worry, this isn't the end… it just took me forever to reach Mikeyyy to get info on the cars! LOL Stay tuned to Motor Mavens for more Nisei photos on the way! We love Nisei Showoff! See you guys at Mega Matsuri this weekend!
:: Antonio Alvendia
2009 Nisei Showoff
,
Antonio Alvendia
,
AP1
,
AS1
,
Civic
,
DA6
,
DC2
,
EG6
,
Garrett
,
Honda
,
Import Showoff
,
Integra
,
Ken Miyoshi
,
Nisei Showoff
,
Phaze2
,
S2000
,
tsuraichi
,
turbo
---