---
---
---
---
---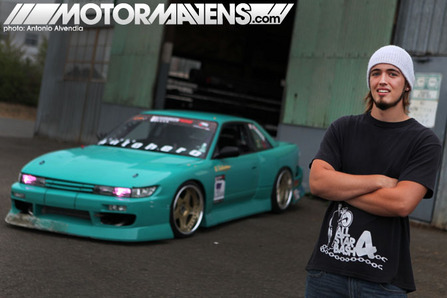 As this weekend's much awaited
Formula D Pro Am
event at
Irwindale Speedway
draws near, the members of the
Motor Mavens Crew
from Los Angeles are getting more and more excited to see all our friends from all the different grassroots drifting scenes from all over the country.
Our whole crew has a ton of respect for all the grassroots drivers out there; they are certainly working hard to step their game up and make it into the pro ranks... and for me personally, I think sometimes watching the grassroots guys compete is even more exciting than watching the pro drivers go at it. Some people may be thinking, "What?! Are you crazy?" I know, I know... it may be a bit different to outsiders or to those who are just sitting in the stands... but for those of us who circulate through the pit areas and go to the different shops and hang out with the drivers even outside of track events, it's really inspiring to see the
hard work
and perseverance of
normal, everyday individuals
, the grassroots enthusiasts,
pay off
.
This is what passion is all about. And this is why I think people are crazy when people think drifting is
just a fad
. Maybe it is for outsiders... but for the people who live and breathe this stuff day in and day out, it couldn't be further from the truth.
One guy who lives and breathes drifting is
Roland Gallagher
. The first time I saw Roland drive was at
Formula D Las Vegas
, where he was competing to earn his invite to the Pro Am. I was standing trackside with my younger brother David, and I saw this flash of teal pass me, followed by clouds of billowing white tiresmoke. My eyes followed the tiresmoke and somehow became fixated on his
WHEELS
which had ridiculously fat lips... I remember muttering "helllll yeah" under my breath, because these days, it's becoming more and more rare to see drift cars with good looking wheels and stance on the FD circuit.
Read more...
---
---
---
---
---
---