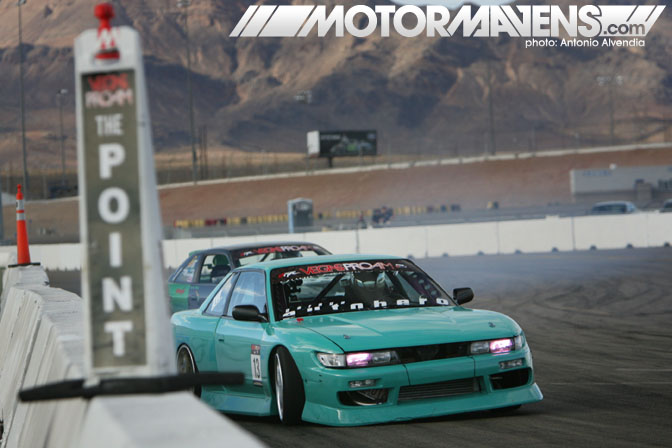 As this weekend's much awaited Formula D Pro Am event at Irwindale Speedway draws near, the members of the Motor Mavens Crew from Los Angeles are getting more and more excited to see all our friends from all the different grassroots drifting scenes from all over the country.
Our whole crew has a ton of respect for all the grassroots drivers out there; they are certainly working hard to step their game up and make it into the pro ranks… and for me personally, I think sometimes watching the grassroots guys compete is even more exciting than watching the pro drivers go at it. Some people may be thinking, "What?! Are you crazy?" I know, I know… it may be a bit different to outsiders or to those who are just sitting in the stands… but for those of us who circulate through the pit areas and go to the different shops and hang out with the drivers even outside of track events, it's really inspiring to see the hard work and perseverance of normal, everyday individuals, the grassroots enthusiasts, pay off.
This is what passion is all about. And this is why I think people are crazy when people think drifting is just a fad. Maybe it is for outsiders… but for the people who live and breathe this stuff day in and day out, it couldn't be further from the truth.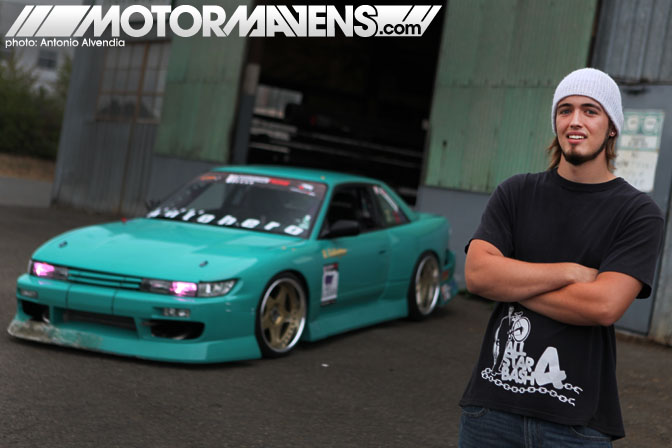 One guy who lives and breathes drifting is Roland Gallagher. The first time I saw Roland drive was at Formula D Las Vegas, where he was competing to earn his invite to the Pro Am. I was standing trackside with my younger brother David, and I saw this flash of teal pass me, followed by clouds of billowing white tiresmoke. My eyes followed the tiresmoke and somehow became fixated on his WHEELS which had ridiculously fat lips… I remember muttering "helllll yeah" under my breath, because these days, it's becoming more and more rare to see drift cars with good looking wheels and stance on the FD circuit.
Most of the drivers in professional competition now place paramount importance on keeping their sponsors happy and keeping their car's performance at peak levels. Obviously that makes sense, but I think that many teams have lost the concept that they need to make their cars LOOK GOOD. After all, a good looking car is what fuels emotion and inspiration… and when you see an awesome looking car with outstanding, aggressive stance pass by you in a full-lock, full throttle drift with gobs of tire smoke… there can't be anything more right than that. (After all, an ugly car is an ugly car, no matter how well they're drifting, right?)
I looked for the driver of the aggressive stance teal S13 coupe after the FD Vegas event, but he was nowhere to be found! Apparently, Roland and his dad just couldn't take the 118 degree heat (it was still 118 degrees at 10:00pm, mind you… so I don't blame them!) of Vegas, and went back to the hotel to soak up the AC. Hehe, I guess Seattle guys are only used to rain and cold weather!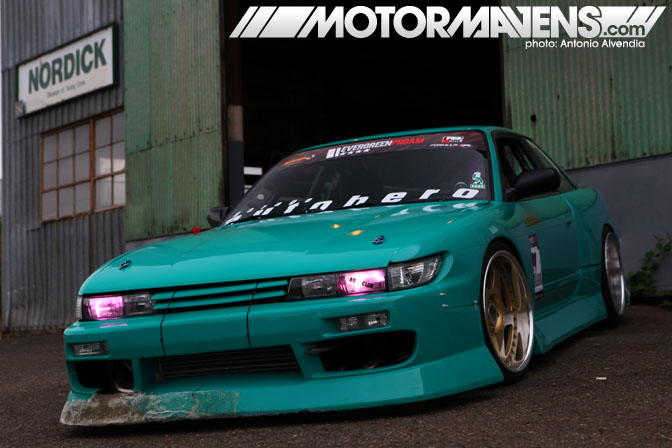 It wasn't until Formula D Seattle that I was actually able to meet Roland in person, and get a closer look at his 1991 Nissan 240sx Coupe. In case you're wondering why the car looks so aggressive (aside from the wheels and the fact that it's so damn LOW), much of it has to do with the BN Sports Blister Kit, which makes the car look wider.
In case you didn't already know, Roland is one of the best known members of Team Instant Party, a local Seattle-based drift team that's bringing a whole lot of buzz and attention to the Evergreen drifting scene. If you're like me, and you don't give two sh!ts about grunge rock bands, software developers, or coffee empires… then Team Instant Party is what's giving folks a reason to get excited about the Pacific Northwest. That is… if you like super lowdown drift cars with ridiculously fat wheels that are worth more than the car itself; wide body kits that get f*cked up every single weekend and are only held together with zipties; ridiculously loud open exhausts; and let's not forget, Easter egg– colored paint and Easter egg-hued HID headlights.
By the way, I like how precisely Roland has attached and aligned his Origin crystal corner markers, hood, R32 grill, and front bumper. The car's whole damn face looks like it has deformed and shifted from too many hits, something like how boxer Miguel Cotto looked after his fight with Manny "PacMan" Pacquiao last weekend. Ouch. Burn.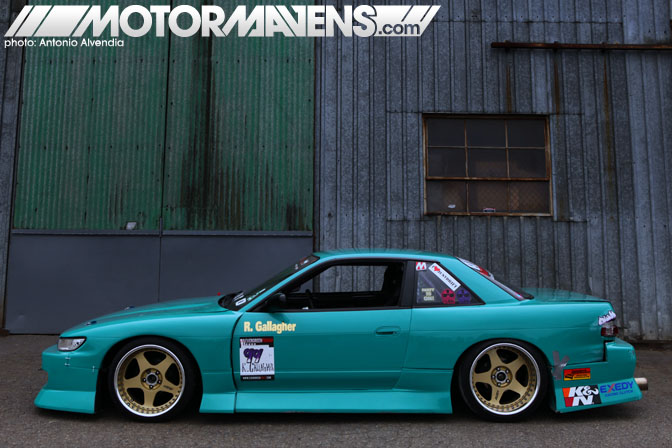 One thing I gotta say… Roland's S13 Silvia may not have the most perfectly aligned bumpers, but it sure does look awesome. I mean it. It sits wide and low with an aggressive stance like a boxer. And the wheels just make you say, "Daaaaamn!"
In case you were wondering about the impressive gold wheels that sit underneath the BN blister arches, Roland's S13 sits on SSR Koenigs, 18×9.5 (-31 offset) and 18×11 (-6 offset) with spacers on top of that.
Suspension wise, the car has JIC FLT A2 coilovers, Revo tension rods, Tein inner and outer tie rods, Cusco RUCAS, Garage SPL toe rods, and some random subframe spacers.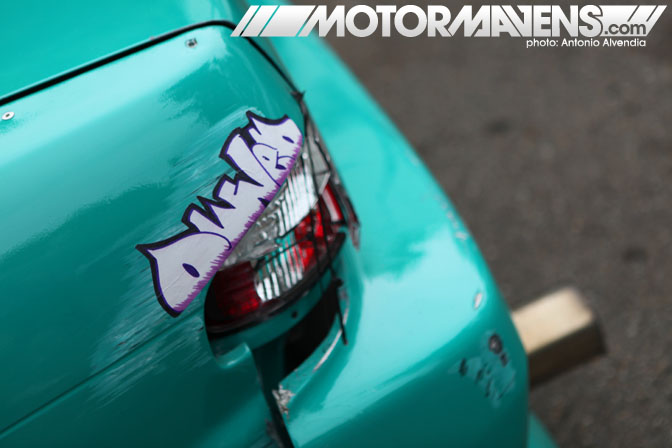 Out back, you can see that Roland's open exhaust is sticking the hell out of the rear BN bumper, and the once-clean Origin crystal tail lights that got owned when Roland got a bit too aggressive riding the Evergreen Speedway wall.
Also notice the widebody fenders is held together by rivets, and the bumper has been professionally aligned with zipties.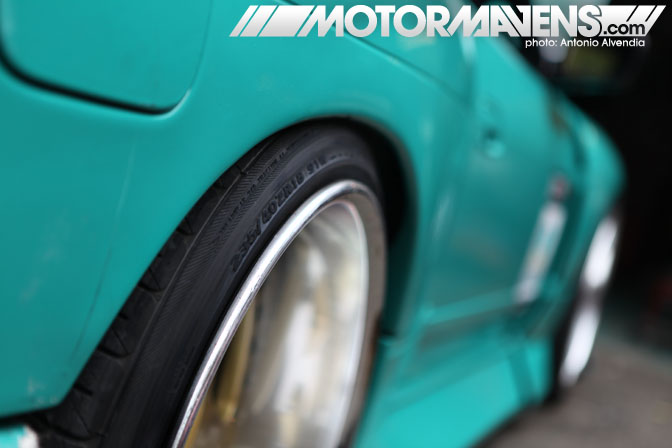 Can you imagine having wheels that actually stick out of a BN Sports blister fender?! Well Roland doesn't have to imagine. And his rear 18×11 -6 wheels have 235/40/ZR18 tires stretched on them. Daaaaaaamnnnnn.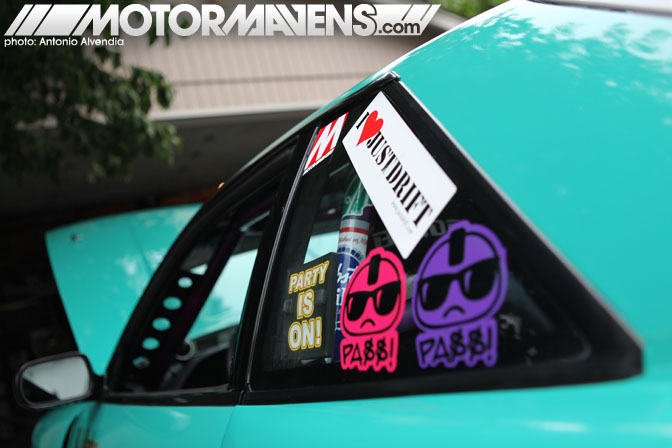 From this view, you can see a bunch of stickers from Roland's Cali friends… Just Drift and the MotorMavens Crew of course. If you peek inside the car, you can see the Garage Autohero (Formula D spec) roll cage.
The interior isn't too pretty, as it's been fully stripped and prepped for racing. However, you can still see a glimpse of the Bride Zeta 3 Type L seat, which is firmly attached with Bride LowMax Rails, and a G-Force Harness keeps Roland firmly planted while he's attacking the Evergreen bank like a smooth criminal.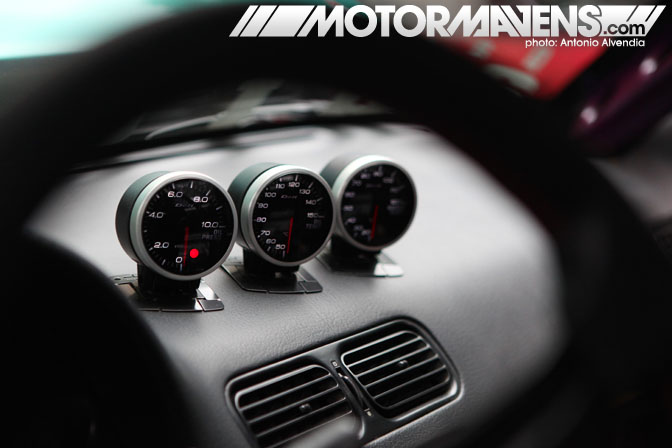 Peek through the Nardi 330mm steering wheel, and you can see a bunch of Defi gauges – oil temp, oil pressure, and water temp. There's a Defi boost gauge and Innovative wideband mounted on the other side of the dash too.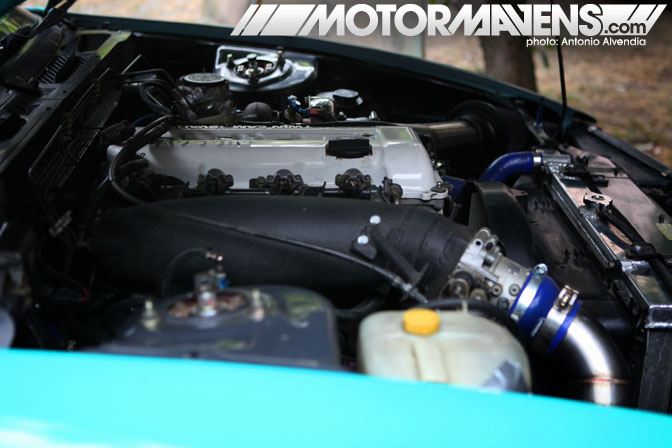 This particular S13 SR20DET Blacktop engine setup might not be the prettiest thing you've ever seen, but it works and is completely functional. The engine specs are below:
CP pistons 9:1 compression
Eagle Rods
Cometic headgasket
Ported Head
BC valve springs and Ti retainers
BC 264 cams
Treadstone Cast Top Mount exhaust Manifold (ported)
Turbonetics T3/T04E Turbo
Aftermarket Oil Pan
Nismo T Stat
Nismo Motor and Trans Mounts
Garage Autohero 1 off Intercooler Pipes
Garage Autohero 1 off Full SS 3in Straight Pipe Exhuast
Garage Autohero Poweder Coated Valve Cover
Garage Autohero Batt Tie down
Garage Autohero Wiring Tuck
Garage Autohero Assembled Engine
Power FC D Jetro
Alum Radiator
Tial 38mm WG
Greddy Intake Manifold Modified to fit Q45 TB
650cc injectors
Sard FPR
Walbro 255lph Fuel Pump
ACT Unsprung 6 Puck,HD Pressure Plate
ACT ProLite Flywheel
Tomei 2-Way LSD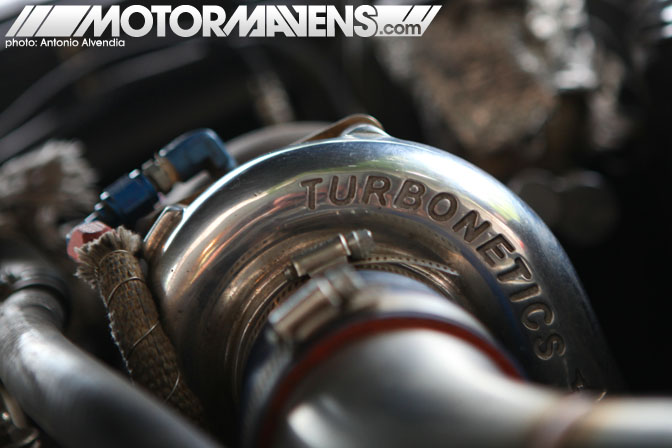 Here's a close up of one of the only shiny things in Roland's engine bay… the T3/T04E turbo by Turbonetics.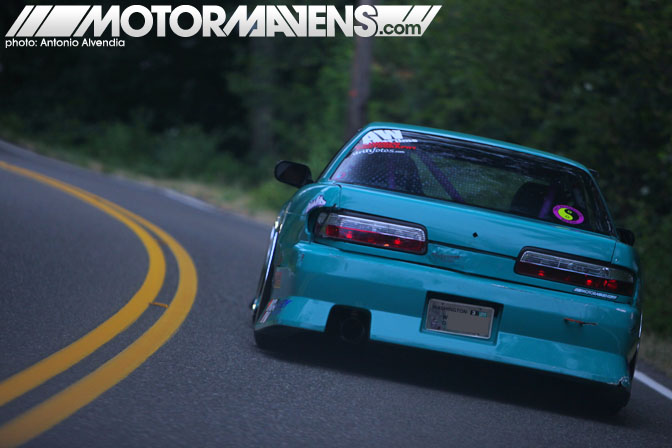 As my friend Raymond from BN Sports and I left Roland's house and followed his car on the way to the photo shoot location, we drove through his neighborhood and through some windy roads with lush greenery all around.
We also passed lots of normal Washington style vehicles on the road, like Subaru Outbacks and Toyota Tacomas and RAV4s, most likely transporting some sort of Keep It Green and Recycle Daily vegans, dressed to the hilt in Eddie Bauer and Patagonia clothing… and the whole time, we noticed the drivers on the other side of the road kept on giving these weird WTF looks when they saw Roland driving by in the opposite direction, strapped in to his Bride bucket seat with a full roll caged teal car with stickers all over it; wheels sticking out like crazy; with a beanie on his head and a cigarette between his fingers, flicking ash all over the road and polluting their sacred green environment with carbon pollution from his retardedly loud ass open exhaust… and just as we approached the freeway entrance, we see Roland's car suddenly speed up, rev, and flick sideways, with white vapor trails coming off the bottom of his stretched tires.
Oh yeah. Roland's f*cking up the environment in Seattle for sure. But we still he and his car are cool as hell. Make sure to give him a hi-5 at Irwindale Pro Am this weekend.
::Antonio Alvendia
BN Sports
Garage Autohero
Motor Mavens on Facebook

---