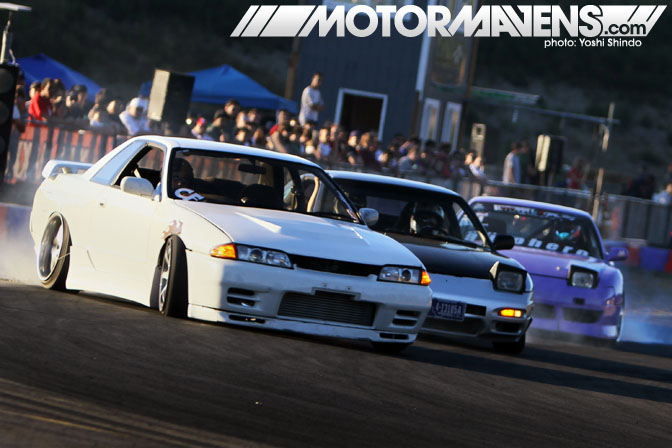 If you are at all a drift fan, you have probably watched old Option videos on VHS or you have seen videos on YouTube or posted around the Internet. At some point you and your friends have dropped your jaws and yelled at the screen after witnessing truly epic driving. Unreal angle, physics-defying early entries, and team tandems that looked like they were choreographed in a dance studio – all things you would scream at the top of your lungs for.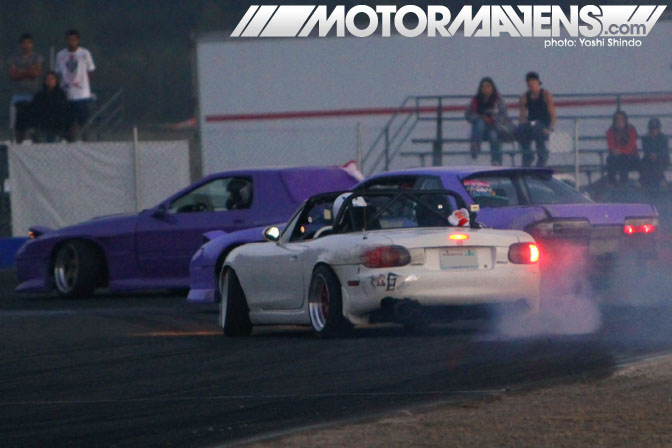 Well, if you were one of the many spectators in attendance at PGP (Pacific Grand Prix), then you witnessed some of the same electrifying driving that you would expect from one of those videos from way back when.
Last Saturday Pacific Grand Prix hosted the first real Team Tandem event, attracting drivers from Oregon to Canada. Seven, three-man teams came out to compete for the title of the best in the NorthWest. Some drivers had never even been on the track before but, as you will see later, that didn't even matter. The day was set up as two practice sessions and then three heats where the best of each would go on to the final round. The judged section started at the long entry into turn one, through the horseshoe to turn two.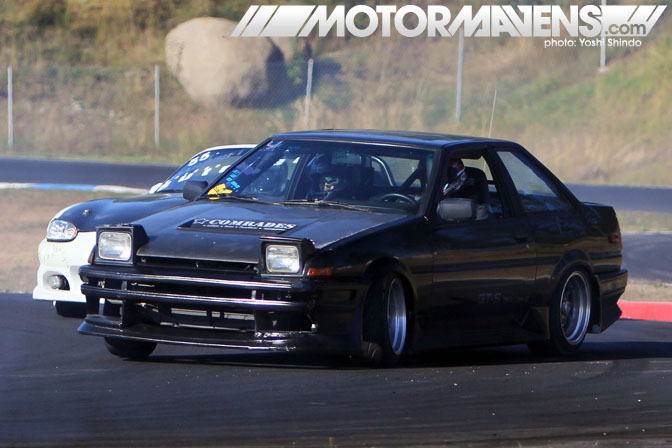 The judges selected to insure that everyone drove like "men" were Jesse Kincy (who has been around the NW drift community since the beginning), CJ Kofoed (from whose discerning eye no one is safe), and Ash O'Connell, a New Zealand (not Australia) transplant to Canada. All are veterans of the drift world (being drifters themselves) who also happened to meet up on ZipTied.com. In fact most of the team names were inspired by jokes on the forum. The teams also made signs and posted them in their pits. It was definitely an homage to the drift competitions I would drool over when I was first getting into drifting – and let's face it; I still get exited when I watch drifting.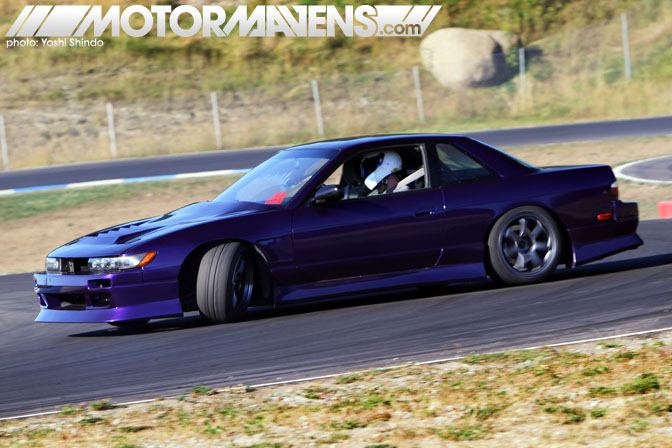 Nathan Kandoll brought out his pristine S13 coupe after just completing it not too long ago. This was Nathan's first time at PGP, but he is no stranger to tandem and difficult courses. He regularly travels to California and Arizona for their major drift events. Both Kandoll and the other Nathan (Nathan Feigion), are usually side by side at Washington events, but it's been a while since we've seen Kandoll because he was building his car. Great to see him out there again!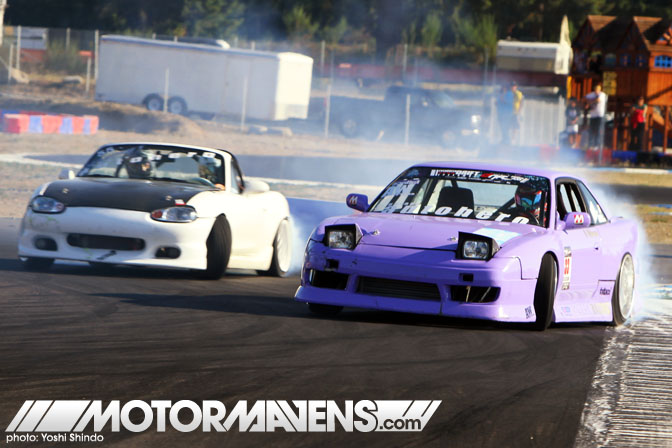 Two guys who know this this track like the backs of their hands are Walker Wilkerson and Mike Lukomskiy. Walker recently placed third at the last Evergreen Pro-Am competition and Mike took first in the Grassroots competition a little before that.
Heart is something we talk about (and sometimes take for granted) but Alex Wieder knows what it's like to live for drifting. A current student at WSU in Pullman, Wa., he drove about FIVE HOURS from school Friday night so he could drift on Saturday – and then head right back to school after the event. School just started too!! Good thing for Alex there aren't many events during the school year.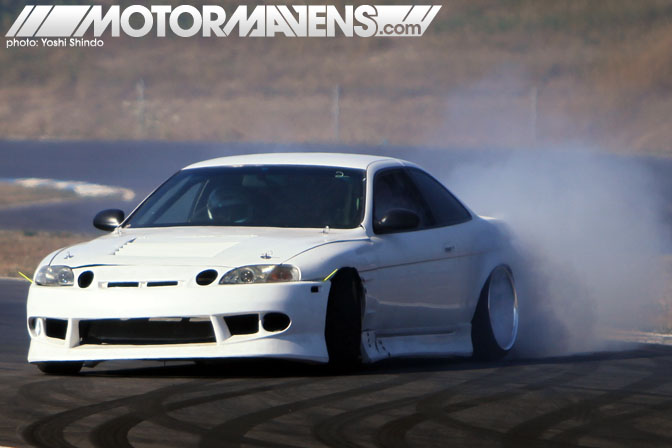 This Soarer (yes that's a "Soarer" – not an SC300) was driven by Steve Thompson of OZ Designs in Canada. He was tearing up the track (considering it was his first time there) although Lady Luck was not on his side. He broke a rear upper control arm early on and also damaged one of his wheels but he didn't leave his team, The "EH" team, stranded. He borrowed an S13 hatch from a friend to enter the competition. When I left the track that night, they were loading his Soarer up on the trailer so I am pretty sure he made it home fine.
For those of you that don't know, you will soon! This RX7 FC, owned by Shawn Browne, is one part of the actual Canadian drift team, Drift Union. These guys are absolute nuts when it comes to the their MANtries (that's a blend of the words "manly" and "entries"). So much so that I am actually jealous! Shawn teamed up with his other Drift Union mates, Logan Noel and Steve Thompson, to challenge the Americans on their own turf.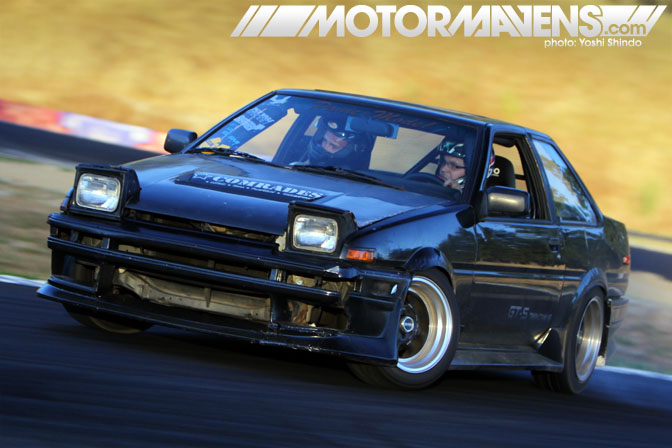 Here is Matt "Matt-Panic! Gehr showing that a corolla can still shine – especially on a small track such as PGP.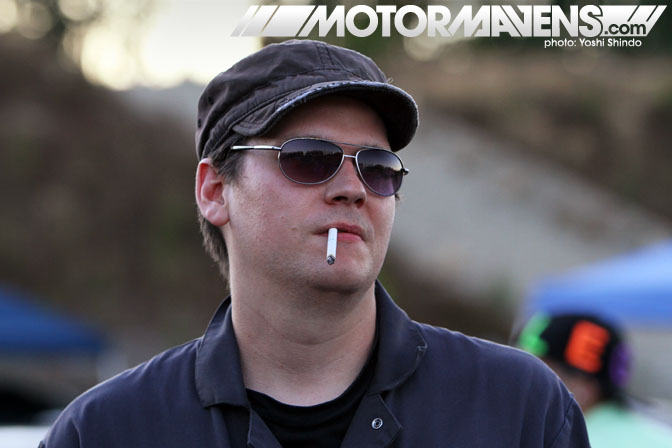 Here is the man himself – Matt Panic! showing us his "care" face, haha! Matt is a good sport and always upbeat at events.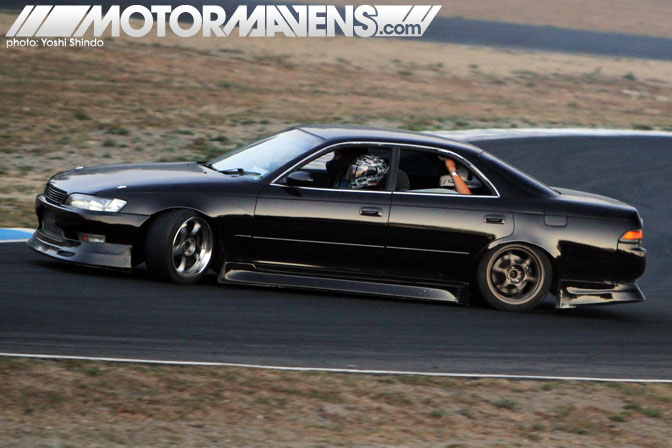 This JZX90 mark II was driven by Chris Scremin of Canada. He is actually part of the Drift Safari team but was the only member of that team to drift that day. What a shame! A full Drift Safari team would have been rad! Oh well – maybe next time. Canada is fast becoming the portal for JDM cars with their 15 year law – that's 10 years earlier than our law here in the States! Pretty soon they will start getting R34s…
Like a boss, Chris Crisostomo was dirt dropping and clutch kicking all day! Manhandling his stock KA24DE, Chris and his team, Team Edward, made it into the final round of the competition.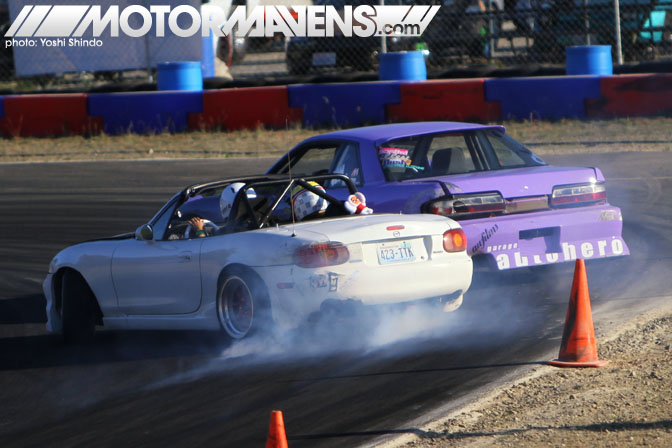 Here you can see why dirt dropping is so easy and awesome. This straight can get you up to third gear if you go for it but we are instructed to cool down during a section of it. With enough speed, you can have insane entries into the horseshoe. This was the first corner in the judged section.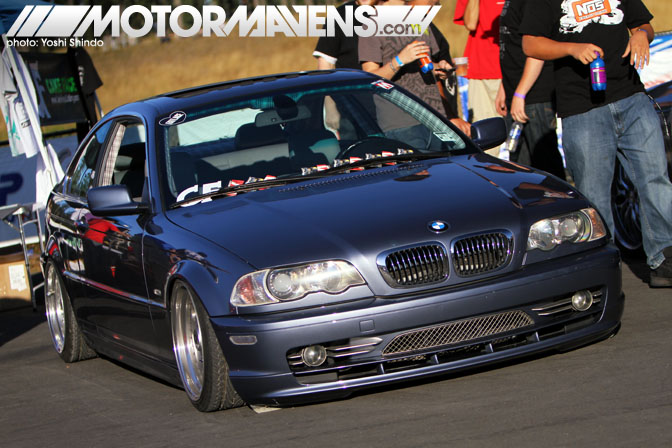 Aside from the amazing drifting that most couldn't keep their eyes off of, there was a car show with a live band as well – crankin' out rockin' tunes the whole time! You may remember this Bimmer, owned by Paul Bruney, from the Leavenworth post a few months ago. Paul was also reppin for MotorMavens with the cards in the windshield! Thanks for the love, Paul!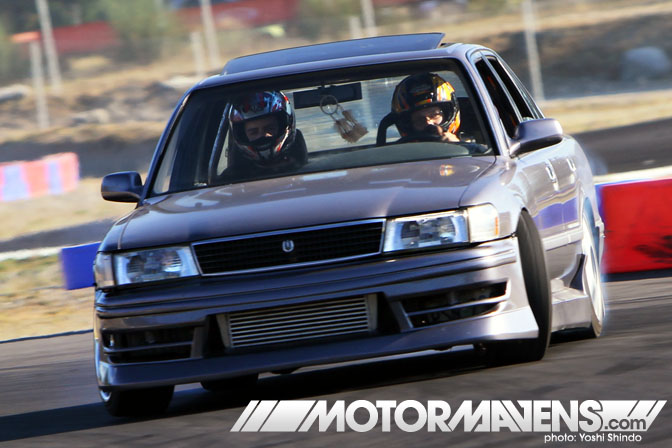 Mark Gehr, brother of Matt, brought out his newly finished MX83. Although I said that it's newly finished, it most certainly is not his first Cressida – or even his first JZ powered car. Mark has become an encyclopedia of JZ engine knowledge as well as Toyota engines in general. Putting his good brain to use, he currently works for a shop called PSI in Portland – though he also helps out old friends in Washington (including me) with wiring and engine issues.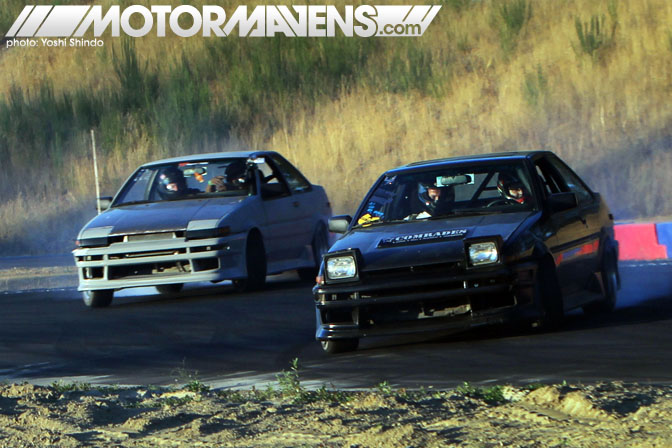 Here was my team, Team Star Bears (long story), without me (probably because I was changing tires more than drifting that day). Talk about bad luck with tires! Ed Abiva in his Turbo 4AG coupe and Matt in his 20V 4AGE coupe were hoping to have an all Corolla team but that didn't pan out so I joined the team with my R32 Skyline. You might think I was a bit out of place, but these guys were fast! I had a hard time keeping up with them. Next time I will get better tires to keep up – that is if my Corolla isn't done by then. Maybe we'll have an all Corolla team next time!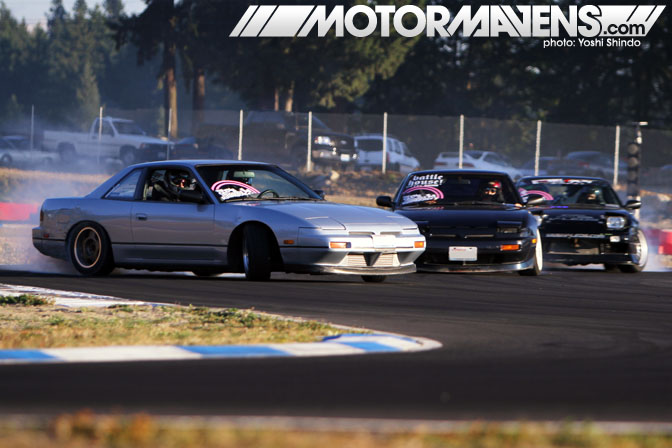 "Too close for missiles, switching to guns" as the old Top Gun quote goes. If PGP is the Top Gun school, then Kenneth Pitts, Alex Wieder, and Nik Jimenez of BattleHouse are the new Aces – young guys just starting to make their mark. Their competition team name was Team Glen and the Double Rainbow (another long story) – just a funny jab at a friend. They even made stickers! The creativity of some of the teams was awesome.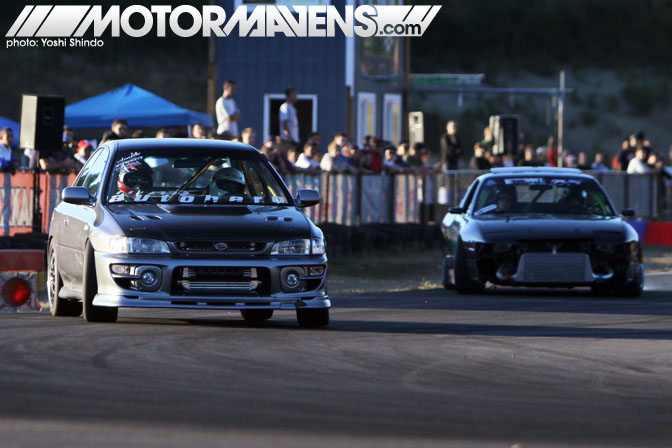 Here we have one of my favorite Subies driven by Stephen Trigueiro, being followed by Peter Funatake in his S13 hatch as they are just starting their entry.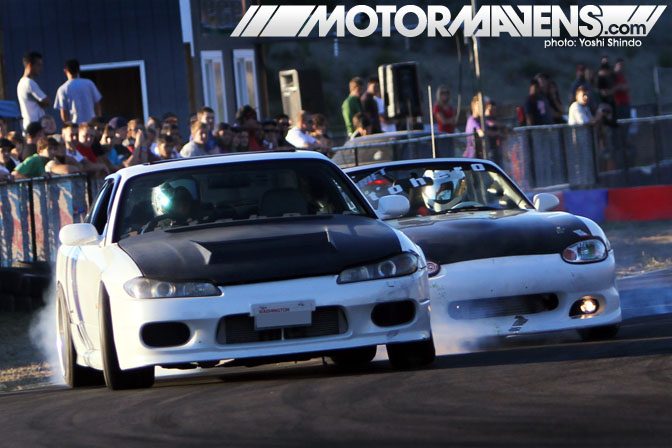 One of the guys who made this all happen, Rob Primo, driving our friend Tristan Gay's S15 during the competition. Mike and Rob had their team all set until they had two teammates cancel on them – but they stuck it out anyway. Rob did have his blue Kouki S13 hatch out earlier but, due to some oil problems, he had to retire it. Tristan was nice enough to let him tandem his car, though. Hooray for good, trusting friends huh?!!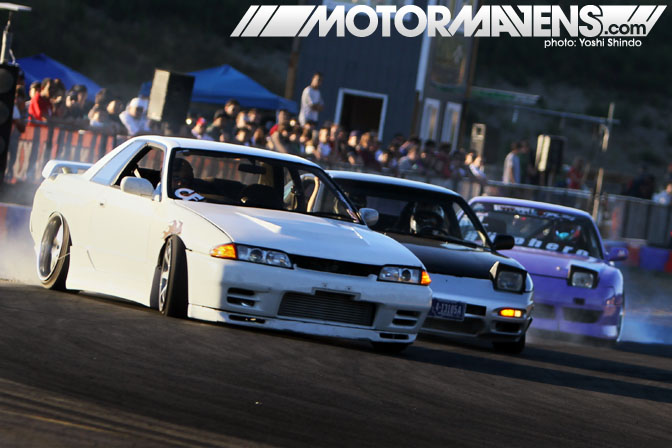 Since there had to be winners and losers, there were three teams that made it into the Finals. The third place finishing team was Team instant Party (aka The Black Market Scalpers). Jon Jaffe, Gleb Antonov and Walker Wilkerson have been driving together for so long it would have been odd to not see them on the podium at all. They made it to the finals due to their intense driving.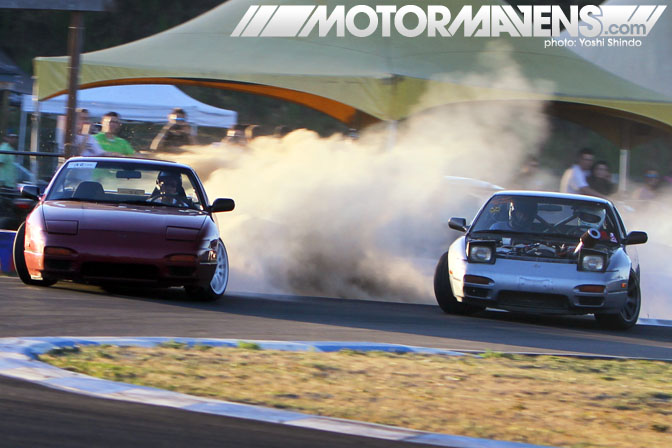 Here is two thirds of Team Edward, Chis Crisostomo and Nathan Feigion. Darren McArdel isn't pictured though I'm sure he was nearby. Team Edward made it into the finals and nabbed second place. With two Stock KA's and one Turbo KA, it was easy to say that this team most likely had the least amount of horsepower per team, but PGP is a track that doesn't gift the high powered. Only the skilled and brave are blessed here – these guys are living proof of that.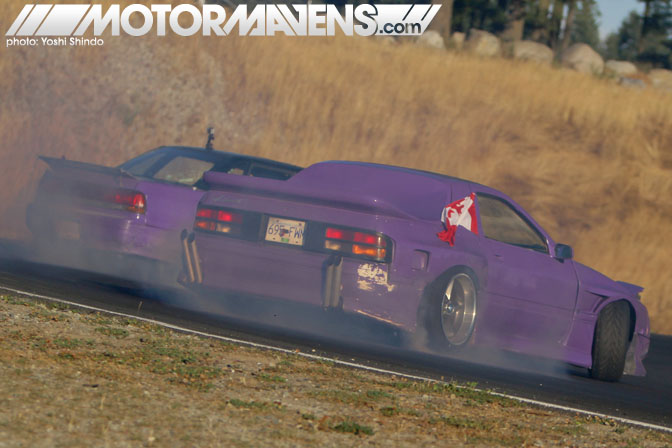 Last but most certainly not least, The "EH" Team, Shawn Browne, Logan Noel, and Steve Thompson, took the first ever PGP Team Tandem Crown on their first time ever drifting at PGP! With their death defying early entries (that were miles beyond anyone else), it was easy for even the spectators to see that they were the winners. The judges who stood infield at the first corner were just going nuts every time they came around. Watching them is an inspiration! These guys also travel to places like California for ASB events so catch them there to see what I'm talking about. The Drift Union guys showed us how to have a good time and get some angle!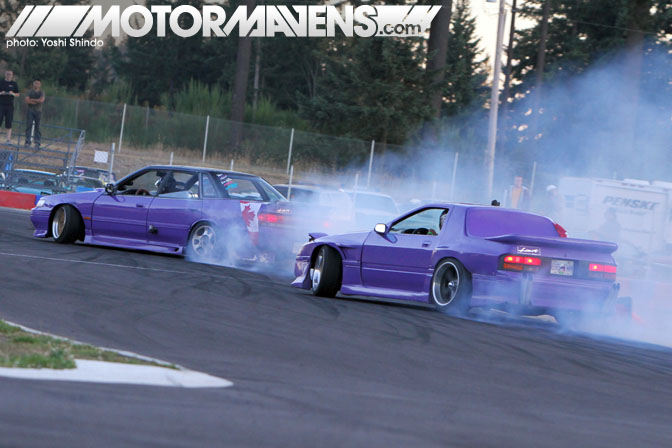 With this event turning out to be such a huge success, I'm sure there will be more in the future. For right now, all these drivers (and more besides) are getting ready for Big Foot Bash – a two day, two track drifting extravaganza held here in Washington on September 24th and 25th. In the spirit of All Star Bash, there will be drifting, camping, music, and good people. If you are around Washington at that time, be sure to check out this event!
A big thanks and shutout go to the Zalud family who have welcomed us to their track. This was, by far, one of the best drifting experiences I have had and I know that this is true for many others as well.
Until next time drift cowboys…
::Lucas Perez
Photos By:
Yoshi Shindo.
20V 4AGE
,
AE86
,
Alex Wieder
,
All Star Bash
,
Arizona
,
Ash O'Connell
,
BattleHouse
,
Big Foot Bash
,
Bimmer
,
california
,
Chris Crisostomo
,
Chris Scremin
,
CJ Kofoed
,
Corolla
,
Cressida
,
Drift Safari
,
Drift Union
,
Ed Abiva
,
EH Team
,
Evergreen Drift
,
Evergreen Pro Am
,
Gleb Antonov
,
homepage
,
Jesses Kincy
,
Jon Jaffe
,
JZX90 mark II
,
KA24DE
,
Kenneth Pitts
,
Kouki S13
,
Logan Noel
,
Lucas Perez
,
Mark Gehr
,
Matt Gehr
,
Mike Lukomskiy
,
MX83
,
Nathan Feigion
,
Nathan Kendoll
,
Nik Jimenez
,
Option
,
Option 2
,
Option Video
,
OZ Designs
,
Pacific Grand Prix
,
Paul Bruney
,
Peter Funatake
,
PGP
,
PGP Team Tandem Crown
,
Portland
,
PSI
,
R32 Skyline
,
Rob Primo
,
S13
,
S15
,
Shawn Browne
,
Soarer
,
Stephen Trigueiro
,
Steve Thompson
,
Subaru
,
Team Edward
,
Team Glen and the Double Rainbow
,
Team Instant Party
,
Team Star Bears
,
The Black Market Scalpers
,
Top Gun
,
Toyota
,
Turbo 4AG
,
Walker Wilkerson
,
Washington
,
Yoshi Shindo
,
Zalud
,
Ziptied.com
---