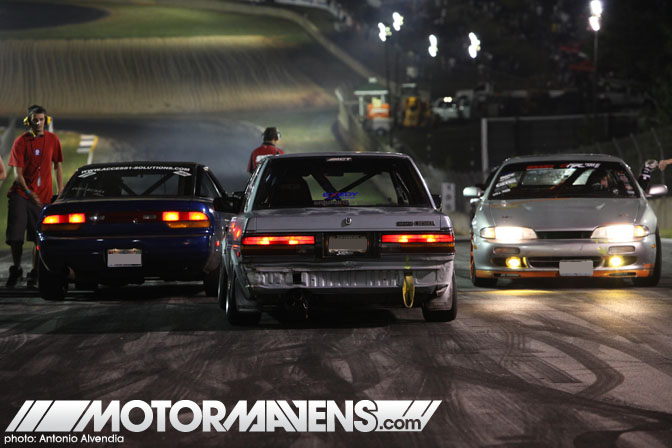 Continuing the photographic coverage on MotorMavens with even more stories from
Formula D Atlanta
, I know that several of our readers have asked to see more images revolving around the Formula D Pro Am and the drivers that participate in the series. I'm more than happy to follow through on requests like these. After all, I think it's the local Pro Am drivers from different regions that add flavor to the larger Formula D series.
I feel even more of a connection to the grassroots/underdog drivers sometimes, because I think that if the MotorMavens Crew were a drift team, it would be exactly like a team of privateers that's striving to elevate its game to a big time level. The members of the
MotorMavens Crew
are extremely driven and passionate about car culture. Even though some of us might have backgrounds that include professional experience (working with big print magazines, newspapers, video production companies, or larger blog sites) in our particular niches, we have come together to join our collective talents and build something we truly believe in.
MotorMavens
is not
a big company with major sponsors and an expense account. Unlike some of the big magazines or corporate-financed automotive blogs, we can't spend hundreds of thousands of dollars every year on our travel, marketing, and camera equipment. Hell, almost all of the members of the MotorMavens Crew
work other jobs
and
spend hard earned personal money
to travel to the different events we cover for the site. For this past Atlanta event, we didn't even have the budget to stay in the official Formula D hotel with the rest of the people on the tour. Instead, we gratefully crashed on the floors and couches of our good friends in Atlanta (Thanks to Erik Jacobs from DG Trials, Cody Wellons from
S3 Magazine
, and
Andy Sapp
from MotorMavens) in order to make this trip happen with the small budget we had to work with.
The grassroots drivers that showed their skills at Road Atlanta's Formula D Pro Am definitely impressed me. I'll be honest... I wasn't necessarily impressed with how
all the cars
looked or performed... it was very obvious that many of the cars were grassroots "budget builds" and that's just fine. However, what impressed me about the drivers from the South was how much
heart
they had. They definitely wore their hearts on their sleeves as they drove in the intense mid-day heat of their Friday practice sessions. Pro Am qualifying took place at around 8:00pm on that Friday night, while most of the drifting fans at Road Atlanta packed up and went home. I'm sure it must have been somewhat disconcerting that many of the people in the audience didn't care enough to stay and watch them, but the grassroots drifters of the South were their own support group. They watched their friends and competitors intently from the top of Road A's famous hill, clapping and cheering for each other as each driver took their turn running the course. I suppose some people may just say it's
Southern hospitality
, but I was honestly impressed that the Southeast drifters seemed to be such a tightly knit group. Now that's the spirit... at least, that's what
the real spirit of drifting
is all about.
Read more...
---
Even though everyone else in the United States is still feeling the effects of the country's economic slump, I'm happy to observe and report that the Formula Drift series has been growing! Not only have new non-endemic (non-automotive) sponsors joined the series for 2010, but the attendance at both the Long Beach and Atlanta rounds of Formula Drift have been out of control, with seats completely packed! I'm really amazed to think that I've been watching Formula D grow into a stronger and stronger series from the very beginning. I've been traveling to all these events and documenting the growth of the series ever since it started out, with it's inaugural round in Atlanta in 2004. Formula Drift, you've come a long way, baby.
Not only has the series progressed businesswise, but the media outlets, drivers, and cars have all been stepping their game up to become more powerful, making Formula Drift a serious force to be reckoned with, on a worldwide stage. I bet the people who run the D1GP series in Japan are thinking, "Damn yo! That could have been us!" (Although they probably wouldn't be saying it in those words.)
Enough of my theory and random thoughts on the state of drifting in America though... let's get down to business! After all, the reason why people come to MotorMavens is because they like our taste in cars! So let's get down to it - our first installment of my insider's look at Formula D Atlanta. Let's go!
Read more...
---
---