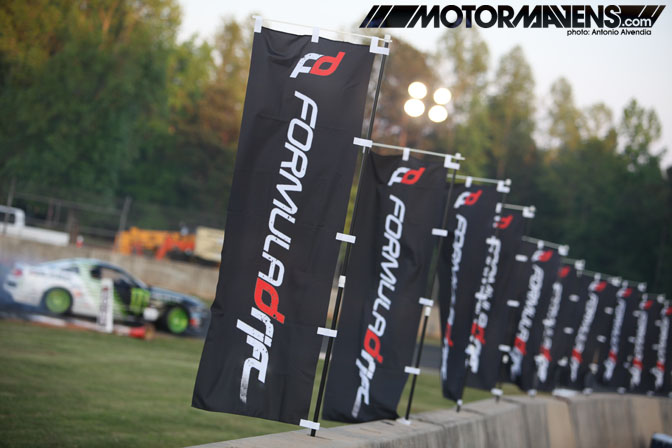 Even though everyone else in the United States is still feeling the effects of the country's economic slump, I'm happy to observe and report that the Formula Drift series has been growing! Not only have new non-endemic (non-automotive) sponsors joined the series for 2010, but the attendance at both the Long Beach and Atlanta rounds of Formula Drift have been out of control, with seats completely packed! I'm really amazed to think that I've been watching Formula D grow into a stronger and stronger series from the very beginning. I've been traveling to all these events and documenting the growth of the series ever since it started out, with it's inaugural round in Atlanta in 2004. Formula Drift, you've come a long way, baby.
Not only has the series progressed businesswise, but the media outlets, drivers, and cars have all been stepping their game up to become more powerful, making Formula Drift a serious force to be reckoned with, on a worldwide stage. I bet the people who run the D1GP series in Japan are thinking, "Damn yo! That could have been us!" (Although they probably wouldn't be saying it in those words.)
Enough of my theory and random thoughts on the state of drifting in America though… let's get down to business! After all, the reason why people come to MotorMavens is because they like our taste in cars! So let's get down to it – our first installment of my insider's look at Formula D Atlanta. Let's go!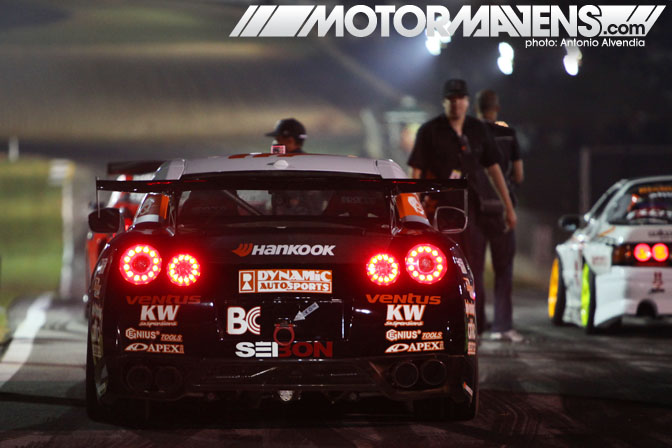 One of the new entries into Formula Drift's 2010 series is the Dynamic Autosports R35 Nissan GTR. Driven by Robbie Nishida, this GTR made its on-track debut at this past weekend's Formula D round at Road Atlanta. A lot of people (including myself, team owner Eddie Kim, and his sponsors) were pretty disappointed that the car wasn't ready for competition at last month's Long Beach round, for the series kick-off.
I recently had the chance to catch up with Eddie so that I could find out the inside scoop on the car. According to Eddie, "no print magazines have been given the green light to shoot or feature the car yet, so you guys [Motor Mavens] are the very first media guys to do anything on this car!"
Wow! Another MotorMavens first?! That's certainly an honor… especially when you think that our website only started ONE YEAR ago, with a decision to build the site firmed up by Andy Sapp and myself while we were eating at the Cracker Barrel next to Road Atlanta after the event.
According to Eddie, "getting the GTR ready for the track is really, really tough. Since it's an 'unproven car' and nobody else has done it, we don't have anyone else to help us. We've just been trying to figure it out on our own." Eddie admits that drifting the car is a lot more difficult than they had originally expected, and that they need a lot more track time and tuning time.
When I asked Eddie why the GTR is so difficult to drift, he explained that "Nissan designed the GTR so that the ECU and transmission would assist in the handling of the car. There are a lot of engine, transmission, and differential controls built in to the ECU programming, and Nissan also designed it to have a lot of understeer from the factory. It's pretty tough to work with, man."
It's obvious that Eddie and his Dynamic Autosports team need to do a lot more research to make the car more competitive. He says they're currently working on it, and will be making many changes soon. "We learned a lot about the car in Atlanta," he explains. "Converting it to rear wheel drive was pretty rough in itself, and right now we're just waddling through this project by ourselves and stuff. The [R35 GTR] wasn't designed to have huge steering angle, so we're modifying it to do what it isn't supposed to do."
When asked about the R35 GTR as a racing platform, Eddie admits that "we're not sure that this platform is better than our old 350Z or not. Actually, the 350Z might be better. The GTR is 4 inches longer than the 350Z, which could be good, but campaigning the car is still pretty difficult for us. We'll just have to keep working on it and see which one is better."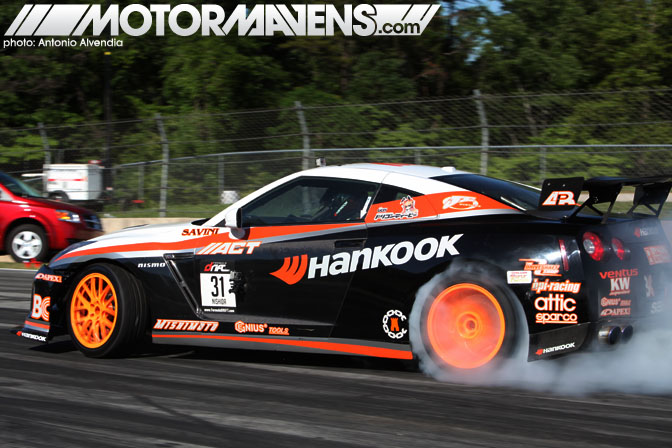 One of the things that I was always curious about was whether this car came to Dynamic as a result of a Nissan factory deal or not. After all, there is a big Nissan sticker on the front bumper, but it's kind of hard for me to imagine that Nissan, who're having a lean time financially right now, would be interested in donating a flagship vehicle like their R35 GTR to a shop that would be using it for drifting of all things.
According to Eddie, the car was purchased. He admits that he was able to get support from his tire sponsor, but he actually bought the car for Dynamic Autosports! Eddie explains, "yeah, we pretty much paid full price for it. But we actually got lucky, because we found a dealer who had a messed up silver paint job from the factory, so I actually got 20K taken off the purchase price of the car. I got a really good deal!"
Damn! That's crazy. I didn't know that the head honcho of Dynamic Autosports had that type of loot! I'm impressed! In this lean time of financial and economic uncertainty, Mr. Big Baller Eddie Kim can go out and just buy Nissan's flagship sports car?! That's pretty awesome and amazing to me.
Even more amazing to me is the fact that he had a brand spanking new, street legal GTR sitting in his driveway, then he had the nerve and the balls to strip the damn thing! That's just insane! (Hey BTW Eddie, if you wanna sell the OEM GTR seats  and wheels to me, let me know!) You would think most people with a brand new R35 GTR in the driveway would think that the car would be too nice and too high end to use for drifting, where it will inevitably to make contact with things like walls and other cars.
Hell, if I had an R35 GTR, I'd definitely be daily driving the damn thing! I had a chance to borrow an R35 GTR from Nissan when it first came out, and had an absolute blast driving it for the weekend! For me, it was like Ferris Bueller's Day Off or 48 hours of Los Angeles, because I honestly didn't do a damn thing that weekend except drive the car all over Southern California!
I actually confronted Eddie about it. "Dude. You bought a brand new GTR. That car is all plush and high end and stuff. And then you gutted it, and proceeded to take everything out of the car. What the hell were you thinking?! Didn't you feel a little remorse when you guys were stripping it? Like, holy sh!t, what am I doing here?! We're taking a brand new GTR and stripping the hell out of it?!"
Eddie replied, "Yeah. I know! I guess we're crazy AND we're stupid. That thing was brand new! Now we have no dash… well, we do, but everything is pulled out of it. And you know what? There aren't any service manuals out there yet! And if the body gets damaged, I can't just take it to a normal body shop. Nobody can pull the frame except for specifically authorized Nissan dealers, which have special tooling from Nissan to deal with GTRs. It's crazy! That's why getting it to run at Long Beach was a problem – because of the walls. I didn't want to take it out there while the car was still in the early stages of its development, because if we had a problem with a car or something, it would have resulted in the car ending up in a wall, and we just couldn't have that. That's why we decided to wait until Atlanta, because if something happens and the car goes off the track or something, it wasn't gonna hit a wall. It was just gonna end up in the kitty litter or something."
Here's a photo of Robbie Nishida drifting the GTR out of Road Atlanta's horseshoe. Eddie continues explaining that "Robbie says [the GTR] is pretty hard to drive. I'm sure that he thinks it's pretty cool to be driving an R35, but honestly, I'm sure he'd rather just drive anything that would be more competitive. Campaigning a GTR is cool for Hankook and Dynamic Autosports, but as a driver, I don't think Robbie really gives a sh!t what car he drives as long as it's as competitive as possible."
Speaking of being competitive, I just had to ask Eddie about some of the car's specs. I didn't recognize the wheels, which are apparently made by a company called Savini, in 19×8.5 and 19.11 sizes. Further research showed that Savini is a company that is normally known for its involvement in DUB-type cars and trucks (bling blingin on Escalades and whatnot), but they have a new brand of wheels for performance applications, which includes forged billet wheels, like the ones that Robbie's GTR is using. They had to step down in tire size to 245/40/19 up front and 305/30/19 in the rear (factory R35 GTR wheels are 20 inches), just because of the availability (or lack thereof) of performance tires in 20 inch sizes. According to Eddie, there aren't many companies who make good tires in 20 inch sizes, so he had to use 19s instead. Personally, I think it makes a lot of sense, and actually kind of looks cooler anyway, since they were able to lower the car more with the smaller wheel and tire sizes.
Since everyone is probably wondering about the engine, I should point out that the car is actually NOT powered by the R35 GTR's OEM supplied VR38DETT 3.8 liter engine. The engine inside Robbie's R35 is actually the VQ35 engine from the competition car he was driving last year (Z33 350Z), which has been torn down and rebuilt from the ground up by the experts at Dynamic Autosports. The 3.5 liter VQ35 has been bored and stroked to 3.7 liters, putting out around 500 horsepower, mated to a G-Force sequential transmission. According to Eddie, the engine still isn't tuned for the car, so they'll be working on it over the next few weeks, and hopefully it'll be at around 550 horsepower in time for Formula D's next round in New Jersey. Future plans are to build the GTR's original 480hp VR38DETT 3.8 liter engine, which will be bored out and stroked to 4.3 liters. Dammit, I can't wait to see that!!!
Another new car in Formula D this year is Mike Essa's E92 3-series BMW. This is yet another big baller vehicle that I was surprised to see in Formula D. Just like Robbie's GTR, this E93 Bimmer had some problems at Long Beach, but the car's builder/fabricator/tuner/trackside support engineer/driver Mike Essa overcame all this mechanical gremlins and drove the living daylights out of the car, resulting in a 4th place finish in Atlanta! That's right… I said FOURTH PLACE.
That's pretty damn impressive when you consider that he doesn't really have much backup and support on the track. Other teams in Formula D employ a cadre of trackside support engineers, chassis guys, engine builders, suspension tuners, spotters, tire changers, and stuff like that. However, when it comes to Mike Essa's BMW team, he is them and they are him. He's much pretty a one man show (with help from his one employee, whose name I don't remember – sorry!), which is probably what impresses me most about this car and its results.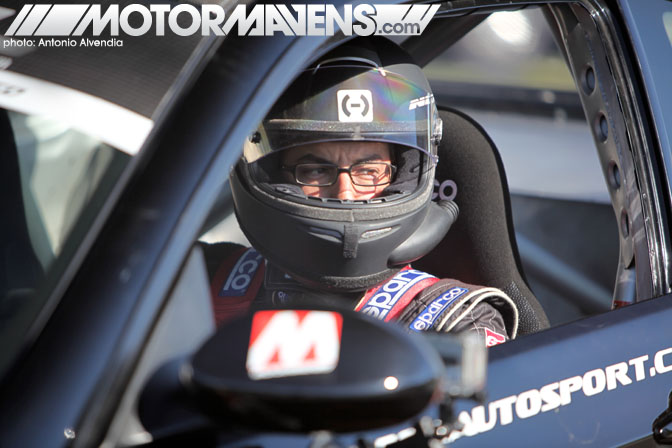 Here's a photo of Mike Essa strapped into the cockpit of his E92, which has been fully stripped and turned into a race car. Like Robbie Nishida's R35 GTR, here's another luxurious streetcar that was turned into a gutted out full-race car. Mike says that the car was built without factory support from BMW – it was actually bought and paid for by his sponsor, GSR Autosport. He says they're trying to talk to BMW right now; hopefully BMW North America (or BMW in Germany) will jump on board and provide support to Mike and his car, as it makes perfect sense in terms of brand marketing in my opinion.
It would have been super easy and inexpensive for Mike to drop in a General Motors LS engine, like the one that powered the FC3S Mazda RX7 that he was driving last year. However, Mike realized that BMW purists would probably hate him for it, so he decided to go the more difficult (and more expensive route) and yank out the turbocharged inline-6 N54 engine that came with the car from the factory. In its place, Mike installed a BMW V10 S85 engine from an E60 BMW M5, which puts out 500 horsepower and 380 foot pounds of torque.
Sourcing this engine and installing it didn't come with its own set of issues, however. Mike says he contacted a BMW dismantler in Northern California, who said they had an engine, and he could have it for $14,000. Thanks to the deep pockets of GSR Autosport, Mike was able to get the money sent to the shady dismantler, who ended up claiming "they just sold the engine, but they can get another one by next week." After an entire month of waiting, Mike understandably became impatient, because he needed to get the car finished in time for his April deadline, so it could debut at Formula D Long Beach! He demanded that the shady auto dismantler refund his money, and he ended up just purchasing an entire E60 BMW M5 from an auto auction for $20,000! The M5 was wrecked, but the engine was just fine, so it would be perfect for his build. (Incidentally, Mike mentioned that he's parting out the M5, so hit him up if you own an E60 and need something other than the engine and the wheels, which are already spoken for!)
Simply dropping a BMW V10 S85 engine into an E92 chassis Bimmer is not an easy task. First of all, there isn't much information or documentation out there regarding this swap. According to Mike, "there are probably only four cars in the entire world that have done this swap. There really isn't too much information or parts out there for the swap." Mike decided against using the factory H-pattern transmission in this newly built drift car. He says he chose a Quaife sequential transmission, because he wanted a higher end transmission "that was cool and would match the high end specs of the rest of the car's build. The Bimmer forum guys would probably like it more, since it would be a bit more aspirational with the sequential tranny… it wouldn't just be your normal run of the mill swap."
At hearing this, I said, "WTF?! Are you serious?! You decided to drop all that cash on a sequential transmission just to get props from the forum guys?! And to have cool points on your spec sheet?! You can't be serious!"
Mike laughed and said, "Yeah! But also obviously a sequential transmission has performance advantages, and a lot of the other cars being campaigned in Formula D have them as well. I didn't want to mess around with a normal H-pattern transmission, so this sequential was the way to go." When I inquired as to the cost of the transmission, Mike admitted, "well, we aren't sponsored by the transmission maker, so we had to shell out $14 grand for it. And on top of that, nobody even makes a bellhousing to match the M5's V8 engine to the sequential trans.
There were so many times that Mike's E92 project could have failed or missed its April deadline. First of all, getting the engine and its month-long setback was an issue. On top of that, Mike admits that he had problems with the shop that promised to custom make his bellhousing adapter. Apparently, a shop promised that they would fabricate a bellhousing adapter to match up the Quaife sequential to his M5 engine, but they didn't come through on time. Desperate for time, with the clock ticking, Mike admits that he "just took a Sawzall out and started hacking up the OEM bellhousing. Then [he] took it to a friend's shop to get it welded up." He ended up having to do everything by himself!
Another potential deadline breaker he had was with the body kit maker. Apparently, the only company that really makes aero kits for the E92 BMW 3-series is Yokohama, Japan-based aero company, Vertex. (By the way, in case you didn't know, Vertex owner, Takahiro Ueno also built an E92 BMW to compete in Japan's D1GP series. However, Ueno's car is powered by a Toyota Supra 2JZGTE powerplant, not a BMW engine.) Mike says he would have liked to run a Vertex aero kit, but the company wasn't really interested in sponsoring him, and he didn't want to shell out an additional $14 grand just for aero! (That could buy him an extra engine or transmission!)
That being said, Mike signed a deal with a body kit maker who was supposed to make wide body overfenders and bumpers for the car, but they completely missed their deadline, and still haven't produced a complete kit for the car. Out of sheer frustration, Mike just bought some generic overfenders and began riveting them to the car by himself, and then took the car to the body shop to have them blend them in and paint them. (Honestly, I wish the car had a bit less overfender, which would make the offset and stance even more aggressive, making the car look even meaner… but hey, I didn't contribute a dime or lift a helping hand in building the car, so who am I to talk?)
Above, we have a photo of Essa doing a burnout up on Road Atlanta's grid. After snapping that photo, I walked to the other side of the car, to try and get a close up photo of Mike inside the cockpit…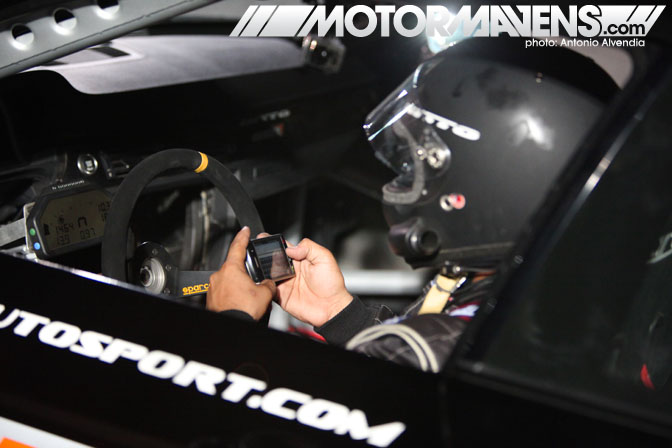 I was surprised to find out that he was strapped into the car, with his cellphone out, presumably texting people or Facebooking! He was most likely texting something like "OMG, you should follow @MOTORMAVENS on Twitter or add the MotorMavens Crew on Facebook, since they always have dope stories and photos from events."
I'm absolutely SURE that's what he was texting or Tweeting.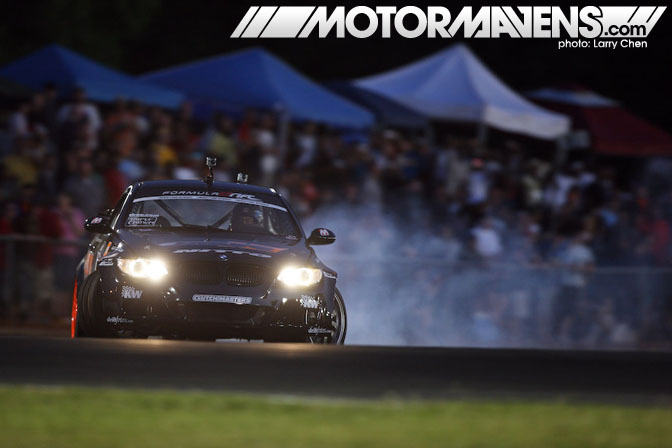 On the other side of the track, here's Mike Essa and his E92 Bimmer attacking the horseshoe, with tons of fans watching with wide eyed excitement as they get covered in his tire dust.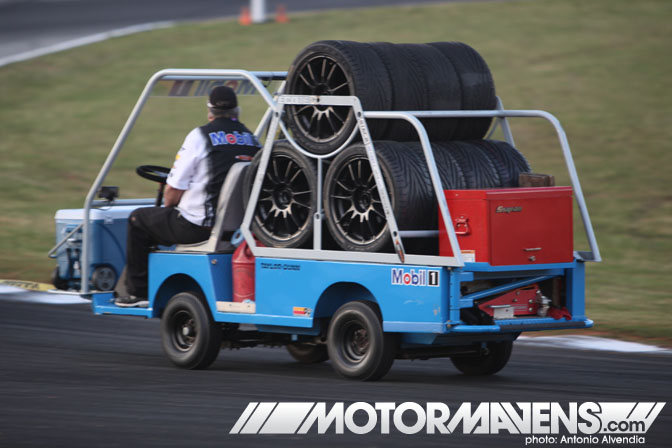 Aside from the cars on the track, I have to admit that I was checking out and jocking some of the support vehicles too! This here is Gary Gardella's customized golf cart, which honestly impresses me even more than his Gardella Racing Pontiac Solstice does. I want to roll around events in a vehicle like this! This thing is straight gangster! It has an actual steering wheel from a car up front, and has custom built compartments (gotta admit, Gardella is the MAN for making this thing) to house Ryan Tuerck's fuel supply and Gary's toolbox; not to mention a custom roll cage that doubles as a wheel carrier for TWELVE wheels and tires, with a super cool pocket in the back for the racing jack. Most important of all, the golf cart has a holder up front for their cooler, which is always stocked with a fresh supply of cold water!
I think we need to do a full on feature on this thing in the future! So fresh!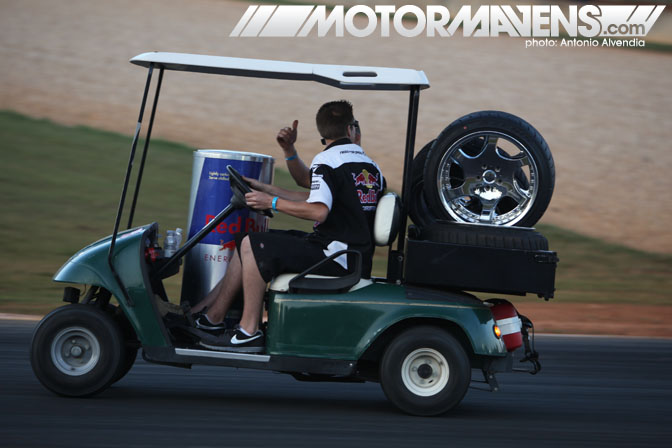 The Red Bull drift team also had a golf cart, although theirs wasn't anywhere near as stylish. The key cool factor of their golf cart, however, was the SICK ASS WHEELS that were stacked on the back of the cart. However, I think they should be deducted some points for not strapping the wheels down to the cart! They need to safety strap or bungee the wheels to the cart, so they don't hit a bump or something, causing the wheels to fly off and damage those polished outer lips. If they dropped those wheels in front of the crowd especially, that would be an epic fail. Safety first!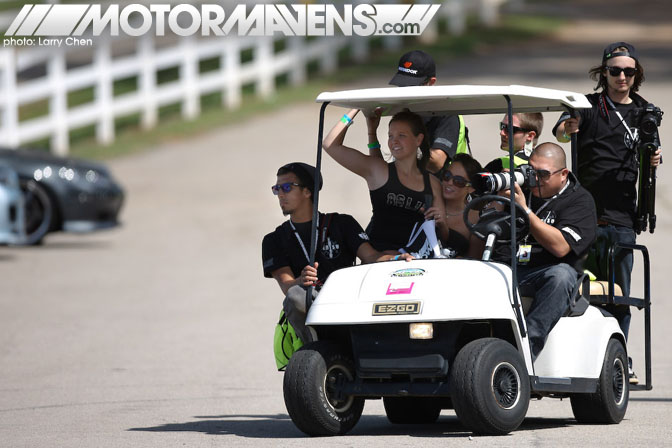 I can't lie. As impressed as I was by the Gardella Racing team's golf cart and the Red Bull team's cargo, I have to admit that the funnest golf cart I saw was definitely the MotorMavens  golf cart, which was constantly overloaded with friends, photographers and girls. It was a hell of a lot of fun!
(From L-R) On the cart, we have Joe Ayala, Lauren Ledford, Brett May, Lauren Lallande, Jonathan McWhorter, myself, and Justin Shreeve.) Super fun!
Speaking of super fun, it was super fun and awesome that the MotorMavens booth was right across from Team Falken! (More pics of the MotorMavens booth to follow, in an upcoming post!) We were able to listen to awesome music from Arnell (aka DJ A1), who spun a special set of classics from Gangstarr, as an homage to the Guru's untimely passing.
On a lighter note, you can be damn sure that when I was at the booth, I couldn't take my eyes off of Falken's hot mamas, Eri Moriyama and Casie Kimball, who were signing posters for a big line of fans. Mmmmmmhmmmmmmm. Bangin.
I know all you fellas love the eye candy as much as I do. Here's one of my podium photos, which focused on the more interesting aspects of the podium… the Falken girls!
From L-R: Megan Renae, Casie Kimball, Eri Moriyama, and Randyl Dawn. And let's not forget everyone's favorite flav, Melyssa Grace, aka Miss Formula D!
This is NOT my final update on Formula Drift in Atlanta! Trust me, I have photos for days! Let me know what you'd like to see, as I have more photos to share from the Formula D Pro Am, cars and people of the Formula D Championship, and of course… I have several more gigabytes of photos of the ladies, just in case you're interested. LMK! 😉
Stay tuned to MOTORMAVENS for the best Formula D coverage!
:: Antonio Alvendia

More Motor Mavens stories from Formula Drift Atlanta 2010
Andy Sapp
,
BMW
,
Casie Kimball
,
drifting
,
Dynamic Autosports
,
E60
,
E92
,
Eddie Kim
,
Eri Moriyama
,
Formula D Atlanta 2010
,
Formula Drift
,
Gardella Racing
,
Gary Gardella
,
GSR Autosport
,
GTR
,
Hankook
,
M5
,
Megan Renae
,
Melyssa Grace
,
Mike Essa
,
Peak Performance
,
Pontiac Solstice
,
Quaife
,
R35
,
Randyl Dawn
,
Red Bull
,
Road Atlanta
,
Robbie Nishida
,
S85
,
Savini Wheels
,
Takahiro Ueno
,
V10
,
Vertex
,
VQ35
,
VR38DETT
,
Weds Kranze
---