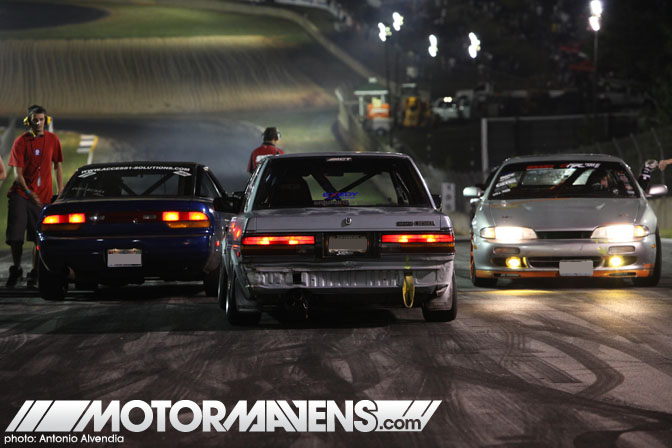 Continuing the photographic coverage on MotorMavens with even more stories from Formula D Atlanta, I know that several of our readers have asked to see more images revolving around the Formula D Pro Am and the drivers that participate in the series. I'm more than happy to follow through on requests like these. After all, I think it's the local Pro Am drivers from different regions that add flavor to the larger Formula D series.
I feel even more of a connection to the grassroots/underdog drivers sometimes, because I think that if the MotorMavens Crew were a drift team, it would be exactly like a team of privateers that's striving to elevate its game to a big time level. The members of the MotorMavens Crew are extremely driven and passionate about car culture. Even though some of us might have backgrounds that include professional experience (working with big print magazines, newspapers, video production companies, or larger blog sites) in our particular niches, we have come together to join our collective talents and build something we truly believe in.
MotorMavens is not a big company with major sponsors and an expense account. Unlike some of the big magazines or corporate-financed automotive blogs, we can't spend hundreds of thousands of dollars every year on our travel, marketing, and camera equipment. Hell, almost all of the members of the MotorMavens Crew work other jobs and spend hard earned personal money to travel to the different events we cover for the site. For this past Atlanta event, we didn't even have the budget to stay in the official Formula D hotel with the rest of the people on the tour. Instead, we gratefully crashed on the floors and couches of our good friends in Atlanta (Thanks to Erik Jacobs from DG Trials, Cody Wellons from S3 Magazine, and Andy Sapp from MotorMavens) in order to make this trip happen with the small budget we had to work with.
The grassroots drivers that showed their skills at Road Atlanta's Formula D Pro Am definitely impressed me. I'll be honest… I wasn't necessarily impressed with how all the cars looked or performed… it was very obvious that many of the cars were grassroots "budget builds" and that's just fine. However, what impressed me about the drivers from the South was how much heart they had. They definitely wore their hearts on their sleeves as they drove in the intense mid-day heat of their Friday practice sessions. Pro Am qualifying took place at around 8:00pm on that Friday night, while most of the drifting fans at Road Atlanta packed up and went home. I'm sure it must have been somewhat disconcerting that many of the people in the audience didn't care enough to stay and watch them, but the grassroots drifters of the South were their own support group. They watched their friends and competitors intently from the top of Road A's famous hill, clapping and cheering for each other as each driver took their turn running the course. I suppose some people may just say it's Southern hospitality, but I was honestly impressed that the Southeast drifters seemed to be such a tightly knit group. Now that's the spirit… at least, that's what the real spirit of drifting is all about.
Dennis Mertzanis doesn't exactly fit into the Pro Am category, but he sure does fit in as an underdog. Up on the grid, I observed Dennis checking things over with Eugene Chou, a friend who was helping out with track support as he prepared to run. I think I first met Dennis and Eugene about four or five years ago, on a previous trip to Formula D Atlanta. These guys were heavily involved in grassroots drifting even back then, as they helped to spread the word about drifting to Atlanta locals through the DG Trials drifting events that were being run by Erik Jacobs.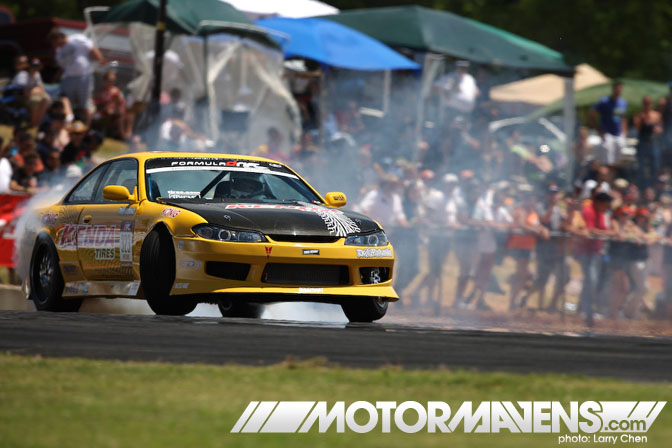 Dennis is sponsored by Kenda, a tire company that I had previously never heard of until I saw the logo on his strawberry faced S14. (In case you're unfamiliar with the term, strawberry face = S15 face. "One Five" in Japanese is "ichi go." However, ichigo is also the Japanese word for strawberry. Only forum kids call it S14.5, BTW)
Dennis has been doing a great job at competing in Formula D thus far with his privateer budget (or lack thereof). As Dennis explains it, "I basically just committed myself to doing the entire season, even before I figured out how I could afford to make it to all the events… but the amazing thing is, once people heard that I'd be doing it no matter what, certain people began stepping up, volunteering their time and money to help out. In fact, some of the guys who have been volunteering to help me are actually students at an automotive technical school. Those guys are really talented, and they've offered to help me with track support at the events. They actually drive my truck and transport my car to the events, too."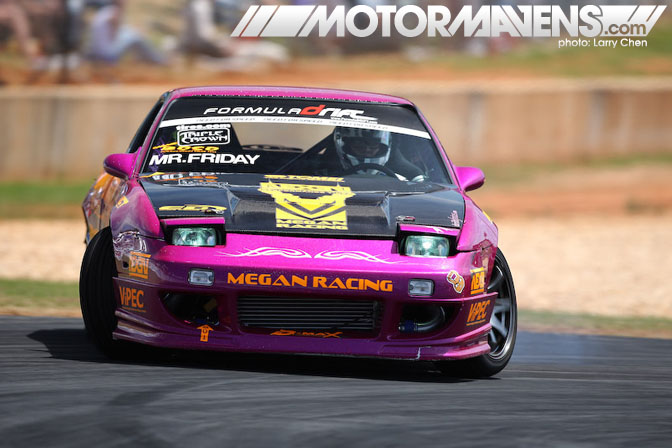 Another privateer that's been doing big things is Cyrus Martinez. Cyrus is a former AE86 driver who has been really stepping up his game in recent years. He works for Megan Racing, a company that has also been stepping up its game.
Whether people believe in their products or not, Megan Racing has really been supportive of grassroots drifting. I've never actually tried their products on my own cars, but I've been noticing that more and more cars out there are running their products. One of the ways that Megan Racing is supporting grassroots drifting is by sponsoring drivers like Cyrus and Taka Aono in the Formula D series. It's actually a brilliant marketing move by Megan Racing, who has reportedly been moving more units than the big Japanese tuning powerhouses like GReddy, Apex'i and HKS.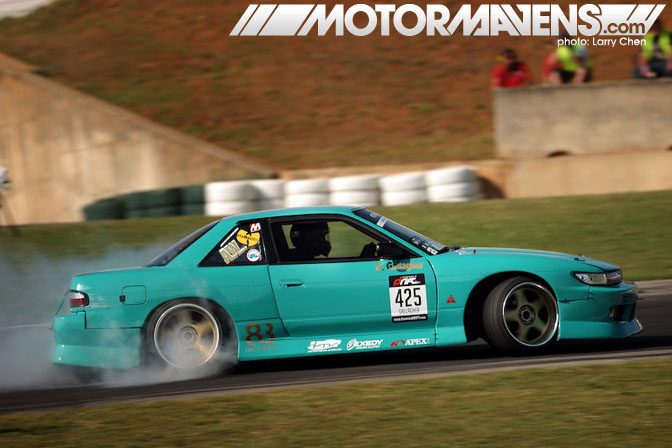 Perhaps the best looking privateer car in the entire Formula Drift series is this S13 Silvia that was previously featured on MotorMavens, owned by Roland Gallagher from Seattle, Washington. Roland is a really great up and coming driver; a passionate drifter who has been traveling to all the different events with huge support from his family. I love seeing Roland and his family out at events! It's so cool to see a family like the Gallaghers at the track, because they are so supportive and proud of Roland's efforts and accomplishments thus far. It's really heartwarming, actually. I know many people out there who have families that are unsupportive of their efforts in the automotive arena.
Another thing that I like about Roland and his car is that he proves that you don't need big money to have a stylish car! Roland is not a rich kid by any means. He works very hard for his money, and he spends every last cent he has on his car and his pursuit of a career as a professional drifter. It just goes to show that people can build cars with amazing wheels and stance and aero… on a budget!
I just roll my eyes when people take good looking cars (like brand new 350Zs, for example) and turn them into piles of sh!t by adding ugly aero kits, misplaced stickers and ridiculous looking wheels and blame their epic failures on the fact that they "don't have the budget to make the car look good." If you don't have money, that's OK. Just leave the car looking stock then! Last time I checked, it was possible to drift cars using stock bodywork. Big ups to Roland for understanding that aside from being able to drift well, the car must look good in order to be inspiring to the fans. Companies need to sponsor this guy!!! Falken? Hankook? Nitto? Where you at? I know you're reading this!!!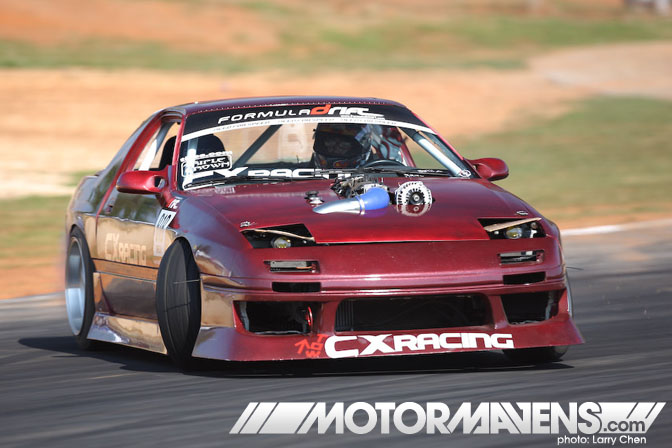 If you're looking for a driver that just won't give up, look no further than Kelvin Arreola. Kelvin hails from Southern Cali's San Fernando Valley, which most people know as the Porn Capital of the World, haha! Kelvin is a street drifter that earned his Formula D license through hard work and determination. He once told me that he spent all his time and money on his FC3S RX7, so he didn't even own a normal street car! He just rode a bicycle to work and to school! Crazy!
Respect to Kelvin for bringing his newly built FC3S chassis all the way out to Atlanta, sporting a fresh new aero kit, aggressive wheels, and wait… that sure doesn't look like a stock 13B under the hood! I wonder if we should take a closer look at this car on a future installment of MotorMavens?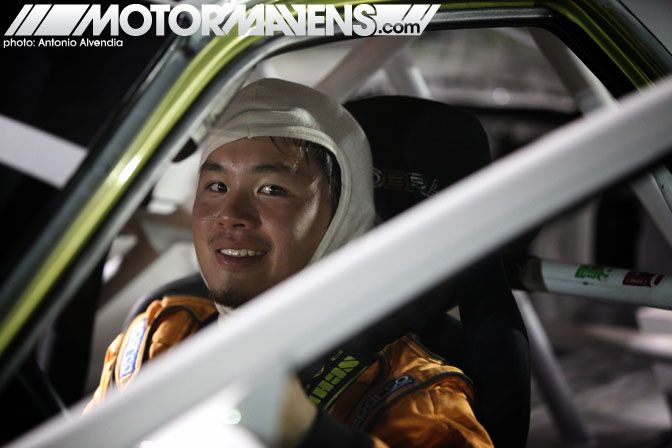 This face may or may not be familiar to you… and I'll be honest, I don't know a whole lot about this mystery man either. This is Charles Ng, who recently bought Mike Essa's LS-powered FC3S RX7. Charles, if you're reading this, hit us up! I think our readers might like to learn some more about your drifting background!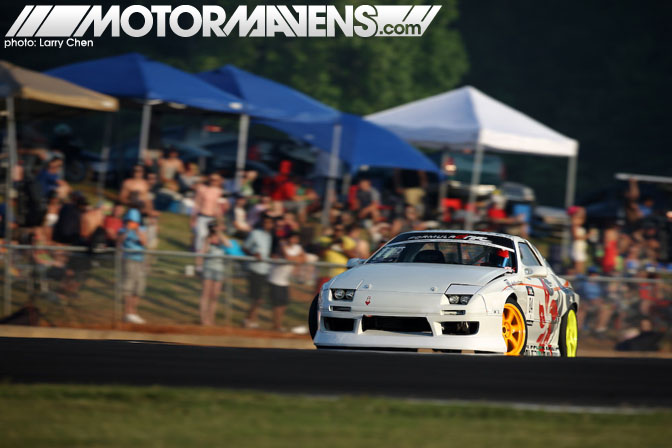 Here's Charles driving his newly purchased FC3S through Road Atlanta's famous horseshoe! It's great to see classic body styles like FC RX7s still in Formula D competition!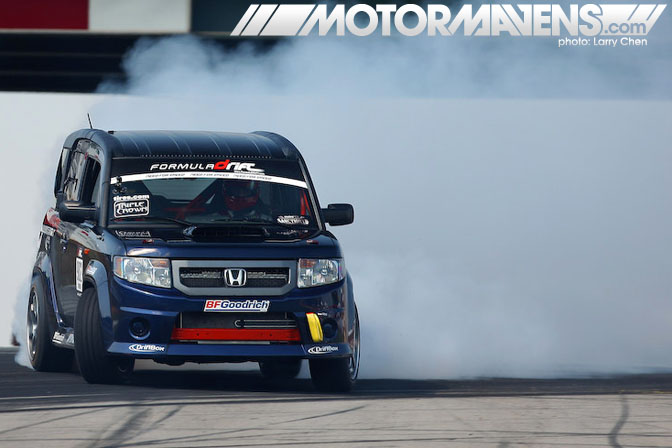 James Robinson from Columbus, Ohio showed up piloting a very rare car to see at a drift event… a Honda Element! It's rear wheel drive, and powered by an NSX engine! Cool!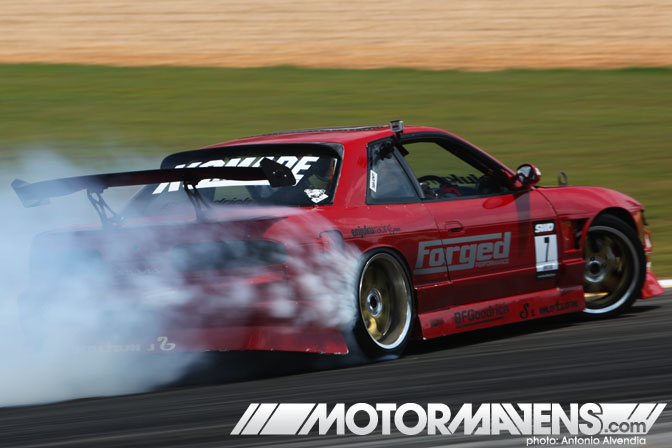 I wasn't really too sure who this driver is at first. Thanks to a text message from Eugene Chou, we've successfully identified him as George Grob! He was laying down some pretty nice runs at Road Atlanta with big smoke. Drivers, put your names on your cars! Help us media people out!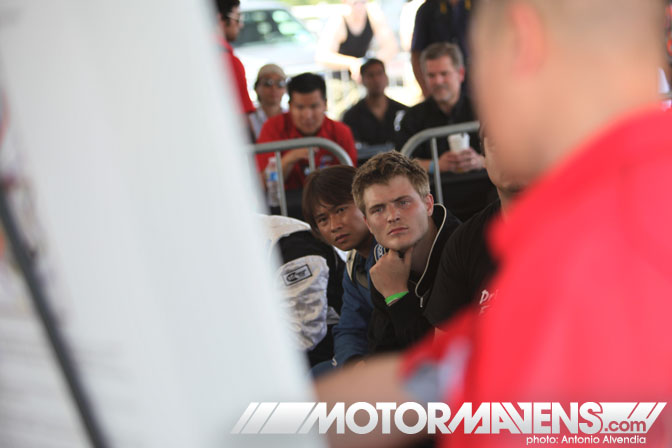 Speaking of media, here's a shot from the Formula D driver's meeting in the media center. In this photo, FD judge Ernie Fixmer is explaining the line and the judging to the Pro Am drivers, as drivers (like Chris Ward here) listen intently and ask questions.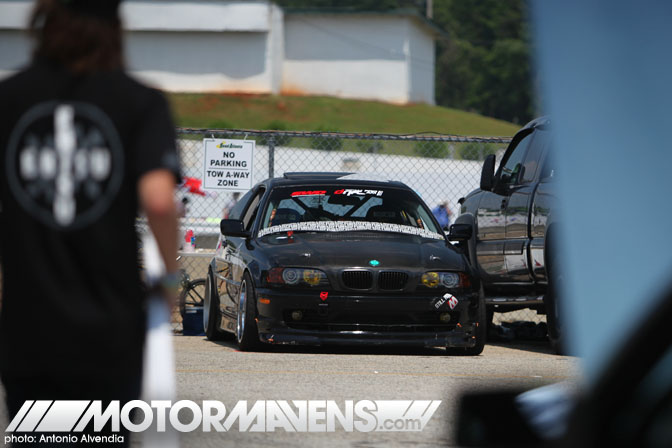 After heading back in the pit area, our crew headed over to our Art Director Andy Sapp's infamous black E46 BMW 3 series to get our supplies to get our booth set up. Andy is one of the most creatively talented graphic designers I've ever met, but he is probably better known for his ability to toss his E46 around a racetrack like nobody's business!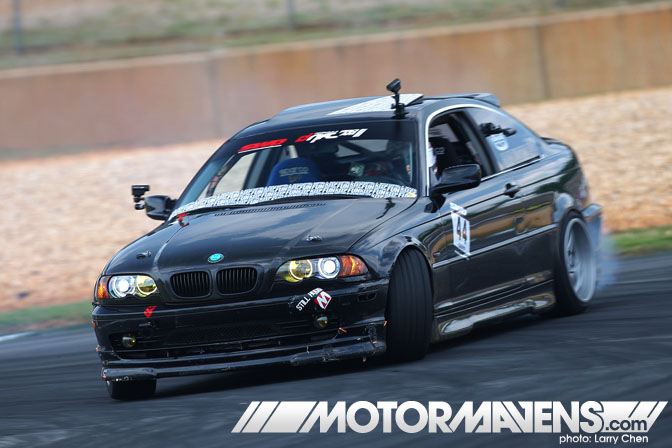 Unfortunately, we arrived to the track after Andy's run sessions were over, so we were too late to see Andy drift in person at the event. Good thing our boy Larry Chen was already camped out trackside, with his lens pointed towards the track, and trigger finger ready to shoot.
This car DOES look menacing! Andy is drifting's equivalent of a soul surfer. He drives for the purity and the joy of driving. Andy isn't out to get a trophy or points or recognition… to him, the sheer action of drifting for fun is good enough reason to be out at the track, and pretty much the only reason he goes.
Nowadays, with everyone looking to get sponsors or media coverage for their cars, it's more and more rare (and refreshing) to find people that actually have pure driving passion, like Andy does. For him, it's most important to keep drifting FUN!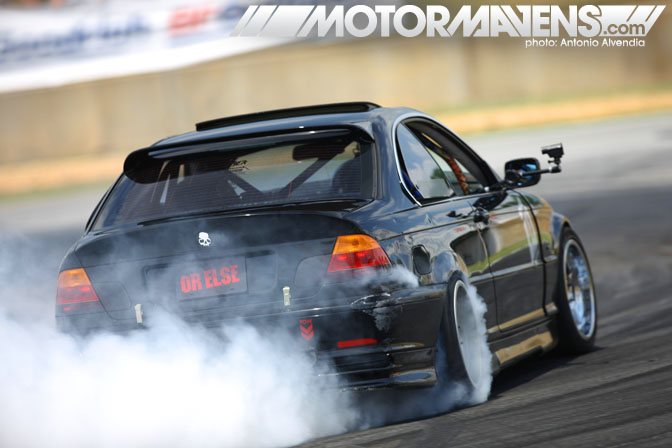 Or ELSE. In this photo, you can see Andy's new roof wing, as the old one he had flew off on the freeway on the way to the track, sometime last year if I remember correctly..? Dig the authentic Turner Motorsport rear trunk lid and the rare and authentic 17 inch Racing Dynamics wheels.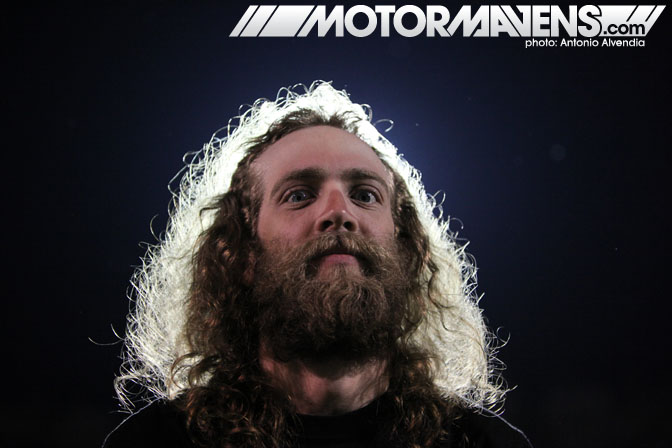 His legend precedes him, the way lightning precedes thunder.
Police often question him, just because they find him interesting.
His beard has the strength of 12 gauge steel wire.
His skill in typography has caused lesser designers to jump off buildings.
He almost broke the land speed record, but popular opinion among his team was that his beard caused too much wind resistance. He would have shaved it, but… No. No, he wouldn't have.
The most interesting man in the world…
Andy Sapp is the creative genius behind the MotorMavens identity and branding. I think the first time I met him, the sides of his head were shaved and he had a mohawk! Now he's decided to let his rock n roll hair and beard grow out all crazy! I think he kinda looks like Jesus in this photo. LOL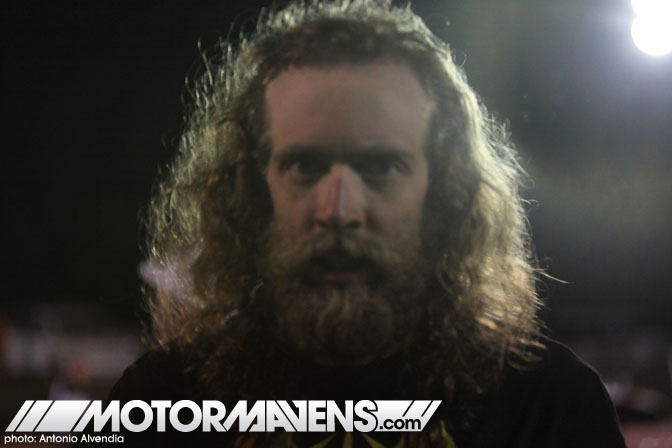 Or, maybe not. In this photo, he looks more like a psycho killer. However, even though he has quite an arsenal of guns at home, the weapon that he really uses for straight killing sh!t is his Mac Pro tower and his exceptional typographical skills.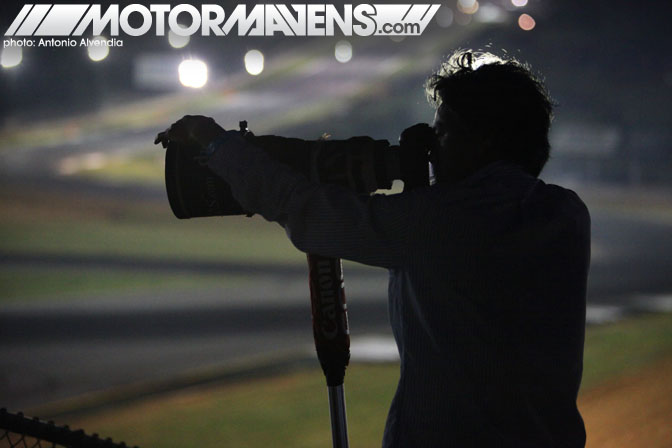 Speaking of killing it, here's another member of the MotorMavens Crew with his weapon of choice. Larry Chen is like the sniper of the crew, using his Canon to track down . If you're a grassroots driver and you want photos of your own car driving the course, you need to contact Larry to make sure he points his Canon at you. http://www.driftfotos.com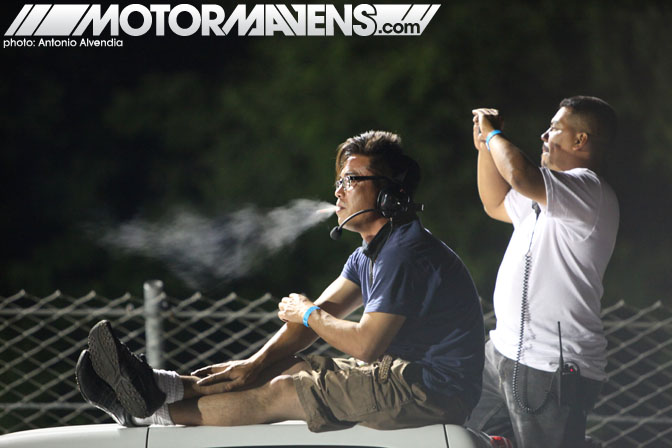 Again speaking of killing it… killing us with his second hand smoke is Naoki Kobayashi, one of the founders of Drift Day. Thanks to Naoki for hauling my empty luggage back to Cali, in the trailer with Cyrus Martinez's S13 and Taka Aono's AE86!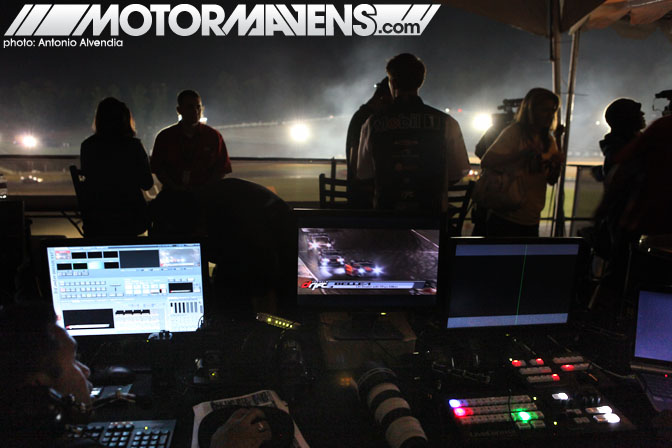 Any behind the scenes look at Formula Drift wouldn't be complete without a shot of the Belle 1 Communications mission control. It's here, perched high above Road Atlanta, that Daryl David and his brother Fred control the camera angles of the Driftstream Live Feed and the Formula D jumbotron.
If you've ever found yourself in the spectator area of a Formula D event, grooving to some hard hitting underground hip hop beats from J Dilla or some soulful reggae mixes… you can thank Fred David from Belle 1 for that. Much respect, Fred! We need to get our portable hard drives together and trade music once again!
I'll end this installment of our Formula D adventures with a photo of lovely Southern belle Lauren Lallande, sitting in the MotorMavens golf cart with our Portland-based filmmaker, Justin Shreeve. Why yes, those ARE the MotorMavens and DSTROYR logos on her dress, and why yes, that IS a MotorMavens lanyard around Justin's sunburnt neck. Stay tuned to MotorMavens once again for even MORE photos from Atlanta, as we bring you some of our personal accounts of our adventures in the South!
:: Antonio Alvendia

More Motor Mavens stories from Formula Drift Atlanta 2010
---