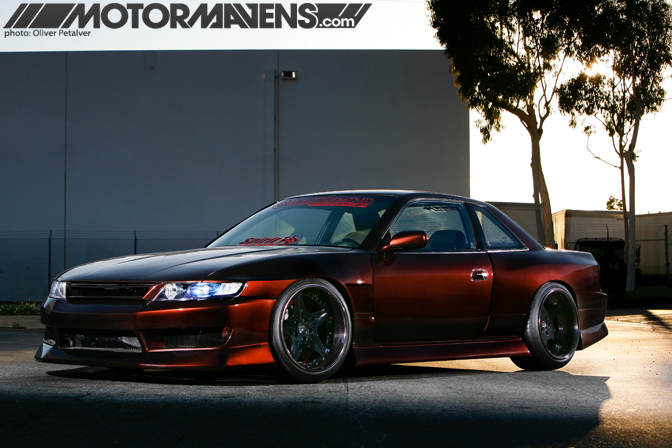 Seeing the MasterMind Odyvia for the first time at our
MotorMavens Mass Appeal Show
in
Irwindale, CA
was a mind-blowing experience. Hearing the car start up for the first time left my ears ringing for hours. However, rather than just telling tell you why I fell in love with this car, I thought I should tell you how this car came to life instead. Please fasten your seat belts, this ride is about to get CRAZY. You're probably asking yourself, what is an Odyvia? In case you didn't know, it's when you combine Honda Odyssey headlights with a 1991 Nissan 240SX (S13 Silvia) body. Hence, the name ODYVIA...I find it rather fitting for the car - the name sounds like it was plucked from an epic poem like
The Iliad.
The reason I felt so passionate about this particular car wasn't the one-off
Spirit Rei Japan
widebody kit, custom fabrication, custom interior, nor the
Z06 LS7
motor swap. It was because
it took incredible persistence and attention to detail
to accomplish - this project was riddled with issues that would make an average mechanic lose his mind.
Read more...
---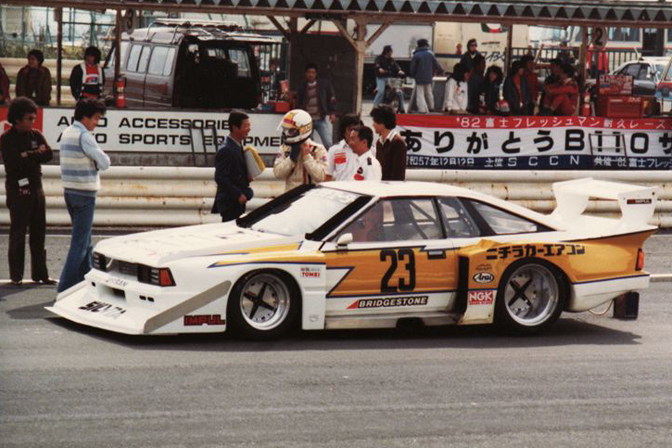 I just love Japanese
Super Silhouette
cars from the late 1970s to the mid 1980s. I actually saw these photos posted sometime last week on the
Team Obscurity website
, but didn't get a chance to post them up until just now. These Super Silhouette cars were said to have influenced the Bosozoku/Yanki style of crazy aero kits, fat lip wheels, and humongous front chin spoilers... obviously!
Just check out this famous S110 Nissan Silvia, which was raced by legendary Japanese racer
Kazuyoshi Hoshino
's team,
Impul
. Hoshino-san has reached God-like status amongst race fans in Japan because of all his HISTORY. He actually raced in two Formula 1 races*; both of them at Japan's legendary
Fuji Speedway
- the old school course, with the famous old (and dangerous) banking, which is now closed and sits on the side of Fuji Speedway as a holy relic of the
Shizuoka prefecture
's glorious racing days of the 1970s and 1980s. In fact, I'm still kicking myself because I had the opportunity to chill out in the Impul/Calsonic Super GT pit area when I attended the
Pokka 1000kms Super GT
race at
Suzuka Circuit
, and Hoshino san was standing right freaking THERE... and I didn't even take a photo with him or ask him to autograph something. What an IDIOT I am. I still regret it.
Read more...
---
I absolutely LOVE these old Super Silhouette cars! Cars like this look so crazy because of their robotic looking bodywork – it looks like something straight out of a Japanese anime movie. This particular one is a 1982 Nissan Silvia Turbo, which is the same as the S12 200SX in the United States.
Nissan and Mooncraft Japan worked together to create this monster, and somehow, they were able to get over 500hp out of this 4-valve DOHC 4 cylinder turbo motor! Just think… having a 500+ horsepower SR20DET engine is definitely doable with today's aftermarket engine and electronics technology… but these guys made this car in the early 1980s, when the A-team van and Knight Rider were new shows on television! It never ceases to AMAZE me what these old school Japanese racing engineers accomplished back then.
Also notice that super old school red Recaro racing bucket in the car! DOPE!!! Also notice, this particular Silvia Turbo is sitting on some super wide Impul Hoshino G5 wheels. AE86 guys, please take note – it's further proof of what I've been telling everyone on Club4AG for like 10 years now… Hoshino wheels belong on NISSANS, not Toyotas. Kazuyoshi Hoshino (and his Impul Hoshino wheels) have a history of racing Nissans, so when you put Hoshino wheels on your AE86, it's like putting Mugen stuff on your Nissan. Or putting TRD stuff on your Civic. Or putting Nismo stuff on your Subaru. Get it?
So if you like the look of the Impul Hoshino G5 wheels that much (ya gotta admit, they DO look pretty damn awesome), then try to find a set of Work Equip 02 wheels, or try to find an R30 or R31 Skyline or S12 Silvia to mount those Hoshino wheels on, if you're interested in keepin it real. If you don't care, that's ok too. Just saying.
Either way, these 1980s Japanese race cars are so incredible. Their incredible and unique style even influenced people to recreate these crazy body modifications on their own street cars – the bosozoku (yanki) cars.
I love Super Silhouette!
Click here for more incredible Super Silhouette video links
:Antonio Alvendia
---