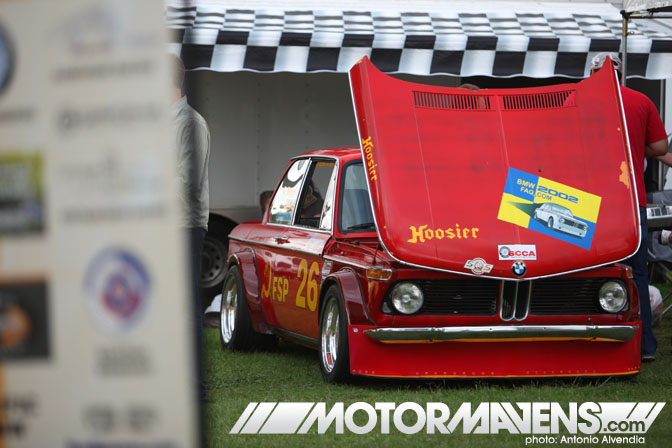 For several weeks preceding our first
Mass Appeal
car show at Irwindale Speedway, the entire MotorMavens Crew made it a point to be out at an automotive event every single day, promoting nonstop and scouting cars for the show. With the help of friends, we discovered a lot of events and meets that we wouldn't have heard of normally. One such event was the
So Cal Vintage BMW Festival
in Van Nuys, CA - we were tipped off about this event from a friend of the MotorMavens named
Jim Comeau
from
NBC Television
! (Thanks Jim!)
Just like the Mooneyes Christmas Party, this was going to be another event where we would feel like fish out of water. Even though we appreciate the hell out of vintage BMWs, we honestly don't know a whole lot about them because most of us grew up around Japanese cars. Minor details like that wouldn't stop us from admiring the gorgeous cars in attendance though!
Read more...
---
While other members of the
MotorMavens Crew
were out getting attacked by windstorms in Las Vegas, those of us who decided to stay in Southern California for the weekend attended the
2010
Bimmerfest
. I'll admit... with a background in Japanese cars, this was the very first Bimmerfest I've ever attended. Before I go any further, I think I need to take a moment to congratulate (and give ultimate props to) Bimmerfest founder
Jon Shafer
.
The amount of BMWs (and their owners) that attended the event was just RIDICULOUS! No, seriously... ridiculous! When I exited off the 210 freeway, I (and my 5 series BMW touring) immediately joined the fray of BMWs making their way to the Rose Bowl, which was made famous by holiday football games and slow moving floats parading through Pasadena city streets. Creeping through traffic at a snail's pace, I followed the long line of cars with
license plates from New Jersey, Massachusetts, Oregon, and New Mexico
... chuckling to myself, thinking "I wonder how many of these guys think I'm here to put my car in the show? I'm just here to shoot coverage of the event and do a little carspotting!"
Truth be told, even though I've been to
BMW Welt in Munich
, experienced
the Autobahn
, and stayed overnight at
Hotel Am Tiergarten/Pistenklause
(the small hotel/restaurant owned by BMW ringtaxi driver Sabine Schmitz's family) that sits inside the Nurburgring... even though my trip to Deutschland actually inspired me to buy a 5 series BMW wagon, I still don't see myself as a "BMW guy."
Read more...
---