While other members of the MotorMavens Crew were out getting attacked by windstorms in Las Vegas, those of us who decided to stay in Southern California for the weekend attended the 2010 Bimmerfest. I'll admit… with a background in Japanese cars, this was the very first Bimmerfest I've ever attended. Before I go any further, I think I need to take a moment to congratulate (and give ultimate props to) Bimmerfest founder Jon Shafer.
The amount of BMWs (and their owners) that attended the event was just RIDICULOUS! No, seriously… ridiculous! When I exited off the 210 freeway, I (and my 5 series BMW touring) immediately joined the fray of BMWs making their way to the Rose Bowl, which was made famous by holiday football games and slow moving floats parading through Pasadena city streets. Creeping through traffic at a snail's pace, I followed the long line of cars with license plates from New Jersey, Massachusetts, Oregon, and New Mexico… chuckling to myself, thinking "I wonder how many of these guys think I'm here to put my car in the show? I'm just here to shoot coverage of the event and do a little carspotting!"
Truth be told, even though I've been to BMW Welt in Munich, experienced the Autobahn, and stayed overnight at Hotel Am Tiergarten/Pistenklause (the small hotel/restaurant owned by BMW ringtaxi driver Sabine Schmitz's family) that sits inside the Nurburgring… even though my trip to Deutschland actually inspired me to buy a 5 series BMW wagon, I still don't see myself as a "BMW guy." (Maybe I just have too much Japanese-car-blood running through my veins; red blood that exactly matches the 3E5 paint on my 1985 AE86. That's right, red like the color of OEM Toyota coolant.) However, whether I view myself as a Bimmer guy or not, I certainly have a deep respect and a fond appreciation of BMWs!
Back to the beautiful Bavarian beauties that proudly paraded their kidney grills through Pasadena, I was honestly impressed as hell when I saw the turnout. As everyone made their way to the show, here were all sorts of BMWs blocking traffic on every single main road and side street surrounding the Rose Bowl. Some local residents even came out of their houses with annoyed WTF faces on as they fetched the morning paper.
As I crawled through the line of cars, I spotted this clean E34 5 series Bimmer, which looked good with the foglights and front chin spoiler… but wait… is that a front mount intercooler I see?
As I turned around to shoot the photo of the E34, a super clean beige BMW 1600 seemingly jumped out of the bushes and jumped in line in front of me. I didn't mind at all though – I was happy to see such a clean example of an old school BMW. It reminded me of my friend Nito's dad, who always used to say "real BMWs have round taillights" when we were in high school. See, Nito is an old school friend of mine who lived in the same neighborhood as I did back in San Jose. We both kind of grew up around his dad's collection of BMW 2002s, and often chilled with his dad when he was tuning the Weber carbs or installing some sort of new parts on the car.
Nito's dad (Greg) is awesome… he was the first hardcore BMW I ever met. He must have had like 4 2002s jammed into the driveway back in those days. In fact, I remember being impressed that Nito's dad's orange 2002 (orange 1972 BMW 2002 dropped on gold BBS wheels) was even lower than Nito's own car. (Come on Nito, you need to step your game up.)
Anyway, the paint color, detailed chrome trim, and interior of that beige 1600 is just gorgeous!
As you can see here, some girls are never too young to holler at a guy driving a BMW. "Come on, brro. You know you want buy BM dabble you."
On the morning of Bimmerfest, it took approximately an hour and a half to drive 1 mile from the freeway exit to the Rose Bowl. I know! It's crazy! However, when I arrived to the parking lot, there were already a TON of cars parked, and even more people walking around, taking pictures and staring at all the cars.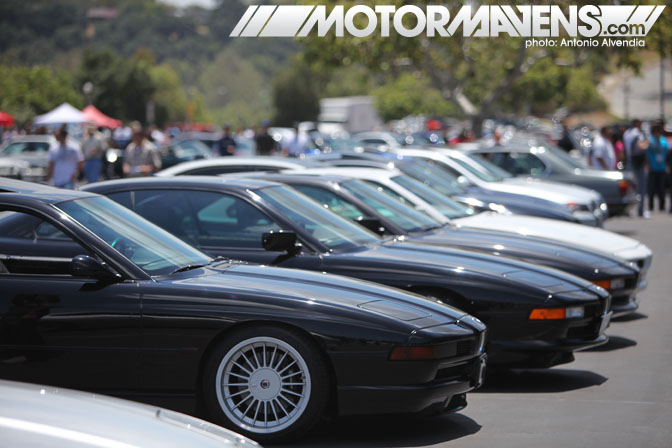 As I walked through the rows of cars, I realized that I haven't seen a BMW 850i on the street in quite some time. These cars are getting to be pretty rare on the road, as most 850i owners are keeping their cars as collector's items! I actually rode in an 850i when I visited Frankfurt, Germany two years ago. Even then, the owner of the car was telling me how rare it was in Germany, so having this many 850s at Bimmerfest was really impressive.
Hey, remember when Wu-Tang Clan rhymed about the BMW 850i in their classic hip hop song, "Can It Be All So Simple?" It's hard to believe, but that song came out SEVENTEEN YEARS ago. Damnnnn.
Bimmerfest not only attracted tons of cars from all over the country, but it also attracted quite a few vendor booths! All I know is that BMW owners were going crazy drooling over the wheels at the WSTO booth. Here, we see Julius from WSTO giving a customer advice on suspension and tire sizing, so he can properly fit wider, larger diameter wheels on his BMW.
I can't believe that WSTO is so dedicated to the BMW community that they would fly out all the way from Chicago, bringing all sorts of wheel racks and wheels with them!!! I think that companies like this really deserve support from the community – these guys were giving free advice on wheel and tire sizing all day.
To be honest, they had several sets of wheels on display that I wanted for my own BMW. I was surprised when they had me pick up one of the 19 inch Alloy Technic wheels they had on the display rack… it was ridiculously light!!! It was almost as if it was made of carbon fiber or something!
Elsewhere in the show area, I met these cool people from Murrieta/Temecula area, who were gathered around this Sweet and Low E38 7 series. They had a bunch of gashed up engine and transmission oilpans in front of the car, showing off that this car is a driver, and it really gets down!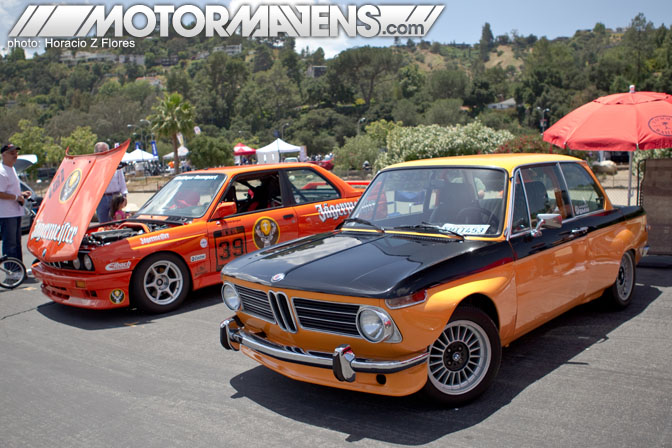 Check out this cleanly painted BMW 2002 with flares and the Jagermeister E30 M3 next to it. I think we have more photos of the E30, so if anyone's interested in seeing the car in more detail, let us know and we'll arrange something.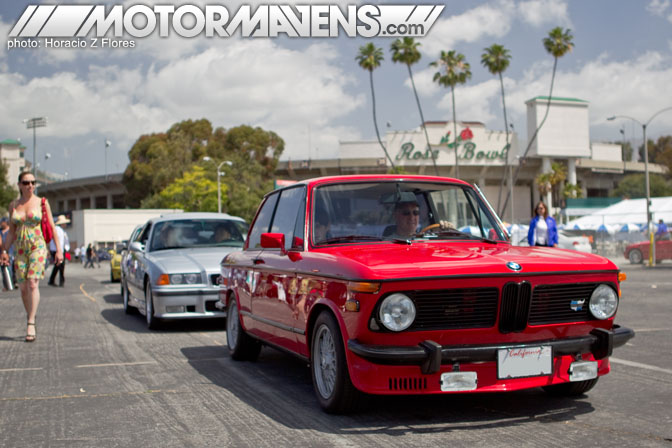 On the other side of the Rose Bowl, photographer Horacio Flores was immediately drawn to the large round headlights on this BMW 2002. See the BMWCCA (BMW Car Club of America) emblem on the grill?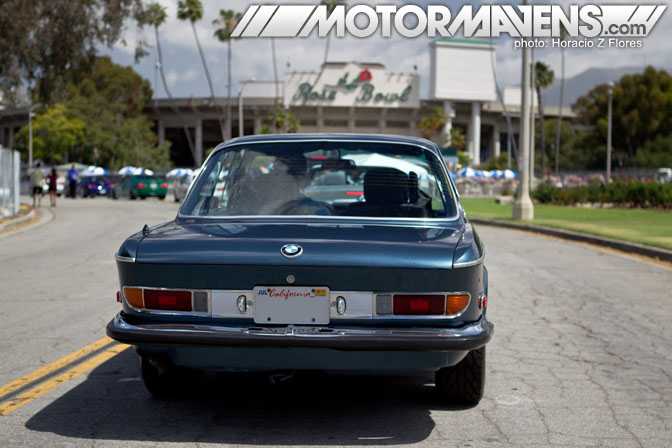 Making its way into the Rose Bowl parking lot was this super clean BMW 3.0 CS. Nice color!
Here's another 2002 spotting; this time it's from Groma Fabrication. I think the clean 2002s stood out and really looked awesome with all the newer BMWs in the foreground. It looks like this two-dub sees some track time, with the racing seats, rollcage and camera mount inside the car. Looks like fun!
Another BMW that will be getting quite a lot of track time this year is Formula D driver Mike Essa's E92 BMW 3 series, powered by a powerful S85 V10 engine from an E60 BMW M5. Mike had his car out at the Nitto Tires booth, and turned it on a few times, making anyone standing nearby deaf for at least 3 minutes.
Speaking of the BMW 3 series, there were actually quite a few E30 325is out at the event. This particular group of E30s had a group of people chillin around them, partying it up tailgate style.
Speaking of parties, I definitely want to party with Melissa here, who was looking hot in her combination see-thru and carbon fiber dominatrix outfit here. I was so busy looking at Melissa that I forgot to take pics of the white E92 Bimmer behind her. Oh well, my bad.
I wonder if any of our readers would be interested in seeing more photos of Melissa? If so, we might be able to arrange that. We'll see.
At the Work Wheels/Wek'sos booth, I spotted the same ridiculously clean E34 5 series that I saw up at the Wekfest Show in San Francisco's Japantown on my birthday this year.
Here's another pic of the car, just because the cleanliness impressed me so damn much. I think we need to publish a full featurette on this car, don't you think?
5 series BMWs were definitely in abundance at this year's Bimmerfest! This particular E39 5 series is owned by Jo Cajita from EuroDyne. It's sporting a lot of aftermarket modifications, like M5 bumpers, bumper splitters, M5 mirrors, black kidney grills, and Hella headlights from BMW parts retailers Eurodyne and DDM Tuning.
This photo just gives you a hint as to how many BMWs were packed in the Rose Bowl's lot! There were many bone stock ones mixed in with the modified ones, but usually the stance and wheels made the gems stand out, like this E90 3 series sitting on BBS LM wheels!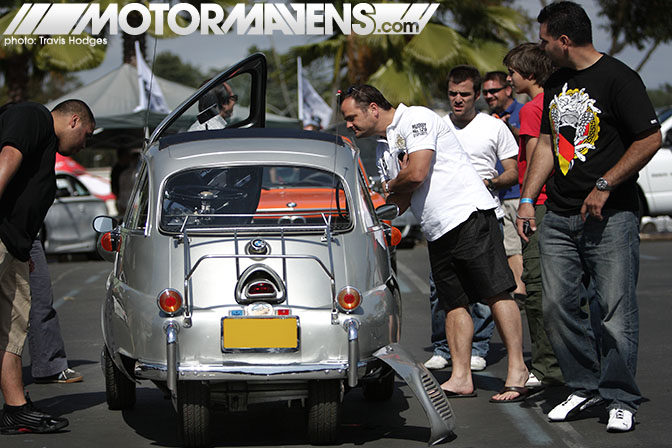 I think I'll close this FIRST INSTALLMENT of Bimmerfest photos with a photo of the BMW Isetta that everyone was admiring in the parking lot! I've seen Isettas in museums before, but to be honest, this was the very first time I've ever seen an Isetta out in the wild, being driven to and from an event before! Pretty exciting!
Stay tuned to MotorMavens for our next update from Bimmerfest, coming SOON!
:: Antonio Alvendia
---