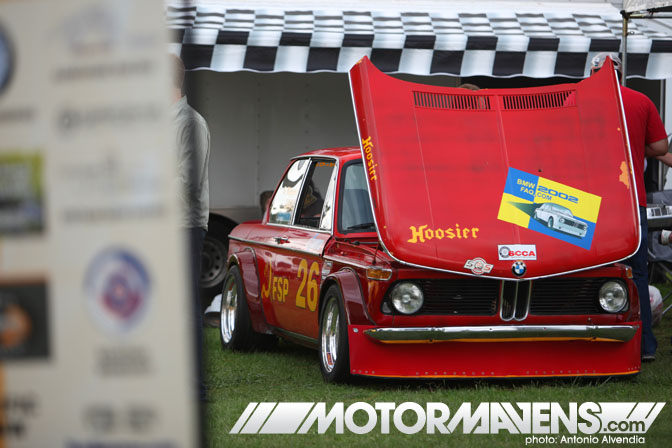 For several weeks preceding our first Mass Appeal car show at Irwindale Speedway, the entire MotorMavens Crew made it a point to be out at an automotive event every single day, promoting nonstop and scouting cars for the show. With the help of friends, we discovered a lot of events and meets that we wouldn't have heard of normally. One such event was the So Cal Vintage BMW Festival in Van Nuys, CA – we were tipped off about this event from a friend of the MotorMavens named Jim Comeau from NBC Television! (Thanks Jim!)
Just like the Mooneyes Christmas Party, this was going to be another event where we would feel like fish out of water. Even though we appreciate the hell out of vintage BMWs, we honestly don't know a whole lot about them because most of us grew up around Japanese cars. Minor details like that wouldn't stop us from admiring the gorgeous cars in attendance though!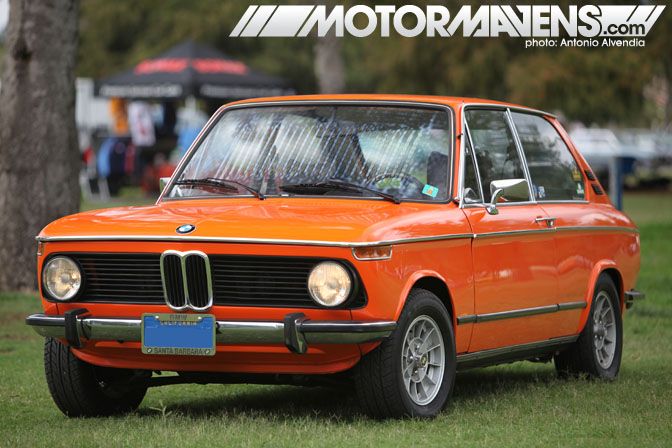 We were mind blown by this immaculate inka orange 1974 BMW 1802 Touring, which was imported from Germany. This car is owned by a guy named InkaSteve, who is active on the BMW2002FAQ forum and in vintage car rallies. Also, he often daily drives this rare and amazing car! The first time I saw Steve's 1802 Touring was at Bimmerfest at the Rose Bowl, earlier this year. That was the first time I had ever seen one of these in person; in fact, it was the first time I learned that such a car existed! I didn't even see one of these when I visited the BMW Welt Museum in Munich! Now you know it's rare!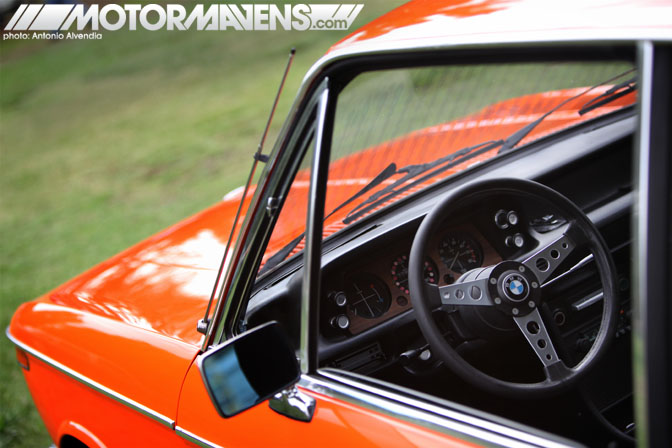 Check out the detail on the 1802 Touring's steering wheel – it's actually a Petri Sport steering wheel. Notice the unusual bolt PCD on the steering wheel hub? The spokes of the wheel are arranged like a Nardi Classic 360, with holes drilled into them like a Momo Prototipo 350. This is a rare wheel too! I love how it looks! Maybe I need to find one for my steering wheel collection, hmmm?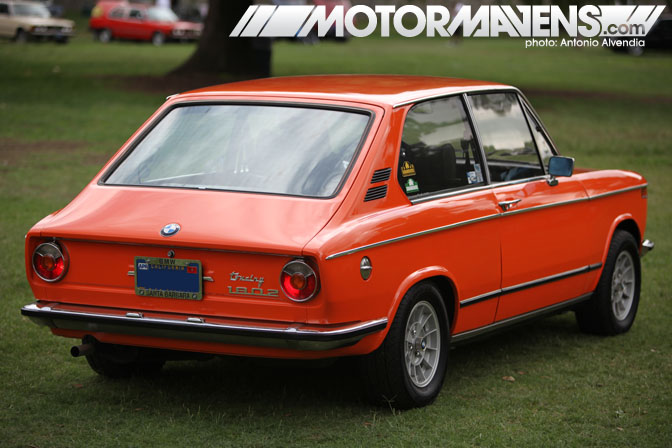 Owners of pre-1974 BMW 2002s always say that "Real BMWs have round taillights." Well, I suppose this 1802 Touring falls into the real BMW category then. I love everything about this car; from the paint color to the immaculate body, glass, and taillights… to the 13 inch Ronal wheels it sits on. So gorgeous!
I think these Ronal wheels are pretty cool, because they look like the classic Italian Campagnolo design that has given inspiration to rare, sought after Japanese wheels made by TRD/Tosco and Mugen racing.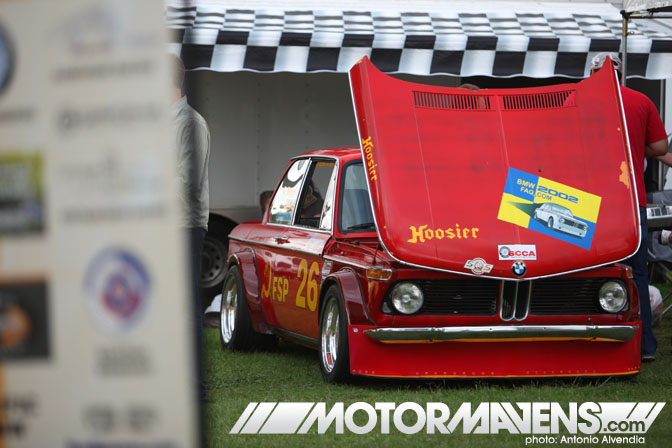 One BMW that always seems to stand out at events is the KGB Racing BMW 2002, owned by San Francisco Region SCCA Solo2 (autocross) driver Steve Kupper. I originally met Steve at the Bimmerfest at the Rose Bowl also, and was happy to see him again at this So Cal Vintage BMW event in Van Nuys!
It was at this event that I had a chance to talk with him and tell him about the Mass Appeal show at Irwindale… I'm happy to say that Steve came all the way down from the Bay Area just to attend Mass Appeal, and we were honored to have his 2002 at the show! (By the way, I need your address, Steve! You never picked up your car's award from the Mass Appeal show!)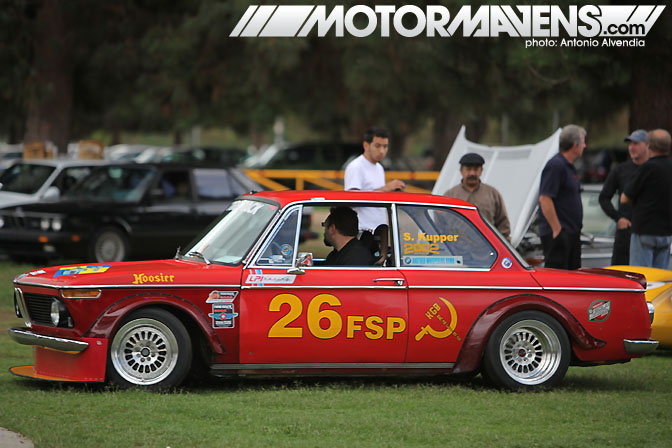 Here's a photo of Steve, as he maneuvers his KGB Racing 2002 through the crowd at Woodley Park. I love all the personality that this car has! From the wheels to the bolt-on flares to the rear wing and front air dam, I just don't think I've ever seen a 2002 this bad ass at an autocross event ever. Oh… it also has round taillights! KGB Racing takes the win!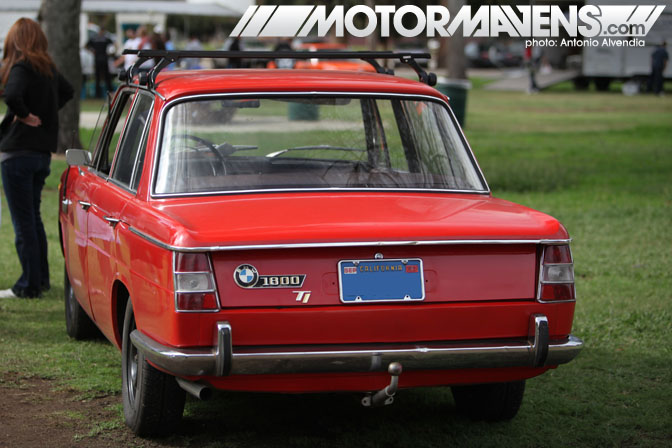 Wait… what the..?! I have never seen one of these cars in my entire life! I didn't even know such a thing existed! Look at this four door BMW 1800 Ti sedan. It looks similar to a Volvo, with its high-fendered body lines (if you own this car, don't hate me for saying that!), but it most definitely is a BMW. I didn't see any of these at the BMW Welt in Munich either. Man! Those BMW Museums need to up their old school car game!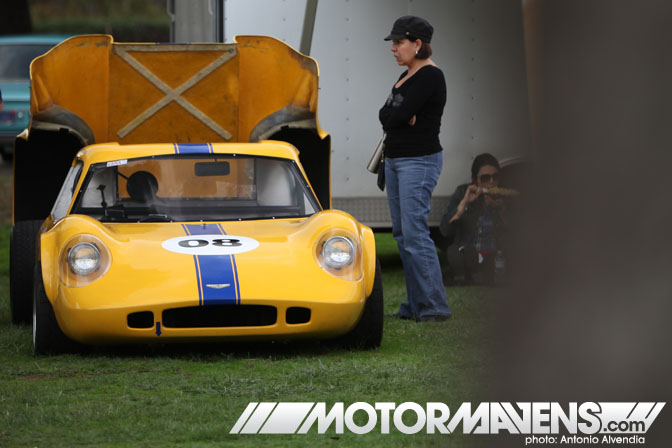 Wait… This looks more like an old Lotus than a BMW! The car we're looking at here is actually a vintage race car called a Chevron. I asked someone why it would be at a vintage BMW gathering, and I was told that it was powered by a BMW engine. Very interesting…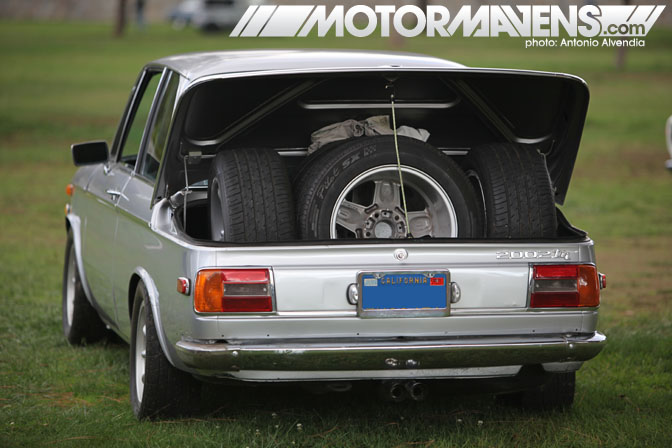 I thought this BMW 2002 Tii looked pretty cool in the grass area of the event, with some non-2002 wheels loaded in the trunk! I forget what kind of wheels they were, but if I remember correctly, I think they were AC Schnitzer wheels – which definitely fall into the category of my favorite wheels for a BMW!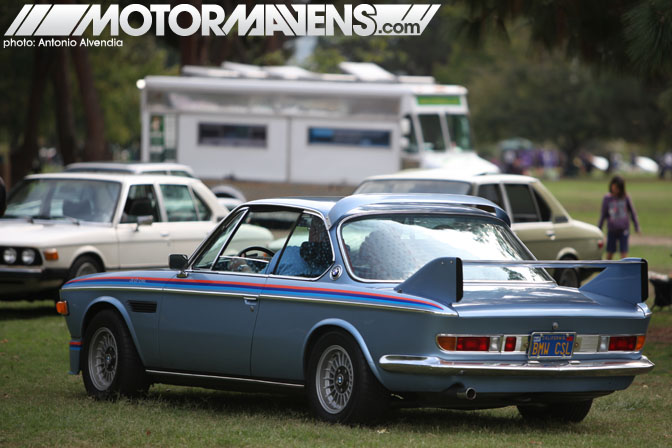 Another rare and vintagefind was this BMW CSL. It's not often that you find one in such clean condition, much less one that's rocking period correct Alpina race wheels and BMW Motorsport stripes! I have never seen a BMW CSL with a big wing and rear roof spoiler like that – anyone know the story on those?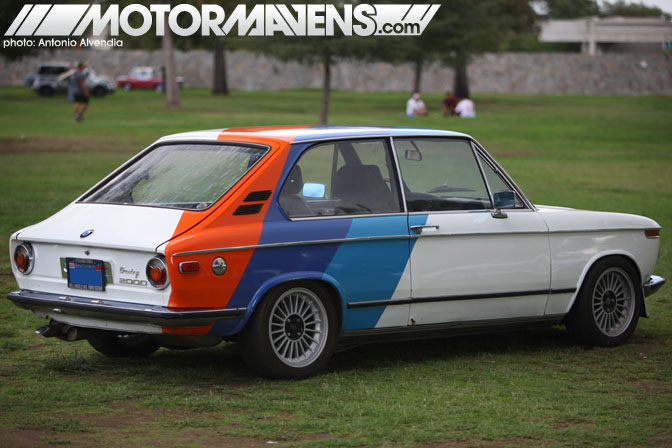 Here's another rare vintage Touring fastback, but this time it's a BMW 2000 Touring, with BMW Motorsport stripes going all across the rear quarter panel. I'm not quite sure what year it is, but it appears to be lowered on a set of Alpina wheels. I just love seeing these old school Tourings!
Does anyone remember Steven Q Urkel's car on the TV show Family Matters? That car is the extremely rare BMW Isetta 3-wheeler, as shown in this photo. It's so cool to see Isettas "out in the wild." I'm just impressed as hell by this museum quality Isetta – and so was everyone else. Look at that gorgeous body, 2 tone paint, and the detailed chrome moldings!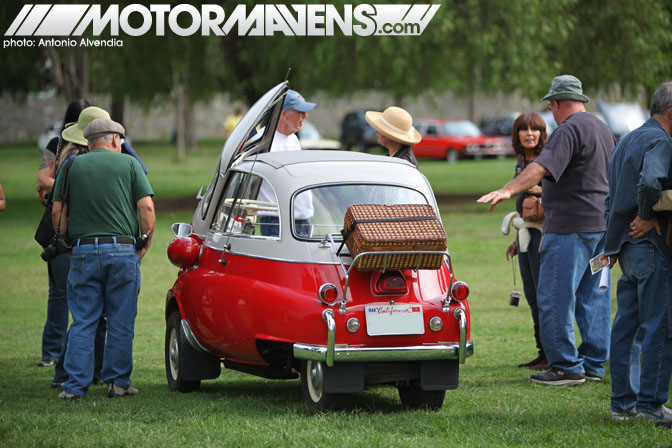 Here's the rear of the Isetta. Not much room for junk in the trunk, so the owner strapped this wicker basket to the back of the car. Very cool!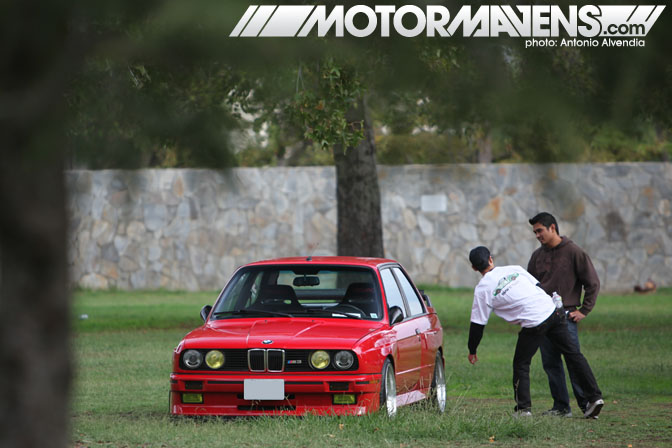 I know that MotorMavens shooter Horacio Flores feels pain whenever he sees a clean E30 M3. He loved his E30 M3 to death… until he crashed it. =/ (Sorry to bring that up Horacio!) The owner of this red M3 parked it kind of far from the other cars, but that didn't stop people from walking all the way over to the parking spot just to check out the car's wheels and other details.
Okay, that's it for now! I have more photos from this event, but you'll have to wait until tomorrow! Keep your browsers locked onto MotorMavens!
:: Antonio Alvendia
1800
,
1800 Ti
,
1802
,
2000
,
2002
,
BMW
,
BMW 2002
,
E30
,
Hartge
,
homepage
,
inka orange
,
inkasteve
,
Isetta
,
KGB Racing
,
M1
,
M3
,
Petri Sport
,
Ronal
,
San Francisco Region
,
SCCA
,
Solo2
,
Steve Kupper
,
Touring
,
Van Nuys
,
Vintage
,
Woodley Park
---