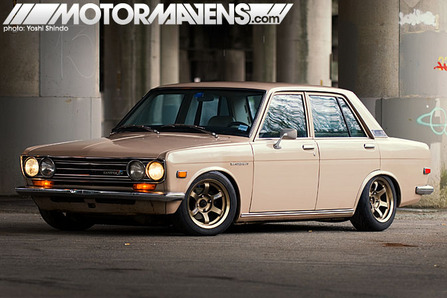 I have a certain soft spot for
Datsun 510s
, and not because of my affinity for Japanese cars. It stems more from what this car stood for at one point in time; an outcast in a foreign land. The 510 is truly one of the first import tuner cars sold in the US, long before the existence of cars such as the
AE86
and
RX-7
. Released when cars from
Japan
were thought of as inferior tin cans, it certainly was not expected to become such a classic - being reborn decade after decade.
Before the advent of the Internet, before forums and blogs, these cars were being raced and modded. Now, with technology literally at your fingertips, it's made these cult cars more accessible to a new, younger audience. Parts are available if you need them, despite possibly being scarce in your area. Information is readily available for any trouble shooting or restoration you may choose to embark upon.
As the years go by, the 510 has endured a lot in the changing automotive climate. As with most classics, even with the help of the Internet, these beloved little cars share the same pitfalls as others; NOS parts being near worth their weight in gold, beat up used parts hoarded, and the barnyard finds that the owner may "someday" restore. These cars seem to present a picture in extremes; either restored to immaculate condition, or beat up and oddly modded. After 40 years of being a fan favorite among motor-heads it's harder and harder to find a clean, unmolested dime. Luckily, that's exactly what happened to
Steve Keely
when he found this natural beauty - a four door bamboo colored
1972 Datsun 510.
Read more...
---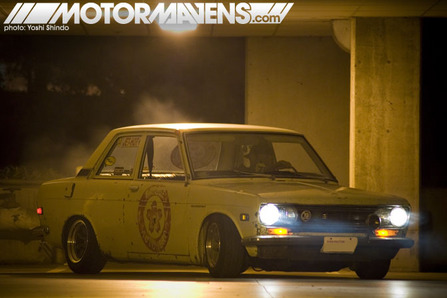 Whenever I hear the words
Datsun 510
, I picture either a fully restored and super clean car or a moss-covered, stock car that has been hiding under bushes for the past 10 or more years. Either way, in my opinion, this is one of the most amazing cars built to date. These days, everything possible has been done to modify them including SR20DET, KA24DE, and VG30 swaps. But, no matter what kind of fancy wheels or paint jobs they may have, they are always a dime in my eyes. Apparently the guys at
Garage Autohero
feel the same way.
The story begins with
Ray Stonehocker
and his desire to build a daily driven showcase car for his shop -
Garage Autohero
. He wanted something completely different from everyone else so he stayed away from the obvious Nissan Skylines or Toyota Supras that are crazy fast with the very expensive paint jobs. Ray wanted to take a step in the opposite direction. He chose to go with the Datsun 510. He had a chance to buy an old 510 from a friend not too long ago - but not in pristine condition. The 510 had some rust issues, fading paint, and the years had just taken a major toll on the poor car. That didn't stop Ray though. In fact, it was exactly what he wanted.
Read more...
---