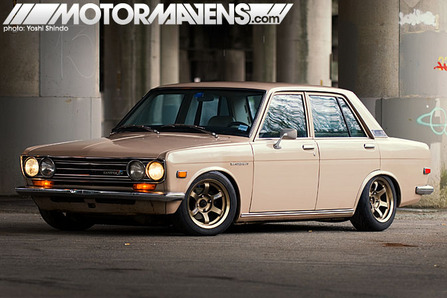 I have a certain soft spot for Datsun 510s, and not because of my affinity for Japanese cars. It stems more from what this car stood for at one point in time; an outcast in a foreign land. The 510 is truly one of the first import tuner cars sold in the US, long before the existence of cars such as the AE86 and RX-7. Released when cars from Japan were thought of as inferior tin cans, it certainly was not expected to become such a classic – being reborn decade after decade.
Before the advent of the Internet, before forums and blogs, these cars were being raced and modded. Now, with technology literally at your fingertips, it's made these cult cars more accessible to a new, younger audience. Parts are available if you need them, despite possibly being scarce in your area.  Information is readily available for any trouble shooting or restoration you may choose to embark upon.
As the years go by, the 510 has endured a lot in the changing automotive climate. As with most classics, even with the help of the Internet, these beloved little cars share the same pitfalls as others; NOS parts being near worth their weight in gold, beat up used parts hoarded, and the barnyard finds that the owner may "someday" restore. These cars seem to present a picture in extremes; either restored to immaculate condition, or beat up and oddly modded. After 40 years of being a fan favorite among motor-heads it's harder and harder to find a clean, unmolested dime. Luckily, that's exactly what happened to Steve Keeley when he found this natural beauty – a four door bamboo colored 1972 Datsun 510.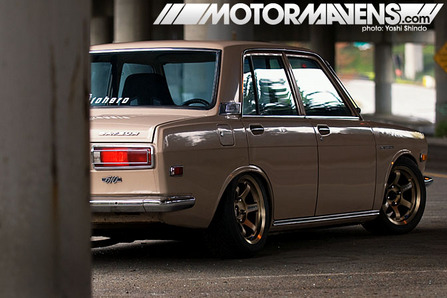 Steve, like many of us, grew up around cars, although his parents went about it a bit differently. They had a huge hobby buying and selling cars in hope of making a profit; something like 75 cars in 25 years. Aside from flipping cars, his parents were also into German cars. "My dad had gone through his share of Porsches, built a 1986 Porsche 911 cab, so I was very used to car culture growing up. My mom even had a Boxster when I was a bit older, but sold it cause it was too slow. Ha!" Being exposed to many different cars allowed him to really whittle down the types of things he liked and disliked about cars. The German thing not scratching the itch, he eventually came to the Nissan world where he had owned a few Nissan 240SX S13 coupes and one 200SX S12.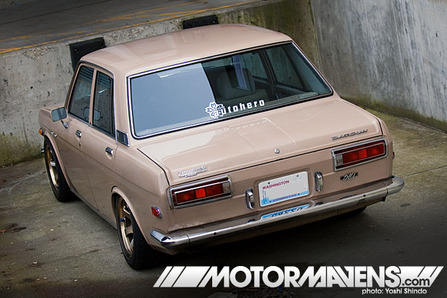 Before he found this car, he was daily driving the 200SX while building an S13 for drifting on a limited budget; all the while he had big plans to enter the drifting world. Then, while test driving a friend's 510, he fell in love. It was as if he was a kid again at the go-kart track he spent much of his time at growing up. He would beg the attendant to let him drive even though he wasn't tall enough to even reach the pedals. So, as you might imagine, the damage was done and there was no turning back. Instead of wasting money on a drift car he re-prioritized and bought a 510; selling off the S13 and all the accompanying parts. Driving the back roads of the Seattle Eastside along with friends is much more rewarding for Steve than drifting. I have to say it's almost up there for me as well.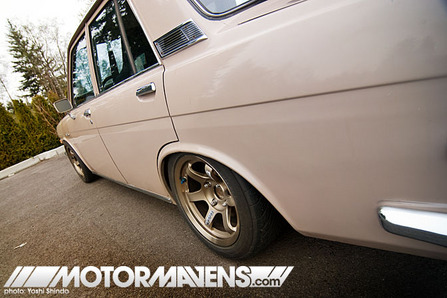 Steve had a few 510's before this mint specimen, but as I stated before, it's hard to find a good base to start from. So when this one came up for sale, there was a mad dash to pick it up. It was about three years ago now when Steve was sent a text message, from local 510 guru Ray Stonehocker, at 1 AM containing the Craigslist link for this '72 510 – in Iowa of all places! The next morning he called the owner, who was a gentleman easily in his 80s, and claimed his prize.
With a well thought-out plan in place, Steve booked a flight to Colorado, visited his parents for a few days, and then it was on to Iowa. Once there, new Formula Drift driver Roland Gallagher flew out to be his Co-Pilot on the way back to Washington. After picking up the car and getting on their way they, "dropped 100$ at Schucks for an 'oh shit' tool box, water, oil, belt, fuel pump, wrenches, etc. Didn't touch any of it the whole way home." A great testament for a well cared-for 36 year old stock car.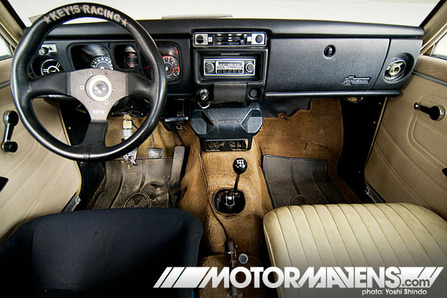 Since then, Steve has had a chance to build up this car the way he sees fit, without having to deconstruct any previous visions of the car. It currently has a Hi-Comp L16 with dual SU carburetors, shaved A87 head, big cam, port matched manifold, Exedy clutch, and straight pipe exhaust. Inside is a Keys Racing steering wheel with quick release, and a Sparco Sprint bucket seat to keep him in place. Other than that the interior is completely stock right down to the radio!!
The transmission is a Nissan 200SX 5-speed dog leg tranny. For those of you that don't know that is, it has a much different layout than a regular five speed. The reverse gear is where "first" would be in a common transmission and "first" is where "second" would be. To be honest, I've found cars with "dog" boxes to be harder to drive than RHD cars! I can never seem to remember where everything is.
The first things you notice on this 510 are, of course, the stance and the wheels. It's sitting on KYB shocks all around, 280ZX struts (modified) with matching brakes in the front, Suspension Technique Springs (cut) in the rear, Datsun Comp RCAs, and bronze 14×7 -0 Volk TE37 Gravels with 185/55/14 Federal 595s. One more notable mod is the mechanical cruise control that the previous owner constructed. It actually holds the throttle cable in place! Still works great and was a big help for the drive from Iowa to Washington.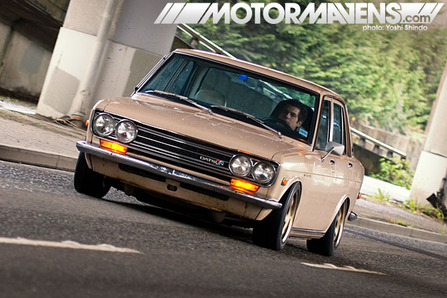 Because none of us are ever really done with a car, Steve of course has plans for the future. At first the goal was to shoehorn the SR20DET he had left over from his S13 into the 510. Realizing he had a soft spot in his heart for keeping the old school vibe going, that idea was scrapped. Now an LZ22 is in the works after hearing the intoxicating sound of carburetors from a friend's 4AG in an AE86.
Steve drives his car everyday and at any time. From going to work or just driving for no reason to relax. In his own words, "That's what I built it for. Big go-kart to play with friends on back roads. If the roads are dry, and I can afford the gas, I'm running roads til the sun comes up. It's peaceful and lets me finally ditch some stress…even though I sometimes feel sorry for all the houses & people sleeping while I buzz by at such late hours; backfiring with every shift in & out of red-line." Haha, I feel ya Steve. They may not be so appreciative of that – but we are.
::Lucas Perez
Photos by Yoshi Shindo
200SX
,
240SX
,
280zx
,
AE86
,
Avon Bellamy
,
Datsun 510
,
L16
,
Lucas Perez
,
LZ22
,
Nissan
,
S13
,
Seattle
,
Sparco
,
SR20DET
,
Steve Keeley
,
TE37
,
Volk
,
Yoshi Shindo
---