If for no other reason than getting a last minute "before they were famous" view of certain icons in West Coast gangsta rap, you should check out this video. In this second installment of interviews we did with the judges of the new SPEED Channel program Car Warriors, we meet the very down-to-earth Mad Mike, who most people might recognize from the television show Pimp My Ride.
If you were alive in the last six years and had any exposure to MTV, you probably think you know Mad Mike, but this interview introduces you to someone you've probably never met before – Mike Martin, a shade-tree, car stereo installer from Compton (in his own words). Whatever your preconceptions about Mike might be – leave them at the door. Nothing you see on TV is real… not even "Reality TV." (more…)
---
The Formula Drift Finale at Toyota Speedway in Irwindale, California was mind-blowing. I've never seen such aggressive driving, nail-biting tandem battles, or brutal wrecks in one weekend.
This being my first time to Formula D at Irwindale, I had no idea what to expect. I arrived Wednesday night with enough time to head to Long Beach for a few hours with Ross Fairfield and Casey Liston of OMGDRIFT and my good friend, Joe Ayala, to hang out with the likes of Dean Kearney, Eric O'Sullivan, and the rest of the Irish fellows at The Auld Dubliner. It was at this moment that I realized how quickly the 2010 Formula Drift season had flown by. It felt so familiar to be sippin' on a Guinness surrounded by live music and friends in that Irish pub, though I hadn't been there since Round 1 in April!
Thursday, Joe and I headed to the track to catch some practice driving, as well as to meet up with more friends. I'm so happy to have made so many new acquaintances in the industry this year. People can hate all they want on professional drifting in all it's seriousness, but the amount of genuinely good people who congregate at these events is astonishing.
Thursday through Saturday proved to be a grueling test of physical strength as I walked the course day after day, under the hot sun of Southern California, my ears nearly bleeding from the up close action Toyota Speedway has to offer, and covered (more so than ever before) in tiny chunks of spent tire. I was even hit in the eye by a flying piece of tire that was hot enough to burn both my top and bottom eyelids somehow. Haha! That'll teach me to film burnouts!
Overall, I couldn't have asked for a better conclusion to an incredible season of professional drifting, although I'm sad to see it end. All I know is that next year will be bigger and better and I can't wait! Also, I'd like to take this opportunity to thank the entire MotorMavens Crew for all of your support and the means to accomplish so many of my goals. I couldn't have done it without your help. Thank you.

Click here for more MotorMavens coverage of Formula D
Shreeve Films
---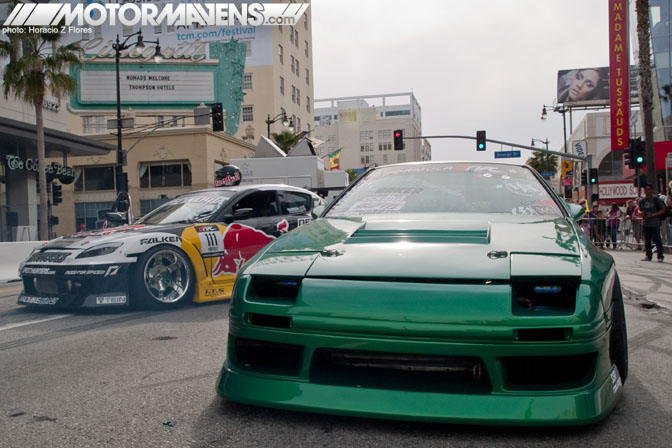 With Round 1 of the Formula Drift Championship finished this past weekend, and the Formula D Team Drift competition at Long Beach this upcoming weekend, some of the Formula D stars put on a very special show earlier today (Thursday night) in Hollywood. Apparently, this was part of a promotion for the IZOD Indycar Series and the Long Beach Grand Prix coming up this weekend, but whatever... we don't give a two sh!ts about Indycars - bring on more drifting!
There were actually several rotary powered vehicles in attendance for the drift demo, but by far, the best looking car (in our opinion) was certainly
Justin Pawlak's mean green FC3S RX7
.
Read more...
---