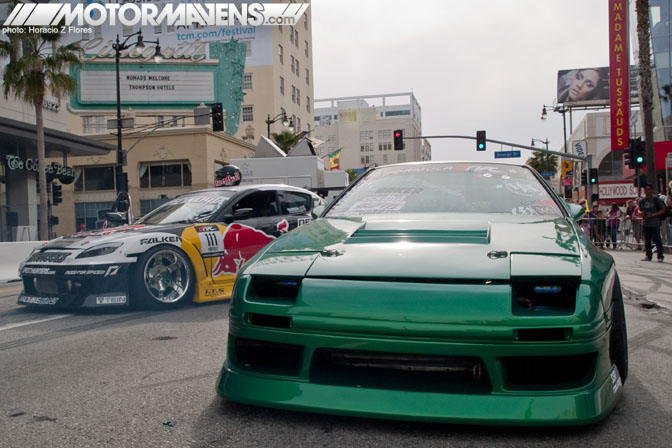 With Round 1 of the Formula Drift Championship finished this past weekend, and the Formula D Team Drift competition at Long Beach this upcoming weekend, some of the Formula D stars put on a very special show earlier today (Thursday night) in Hollywood. Apparently, this was part of a promotion for the IZOD Indycar Series and the Long Beach Grand Prix coming up this weekend, but whatever… we don't give a two sh!ts about Indycars – bring on more drifting!
There were actually several rotary powered vehicles in attendance for the drift demo, but by far, the best looking car (in our opinion) was certainly Justin Pawlak's mean green FC3S RX7.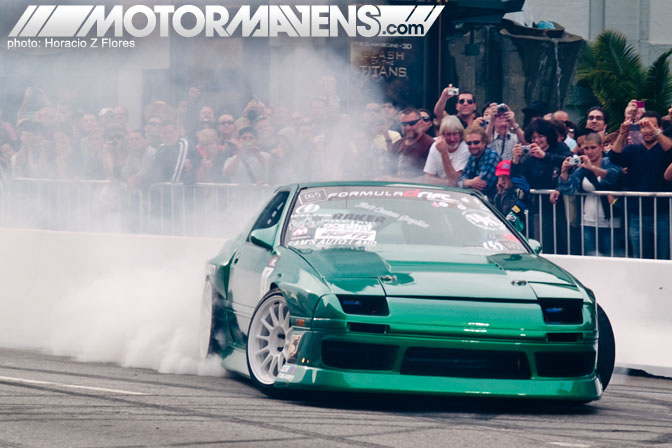 RotorMaven Edward Uche came to the event with me, and he kept saying how happy he was to see JTP's FC3S drifting down Hollywood Blvd. The random tourists lined up on the side of the street loved it, too! Obviously! JTP's FC is sick!
Here's a snapshot of Justin Pawlak, pointing out the MotorMavens sticker he's rocking on his car. That's dope, thanks for the support Justin!
Some blogs have to pay big money to get their sticker on drift cars. We don't have to pay a cent (good thing, cause we don't have a cent). In fact, I heard Justin bought that sticker from our online store. Now THAT is showing some support! We really appreciate it, JTP!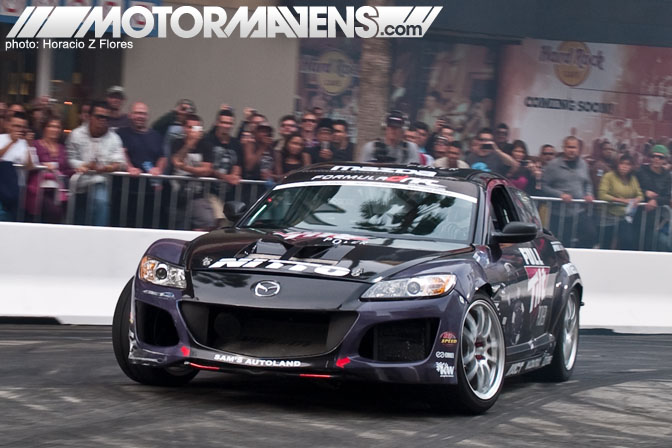 Here's another rotary powered vehicle… the Mazda RX8 being driven by super nice Joon Maeng!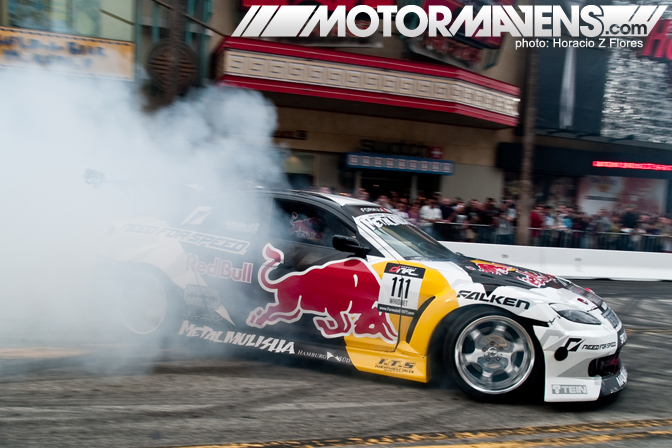 Yet another Mazda RX8! We particularly liked the wheels and drop on Mike Whiddett's RX8! This thing sounds insane. It was definitely making all the Spiderman and Elvis impersonators on the Hollywood Walk of Fame go deaf.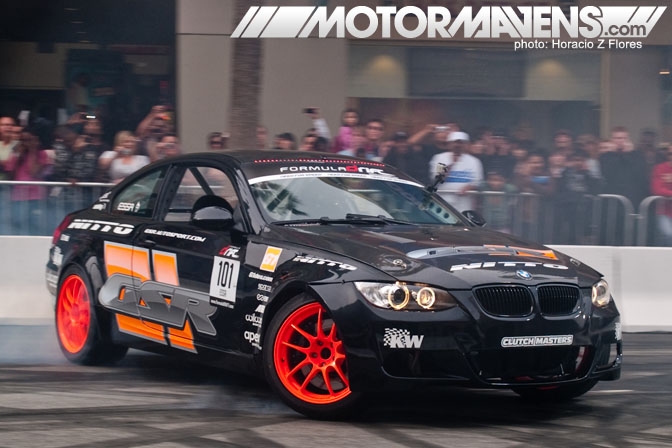 Well, I guess not all the cars were low. This is Mike Essa's BMW 350R, powered by an M5 engine. Sounds pretty crazy!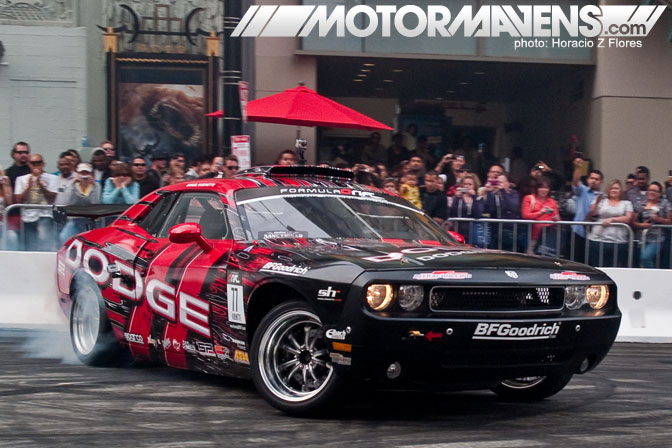 Samuel Hubinette was in attendance too, showing off his outstanding driving skills, piloting a car with looks that not even a mother could love. I'm not dissing Challengers necessarily… I've seen some cool Challengers before. I'm not even dissing Samuel, because I've seen his personal cars before, and they looked cool. I just think the builder of this car forgot about one of the general goals of building a drift car… make it look good!
That's it for me. See you guys at Long Beach this weekend!
:: Horacio Z Flores
---