All over the USA, this has been a pretty exciting weekend for grassroots drifting enthusiasts. On the East Coast, many of our good friends made the trek to
Virginia International Raceway
for the
North vs South drifting competition
. However, in Southern California, the hottest thing happening is definitely the
Just Drift/Zip Tied All Star Bash
drifting festival at
Willow Springs International Raceway
. I've been to many All Star Bash events in the past, but it just doesn't seem to get old for me. In fact, the more events I go to, it keeps getting better and better. In the United States, the All Star Bash is the closest you can get to the actual look and feeling of an authentic Japanese grassroots drifting event, like the legendary
Drifting Matsuri
events at
Ebisu Circuit
or the regional
MSC events
.
Willow Springs is in the high desert - the Mojave Desert to be exact. It's two hours north east of Los Angeles, and the summertime sun just seems to sear anyone or anything it sees. As I write this, the event is far from over! In fact, we're about to leave the hotel in a few minutes to get back to the track, where the course just went hot - literally and figuratively.
This weekend's All Star Bash was exciting because there were drivers and cars that came from all over the United States just to drift with California's best. Cars came from as far as the San Francisco Bay Area, the Pacific Northwest, Arizona, Las Vegas, Chicago, and even South Dakota!
Read more...
---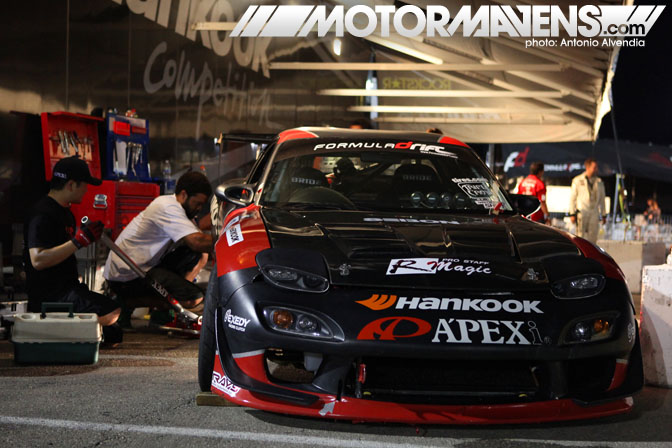 It has been ten days since the Formula D tour rolled the dice through Sin City, and what an event it was. We've already shown you numerous photos and videos from the Vegas event, so we thought we'd wrap up our photographic coverage of the event today.
In the pit area right before qualifying, the Apex'i crew was busy at work - either their differential or ring and pinion seized up, because the rear wheels on Ryuji Miki's FD3s wouldn't spin at all - they were completely locked up! The Apex'i crew always seems to be working tirelessly, as we always see them working on their cars on the side of the track.
In this photo, we see Jeren Walker from DSPORT Magazine offering to lend a helping hand, so that the Apex'i crew could get the car back on track and Miki could qualify. Jeren works for a magazine - he wasn't hired to help Apex'i; he had nothing to gain from getting down and dirty, helping to get Miki's car back on track. Yet he willingly volunteered to help, because that's what people do from the grassroots drifting scene. Wait... Apex'i..? Grassroots?
Read more...
---