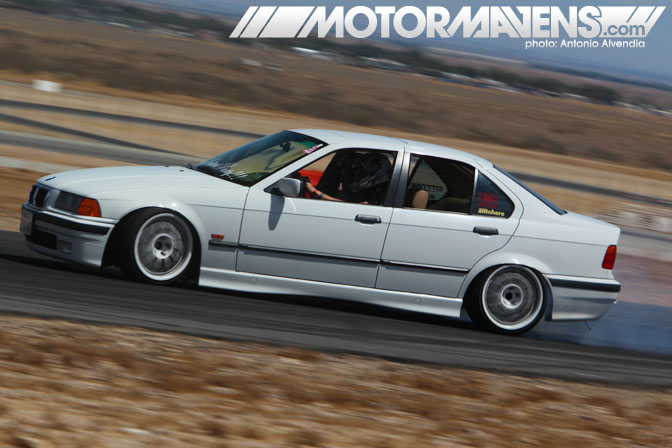 All over the USA, this has been a pretty exciting weekend for grassroots drifting enthusiasts. On the East Coast, many of our good friends made the trek to Virginia International Raceway for the North vs South drifting competition. However, in Southern California, the hottest thing happening is definitely the Just Drift/Zip Tied All Star Bash drifting festival at Willow Springs International Raceway. I've been to many All Star Bash events in the past, but it just doesn't seem to get old to me. In fact, the more events I go to, it keeps getting better and better. In the United States, the All Star Bash is the closest you can get to the actual look and feeling of an authentic Japanese grassroots drifting event, like the legendary Drifting Matsuri events at Ebisu Circuit or the MSC events, which take place in different local regions all over Japan.
Willow Springs is in the high desert – the Mojave Desert to be exact. It's two hours north east of Los Angeles, and the summertime sun just seems to sear anyone or anything it sees. As I write this, the event is far from over! In fact, we're about to leave the hotel in a few minutes to get back to the track, where the course just went hot – literally and figuratively.
This weekend's All Star Bash was even more exciting than normal because there were drivers and cars that came from all over the United States just to drift with California's best. Cars came from as far as the San Francisco Bay Area, Washington State, Arizona, Las Vegas, Michigan, Florida, Chicago, and even South Dakota! All Star Bash is blowing up bigger and bigger!
Up above, this E36 BMW 4-door from Washington State definitely impressed me and the friends I came to the event with, because it was so damn low, with aggressive wheel fitment! Someone at the track told me that this car was only built about 2 or 3 days ago with really simple mods, just because the owner had just newly bought it and wanted to drift it at ASB! Damn, that's dope as hell! The Pacific Northwest has to be one of the most slept on regions of the USA for awesome drift cars. This E36 is just one hint that people better wake the hell up.
Hawaiian native Forrest Wang and his Sin City homies from the Royal Flush Crew drove in a caravan from Las Vegas to smoke it up at All Star Bash. Just about everyone at the track was jocking Forrest's kouki S14 street car, which was ripping the hell out of the Streets course with its full interior, bumpin stereo system and air conditioning. So dope – this is where the grassroots drifting movement in the USA needs to move towards. We're sick of seeing gutted out, ghetto drift shells… it's all about full interior and fully working cars! DOPE as hell. S14 owners better take notes!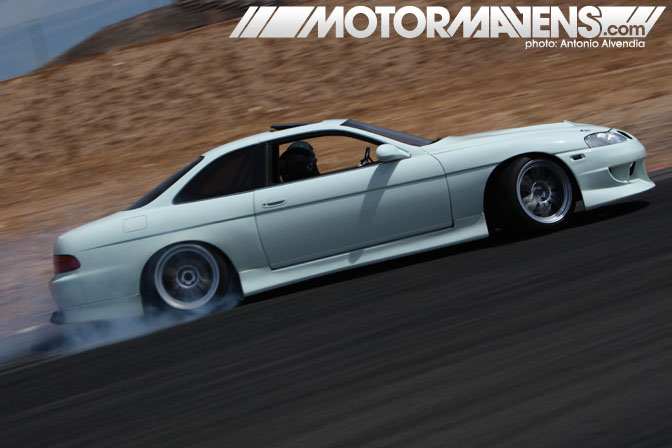 The 2JZGTE engine in this super low JZZ30 Lexus SC300 sounded like it had a lot of torque as it powered over and passed me. We all thought this car looked dope – especially Dax, who was lucky enough to get a ride along with the owner! It was dope seeing an SC rip through Streets. I feel like we don't get to see enough of these drifting!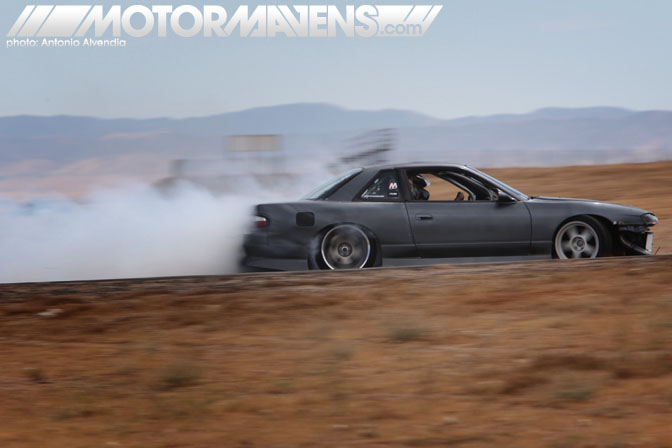 The driver of this S13 Silvia, Darwin, is an AE86er from San Gabriel Valley that bought an S13 for thrashing at drift events! He is committed to improving his driving skills, so he was driving his S13 pretty hard all day – in fact, he was driving so aggressively, he actually lost control right in front of me and his car hurtled towards where I was standing!!! When I saw his car all locked up, coming towards me, it seemed like I saw the whole thing in slow motion… good thing my normally slow-motion-moving self was able to jump out of the way just in time for him to slide past me! Whew!!! Daaamn… I haven't had a close call like that in a really, really long time.
One of the most highly anticipated crews attending this ASB Weekend had to be the Risky Devil street drifting crew from Chicago. If you look at internet blog websites at all, then most likely you have heard of them, as their cars have been promoted to celeb status on websites like Ziptied, Speedhunters and Fatlace. Here we see Chob's sick S14 attacking the fishbowl at the rear of Willow's Streets course. Stay locked in to MotorMavens to see more on the Risky crew, and their sister crew, the Conservative Angels.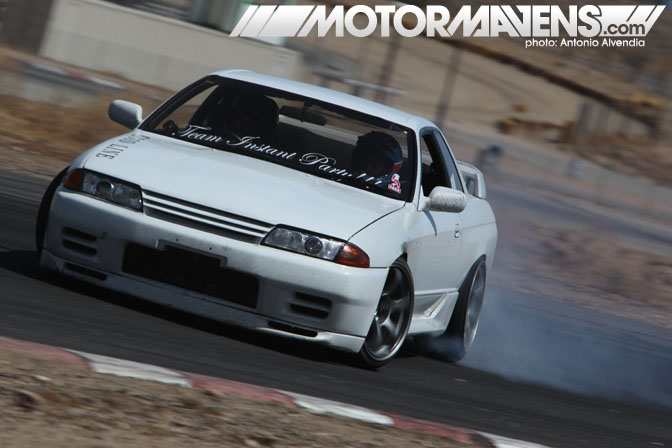 This R32 Skyline from Washington State's "Team Instant Party" looked sick! The driver of this car, John, was throwing his R32 into turns pretty aggressively at the top of the Streets of Willow course! Even when it wasn't producing smoke out on the track, we were all admiring this super low down Skyline cause it looked so dope! Man, those Northwest guys have style. Respect!!!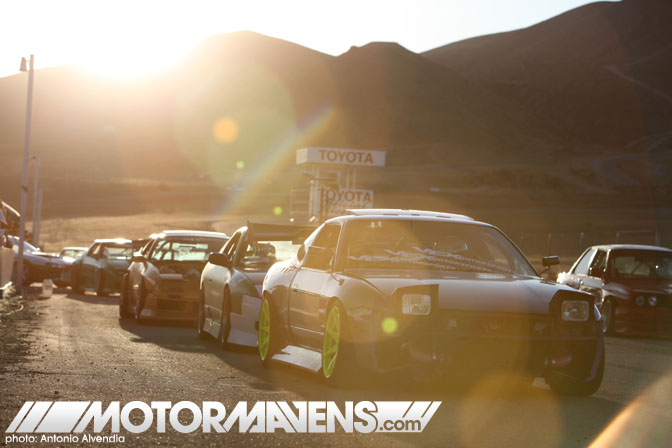 As the sun went down at Streets, the weather finally cooled off and a breeze set in, much to the delight of everyone trackside. I still felt hot though, since my skin was crazy sunburnt from shooting drifting in the intense mid-day sun. It was skin cancer mania out there this weekend… I really better take steps to use sunblock better. It felt like being in an oven, especially when I was hanging out with my former Speedhunters coworker, Mike Garrett, in the middle of the track, attempting to shoot photos as we baked in the afternoon sun. Thanks so much to Jason and Mike from JustDrift for giving us rides to and from the middle of the track!
This purple S13 on the grid looked pretty awesome with its fluorescent yellow wheels. Well, there were so many super dope cars… you just need to check our next MotorMavens update to see them all!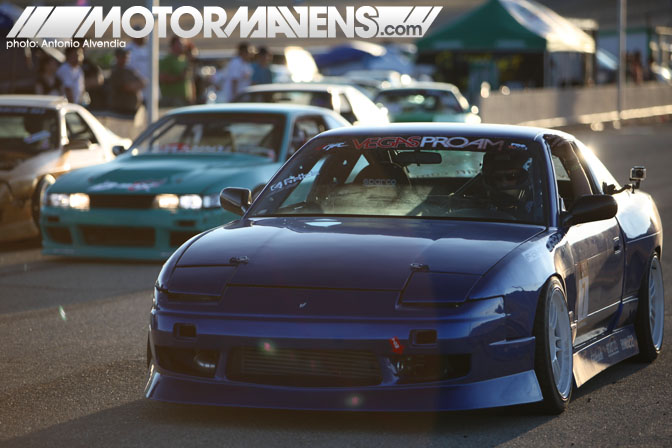 Our homie Jack thought this blue 240SX from Las Vegas looked all too similar to his own "Blue Dolphin" RPS13, which has similar blue paint. In fact, I kept thinking mistaking this car for Jack's car when it was out on the track – it's kind of hard to tell the difference from afar, but this car obviously uses Enkei RPF1 wheels, and Jack's uses white TE37s. Jack's car never made it to the team drift competition yesterday night though, because he blew his SR20DET motor earlier in the day… but this VegasDrift Pro Am competition S13 kept on going, super strong into the late afternoon and night time drifting sessions!
Okay, that's it for our first installment of ASB coverage… we're heading back to the track to chill with all our friends and to shoot more drifting right now! Keep your browsers locked to MOTOR MAVENS for the best event coverage from All Star Bash!
:: Antonio Alvendia
---