I just posted up a Papercuts story about 0-60 Magazine's newest issue, which includes a feature on Nakai san and his Rauh Welt Porsches and on one of my favorite cars of all time – the AE86 Corolla GT-S, but I thought I should just go ahead and post this video as well! This video features clips from 0-60′s photo shoot in Japan, and some handheld video footage so that you can hear the Rauh Welt Porsche 911′s AMAZING exhaust note as it cruises through Japanese city streets and freeways!
Enjoy!
:: Antonio Alvendia
---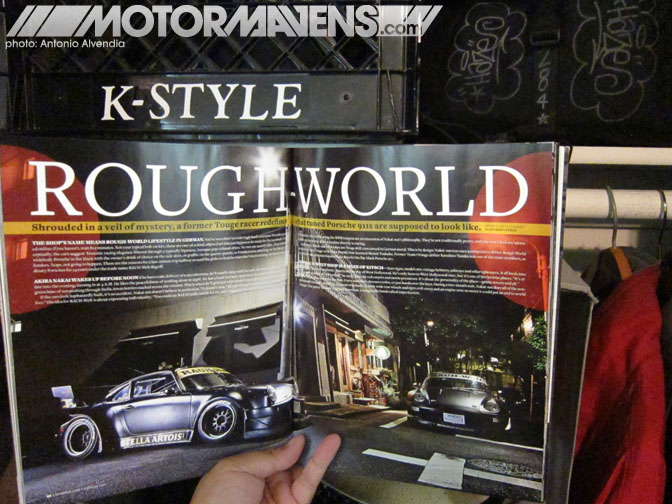 As I was walking through the airport, waiting for my flight back home to Los Angeles on Sunday, I passed one of those airport newsstands, and saw this month's issue of
0-60 Magazine
sitting on the magazine rack. Suddenly, I just realized that I forgot to publish a
Papercuts
story about this month's issue. The current issue of 0-60 is pretty cool, because it pretty much beats the content that a lot of the "major" automotive magazines of their genre have been putting out lately.
It might have been just a kewinkydink, but since we all celebrated Hachiroku Day, August 6th, this past Friday... I thought it would be cool to point out that O-60 Magazine just printed an in depth article about the AE86 this month, in their column,
The Sixty
.
0-60 knows that most die hard AE86 owners are pretty crazy about their cars, so they were looking for a super clean AE86 to shoot for this month's feature. They apparently heard that I had some pretty clean AE86s in my collection, and called me up to ask if they would be able to do a photo shoot with one of my cars. Actually, they were asking if I'd be willing to shoot one of my cars for the magazine... of course! Everything was all going to be good, until we spoke further, and I realized that they were actually looking for
a bone stock AE86 Corolla GT-S
. Ummm... oops. None of my cars are bone stock.
Read more...
---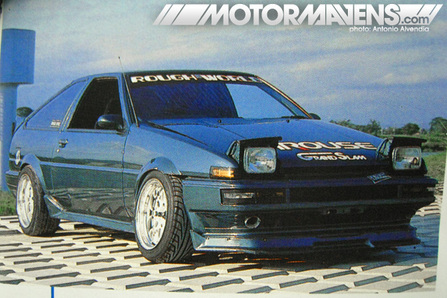 As I was looking through my bookshelf today, I noticed one of my favorite issues of
Hashiriya Battle Magazine
laying out. It was a special AE86 issue from 1997, and even though there were always lots of AE86s in BM in general, they somehow figured out how to stuff more AE86 issues in there! God bless you,
Takahashi
san (BM's henshucho, or chief editor) and Battle Magazine. Battle Magazine has brought joy to my life.
Many of you might roll your eyes after reading that statement... but seriously, if it weren't for BM and my other favorite Japanese mags, the only publications my friends and I would have been able to flip through all these years would be the American "import car" magazines, which always featured bright colored, custom stereo-with-neon, non functional rollcage-having, widebody-without-wide-wheels showcars on their covers. (The US magazines have improved a little bit since then... but just try to dig up an old import magazine from 1997 and you'll know what I'm talking about.)
Anyway, this particular AE86 special issue of BM is one of my favorite magazines in existence because of a feature on the legendary AE86 crew,
Rough World
. Of course, I couldn't read the text, but what was presented to me in color photographs really messed my head up. I didn't even know what it was at first; I just thought the cars looked so cool. At that point, I hadn't even figured out it was because of the perfect blend of camber, stretched tires, wide wheels, and slam that made the cars look so cool.
Read more...
---