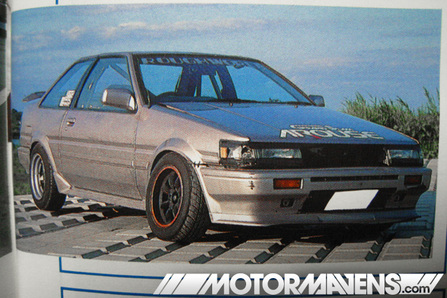 As I was looking through my bookshelf today, I noticed one of my favorite issues of Hashiriya Battle Magazine laying out. It was a special AE86 issue from 1997, and even though there were always lots of AE86s in BM in general, they somehow figured out how to stuff more AE86 issues in there! God bless you, Takahashi san (BM's henshucho, or chief editor) and Battle Magazine. Battle Magazine has brought joy to my life.
Many of you might roll your eyes after reading that statement… but seriously, if it weren't for BM and my other favorite Japanese mags, the only publications my friends and I would have been able to flip through all these years would be the American "import car" magazines, which always featured bright colored, custom stereo-with-neon, non functional rollcage-having, widebody-without-wide-wheels showcars on their covers. (The US magazines have improved a little bit since then… but just try to dig up an old import magazine from 1997 and you'll know what I'm talking about.)
Anyway, this particular AE86 special issue of BM is one of my favorite magazines in existence because of a feature on the legendary AE86 crew, Rough World. Of course, I couldn't read the text, but what was presented to me in color photographs really messed my head up. I didn't even know what it was at first; I just thought the cars looked so cool. At that point, I hadn't even figured out it was because of the perfect blend of camber, stretched tires, wide wheels, and slam that made the cars look so cool.
Let's remember… we're talking 1997 here. People didn't even run wide wheels on their Corollas back then. Back then, a wide wheel was a 15×7 (+0 offset) Panasport "For Racing Purpose Only" with the 3 inch flat outer lip, and people were complaining that their 195/50/R15 tires were rubbing when they went around corners! LOL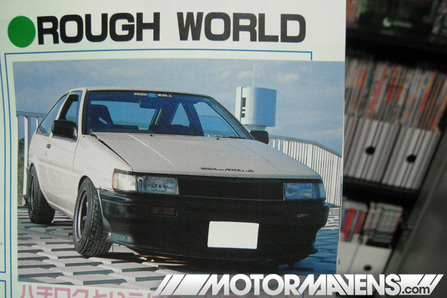 So imagine you're in a time machine, and you've been taken back to 1997, and you encounter an AE86 Levin that looks like THIS! If that doesn't make you salivate, I really don't know what to tell you. The zenki Levin 3-door that we see here belongs to none other than Kei Nakai, the leader of Rough World, and the man who created the infamous Rauh Welt 930 widebody Porsche 911 that just about every car guy with internet access has been jocking.
Interestingly enough, in this photo, Nakai san's car seems to be rocking some pretty wide 14 inch tires – I'm not too sure if they're 196/60/14 or possibly 205/60. They look closer to 205/60/14 because, just by looking at the stance and the lip in the photo, the wheels appear to be 14×8 (-6 offset) RS Watanabe Type R. This was considered to be pretty damn wide back then – 1997! (I remember I didn't even get my first set of 14×8 wheels (SSR MarkIII) for my AE86 until 1999 or 2000, when drifter Lance Feliciano's uncle Bill got a used PAIR from Japan for me, and they came with 215/55/14 Bridgestone tires.) Either way, these tires aren't stretched by any stretch of the imagination.
Another thing to notice was the hood spacers that Nakai san was rocking. Back then, it was a trend for grassroots drifters to use hood spacers (nothing more than washers, really) to vent hot air out of the hood, and just because it looked cool.
I suppose the other thing I'd mention is the fact that zenki Levin hatchbacks are rather rare to find nowadays, wouldn't you say? Due to the fact that the popular aero kits that have been produced for AE86s (Goodline, Run Free, J-Blood, etc) typically use kouki bumper lenses, I hardly see zenki Levins around nowadays… I dunno. Is it just me, or have the rest of you 86 fans noticed this too?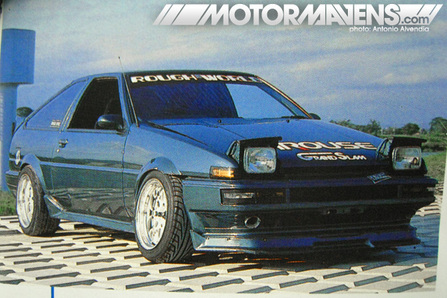 I think I mentioned before that I'm normally not a fan of blue cars… especially OEM blue AE86s. However, every once in a while, someone puts together an AE86 that's just so well done, I can't help but applaud. Such is the case with this particular blue AE86, which was owned by none other than Kazuhiro Tanaka from Team Orange! That's right, I'm talking about the same guy who you currently see in the D1 Series, driving an orange Subaru Impreza.
Back in the day, Tanaka was all about AE86s. Just look at how dope his kouki AE86 looks! This car is rocking 15×8.5 SSR/Modex Dori Dori wheels with white faces, and from the looks of it, his tires are 215 or 205/50/R15. I can't tell just by looking and the magazine doesn't say. And I don't feel like calling him in Japan right now, because if I calculate the time correctly, he's currently in the car, practicing for this weekend's D1 Grand Prix event at Ebisu Circuit.
Tanaka's AE86 is classic "late 90s style," which is my personal favorite AE86 style of all. It has the OEM kouki bumpers with zenki front chin spoiler, OEM sideskirts, Bandoh aero mirrors and a TRD rear wing. And let's not forget, the big Rough World sticker on the windshield. DOPE.
Here's an old school group photo of the Rough World crew. These guys hailed from the Ibaragi prefecture, but gained notoriety and respect all over Japan for being the kings of Mt. Tsukuba, the local touge closest to Tsukuba Circuit.
That's Nakai san standing by himself, all the way on the right, and that's Tanaka in the "Where's Waldo" red striped rugby shirt, LOL.
They may not look intimidating or "Rough" in this photo… but just wait until you meet them on a winding road in Japan in the middle of the night. Then you'll understand.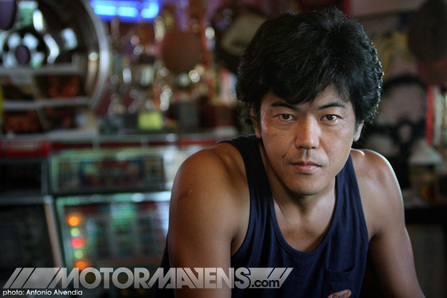 Here's what Nakai san looks like nowadays – check out the Bruce Lee-ish poofy hair and tanktop! Nakai san doesn't smile much, and is a man of few words; when he speaks, people listen. He is highly opinionated about cars, and doesn't make any excuses if his style or his point of view have offended you. If you don't like it, that's your problem. Too freakin bad. He is what he is and he says what he thinks. Bad ass.
This photo was taken in August of last year, when I was in Japan to take photos for my Speedhunters story on Nakai and Rauh Welt. Actually setting foot in the shop where Nakai san masterfully creates his RWB masterpiece cars was very humbling. I suppose I'd liken it to Star Wars buffs visiting the birthplace of Yoda or something like that. As I stood within the house of Rauh Welt, I was dumbfounded and starstruck… and that never happens to me! What the hell! I had so much I wanted to ask him… but so little time.
Unfortunately, I was constantly reminded that we were there on a work trip that was being paid for by the corporate EA Games mothership, and had a strict schedule to adhere to. So even though I just wanted to sit and chill with Nakai san and ask him endless questions and hear his stories of the many battles he and his crew had fought at Mt Tsukuba… it would have to wait. I had to walk outside and take pictures of the cars, while someone else from the team rattled off questions about the specs of the cars – what kind of cams, what kind of turbo, what kind of brakes, etc. In my head, I was thinking, "screw the car's specs! That's not the important part here. What was really important (to ME anyway) is the story of WHY and HOW Rough Style came to be, and the philosophy behind it. WTF!"
The exact specs aren't even important to Nakai san himself, which was pretty obvious when he was prodded about it during his 'interview.' In fact, Nakai san even told us that he doesn't know how much wider than stock his overfenders are!  "30mm? 45mm? I don't know," he explained, "I just put the wheels on, and then the overfenders, and trim it until it looks good." So as I walked off towards the cars in the back lot, I silently shook my head in frustration, figuring I'd just have to come back and hear Nakai san's amazing stories another day. After all, I made up my mind that this wasn't going to be the last day I'd see Nakai san anyway. So we rushed through our photo shoot, without time to properly set up lights or stage shots of the 4-5 cars at the shop, and then left in a hurry so we could head out. To a Toys R Us in Ibaragi.             …            Yeah. I know.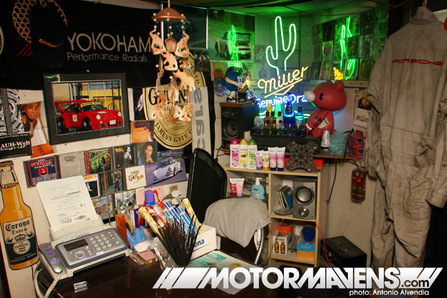 On Nakai san's desk at RWB (which, by the way, means Rauh Welt Begriff, or Rough World Evolution), I didn't see much AE86 stuff. Instead his walls were filled with the images of what's on his mind nowadays… Porsches and Beer. And music?! How many CD covers can you spot? I see Jackie Brown and Bob Marley's Legend album… at least he has good taste in music!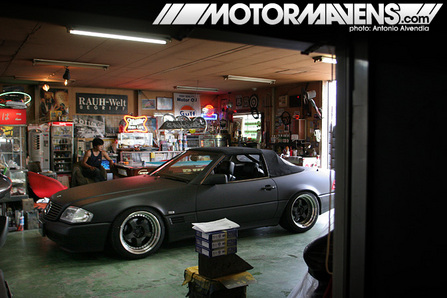 Although Nakai san, the leader of the Rough World crew started out with AE86s, it seems that he's since moved on to European machinery. Here's his flat black Mercedes Benz (SL500?) roadster, sitting on some aggressive fitting Work Meister S1 wheels.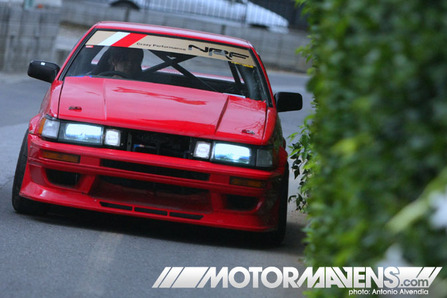 Not all of the Rough World members are now rocking European cars. One of the youngest original members of Rough World, Rauh Welt's painter Nojima still has a few AE86s. He has a red Trueno set up for drifting and a red Levin set up for time attack. Click this link to check out the full feature on Nojima's time attack hachiroku Levin that I shot and wrote for Speedhunters.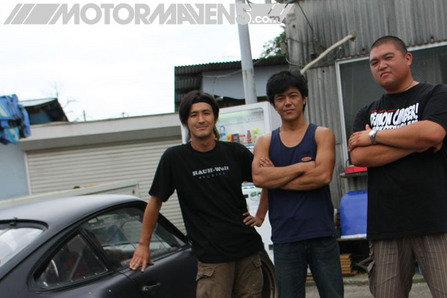 All in all, I've got to say that actually being able to meet Nakai and Nojima, and roll my Pelican lens case into Rauh Welt was pretty amazing. I have to remind myself sometimes that some people will never in their lifetime experience the things I experience all the time as a result of my chosen profession and lifestyle.
For this particular trip, I have to give big thanks to Kazuhiro Tanaka from Team Orange/Rough World for finally calling Nakai san and setting up this meeting. (I had been bugging Tanaka about wanting to meet Nakai since 2004.) I also need to thank my good friend Kenta Ogawara (Tokyo Drive Productions) for taking the train up from Tokyo just because I asked him to come along to translate. Kenta has a new magazine coming out soon, so stay tuned to MotorMavens for info on his magazine soon!
Last but not least, I really should thank Electronic Arts mothership in Vancouver for financing our Speedhunters world tour last August. Vancouver to Frankfurt to Nurburgring to Munich to Porsche Leipzig to Spa Francorchamps (Liege?) to Nurburgring again, then Brussels by way of Holland, then Brands Hatch, then London, then Tokyo, then Ebisu Circuit, then Tsukuba, then Honjyo, then Suzuka, then bullet train to Tokyo, then Ebisu again, and back to LA… that was a pretty baller status trip, and let me just say, the Motor Mavens HQ sure doesn't have the deep pockets that the EA Games/Speedhunters HQ does! Whew!
Wait a minute… this started out just as a simple "Papercuts" story about a magazine I had. How the hell did it turn into a trip story…? I always go off into a random tangent. I need to get offline and get a drink!
Rough World FOREVER!!!!!!!!!!!!!!!!!!!!!!!! RESPECT!
:: Antonio Alvendia
Nojima's Rough World AE86 Levin on Speedhunters
The "Legend of Nakai" story on Speedhunters
---