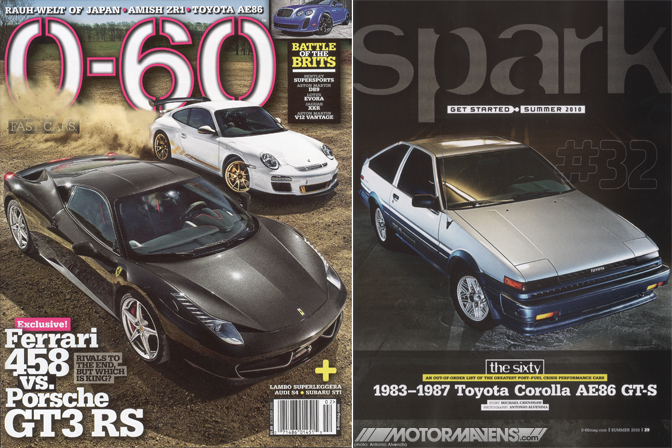 As I was walking through the airport, waiting for my flight back home to Los Angeles on Sunday, I passed one of those airport newsstands, and saw this month's issue of 0-60 Magazine sitting on the magazine rack. Suddenly, I just realized that I forgot to publish a Papercuts story about this month's issue. The current issue of 0-60 is pretty cool, because it pretty much beats the content that a lot of the "major" automotive magazines of their genre have been putting out lately.
It might have been just a kewinkydink, but since we all celebrated Hachiroku Day, August 6th, this past Friday… I thought it would be cool to point out that O-60 Magazine just printed an in depth article about the AE86 this month, in their column, The Sixty.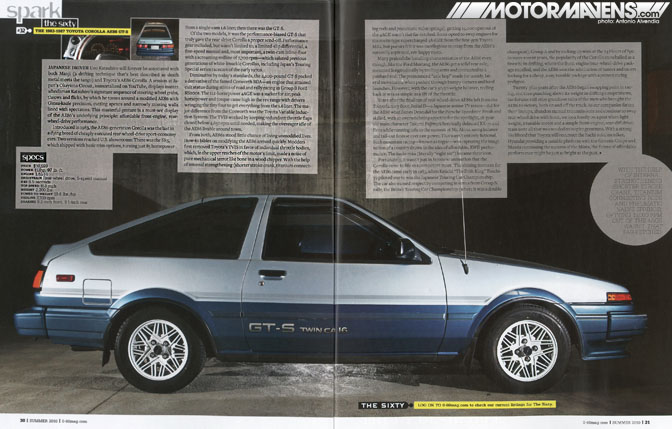 0-60 knows that most die hard AE86 owners are pretty crazy about their cars, so they were looking for a super clean AE86 to shoot for this month's feature. They apparently heard that I had some pretty clean AE86s in my collection, and called me up to ask if they would be able to do a photo shoot with one of my cars. Actually, they were asking if I'd be willing to shoot one of my cars for the magazine… of course! Everything was all going to be good, until we spoke further, and I realized that they were actually looking for a bone stock AE86 Corolla GT-S. Ummm… oops. None of my cars are bone stock.
Well, I do own a completely virgin 1985 Corolla GT-S hatchback, but it doesn't exactly look stock anymore. Well, the body of the car looks stock, but it certainly isn't clean enough to be used in a magazine photo shoot… and on top of that, I took the engine and transmission out of the car!
Luckily for me, I was able to talk Ben Hsu, the Editor in Chief of Japanese Nostalgic Car Magazine into letting me use his completely stock, unmodified AE86 for the shoot. The shoot wasn't without problems, though. Possibly the biggest issue I had was the fact that Ben's hachiroku was sitting on steel wheels, not the OEM factory "snowflakes" that are supposed to be on an AE86 Corolla GT-S from 1986.
Ben's snowflakes were actually bolted up to his Toyota Cressida, and he had 70 series tires bolted up to those joints. In order to make the shoot work, and make the car look authentically clean and original, I had to roll down to Ben's house with MotorMaven Edward Uche's truck, pick up wheels and tires, and drive Ben's AE86 (He was busy working on a print deadline for his magazine, so he wasn't able to drive with us and help us get any of this done. Hey, I was just happy that we had an AE86 to use!) to a tire shop to have the new 185/60/14 tires mounted onto his 14×6 Toyota OEM snowflakes.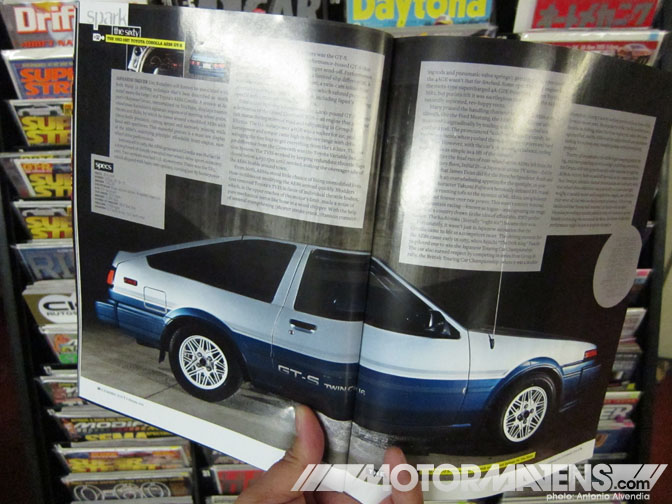 Here's a photo of the double-truck spread of Ben's AE86 in o-60. This was a pretty cool experience for me, because I love shooting AE86s – especially when the images will be used for magazines.
In the background is a magazine rack that I bought from the now-defunct Tower Records when they were going out of business in the United States. I dig that magazine rack, because it's from Tower Records, where I used to spend like $400 a month on CDs and stuff… and because it's filled with covers and editorial features that I shot for numerous magazines.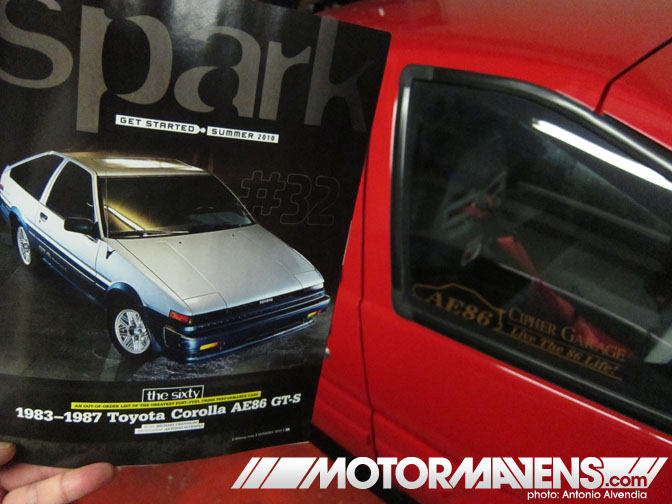 Whenever American magazines run stories on the AE86, I'm pretty happy about it. In fact, I was even happier reading the story while sitting next to my kouki AE86 in the garage. You might notice that the window of my car has the original Cipher Garage AE86 Silhouette decals, with the Live the 86 Life slogan, which I was promoting through our Cipher Garage clothing line, on Myspace, Facebook, Club4AG and Speedhunters (back when I was still building up content for that site).
Many people have asked me bring these stickers back… they've been out of circulation for several years now, and nowadays I see people in other countries using the slogans and logos that we originally began promoting. It's pretty crazy how things spread – even to different parts of the world! I've seen the term 86 Life on shirts in Central America and Japan (It was on a bootleg Katsuhiro Ueo t-shirt that I saw in 2006. It looked pretty similar to the Original 86 Allstars shirt that I gave to Ueo and his crew back in 2003 at D1GP Irwindale, ahaha), and I've seen the AE86 silhouette logo used in Australia as well. Back in 1999, I gave some of those original AE86 Driving Club* stickers to my friend Bill Sherwood while he was in Los Angeles for a visit. Bill is a pilot and an AE86/4AG maven from Australia, and we used to trade parts, like Sprinter taillights and such.
*In case you don't know about the AE86 Driving Club, it was a group of devoted AE86 guys from the San Francisco Bay Area. I think it was started back in 1996 or 1997, and we all used to meet up in Daly City and South San Francisco, and then drive mountain roads or just drive through San Francisco freeways… in a big caravan of like 50+ AE86s. Calvin Wan was the guy who designed the original sticker… and members of the OG AE86 Driving Club were also members of Team Cipher (Cipher Garage), BattleSwing, Symphonic, and such… all a bunch of old school Bay Area car crews.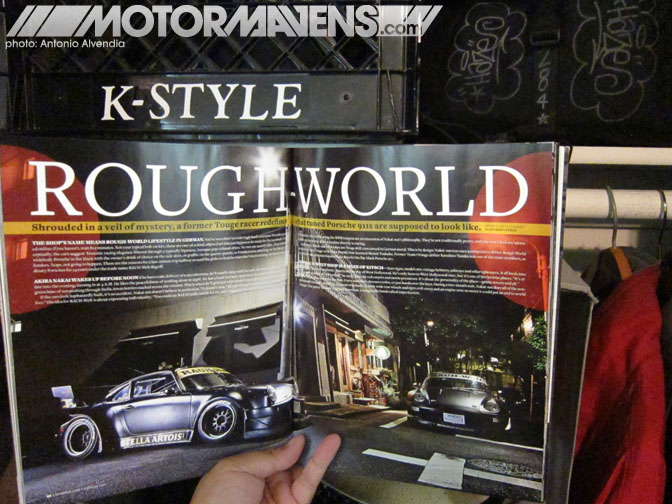 Another cool feature in this month's 0-60 Magazine… a feature on Rauh Welt. This is a great story with great photographs. I really gotta give props to the guy who shot it, and props to the magazine for wanting to feature Nakai san's cars.
Again, it's crazy how information spreads all over the world nowadays… and it's all due to the internet!
Here's a close up photo of Nakai san, from my visit to his legendary Rauh Welt shop last… oh wait. That was TWO years ago! I can't believe how time flies. Anyway, I need to give some big thanks to Kazuhiro Tanaka from Rough World and Kenta Ogawara from Tokyo Drive for helping me arrange this visit/meeting with the legend.
I've been a huge fan of Nakai san since even before he was messing with Porsches… his AE86 (as well as the other Rough World AE86s) was just incredible looking.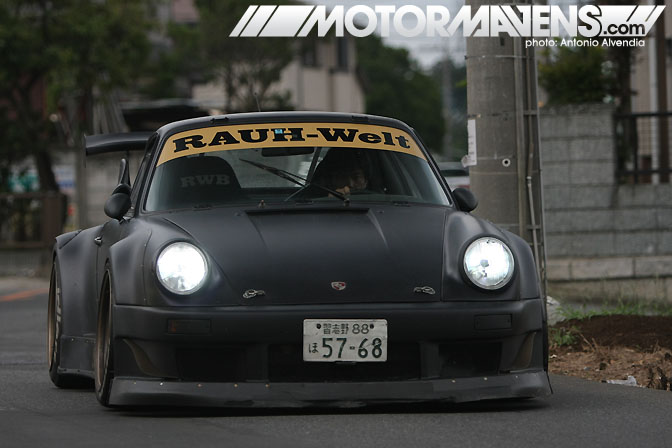 Check out Nakai san's MEAN 911 driving through the streets surrounding his shop. It just looks so damn mean and menacing! Who wouldn't be afraid if this car popped up in your rearview mirror?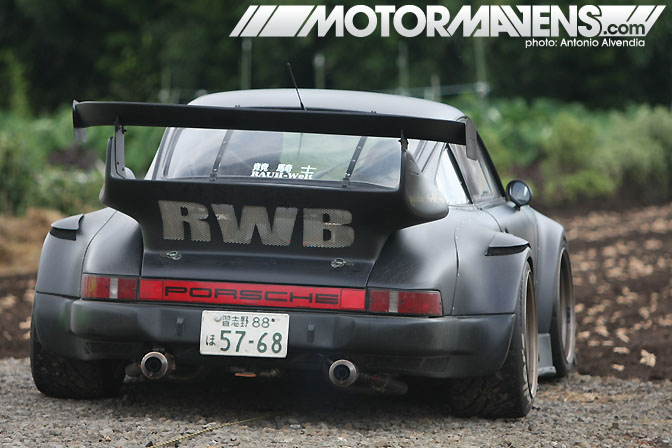 How about a rear shot of the famous Rauh Welt Begriff Porsche? This car looks and sounds every bit as amazing in person as it does in photos.
I felt pretty honored to take a photo with some original members of the AE86/JZX81 drift team, Rough World. On the left is Nojima, and in the middle is Nakai san. Believe it or not, the makeshift structure you see in the background is actually the Rauh Welt shop. It isn't fancy by any stretch of the imagination, but it just has so much soul… it's kind of hard to explain. There's just a whole feeling surrounding the shop.
To some people, it may look a bit ghetto… but to me, I was just enthralled to be in the presence of Nakai san and the shop. After all, I just couldn't stop thinking, "wow… this is where these legendary Porsches were born" and "wow… this is the guy who actually coined the term oni-kyan or demon camber. This is the guy who started the trend on AE86s, and had it spread to all sorts of other cars. So theoretically, this shop is the home of demon camber and hippari tire on shakotan cars." Damn… who wouldn't be in awe?
:: Antonio Alvendia
More ROUGH WORLD on MotorMavens
More AE86 stories on MotorMavens
---