---
---
---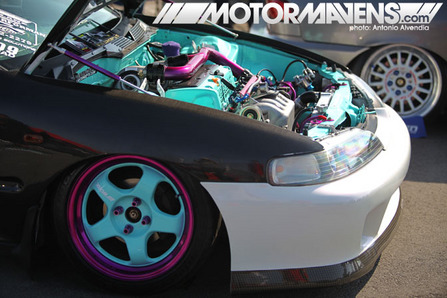 It has been a very long and busy week for those of us working on the Motor Mavens project! We're an extremely small staff, but we've been keeping ourselves real busy with back to back meetings and photo shoots! We have also spent quite a bit of time this week on planning out the next stages of development for the website. We have a few new contributors coming on board, so the next few months will be very exciting!
So let's get back to our Showoff photos. Although
Import Showoff
was founded way back in 1994, with the first event held in March of 1995, the first actual
Nisei Showoff
didn't take place until 2000. As Showoff founder Ken Miyoshi explains it, "the people that organized the Nisei Week festivities in Downtown LA's Little Tokyo wanted to bring enthusiasm from younger people back into the Nisei Week Festival, so I decided to work with them by throwing the first Nisei Showoff."
"Back then, all the JA (Japanese-American) guys with dope cars used to go to
OCBC
(Orange County Buddhist Church) during their Hanamatsuri (Flower Festival) and cruise with their friends," Ken continues, "This was also happening in Little Tokyo; there always used to be a carnival in the original Nisei Showoff parking lot location (2nd Street and San Pedro) and a parade as well. People from the carnival used to chill out on the curb, and wait for all the fixed up cars to cruise through Little Tokyo. Back in the day, we used to see crews like
Black Magic
from SGV (all black cars with different types of SSRs; SSR Superfins, Supermesh, Neos, Work Emotion, Gale Racing, Bang Vecs),
Shoreline Racing
(old school Toyota guys from Gardena/Torrance area),
NRG
from Cerritos,
Split Second
from Carson area,
Redline Racing
from the San Fernando Valley, and a whole lot of others."
Read more...
---