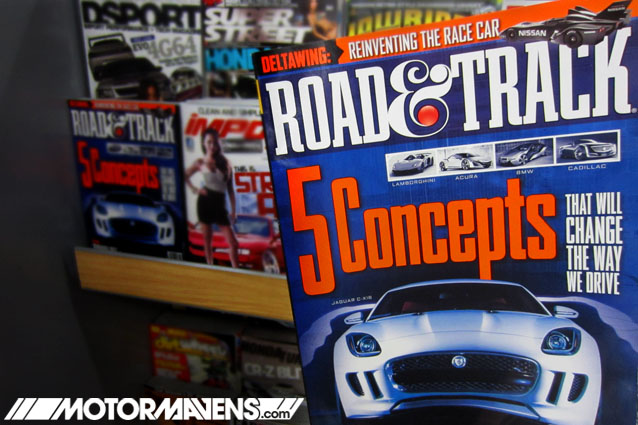 I can't believe it. I just received word from a reliable source that Road&Track Magazine will be shutting down its Southern California offices. Can this be true?! This is insane. Everyone knows that the print media industry has been hurting for a while, but hearing reliable sources say that Road&Track is shutting down… that's one piece of auto industry news that's hard to fathom.
Road&Track Magazine has been a major automotive publishing icon since… before I and many of our readers were born! This is truly a sad day. Not just because another major automotive magazine will be closing its doors, but because if a huge print industry staple like Road&Track is forced with making drastic structural changes, I can only wonder how the enthusiast publications relevant to the automotive aftermarket industry might be faring.
Since everyone must be wondering, let me give you a bit more detail. I just finished a Skype call to France with a good friend and esteemed photojournalist as he sat in the media center at Circuit de la Sarthe. Even though we initially began our  phone call talking about Le Mans, he interrupted our conversation, telling me, "Wait… have you heard the news about Road&Track?!"
He had apparently just heard about Road&Track's plight from accomplished photographer and road racing icon Peter Brock. Yes, we're talking about the same Peter Brock from BRE (Brock Racing Enterprises) fame; the man who made the Datsun 510 legendary in the SCCA 2.5 Trans Am Championship.
According to Mr Brock, the legendary Hearst Communications magazine just issued a memo to the magazine's staff, saying that the publishing offices of the magazine would be relocating out of state, but the Road&Track staff would not be part of the move. Since I haven't seen an official press release or other news piece about this anywhere else, I thought it might just be a rumor. However, this news was apparently confirmed by Road&Track's own Tim Considine, who was in France covering Le Mans for the magazine.
This is crazy. Could this be an April Fool's Day joke? Wait… it's not April anymore.
Either way, I and the entire MotorMavens Crew wish all the best to the members of the Road&Track editorial staff. As contributors to one of the most highly respected automotive magazines on the planet, it's not as if those guys should have a difficult time getting scooped up by other major automotive magazines anyway. Hopefully those other magazines have the budget to work with these great writers and photographers! Best of luck to everyone involved.
:: Antonio Alvendia
510
,
anothermagazinecloses
,
BRE
,
Brock Racing Enterprises
,
Circuit de la Sarthe
,
closes down
,
closing down
,
Datsun
,
Hearst Communications
,
icantbelieveit
,
last issue
,
Le Mans
,
Peter Brock
,
Road and Track
,
Road&Track
,
Road&Track Magazine
,
SCCA
,
SCCA 2.5 Trans Am Championship
,
shutting down
,
Tim Considine
,
Trans Am
---