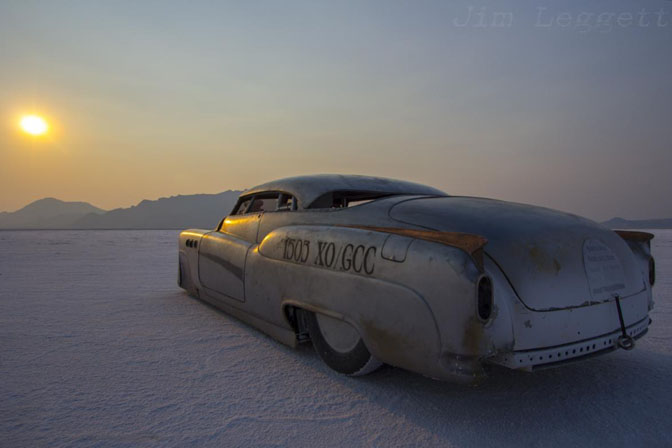 Although many people have visited the famed Bonneville Salt Flats in Utah, most live their entire lives without ever experiencing what it's like to run top speed down the salt, let alone win. I recently received a note from a dear friend of mine, Peter Brock from BRE Racing fame.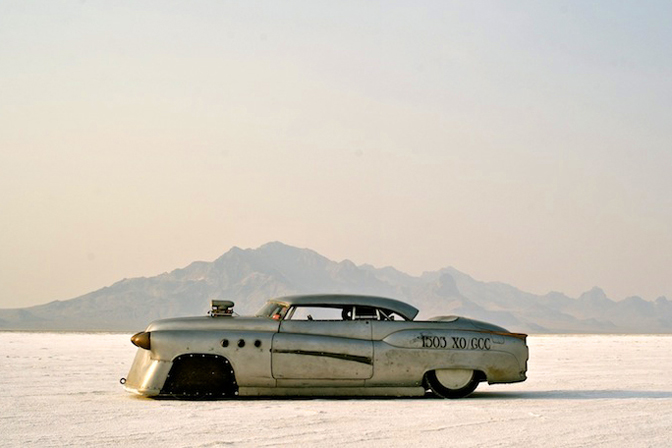 He sent me a photo of this car – Bombshell Betty – a 1952 Buick Riviera land speed racer that has broken the World Speed Record in its class at Bonneville… twice. 
Bombshell Betty is a 1952 Buick Super Riviera, owned by a man named Jeff Brock from New Mexico. Here's some video footage of what it's like in the salt. Entering the third mileon the Salt Flats in Bonneville starts the timing for setting land speed racing records on the 5 mile course. This video, The Third Mile from Carlos G Maier, features Ronnie Dunn going fast, very fast in Jeff Brock's 1952 Buick.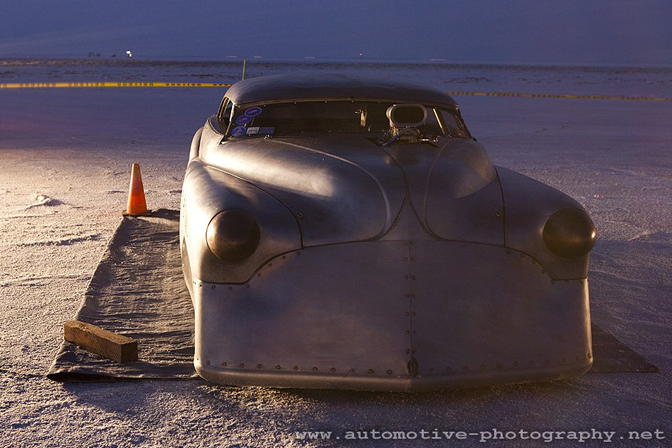 Bombshell Betty competes in the XO/GCC class, consisting of old school petrol engine cars, where he tops around 141 mph.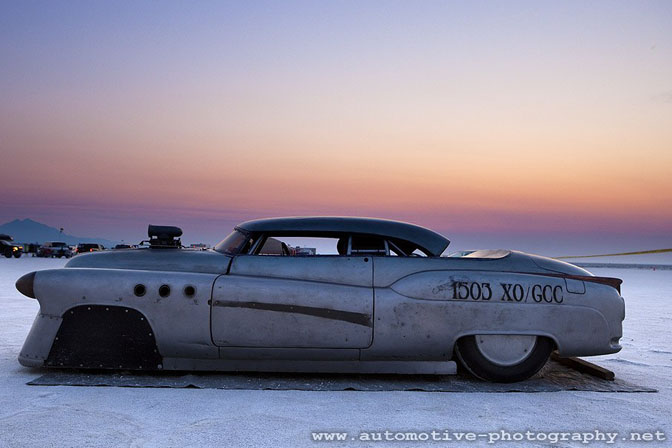 This Land Speed bombshell looks aggressive and beautiful at sunrise.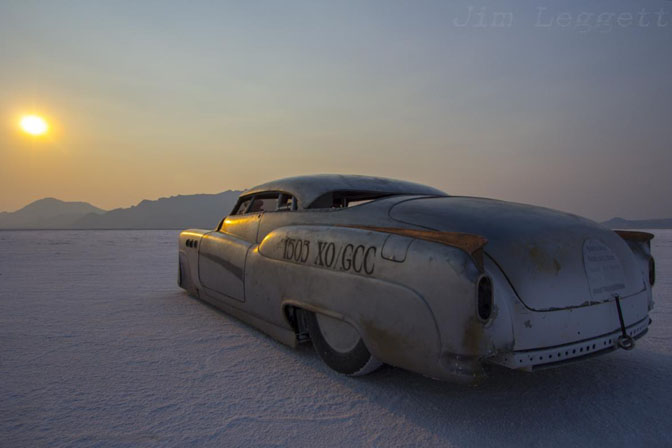 The sun, salt, and speed make for an incredible combination.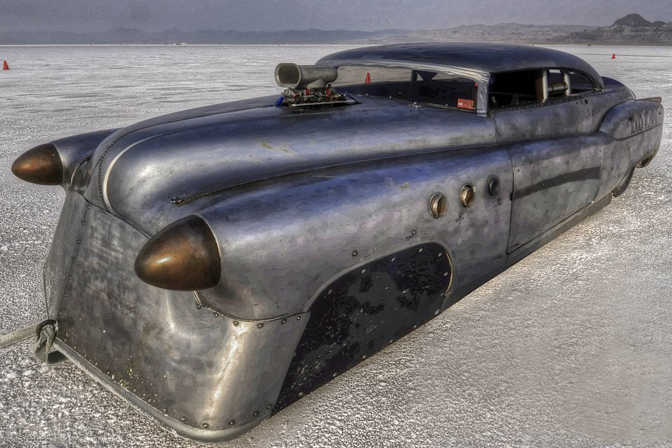 Take notice of the "bomb" shaped headlight buckets and the wheel covers, which add to the aerodynamics of the car. The wheels throw off columns of spinning air that upset the airflow traveling down the car's side and increase drag. These solid wheel covers attempt to reduce that effect.
Read more: Bonneville Speed Week Field Guide – All About Bonneville Speed Week – Popular Mechanics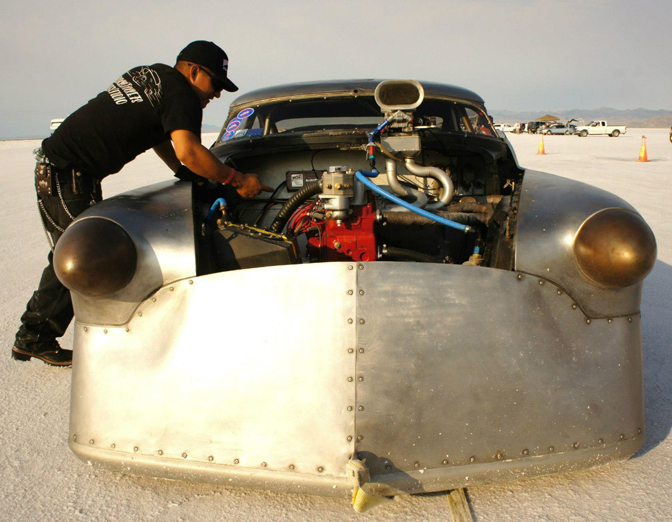 Streamlining the front of the car helps lower the drag coefficient. The nose of the Buick was narrowed by 6 inches. Those bomb-shaped headlight buckets might add to the aerodynamics of the car, or they might not. Regardless, they look cool as hell.
The engine is a 320 cubic inch straight-8 cylinder.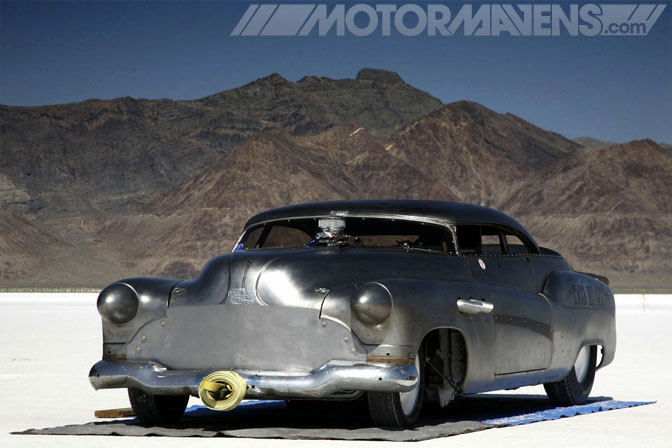 Lowering the roof reduces the frontal area of the car, making it more aerodynamic at speed. The choptop roof is FUNCTIONAL while looking amazing.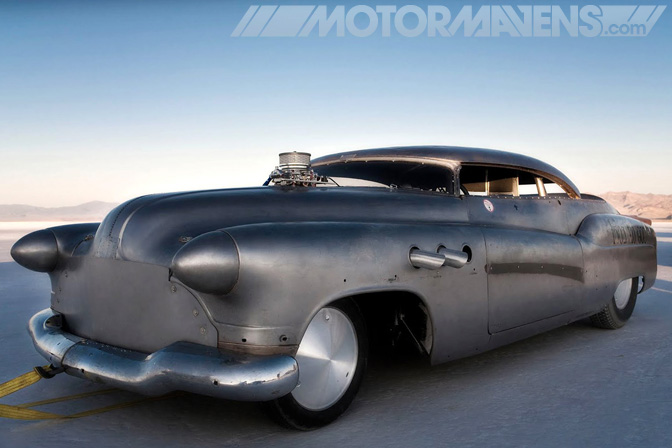 Mean.
Here's a video of Jeff Brock and his car, featured on the Popular Mechanics website.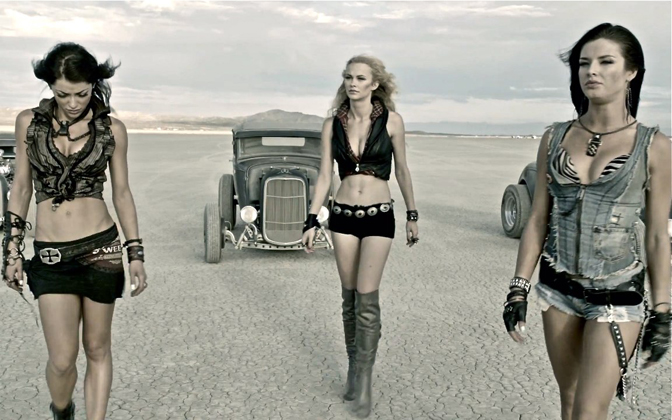 This last photo has absolutely no relevance to Jeff Brock's Buick Riviera, but it does feature some bombshell Betties of another sort that are relevant to the interests of our readers… and the customer (reader) is always right.
:: John Brooks
---