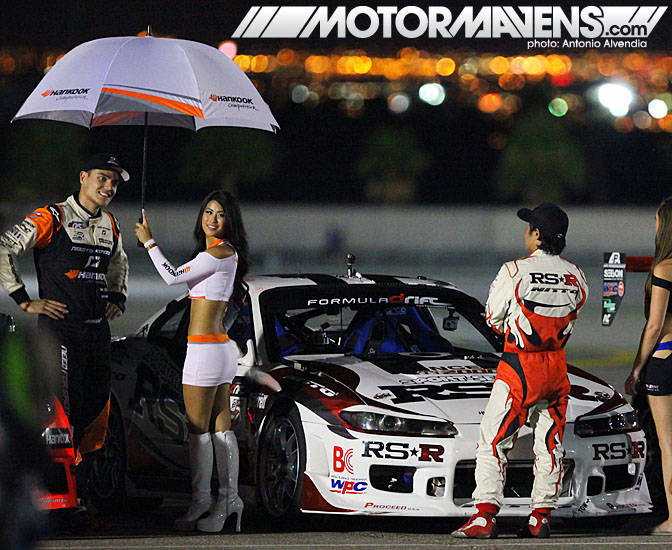 This last trip to Las Vegas for
Formula Drift
was one hell of an eventful weekend. With a new course layout and drastically changing weather, the conditions took a toll on a lot of the teams. There were lots of tire scraps and car parts littered around the track when the day was done, not to mention the plethora of tire smoke from these high horsepower monsters. The sweltering heat and the freak 45 minute rain storm made it an interesting day at the Las Vegas Motor Speedway. With extremely fast entry speeds and high speed turns, the new course layout took out many cars from the running all weekend long.
Read more...
---
Look forward to a full edit of the Pikes Peak International Hill Climb in the upcoming 2011 DVD from Justin Shreeve and Joe Ayala! (more…)
---
Many of you know about Apple's new iPhone 4. What you may not know is that it now shoots 720HD video! That, my friends, is epic to say the least. While doing some research on one of my favorite directors of photography (Vincent Laforet), I came across this amazing video shot entirely on a iPhone 4, with no color correction from Hoptocopter Films on YouTube. Titled "156 turns," it features Team Ducati Spider Grip's Greg Tracy on a stock Ducati Multistrada during the Pike's Peak International Hill Climb.
I know we normally don't follow much motorcycle racing, but this video is definitely worth watching. 156 Turns captures the power, passion and precision involved in this race.  Rhys Millen even makes a powerful statement in the video, "Somebody once asked me if I ever caught air up here….I said, 'no, but if I ever did, I don't think I'd ever come down…'"
All I can say is, great racing, great film making, and DAMN, I want an iPhone 4!
Enjoy!
:: Travis Hodges
---