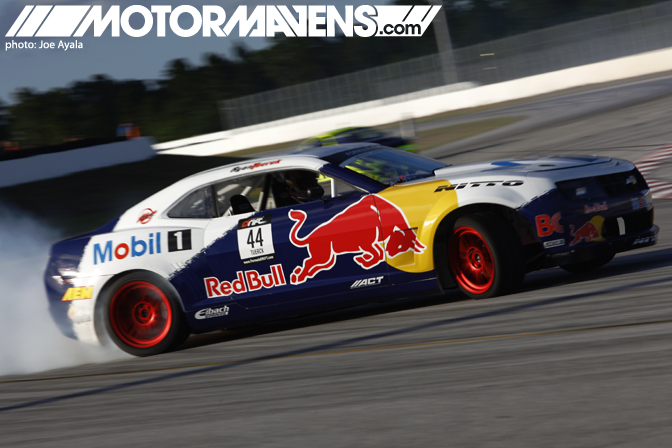 This weekend, Formula Drift brings the third round of the championship series to an all new venue,
Palm Beach International Raceway
in Jupiter, Florida. I managed to shoot a few photos while filming random shenanigans around the track. I really liked the high speed entry to this new track, flowing into a long transition on a rumble strip.
Formerly known as
Moroso Raceway
, the high speed capability of PBIR's road course did present a problem, however - the course layout led a lot of high speed drifting
right into the fans laps
. Since this was the very first time that the Formula Drift series would be running at Palm Beach, they certainly didn't expect these types of results from their initial course layout! However, since Formula D is a responsible professional organization, they decided to
reverse the course layout
mid day in the interest of driver safety.
Read more...
---
Let me start this off by saying that it was a blast to return to the United States for a drift event this year. It's been a solid year at LEAST (maybe a year and a bit even??!) since I've been in the Land of Freedom and Hotdogs, and I gotta say it was good to be back. This video covers the one Drift Posse member who was available to make it out to XDC Round 4 at Raceway Park in Englishtown, New Jersey; Pat Cyr in his F20 powered AE86 coupe, as well as the stylings of some of the top players in the Xtreme Drift Circuit today. This includes event winner Matt Waldin in the two-tone 350z, Steve Angerman in the Gardella Racing Solstice, and the series points leader Chelsea Denofa in the wicked green NST BMW E36.
The competition was fun and everything, but honestly the most exciting part for me was just being in a different country, and realizing really how different our cultures can be, even though we only live a few hours away from each other. The biggest and most obvious difference though, is food. Crossing the border into the States is kinda like crossing this line of sugar, chips, and fast food, and I love it. My first order of business once we hit a gas station across the border was to buy myself some Mountain Dew Code Red, along with some Milk Duds; with a 5th Avenue Bar for dessert (I can still feel my teeth hurting). It may surprise you, but none of these is available in Canada, and as a self-proclaimed sweets aficionado, you can imagine that I was in heavenly bliss for basically the rest of the ride to New Jersey. (more…)
---