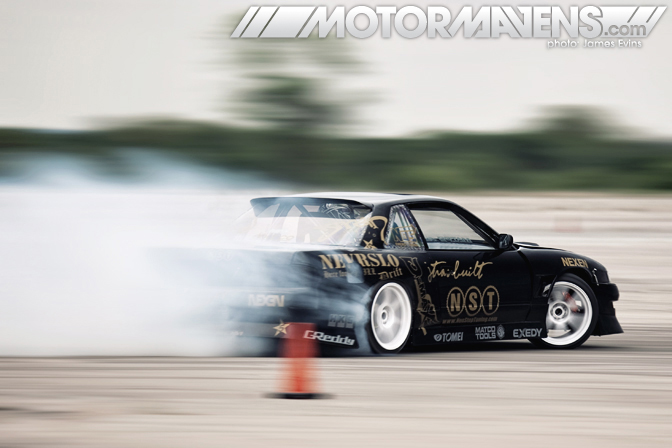 Mineral Wells is a small city nestled deep in the countryside west of Dallas, Texas. It is a calm, rural town surrounded by rolling hills and farmland. The atmosphere is generally peaceful and quiet, but occasionally through the year the silence is broken by the sounds of screeching tires, exhausts, and blow off valves as drifters roll in to participate in one of the most premiere drifting venues in the state!
The drifting is held in a lot located just behind the runway at the Mineral Wells Airport. It was built over sixty years ago as a Cold War helicopter landing pad and decommissioned shortly afterward - sitting empty for years until automotive enthusiasts began renting it out for grassroots events. What makes this venue so incredible is the vast expanse of open area. With enough cones, you can build a course easily capable of triple digit entry speeds. You won't find a faster venue in the state. The large size also allows plenty of room for trucks, trailers, and tents as well.
Aaron Losey
of
Fabricated Motorsports
(the guy in the striped shirt and beanie) is the man behind the majority of the drift events in Texas. His events are always very well organized and safe, with a fun and laid back atmosphere. The attendance level is usually very good, with driver experience ranging from some of the best talent in the nation to absolute rookies with no driving time whatsoever. Luckily, the more experienced drivers are always willing to offer assistance and Aaron usually spends the majority of his time giving hands-on training.
Read more...
---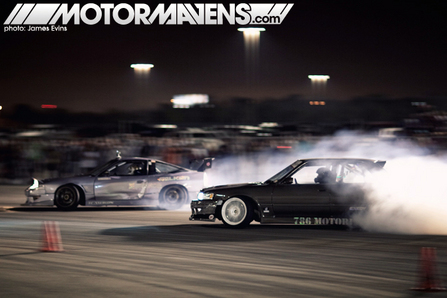 For those of you who aren't familiar with
Import Reactor
, it is a multi-faceted automotive event that takes place in Houston, TX during
Anime Matsuri
- one of the biggest anime conventions in the country! It consists of three parts - a special dyno day and tuning session, a drift day, and then a show that spans the entire weekend. The atmosphere is unbelievably unique - it's definitely an experience! I was at the event all weekend covering it for MotorMavens!
One of the great things about this event was that it brought together the drift enthusiasts and the show scene here in Texas. The guys at Import Reactor had the brilliant idea to allow car show teams to sponsor a driver. Each team had a driver whose entry they paid, while the driver ran their sticker on his car. It was great to the drifters bringing their cars to the event, only to be greeted by 20+ members of the team that sponsored them - cheering them on the entire time!
Read more...
---