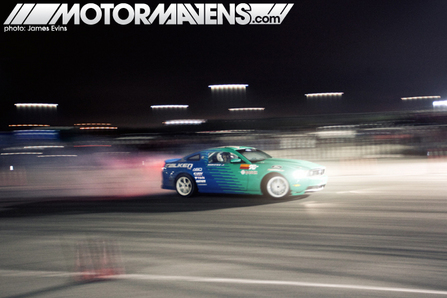 For those of you who aren't familiar with Import Reactor, it is a multi-faceted automotive event that takes place in Houston, TX during Anime Matsuri – one of the biggest anime conventions in the country!  It consists of three parts – a special dyno day and tuning session, a drift day, and then a show that spans the entire weekend.  The atmosphere is unbelievably unique – it's definitely an experience!  I was at the event all weekend covering it for MotorMavens!
One of the great things about this event was that it brought together the drift enthusiasts and the show scene here in Texas.  The guys at Import Reactor had the brilliant idea to allow car show teams to sponsor a driver.  Each team had a driver whose entry they paid, while the driver ran their sticker on his car.  It was great to the drifters bringing their cars to the event, only to be greeted by 20+ members of the team that sponsored them – cheering them on the entire time!
We also had a special guest in attendance!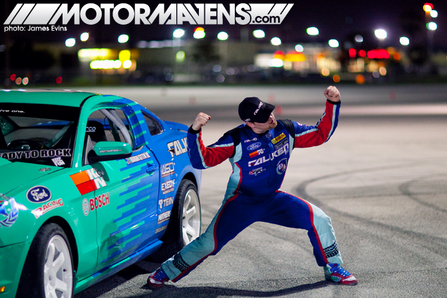 Yes, the Ford frontman in the Formula D series… Vaughn Gittin Jr!  Not only was he out to do some exhibition drifting, but he also was one of the judges for the drift event.  JR spent plenty of time giving tips to the drivers, giving ride-alongs, and talking with the spectators – a very classy guy, as you can see from this photo.
Speaking of ride-alongs, the day started off early with some of our local Texas drivers hitting the track and giving rides to spectators (and also getting in that extra bit of practice!).   I heard quite a few girls (and guys!) screaming at their top of their lungs as they passed me sideways only inches from the wall.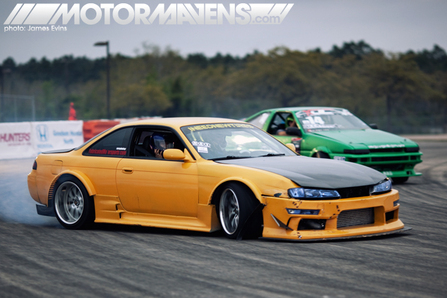 Above, you can see Will Parsons with the green AE86 closing in on Fielding Shredder in the yellow S14.  Check out those custom vented flares on Fielding's car!  Some love it, some hate it – I'll admit, I'm a fan… but what do you guys think?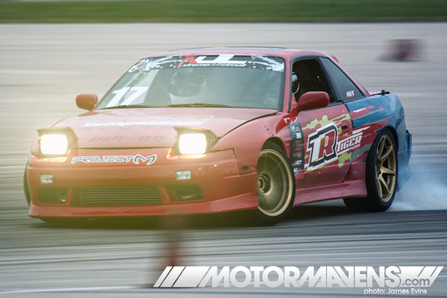 I wasn't sure what to expect out of Sammy Tiger and his Tiger Racing S13, but I thought it was awesome that he drove all the way out from Atlanta, Georgia to participate.  As you can see, he also volunteered to take a few passengers out on some practice runs.
As the sun came down and the lights came on, the drifters lined up for qualifying.  Each driver was allowed two back to back runs and was judged on each.  The top 8 would move on to drift head to head.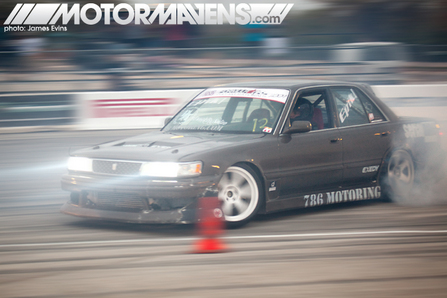 Ameen Rizvi of 786 Motoring was tearing it up in his infamous 2JZGTE powered Toyota Cressida, as seen on the MotorMavens website previously!  I absolutely love this car, and the guys at 786 Motoring are always a blast when they come out.  I'm definitely a fan!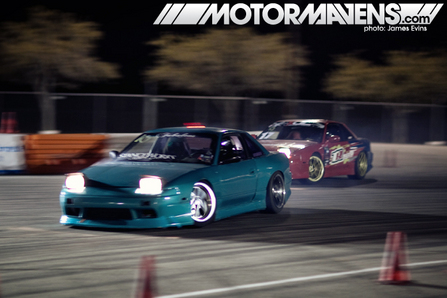 Some stiff competition going on as Corey Gilbert (teal S13) tries to fend off Sammy Tiger (red S13).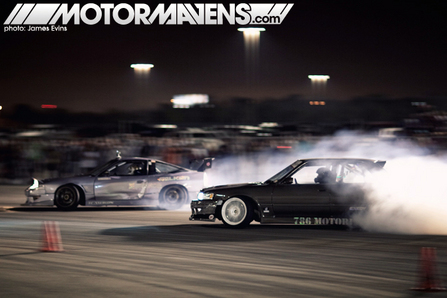 Here's a photo of the intense battle between Russell Walker (you've seen his metallic lavender RPS13 on MotorMavens before), and Ameen Rizvi – these guys were putting on quite a smoke show!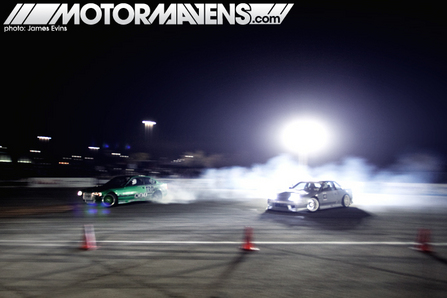 Here's a snap of Chelsea Denofa in the green E36 BMW M3 and Stew Leask in his LS1 powered S13 duking it out!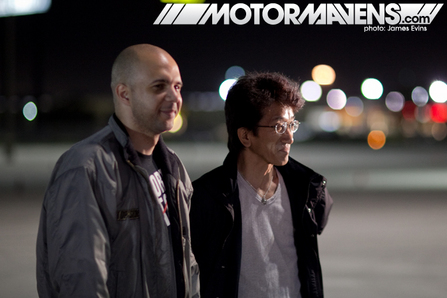 As the night closed to an end, everyone was called to the front as the winner was announced.  As the crowd rushed the stage, a car pulled up and another guest arrived… Smokey Nagata of legendary Japanese tuning shop Top Secret had arrived (he was in town for Import Reactor and awarded the first place trophy)!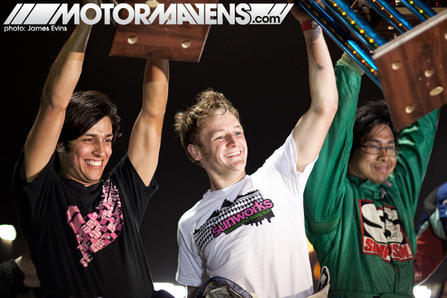 The final standings – Ameen Rizvi in 3rd to the left, Sammy Tiger in 2nd to the right, and standing in the middle is Stew Leask, the Import Reactor Drift winner!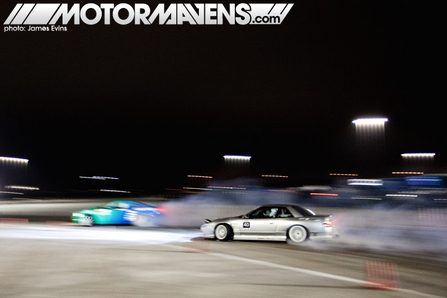 Here's a last shot of Stew taking a victory lap with Vaughn Gittin Jr!  Alright, thats all for today – stay tuned, I'll be posting more soon!
:: James Evins
---