---
---
---
---
---
---
---
---
---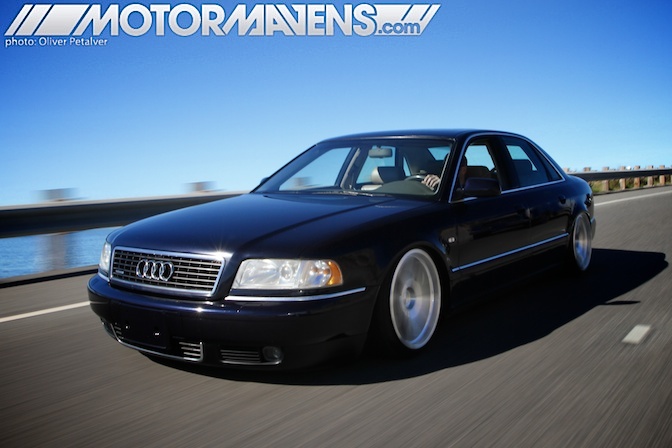 It's been quite a while since
the last time we featured a ride from the guys over at Rotiform
… Well, you're in luck! I was able to get the full scoop on
Jason Whipple
's
2000 Audi A8
and, while it's an over-sized, VIP-style automobile, it nonetheless exudes the luxury and class of the $100,000 price tag of its time. A certain song comes to mind when looking at this ride - it almost emanates a certain
Oh You Fancy, Huh?
attitude…
I was able to steal Jason away on an uneventful Saturday morning to do the shoot, which took place in Southern California. On the way to our location, MotorMavens Crew photographer
Oliver Petalver
opted to take full advantage of the scenery by hanging from the window to take some dope rolling shots. They turned out pretty awesome, don't you think?
Funny thing, though - while photo pro Oliver was hanging out the window of our chase car, Jason aired the car out to get that menacing, low effect... and Jason's face immediately went from smiling for the camera to a certain heightened awareness of the road surface. The A8 was literally scraping on every little dip, pothole, reflector, manhole cover - I mean EVERYTHING. It was quite a sight to behold because the car was sparking, rubbing and making wonderful sounds as it scraped along the Pacific Coast Highway while onlookers gawked and stared. Members of the "functional" crowd may insert your favorite "hella" joke here.
Read more...
---
---
---
---
---
---
---
---
---
---
---
---
---
---
---