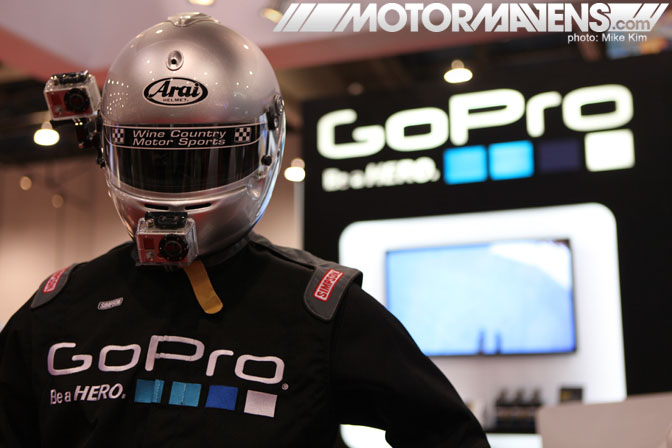 The week of SEMA 2011 was one of the most fun and exhausting weeks I've ever had. Between exploring the show floor to scout cars and meet new people, live blog updates on the MotorMavens Instagram channel, and attending all the after parties… SEMA was one hell of an adventure.  Since it was my first time at SEMA, I wanted to take full charge of covering everything I could.  It was definitely not an easy task to take on – even with some help from my friend Terry Pham from DSTROYR,who helped me scout some cool cars.
While walking through central hall, I wandered into the GoPro booth. When you look at any sporting event, whether it's mountain biking or automobile racing, you always see POV (point of view) cameras mounted to everything. Not only are they small and record in full HD, they're easy to mount on almost any surface. If you've ever been to a Formula Drift event, during the Top 16, the cars look like they have spiked hair with all of the GoPro and Contour cameras mounted to the roofs.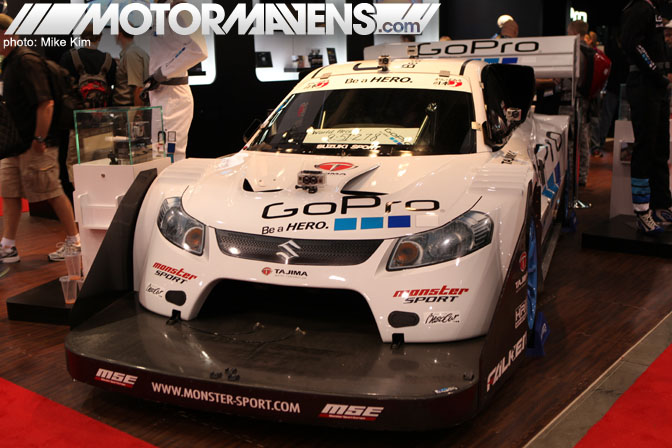 The main attraction at the GoPro booth was Nobuhiro "Monster" Tajima's record setting Suzuki SX4 Hill Climb Special.  If you've ever seen any pictures of Pike's Peak International Hillclimb you'll understand why the car needs that huge front diffuser and rear wing.  With a 3.1-liter twin turbo V6, the car has 910hp and 655lb-ft of torque, which pushes the car uphill at an insane rate of speed.
Driven by the famous Monster Tajima, this car set a 9:51:278 time during the Pikes Peak Hillclimb earlier this year.  Many people have tried to break the sub 10 minute barrier, but so far Monster Tajima has been the only one to do so!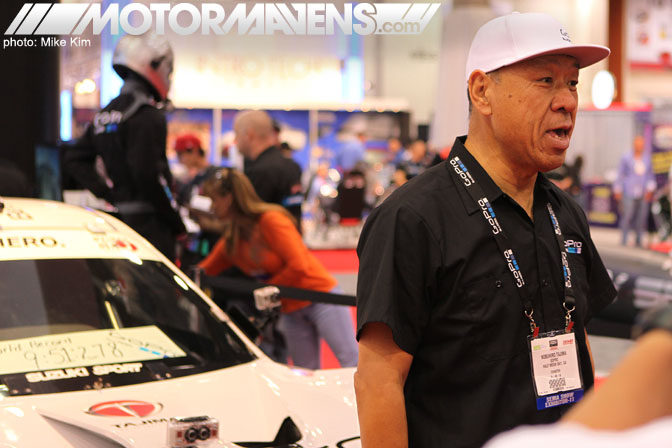 Here's a photo of Monster himself. While I was standing at the DSPORT magazine booth (just down the aisle from GoPro), people were gathered around, watching footage from the DSPORT DVD featuring Monster's record setting run at Pike's Peak. He quietly walked up to the area and watched it with us for a few minutes before anyone had noticed that it was Monster Tajima himself actually standing there at the booth watching the video with us!!! What an amazing experience!
Make sure to pick up the new copy of DSPORT Magazine to get the DVD of Tajima's assault on Pike's Peak!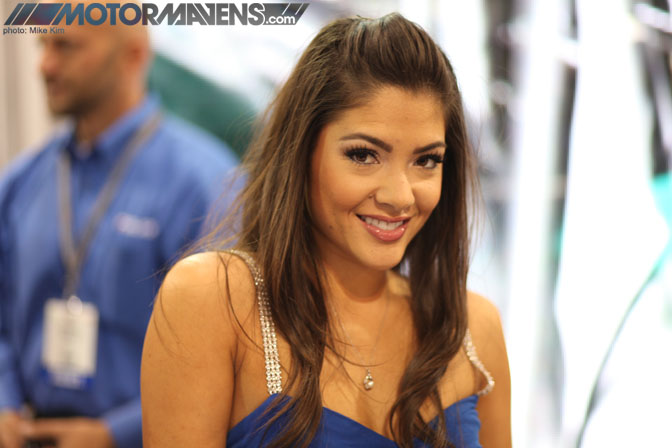 While cruising through the South Hall, I ran into my good friend Randyl Dawn from Falken Tires.  After days of partying and working the show floor at the Falken Tires booth, with sore cheeks, she was still able to make a beautiful smile for the camera. I don't think it's possible to take bad photos of Randyl.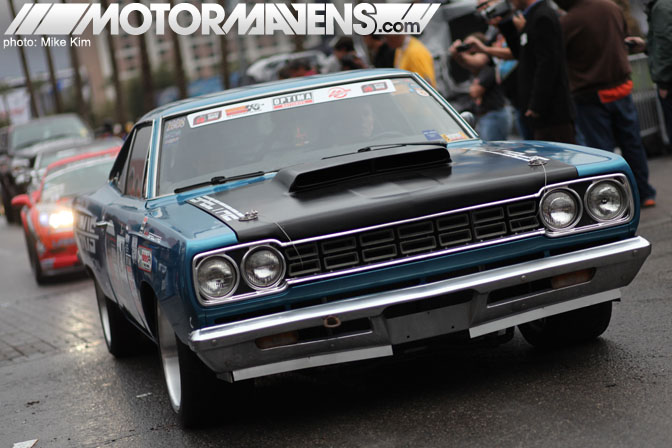 The Hotchkis Suspension team was there with their Plymouth Roadrunner hill climb car.  Earlier this year, this car did a 4:01 time at the Spectre Performance 341 Challenge hill climb in Virginia City NV, driven by Dan "The Man" Weishaar.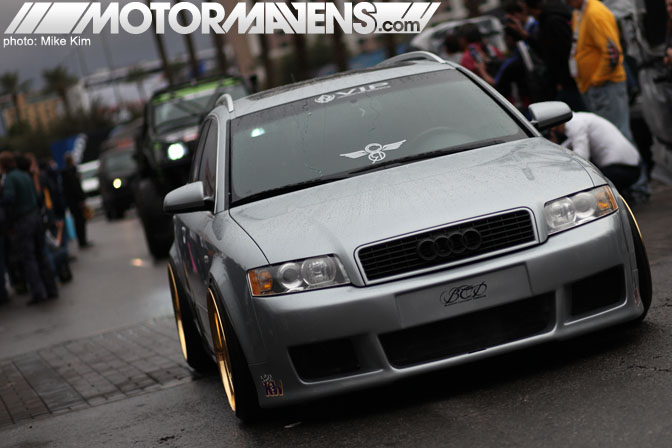 This Audi A4 Avant was cruising through the SEMA Cruise after the show, still slammed low on some blinged out gold plated VIP Modular wheels and KW Suspension coilovers.
This bad ass Nissan Xterra had a mean presence as it rolled out.  I normally don't look at SUVs but this one definitely stuck out in my mind.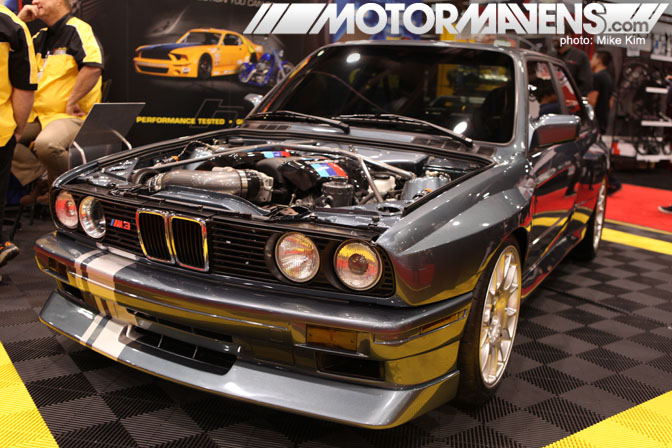 At the Heatshield Products booth, they had this E30 BMW M3 as their display car.  With a wide body conversion that's even wider than the OEM M3 box flares, this M3 was modified to accommodate wider wheels, which help put that V8 power to the ground.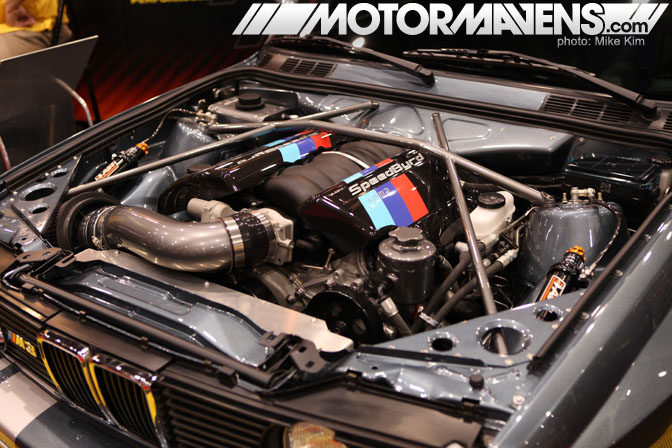 The car was named SpeedByrd LSM3, and you can see why.  With an LS3 motor sourced from a Corvette this thing is sure to fly wherever it goes.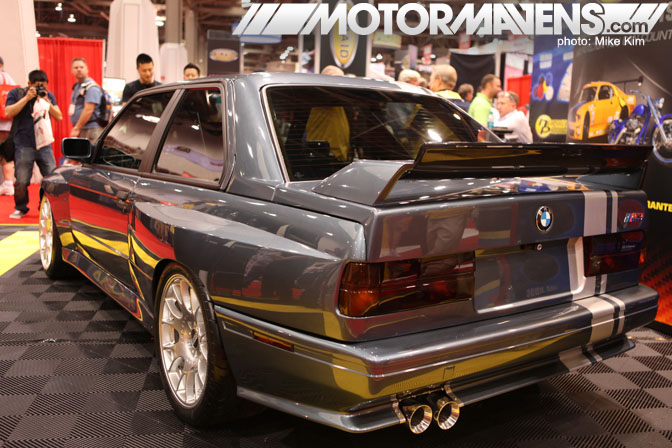 Sitting on some BBS wheels, the E30 was built very well from front to back.  Would you like to rock this car as a daily? I know I sure as hell would.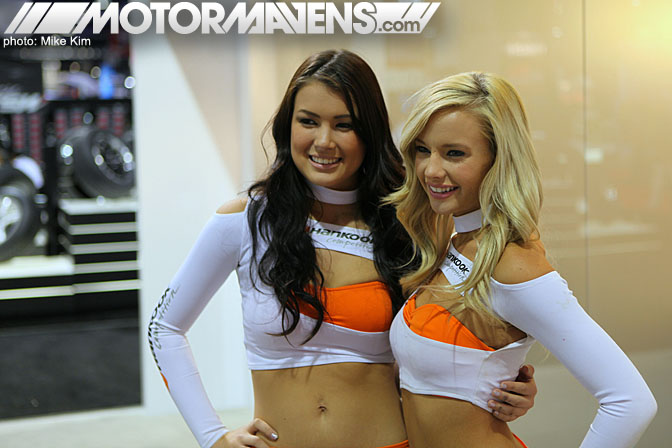 I stopped by the Hankook Tires booth to say hi to the always beautiful Nicole Marie Reckers and her friend Lisa Lee Marie. They both got up for a few seconds to snap a few pics for some fans and immediately started to attract more attention then they wanted. I guess thats the price you pay for being a good looking girl at a car show full of dudes – not that its a bad thing.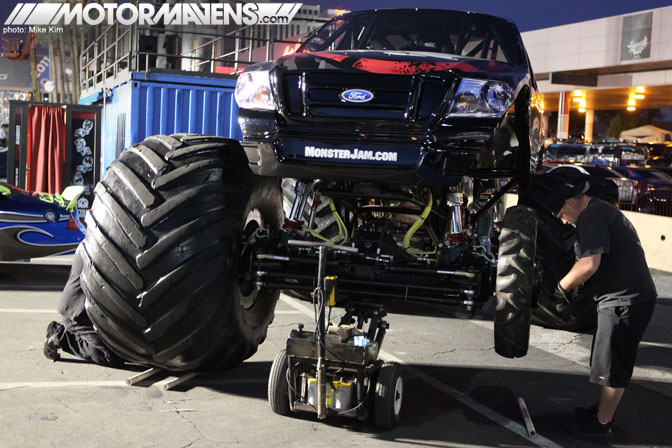 I've always wondered how they transported monster trucks around from place to place and when passing through the outdoor Ford Racing booth I happened to spot them changing the 800-lb giant wheels and tires to the puny ones on the right.  That is the only way they were able to fit them inside a transporting trailer. Looks pretty funny, huh?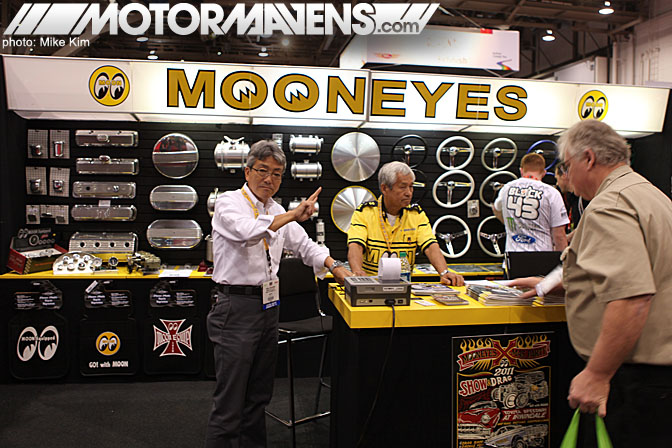 In the Central Hall, I passed by the Mooneyes booth showing all of the neat hot rod stuff they make. Mooneyes owner Shige Suganuma from Yokohama Japan spotted the red-and-white MotorMavens M on my camera lens and threw up a friendly peace sign!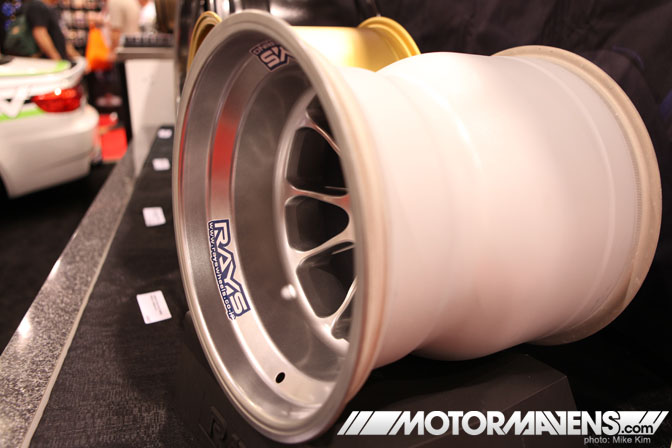 When I stopped by the Mackin Industries booth, I was looking at their display wheels and wondered if they brought one for a Formula 1 car. People always joke about having wheels wider then they are tall, but when I saw this one, it was no longer a joke. This wheel looked to be a 13×26, twice as wide as it is tall – crazy!!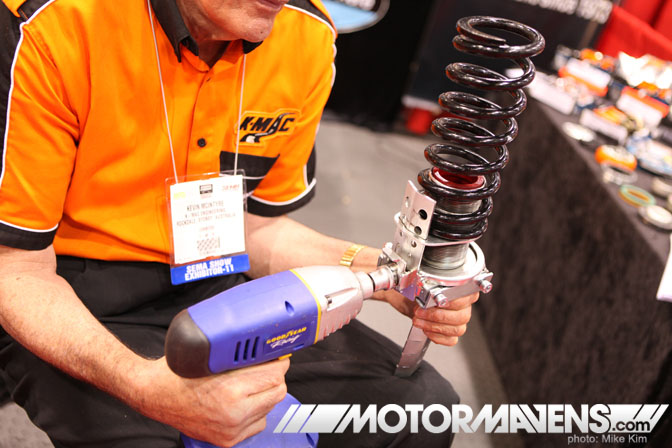 While passing by Bisimoto's Porsche at the NGK booth (you'll see the car later), I heard a bunch of noise from an impact wrench over and over again.  I walked over to the K-Mac Industries booth and saw this really cool contraption.  This bracket was attached to an adjustable coilover spring seat, and could be adjusted in just a few short seconds to any ride height much quicker than pulling out the adjustment wrenches and turning the collars manually.  The gizmo would clear most suspension setups on race cars without a problem, and might be a useful tool to have during track days. I'd love to try this out on my own car!
While Antonio and I were busy taking photos and attending meetings, MotorMavens Crew member Tamer Omran walked around the show to check out all of SEMA's hottest girls… I mean… cars!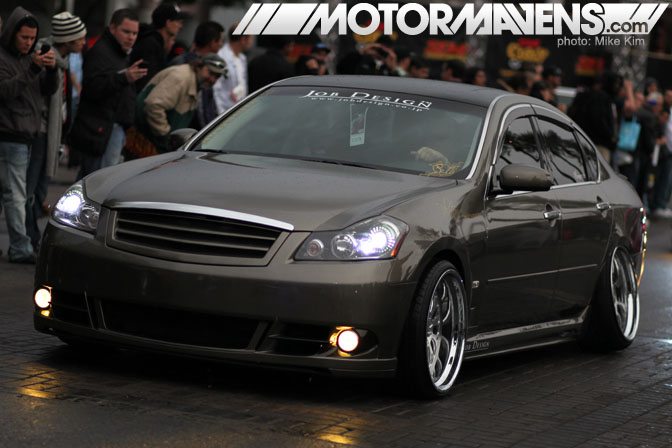 The guys from Platinum VIP brought out their crazy cambered Infiniti M35 (or Nissan Fuga) as they like to call it in Japan. Driving out of the show with negative 13 degrees of camber in the rear, and the front raised up… some might think this car is the modern version of a lowrider.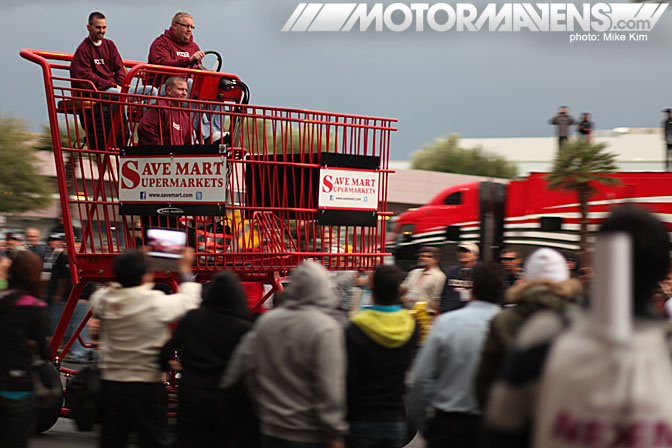 Now this thing gives a new meaning to the term grocery getter! One of the coolest things I saw at the show had to have been this V8-powered SaveMart Supermarkets sponsored shopping cart… driving down the street!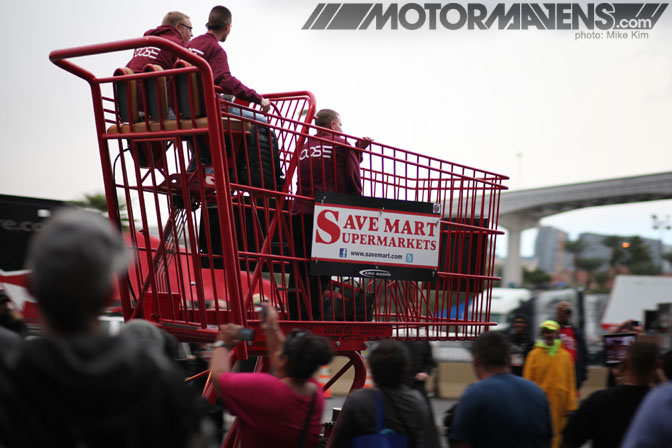 This thing was flying down the Las Vegas Strip after the show… I wonder if the cart makes the same sound as a regular shopping cart if it falls on the side? I do hope we don't have to find out!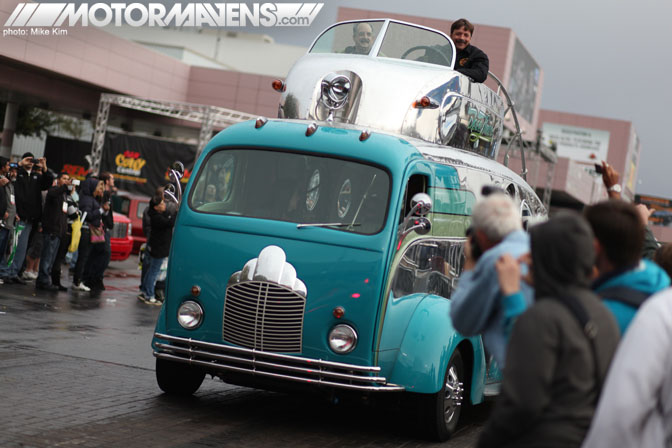 The thing that caught my eye about this bus wasn't the wide body fenders or the crazy paint job, but the fact that the driver was on top of the car.  Land sailing is a reality when you're on this bus.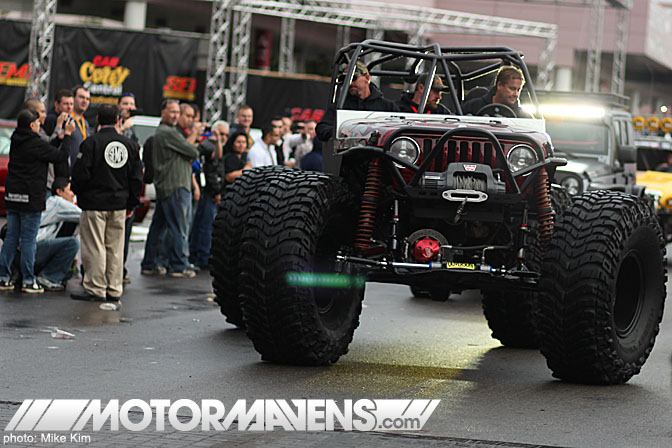 Getting sideways has a whole new meaning with this Jeep! With all-wheel-steering, he was driving the car sideways down the Las Vegas Convention Center driveway.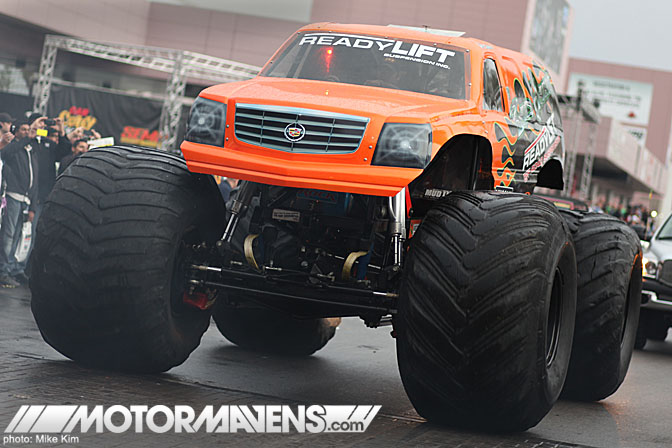 Moving through traffic must be difficult with an SUV, but this Cadillac Escalade monster truck from the guys at ReadyLift probably don't have that problem. Driving down the driveway, he almost popped wheelies a few times, then everyone got out of the way so they wouldn't get crushed!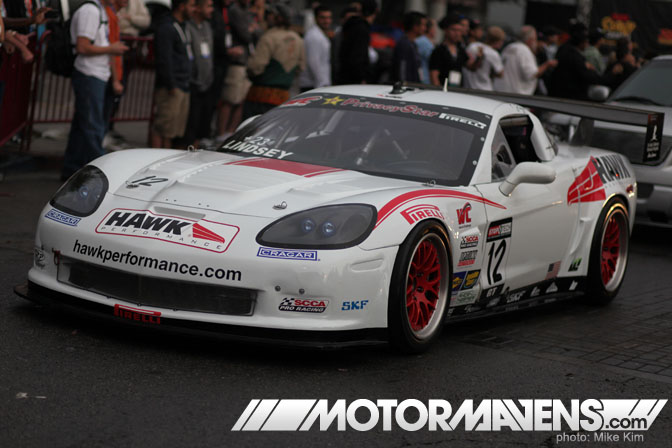 The Hawk Performce Chevrolet Corvette Z06, driven by Patrick Lindsey sounded amazing when he revved the engine.  It did not sound like your typical muscle car, but a race prepped circuit car. I'd love to hear it at full throttle on a race track some time!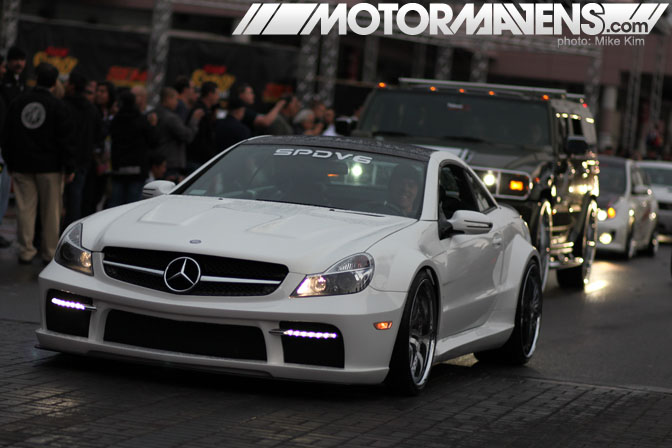 SPDV6 had their awesome looking Mercedes AMG SL65, which you might have seen in an earlier SEMA post from Antonio.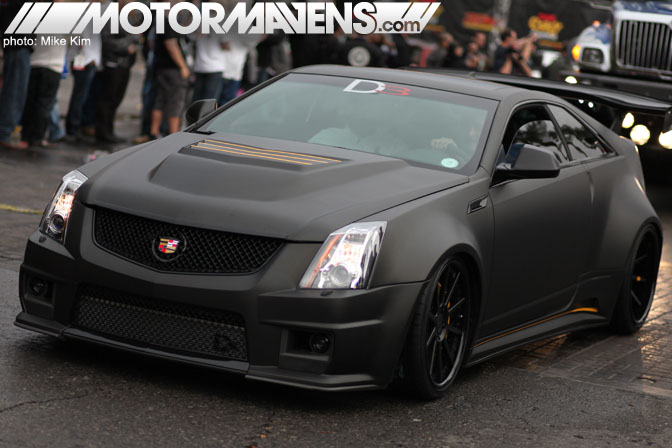 I'm normally not a fan of Cadillacs, but this D3 CT-S V coupe with a GT wing and vented hood made me change my mind.  I don't even like matte black paintjobs but this thing is hella sick!!  With a crazy wide body and awesome wheel fitment, this Caddy has been done just right.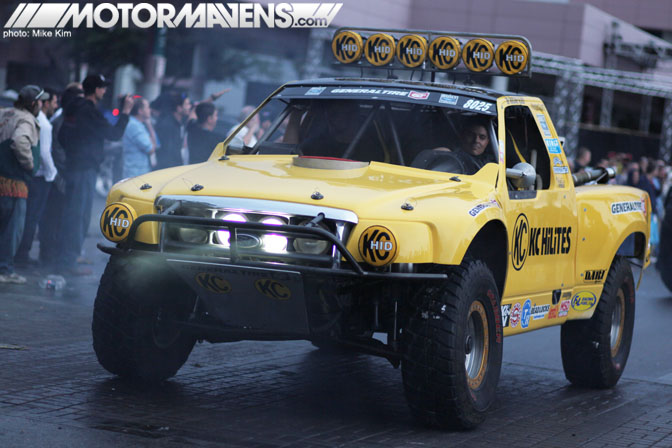 KC HiLites brought out their awesome off road truck. I don't know too much about them but this one is pretty awesome. Just two HIDs were blinding me when it was on, so I wonder how bright it is when ALL the lamps are turned on. This is definitely something you don't want behind you while you're cruising the freeway.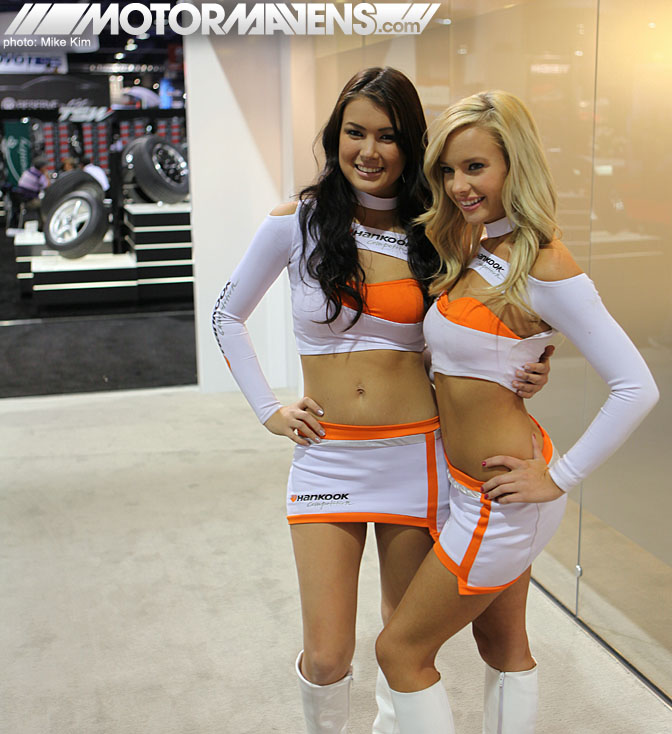 In closing, here's another shot of Nicole Marie Reckers and Lisa Lee Marie. They both have Marie in their names and have great personalities…maybe they come as a package? LOL
Overall the SEMA show is one hell of an awesome event. Between meeting new people, seeing beautiful models, the amazing craftsmanship of the cars, and the nonstop open bar afterparties, SEMA is an event I would gladly attend over and over and over again. I can't wait until next year's SEMA Show 2012!
:: Mike Kim
PS: Dai Yoshihara, it was great seeing you Friday night… I mean… early Saturday morning! HAHA!!!
341 Challenge
,
911 Turbo
,
AMG
,
Antonio Alvendia
,
Audi A4 Avant
,
Black Edition
,
BMW
,
Brandon Campbell
,
Cadillac CT-S V coupe
,
Cadillac Escalade monster truck
,
Chevrolet Corvette Z06
,
climb
,
David Huang
,
DSPORT
,
Falken Tires
,
Ford Racing
,
Formula 1
,
GoPro
,
hankook tires
,
Hawk Performance
,
hill
,
Hillclimb
,
International
,
Jeep
,
K-Mac Industries
,
KC HiLites
,
KW Suspensions
,
Lisa Lee Marie
,
LSM3
,
M3
,
Mackin Industries
,
Mercedes Benz
,
Metal Mulisha
,
Mike Kim
,
Monster Tajima
,
Mooneyes
,
Nicole Marie Reckers
,
Nissan Xterra
,
Nobuhiro Monster Tajima
,
Nobuhiro Tajima
,
Patrick Lindsey
,
Pike's Peak
,
Platinum VIP
,
Porsche
,
Porsche 911 Turbo
,
Randyl Dawn
,
Rays Engineering
,
ReadyLift
,
SaveMart
,
Special
,
Spectre Performance
,
Suzuki
,
SX4
,
Tamer Omran
,
Terry Pham
,
V8 Shopping Car
,
VIP Modular
---