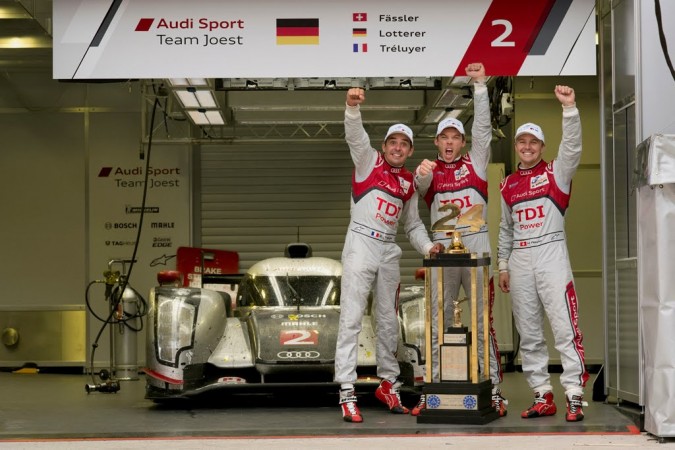 The 2011 24 Hours of Le Mans was filled with despair, heartache, and extreme difficulty yet, despite the obstacles, Audi drivers Andre Lotterer, Marcel Fassler and Benoit Treluyer drove the #2 car (an Audi R18 TDI) to the checkered flag this past Sunday. Audi overcame two spectacular crashes and held off a charging Peugeot to win the 24 Hours of Le Mans, giving the German car maker its 10th title at the renowned Circuit de la Sarthe track. Audi currently holds second place for the most titles at Le Mans behind Porsche which has 16 wins. Ferrari takes bronze with nine victories.
Audi was hit hard twice during the endurance race with a crash in car #3 (an Audi R18 TDI driven by Allan McNish) and in car #1 driven by Michael Rockenfeller. Thankfully, both guys walked away with no major injuries.
Here's what André Lotterer, the driver of the Audi #2 car, said shortly after the race (R18 TDI): "It was a very intensive race. I was pushing like crazy from the first to the last minute. I felt no boredom in the car. I gave everything that was possible. And I had no choice but to do that either. In the end it worked out. I'm simply happy that together we've managed to do this. All the mechanics and everyone else worked so hard to prepare the car. This is a great reward for many hours of overtime. Due to the two accidents yesterday was a difficult day for Audi Sport. I'm very happy that Allan (McNish) and Rocky are okay and that despite the accidents we've got a reason for joy."
On behalf of the MotorMavens Crew, I would like to congratulate Team Audi Ultra on their 2011 Le Mans Victory. And, here's a link to the final lap of the 2011 Le Mans Victory from Audi.
:: Tamer Omran
Photo sourced from CarandDriver.com
---