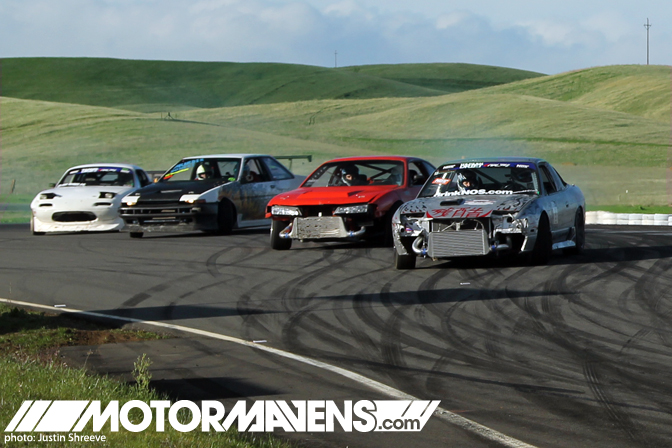 It all started at six o'clock, the morning of Saturday the 18th, waking up to the sound of my alarm. I would have had to pack my gear, drive to
Justin Shreeve
's house, pick him up, and then start the 3 1/2 hour drive down to Willows, California for the Team Tandem Battle at Thunderhill… but i slept in.
Luckily for us, it was a two day event, so we tried again on Sunday. Haha! About two hours into the drive, we debated whether or not it was a good idea to make the trip. The clouds had been pouring rain, hail, and snow the entire time with no signs of it stopping any time soon. (Check out this proof of the amazing weather on our way home -
Snow Drift Pt. 2
) As we pulled into Willows and towards the track, we noticed the vibrant blue sky and a familiar sun peeking through the clouds just above Thunderhill.
Read more...
---
Calvin @ Thunder Drift from iPhilms on Vimeo.
I brought my Falken FD3S RX-7 out to Thunderhill Raceway with the Fatlace / 360 Video / Graphtech crew this past Tuesday, right after I got back from FD Seattle. ThunderDrift set up a full-track drift day, which does not happen too often at Thunderhill, because the tracks get so busy throughout the year.
I love taking advantage of these relaxing drift events to enjoy my cars and to get in extra seat time with some friends. This track has some of the most amazing rhythm sections and variety of corners that makes it super fun to drift on – you can connect turns 2 through 7 as well as many other sections of the track.
My boy Phil Velasco from 360 VideoMagazine brought out some pretty fancy gear to get some of these unique camera angles. Check it out… it's like the drifting version of a skate video.
::Calvin Wan
Calvin Wan
360 VM
iPhilms
ThunderDrift
Fatlace
GTstickers | Graphtech Signworks, Daly City CA
---
Team Fatlace at Thunderhill Raceway from fatlace on Vimeo.
While most people still have the recent Seattle event fresh on their minds, some of our Northern Cali friends stopped reminiscing and kept on drifting. Geoff Pitts hosts the ThunderDrift Events at Northern Cali's Thunderhill Raceway. He told me about his events when I saw him at All Star Bash Weekend, and again at FD Seattle, but unfortunately, it was only two days after Seattle and I wasn't able to make it all the way up there for his event.
Either way, we want to show our support of his events! Northern Cali peeps should definitely take advantage of the opportunity to drift at high speeds on a track like Thunderhill! I've never been up there myself, but I can't wait to drive that course. It looks AMAZING.
Thanks to Twitter, I just saw this new teaser video that was produced by my friends Mark Arcenal (Fatlace), Philip Velasco (360 Video and JDM Insider). It features car-to-car footage of our homie Calvin Wan driving his FD3S RX7 at Thunderhill… check it out!
:: Antonio Alvendia
---